Cape Breton
Maritimes 2008
Monday, 30 June
The Trans-Canada Highway across Nova Scotia to Cape Breton is quick and easy. I am glad we decided to take it rather than the winding drive along the east coast. Tomorrow is Canada Day, and also the day on which the Buddhist monks from Pema Chodron's Gampo Abbey are supposed to be playing a baseball game against the townsfolk of the little village of Pleasant Bay (pop.258). We are really excited to see that one, but haven't been able to confirm any details, or even that it's actually happening again this year.
We stop for a chunky Greek salad and a lobster sandwich (mmm, mmm and MMMMM) at The Herring Choker, a nice little roadside restaurant south of Baddeck. The people there are really nice. We ask if they know anything about tomorrow's baseball game, but they don't. The waitress spends about 10 minutes looking through the phone book for the Pleasant Bay Chamber of Commerce, can't find it, then calls 411 for it. No go. She finally comes up with the Volunteer Fire Department's number, then she lets me call it (long distance). We head for Baddeck, which is a little out of our way, just to check it out. Fortunately the woman at the town Info shack is very good. She doesn't know about the ball game either, but calls her friend, Stan, who has a whale watching business in Pleasant Bay, and he confirms that it's happening, plus he knows all the details. I am pumped.
On to the Normaway Inn in the Margaree Valley for a four day stay. It is beautiful here; very different feel from the Bay of Fundy and Prospect Bay. Green as green can be, and no water. It's pasture land.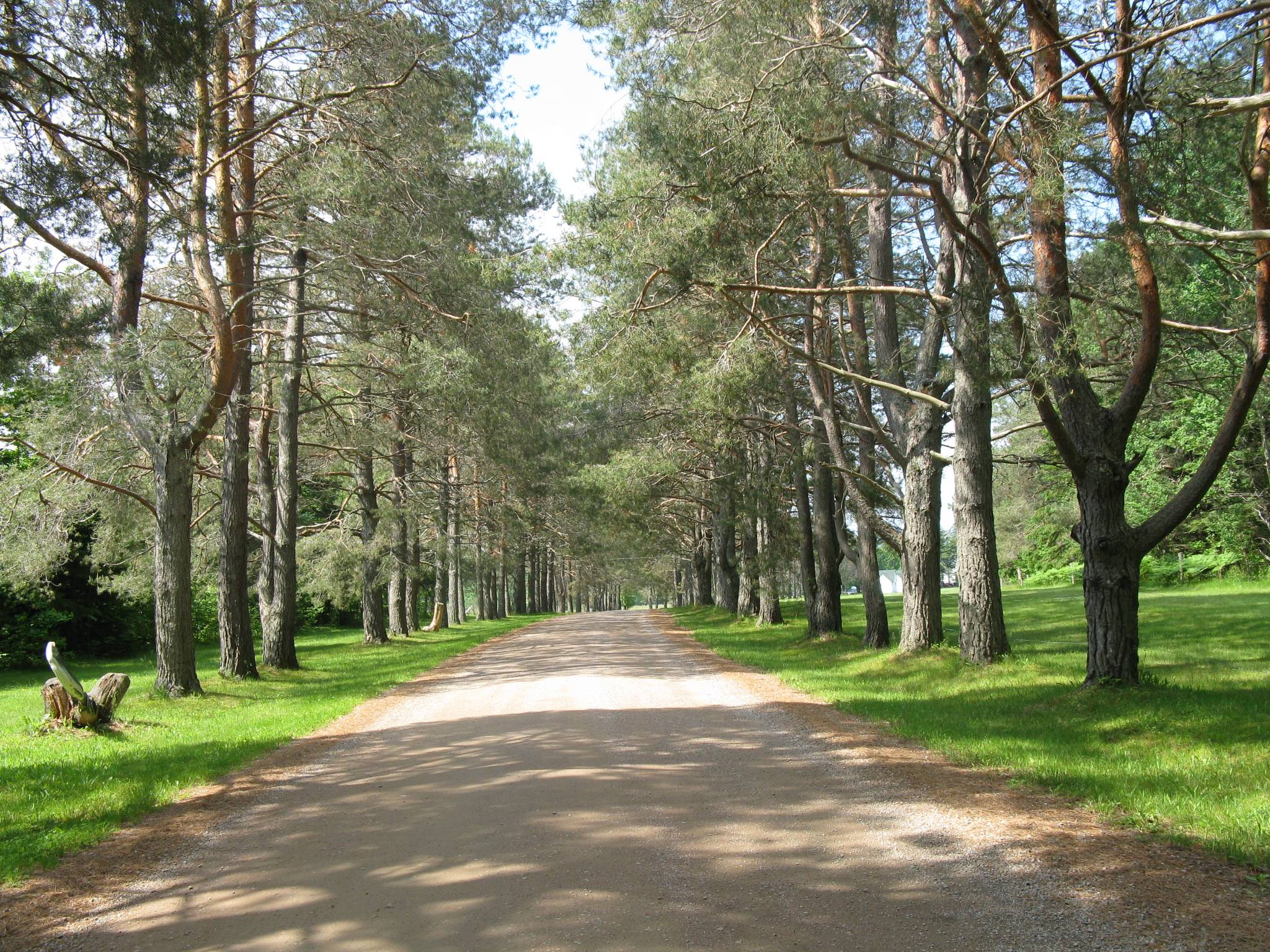 We have dinner in our two-room cabin and go in the main lodge to hear a singer / guitar player in the living room there. He is very middle of the road, but a nice guy and tells funny stories. He has a good banter with the crowd of about 15 – 20 inn-mates.
****************************************
Tuesday,1 July, Canada Day The forecast is for more drizzle and drabness, but a miracle happens, and the day turns out mostly sunny with a high of 24 for the big ball game in Pleasant Bay.
Breakfast – fresh organic strawberries, mango, banana and granola in the room. Hang out for a bit, then up the Cabot Trail to Cheticamp, a French (Acadian) community in the midst of the Scots. We ask a couple of young joggers with thick French accents where we can find a good bowl of fish chowder. After a very short conference, they tell us without a doubt, the Hometown is the place for us. They are right as right can be. The bacon-wrapped scallops didn't hurt, either.
On to Pleasant Bay. Upon arriving, we find out from the local corner store that the game doesn't start until 3:00. Seeing as how we're almost 2 hours early, we decide to go out to see the Abbey. It is a beautiful place, to put it mildly. The sign says, "NO TOURS TODAY. BASEBALL AT PLEASANT BAY PARK, NEXT TO HARBOUR. HAPPY CANADA DAY.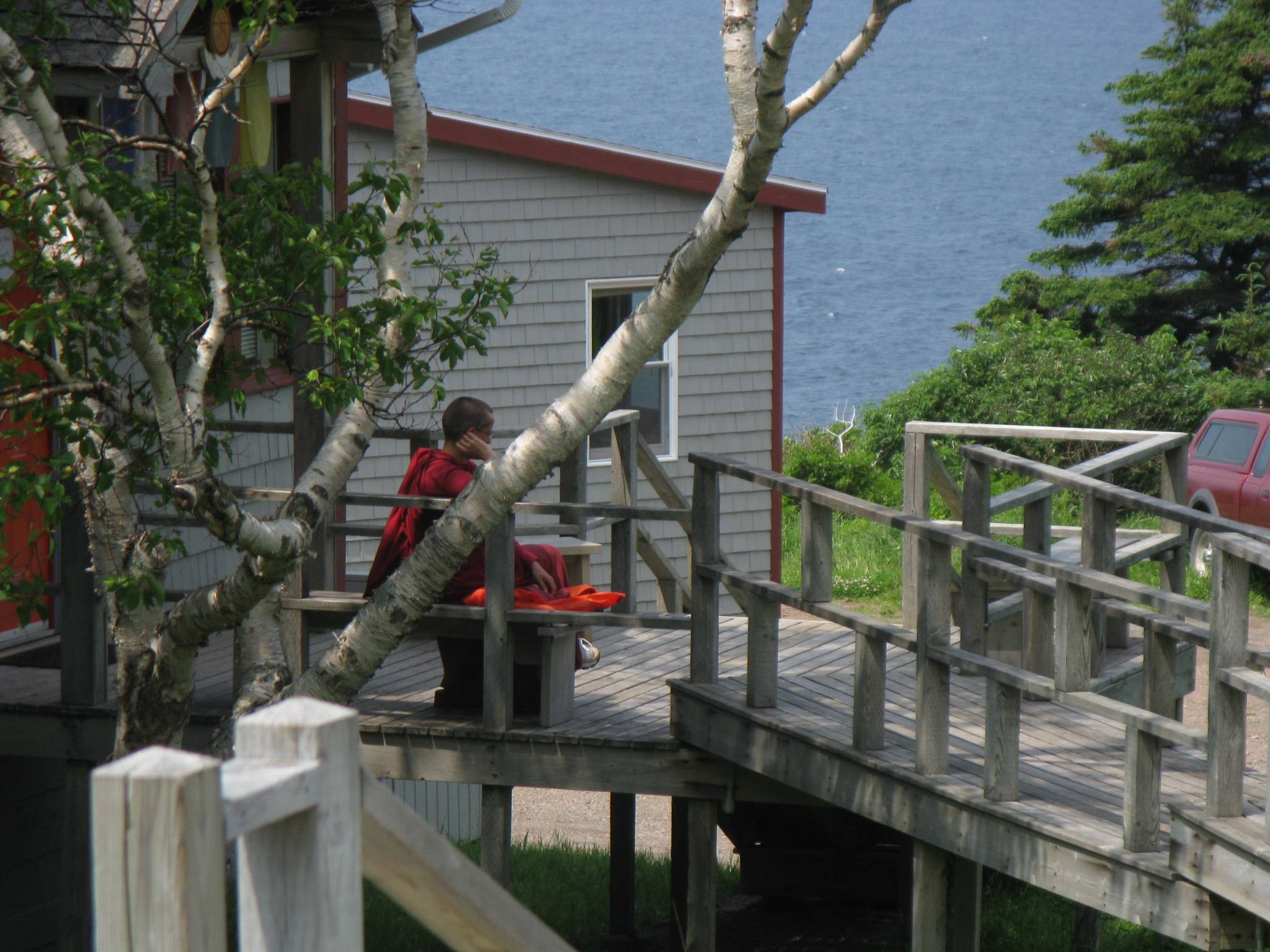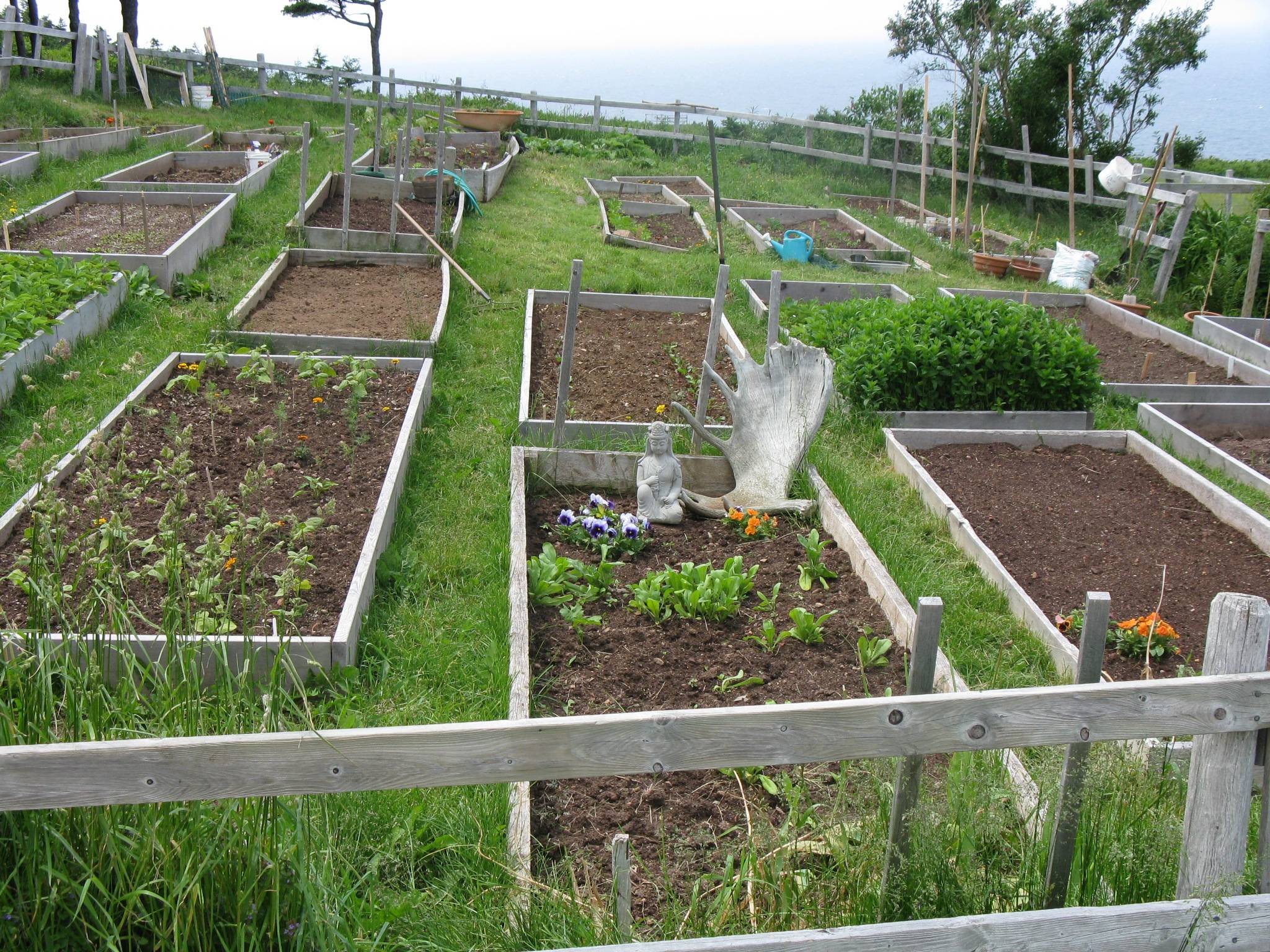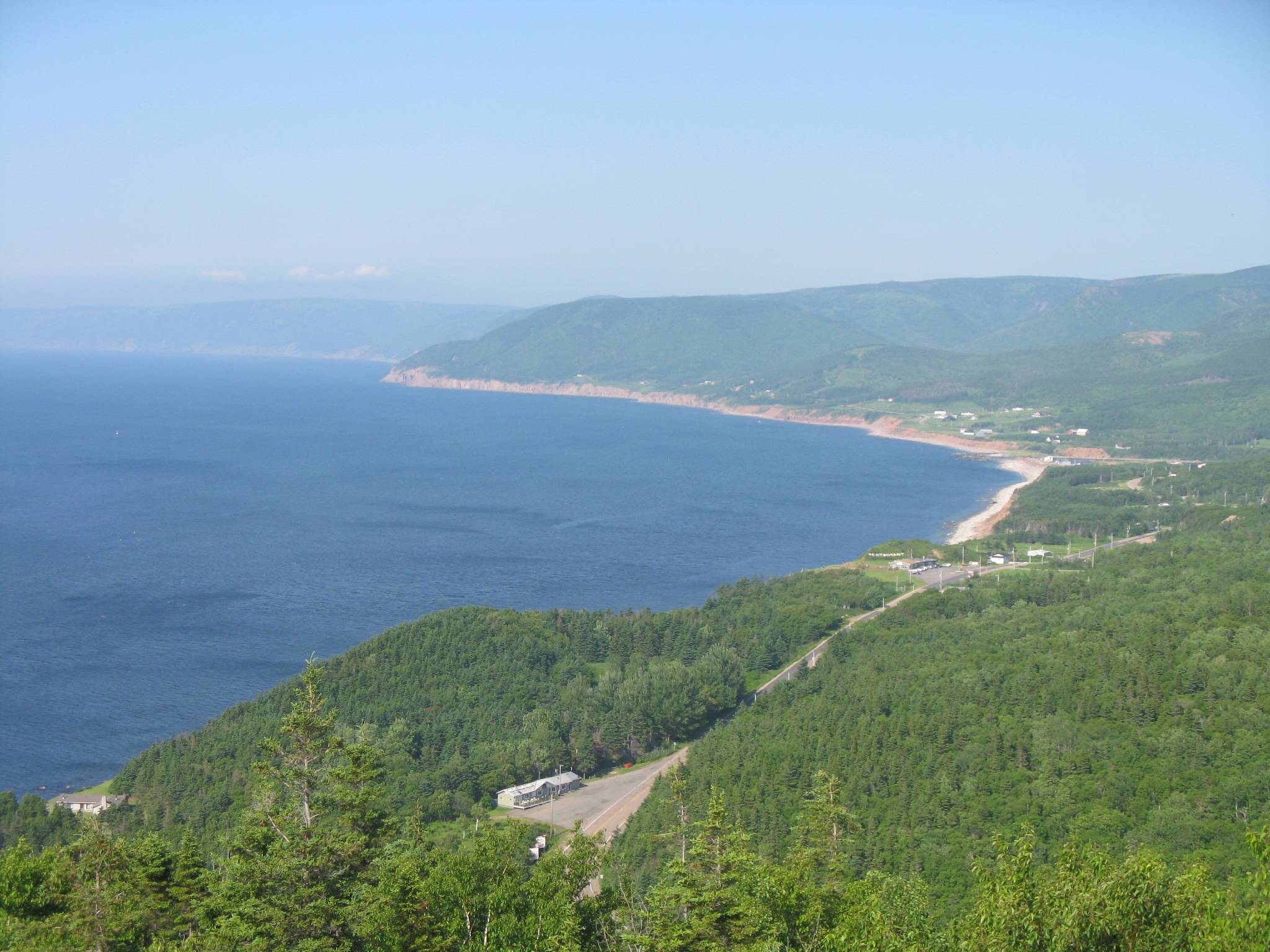 On to the big game. The monks and nuns of Pema Chodron's Gampo Abbey vs. The Volunteer Fire Department (and other townsfolk) of Pleasant Bay. The game is everything it's cracked up to be, everything I was hoping for, and more. There's a Canada Day picnic beforehand, with hots and burgers, cake and ice cream, and loads and loads of wonderful friendly people; 95% of them local. I am shocked! What's the matter with tourists, heading to places like The Alexander Graham Bell Museum, historic Louisburg and the like, and ignoring the best of the lot?!?! Oh, well. All the better for us. I sit next to a wonderful Quebecois woman who is doing a year-long retreat. I get to chat with Les, the coordinator of the Abbey. After the game I even get to be a boom operator for Bob Zimmerman of Halifax, who has been working on a doc about the Gampo Abbey program since 1997. Here are some scenes from the game and the picnic: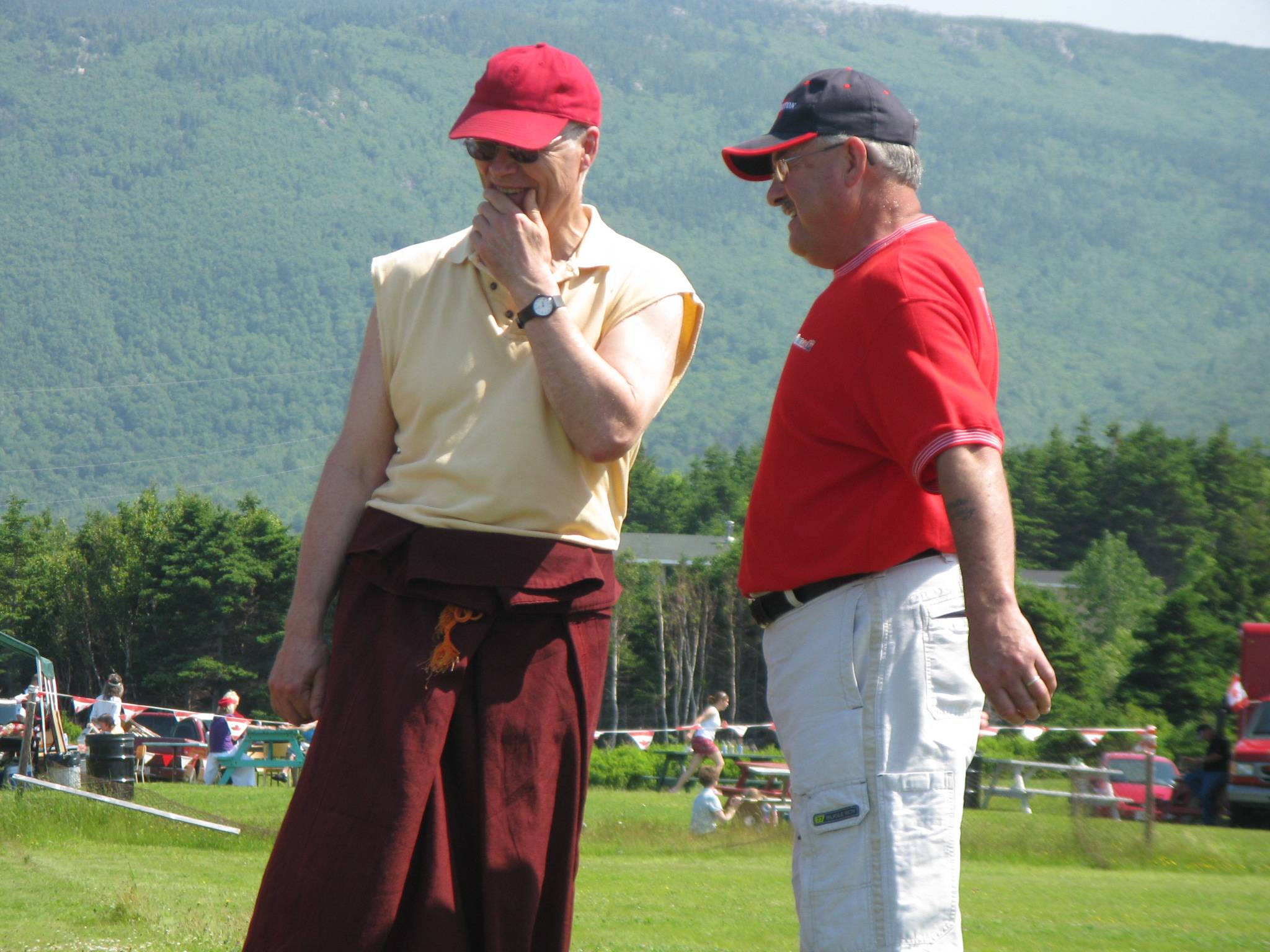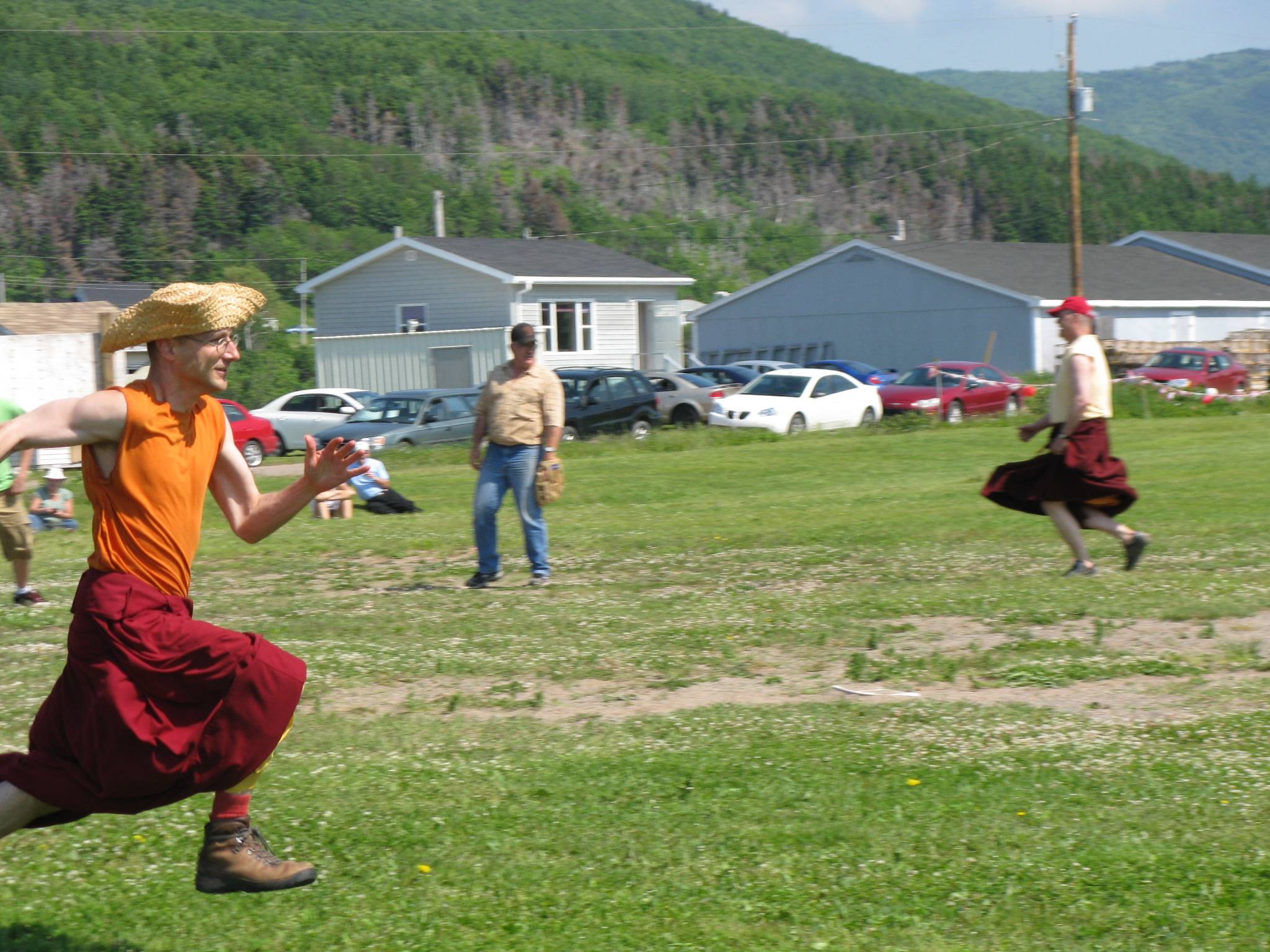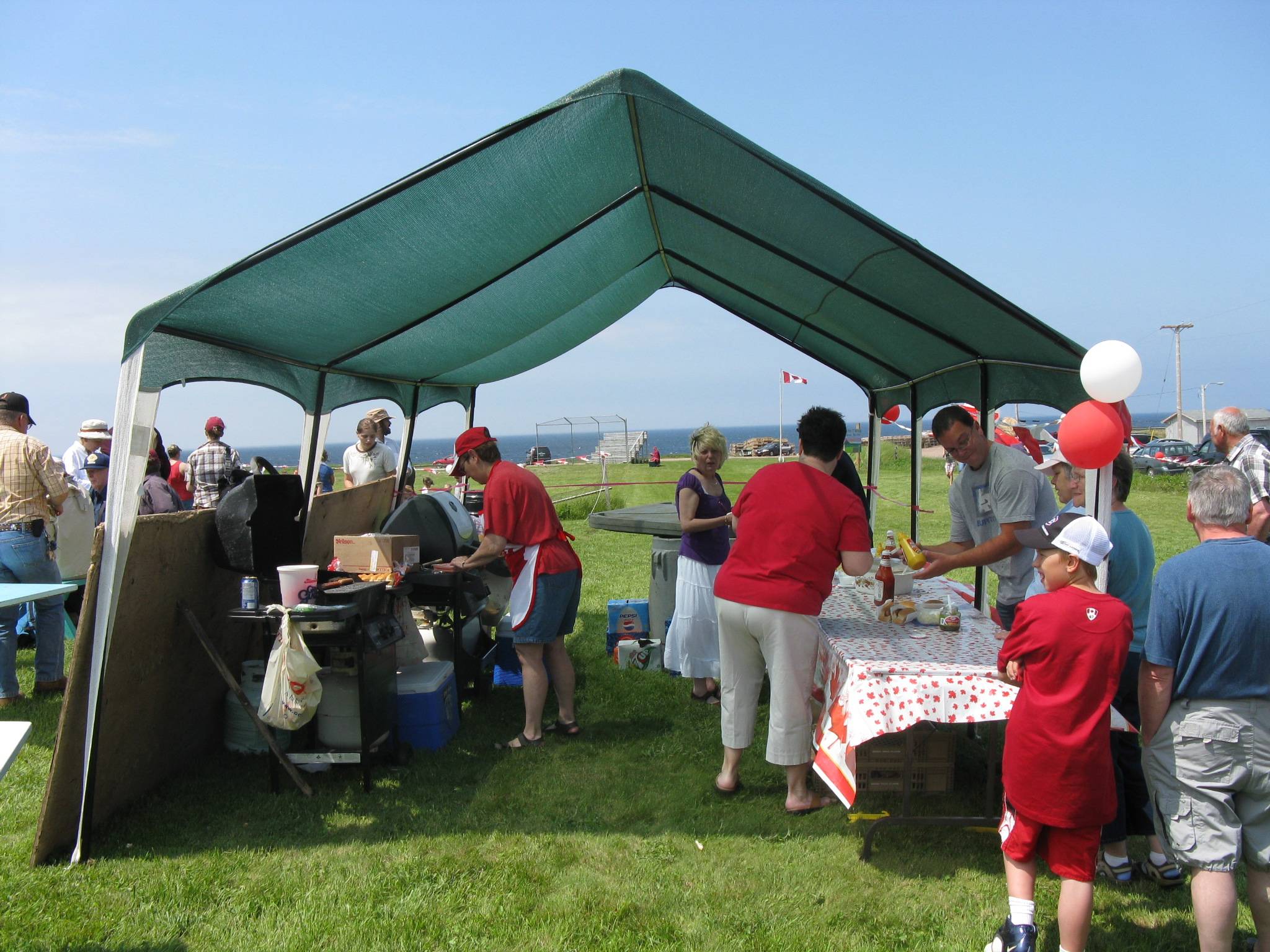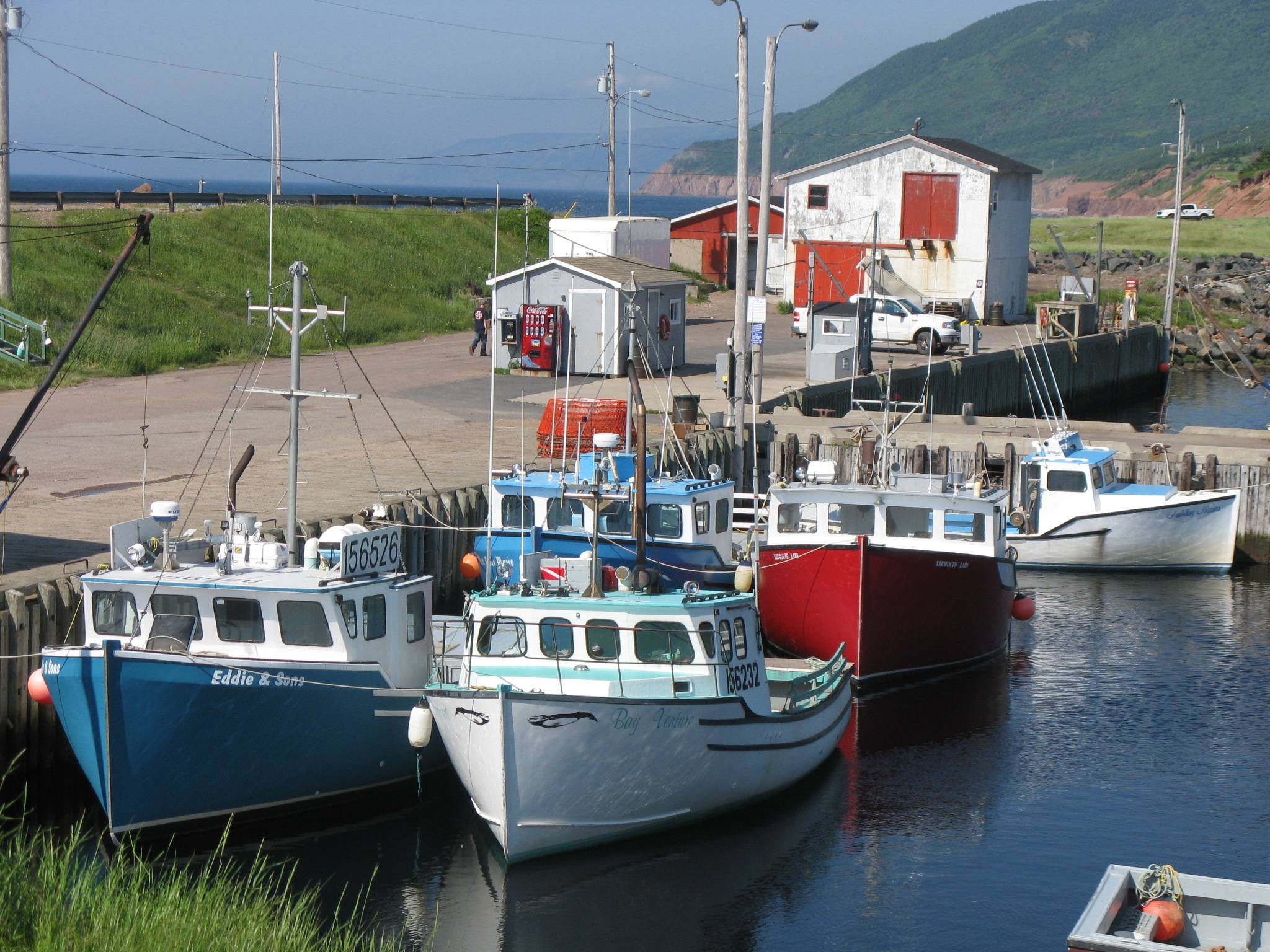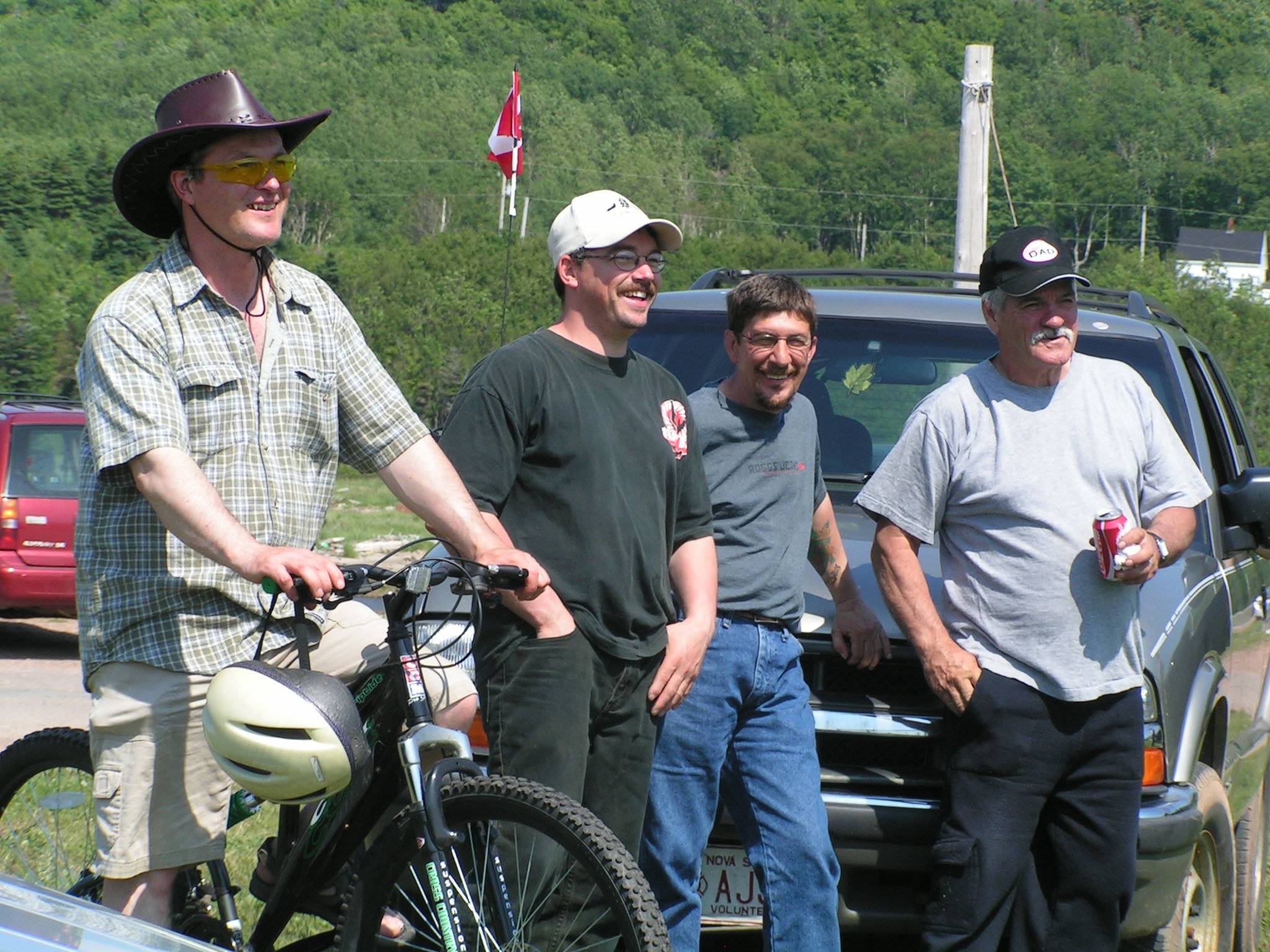 Exhausted on our return to The Normaway, we don't feel like doing much. Fortunately, there's the Living Room. Tonight proves to be a real treat. Derrick and Melody Cameron, guitar player and fiddler respectively. Derrick tells amazing stories about local colour, local fiddlers and traditions, and also manages to educate us about fiddle tune theory. I wish I had recorded him. He is so funny. Melody has a splitting headache and isn't shy about letting us know. It's such a friendly informal atmosphere. I offer to get her some water and she replies, "No, thanks. I already had tons of water and two Advil." But she plays her heart out, anyway. At the end of the tune, she frowns and sighs. Derek says, "Now there ya go again. Ya can't be going 'ohhhh,' when everybody's going 'yaaayy'." Their husband / wife banter is very sweet, relaxed and real.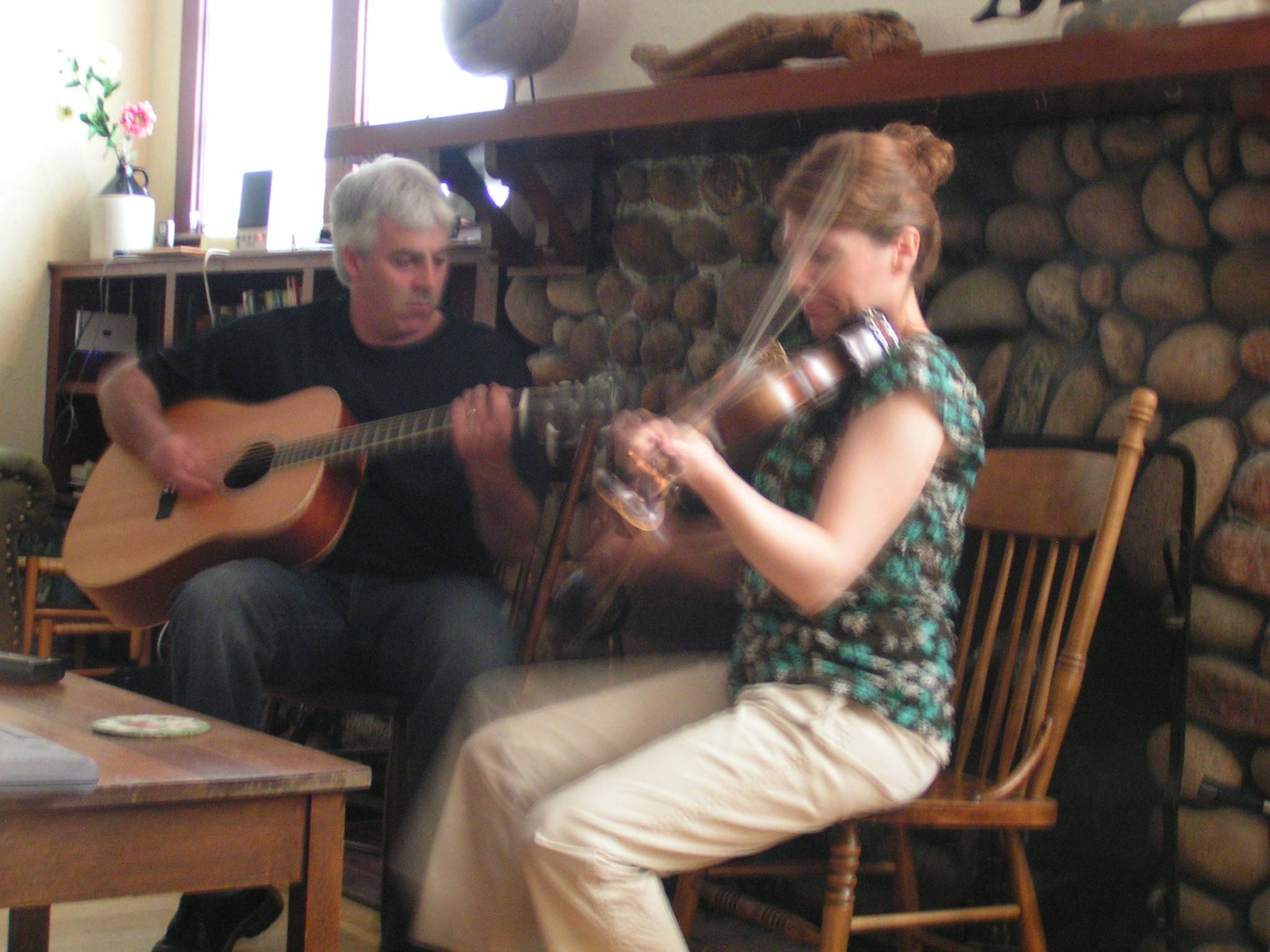 ****************************************
Wednesday, 2 July Sunny and 24 again. We're pretty tired from the drive around the trail and all the sun at the ball game so we make today a bit of a do-nothing day. A trip to Inverness takes us past Myles' antique store, "Myles From Nowhere."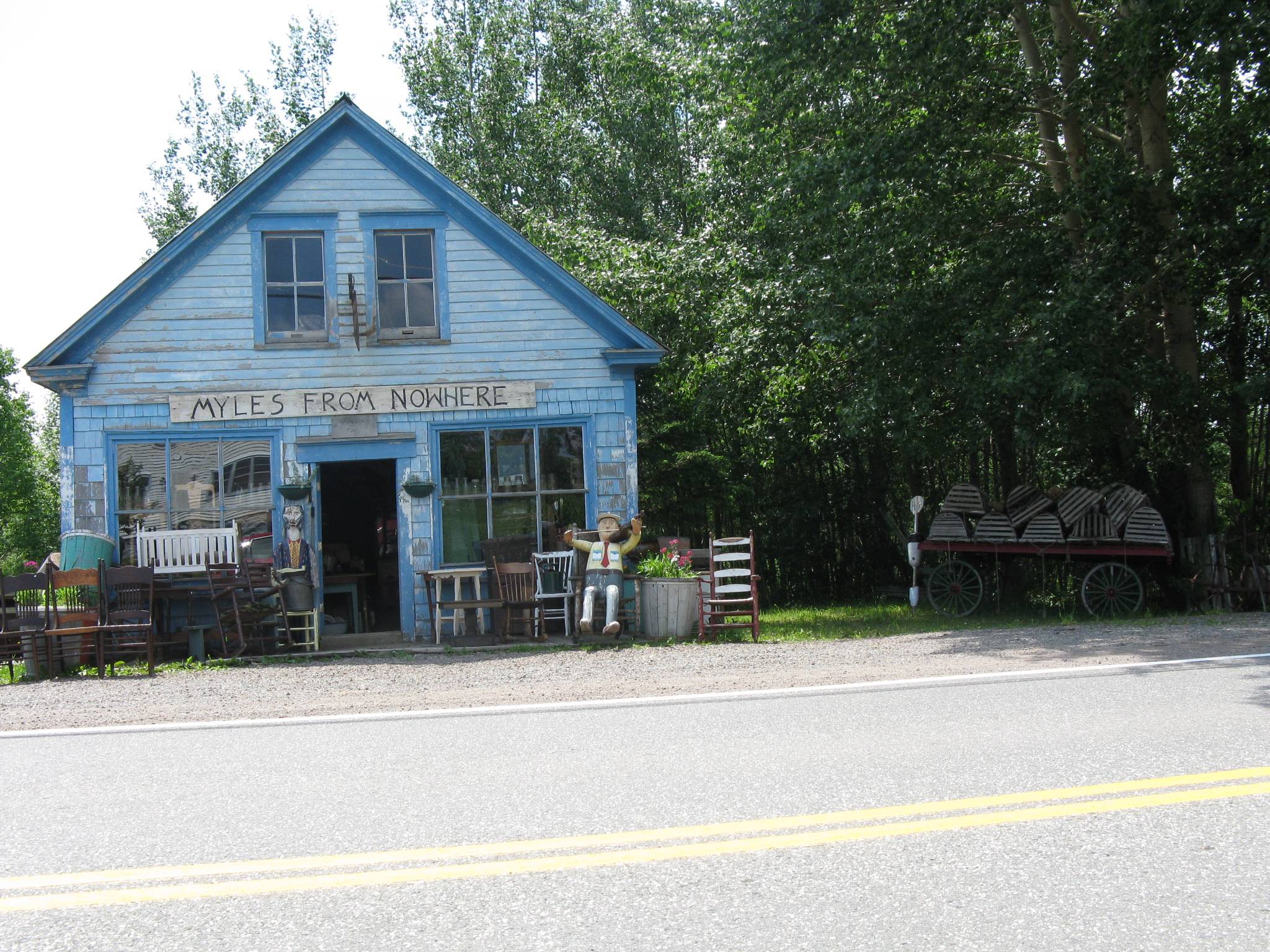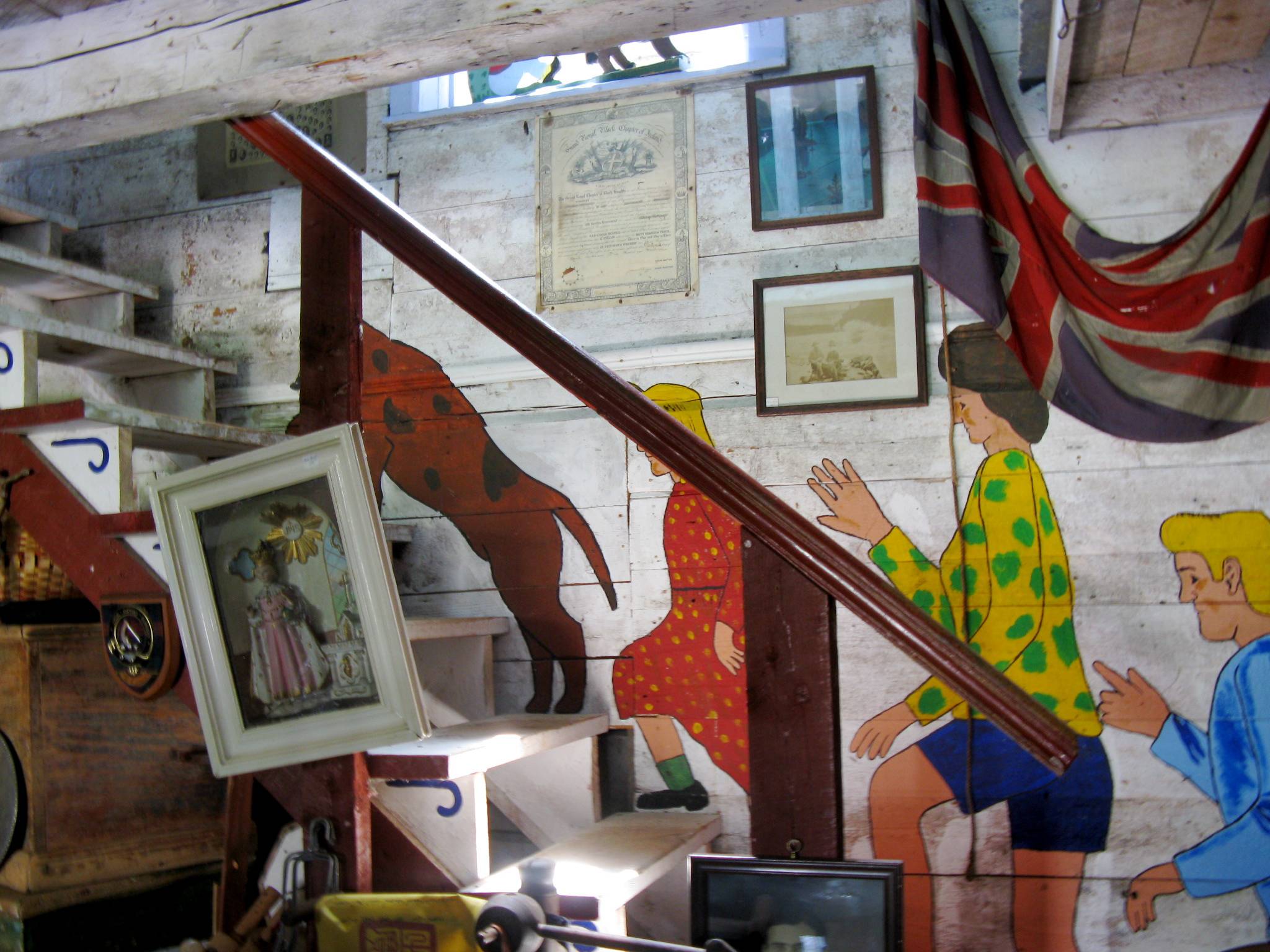 __________
When Cape Bretoners get hold of a good name, they see no reason to go looking any further. Take the Margaree (that's a hard 'g') River, for example.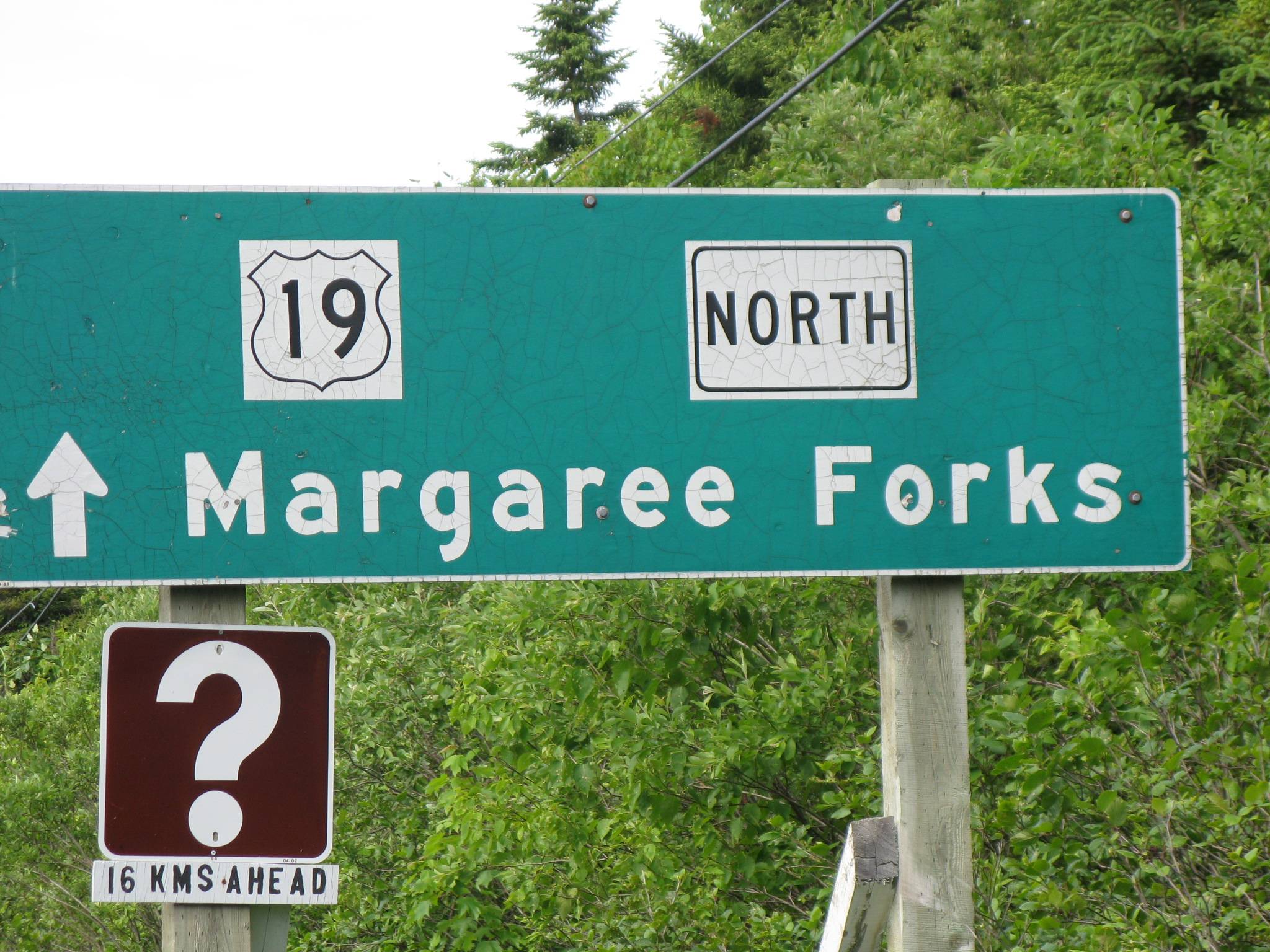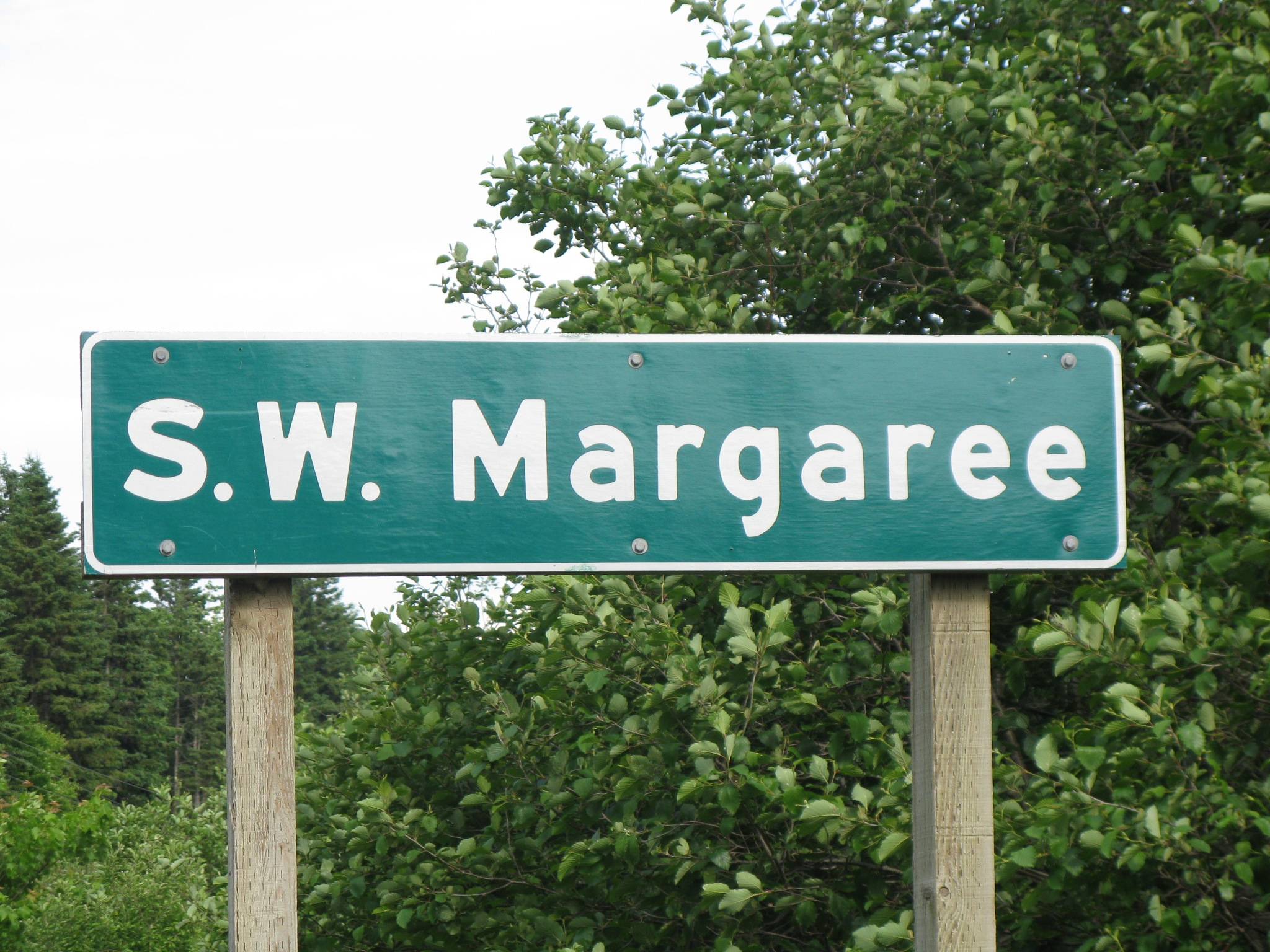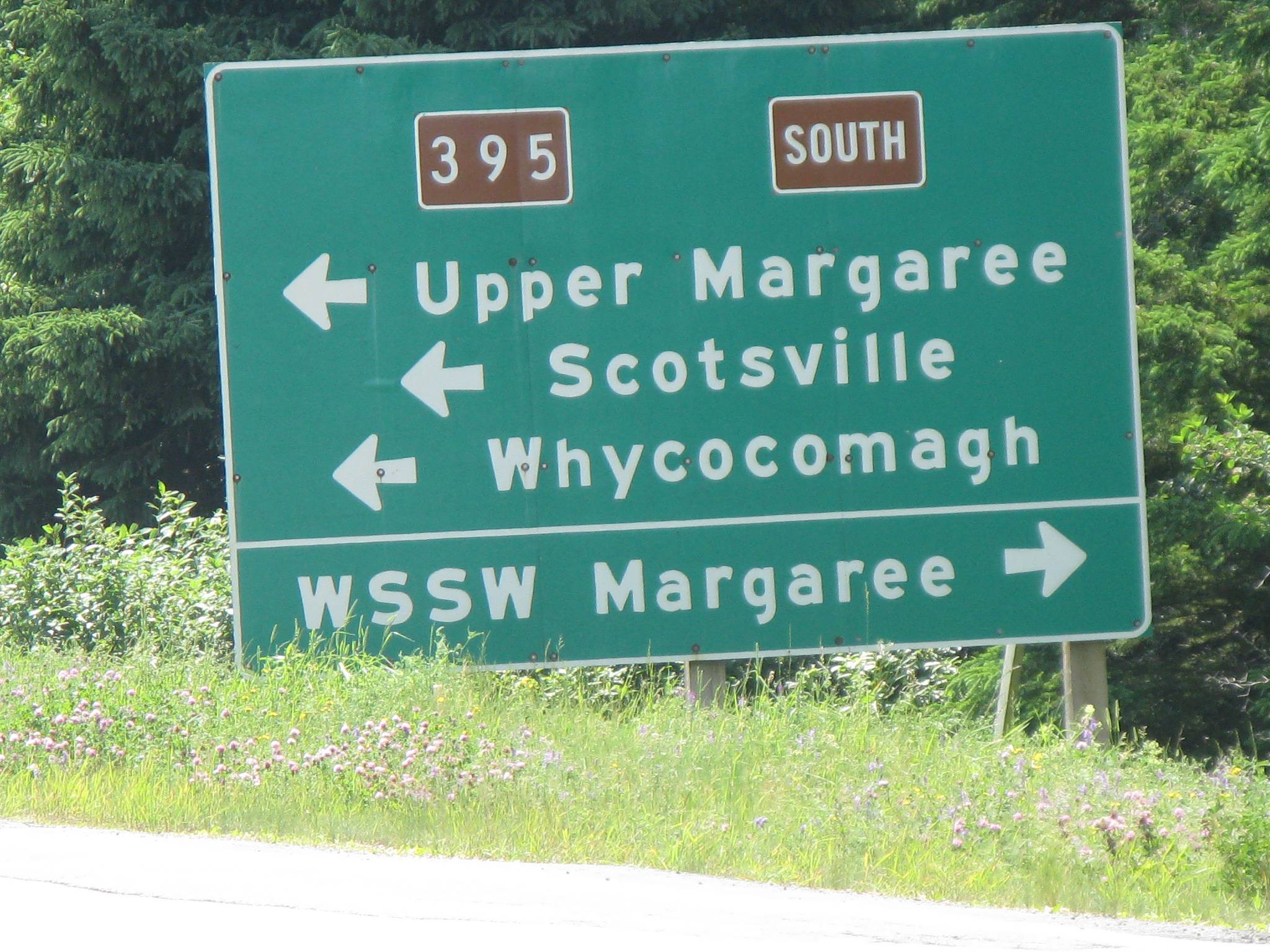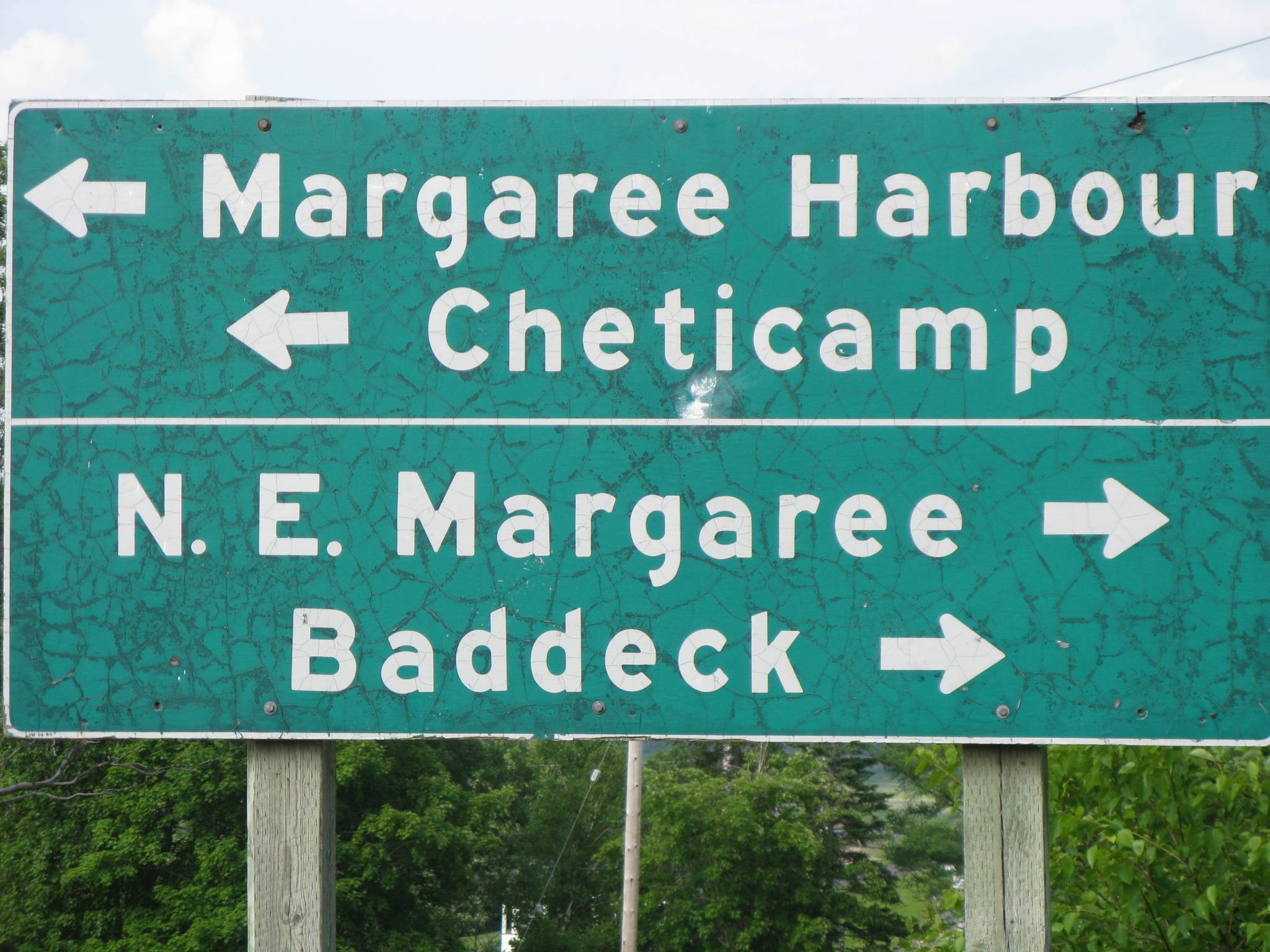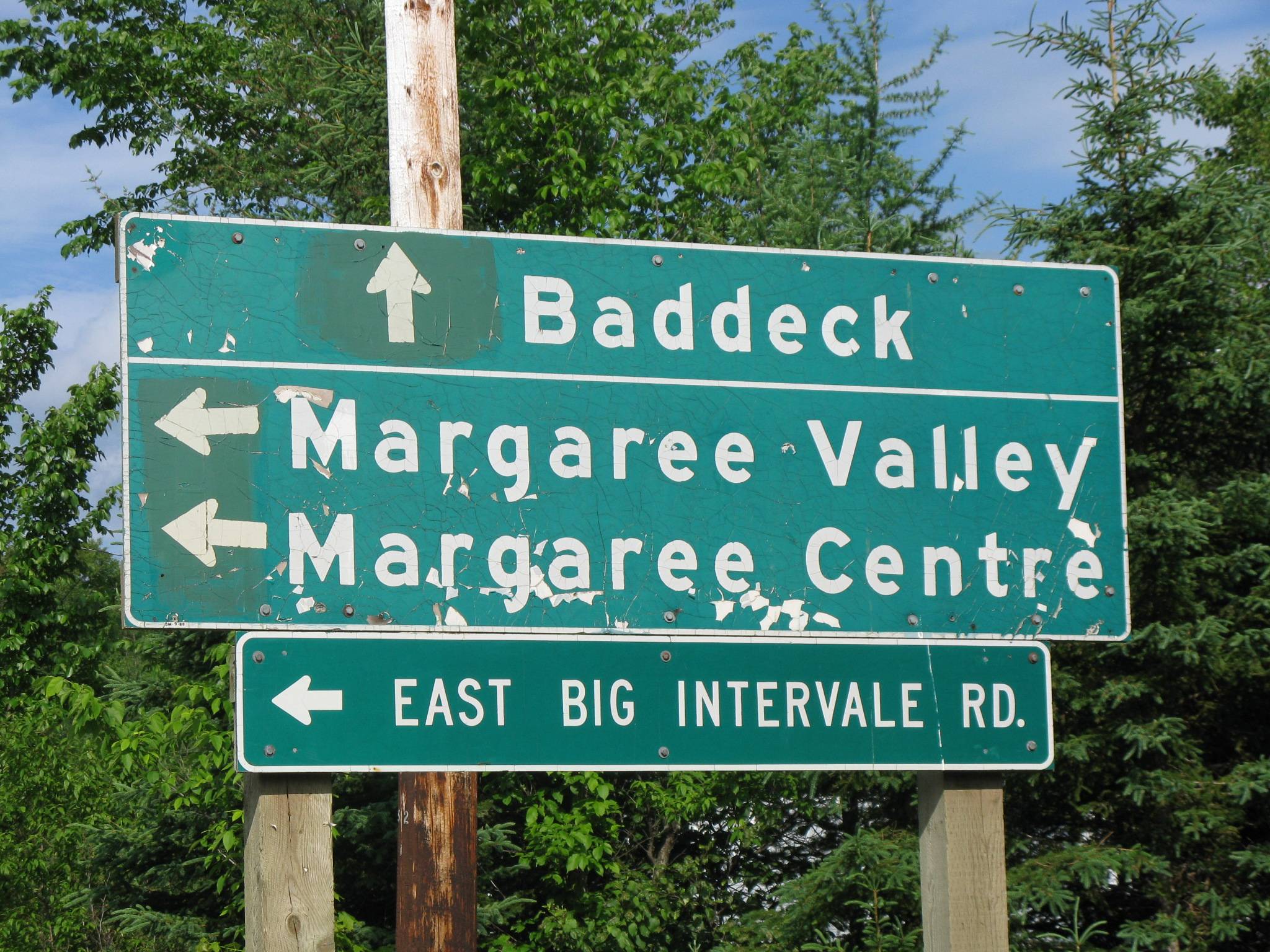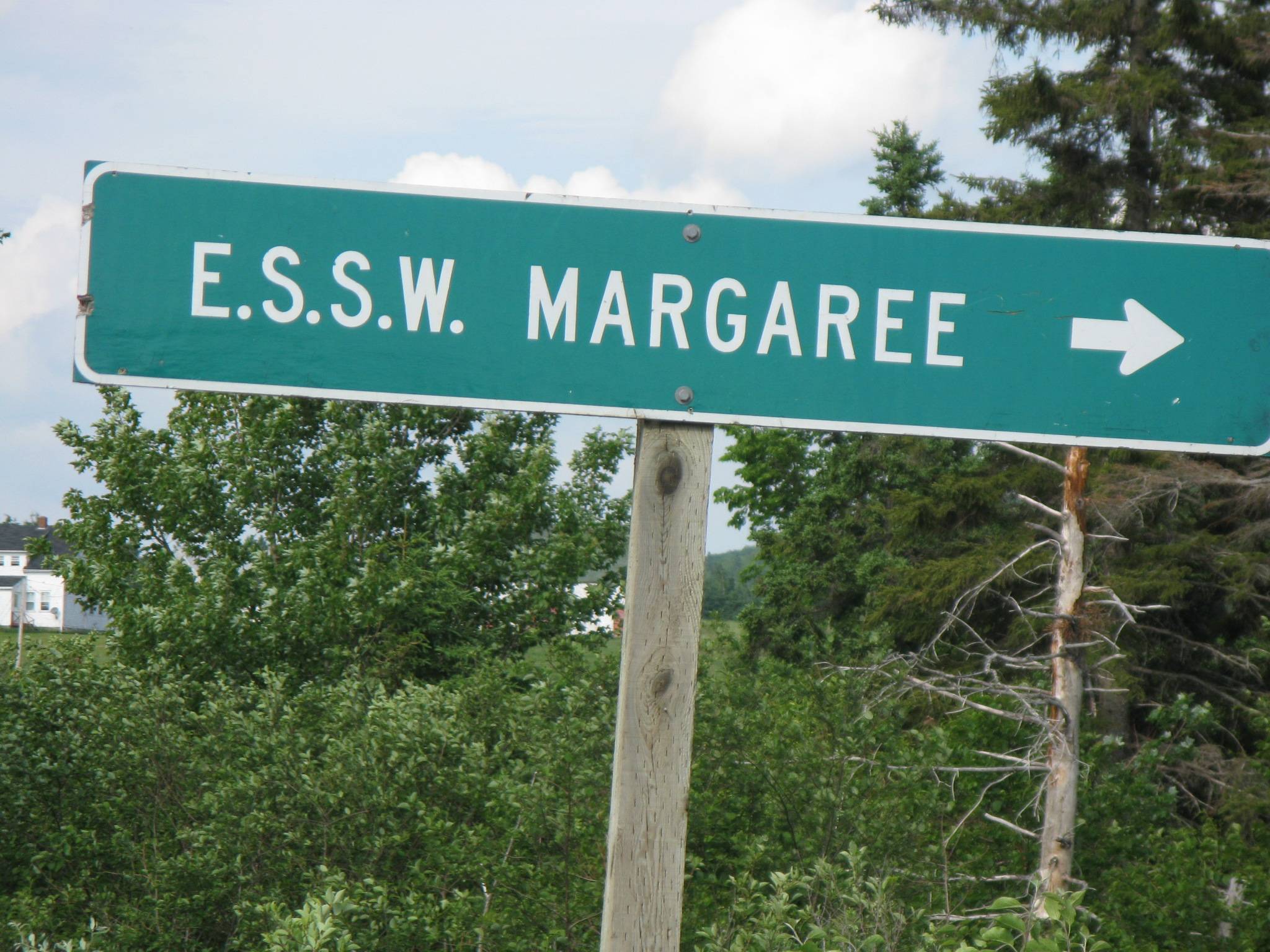 __________
The evening brings probably the best musical experience of the trip. And that's really saying something. It's the caleidh in The Barn at The Normaway. When we told Derrick Cameron who was going to be playing, he raised his eyebrows. "Oh, you're going to hear some real fiddlin', b'lieve you me."
I record almost the whole night on my Zoom, besides taking several photos and a bunch of videos. Despite all the capturing, I still somehow manage to actually be present. I know because my cheeks hurt from 2 hours of grinning. It's not an easy job selecting what to include in the journal, but here goes.
__________
Brenda Stubbert moves from piano to fiddle, and I'm astounded. Apparently all the fiddlers play piano, but not the other way 'round.
__________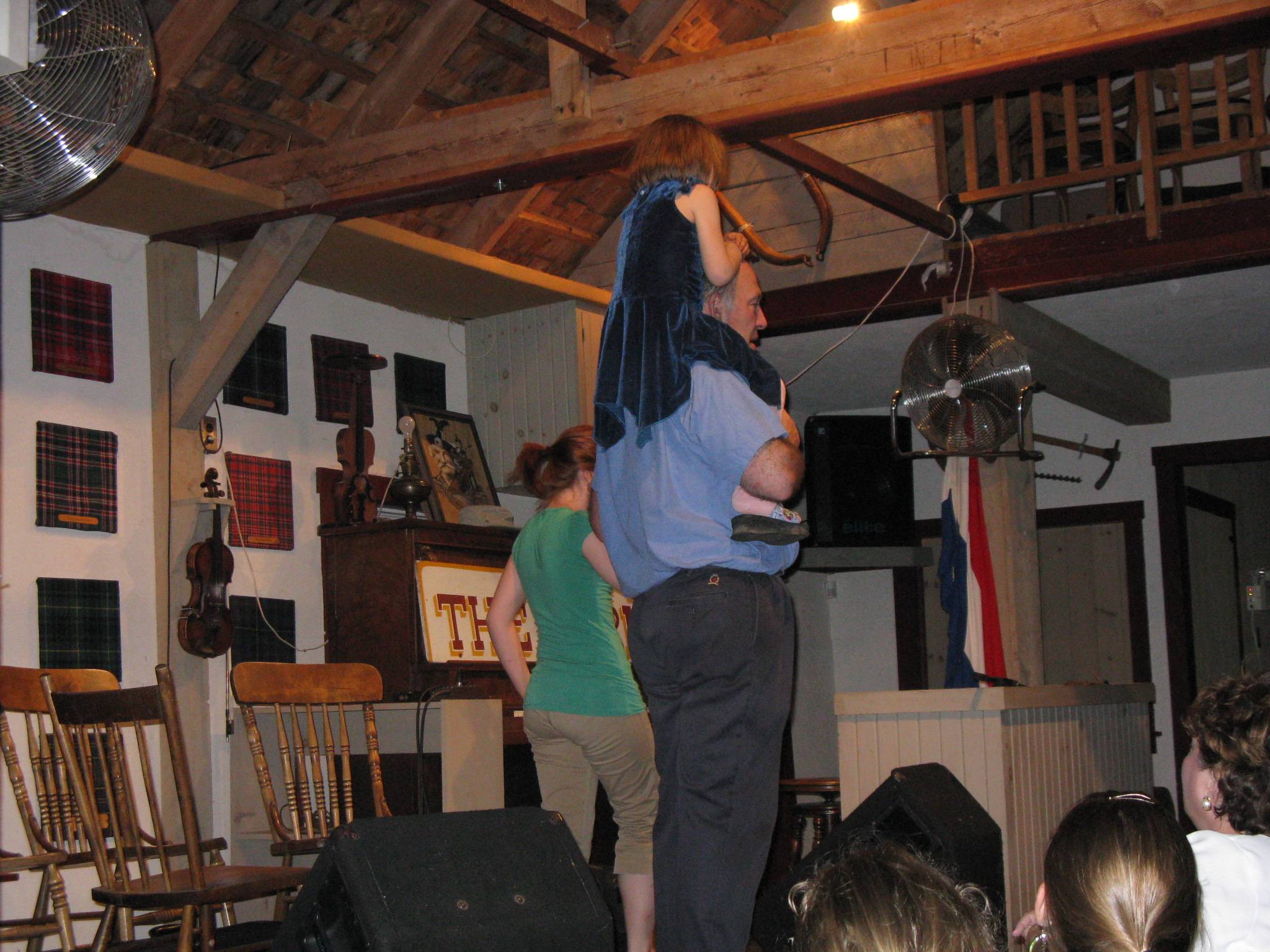 Dave intros the next performer, Kristen Shaw, daughter of fiddler / construction worker Kelly Shaw. She represents the furure of music in the Margaree Valley (N.S.E.& W.)
[quicktime]http://lounatale.com/journal/wp-content/uploads/2008/07/kristen-shaw.mov[/quicktime]
Heeeeere's Kristen! Could she be any cuter?
__________
__________
__________
After the caleidh, Sharon and I walk outside. At a picnic table, Mike Hall, the young upstart New Brunswickian fiddler, is bending veteran Jerry Holland's ear. "Ever play in Bb minor? I just wrote a tune in Bb minor." Jerry responds with something akin to "Why?" I chuckle to myself. (Fiddle tunes are most always in straight ahead keys like G, D, A or A minor).
Brenda Stubbert is chatting with the young guitar player who is Mike's buddy, and who's name I didn't get. He's been to university in Nashville and is doing a music PhD in Newfoundland. Brenda is a beautiful fiddler, and piano player too, plus she writes more tunes than rabbits have bunnies. Her father, Robert, has recently passed away. Dave MacDonald says Robert taught some of the Barra McNeils how to play. The conversation is about royalties. I offer my two cents, and soon Brenda, Sharon and I are chatting away. When she learns that I'm a composer too, she wants me to hear a song off her latest CD. She insists on giving me a copy, but I insist harder on buying it at the counter inside The Barn. I don't get around to listening to it until we are leaving the Maritimes a week later. Tears come. The song is called "Endless Memories." Need I say more?
****************************************
Thursday, 3 July The early morning clouds burn off quickly. It's in the mid 20s again. Purrfect weather.
Today is destined to go down in history as one of the following: a.) Dissappointment Day b.) The Day of the Crappy Food c.) A Big Opportunity to Prove the Silver Lining Theory
Up early to leave at 7:30 to drive the 2½ hours to be in Bay St. Lawrence in time for a 10:30 whaleboat excursion with Oshun skipper, Cisco. We drive north on the Cabot Trail, past Cheticamp and Pleasant Bay again, all the way to Bay St. Lawrence on the NE tip of Cape Breton. It is a spectacularly beautiful drive. Little did we know that this was Silver Lining #1. Once in town, we are looking for Oshun (pronounced AW-shen. It's Gaelic.) Cruises. "I just love this," Sharon says. "They don't even have a sign. It's all so casual." I'm not so sure. A man working on the lobster boats tells us, "Cisco's out fishing. You can go ask his wife, Sharon, though. She'll know what he's up to. They live in the house on the hill with the orange roof." We can't find the house, but end up knocking on a neighbour's door. Her name is Margaret and her house is on a hill about 75 feet directly above the bay. She calls Sharon for us. The news is not good. They're late with the traps and someone got hurt on the boat yesterday and they're not going out until 6:00 tonight. There's no way we can stick around.
We swallow the bad news very admirably, and move on other things. We end up at the Bay St. Lawrence Community Centre, to ask about other whale tours. Nothing too encouraging, though the women who man the desks are going way overboard to try and help out. (Silver Lining #2). I snap a pic of the ones who aren't too shy, telling them they are so friendly, I want to take them home with me (in a snapshot, silly).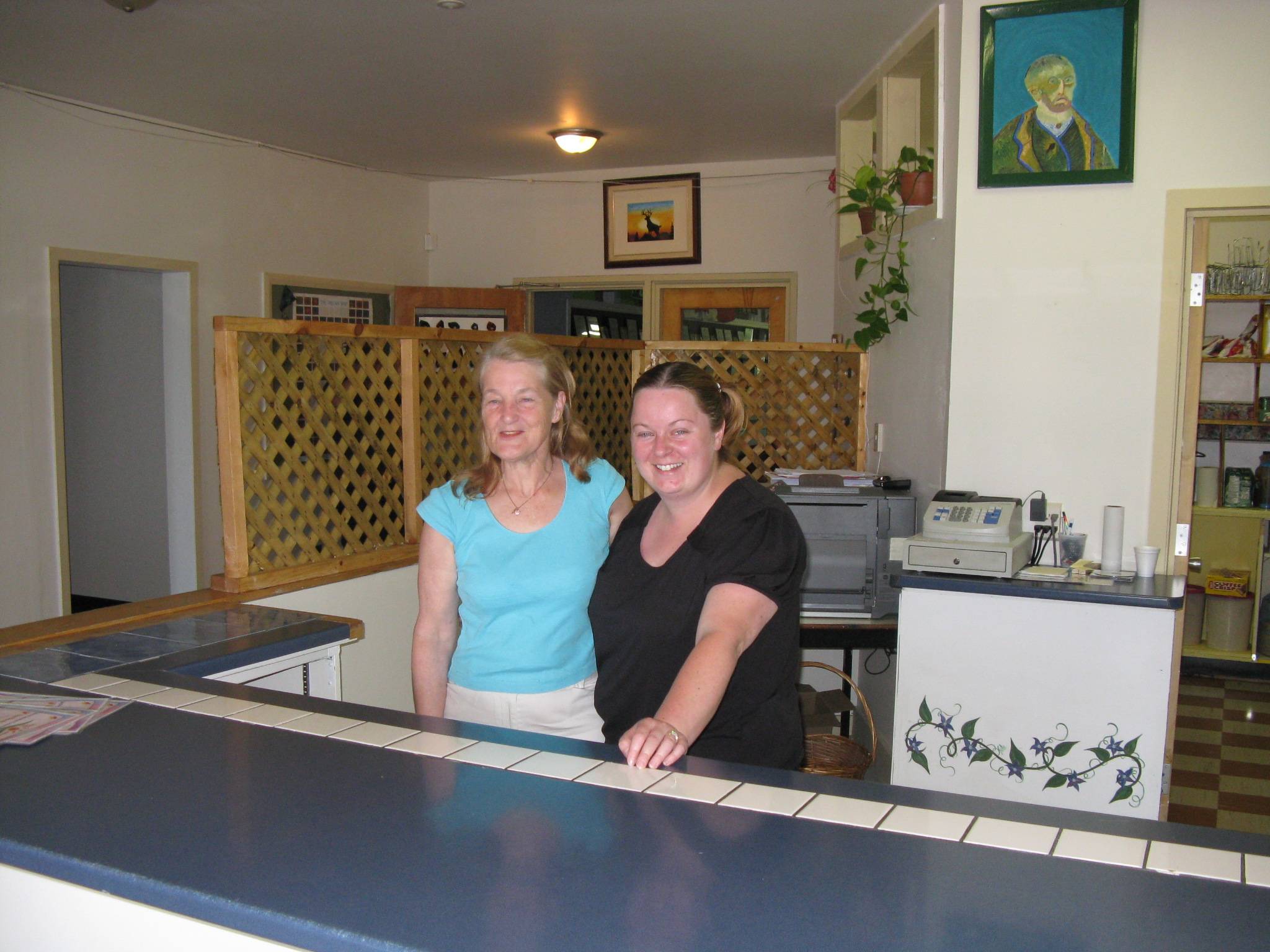 Thank you to the folks at the Bay St. Lawrence Community Centre.
On their recommendation, we head for Meat Cove. It is the v-e-r-y top of Cape Breton; eight km of dirt road to get there. It is the site of the crappiest meal yet, with the best view yet. See how clever life is, dishing it out in it's balanced 50/50 kind of way? As Rosalee back in Prospect Bay said, "I like to think of shit as fertilizer."
Throughout the trip, Sharon has been on a quest for the best seafood chowder. Here is the cook at the Meat Cove diner responding to our question, "How's the chowder?" Pretty convincing, I'd say. Unfortunately, her cookin's a right sight worse 'n her story tellin'.
We continue to Ingonish, and then a fairly uneventful clockwise trip along the Cabot Trail, to Baddeck (site of crappy meal #2 at the Yellow Cello, and finally home to the Normaway. We drive the whole Trail today. 7:30 a.m. to 6:30 p.m. Oh, I almost forgot. For the bulk of the drive, I have my headphones connected to the Zoom, playing the fiddle music from last night's caleidh in The Barn. The way the tunes match the views of the Highlands make them even more breathtaking. I had goosebumps bordering on tears. Silver Linings to the max.
In the Living Room tonight, we hear fiddlers Kristen Shaw (just graduated from Grade 9) and her father Kelly, with piano accompaniment by "Mary."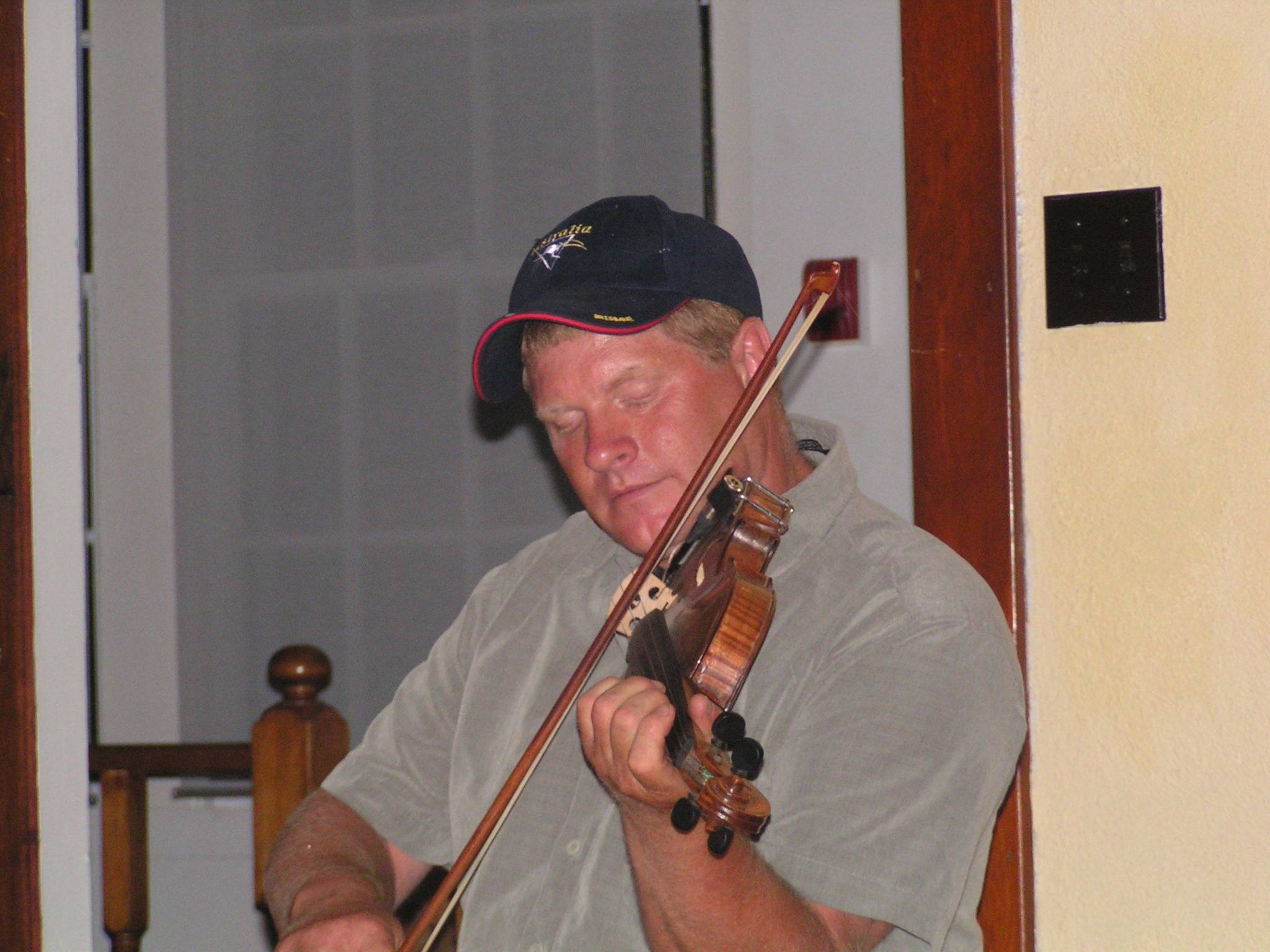 Kelly Shaw and daughter Kristen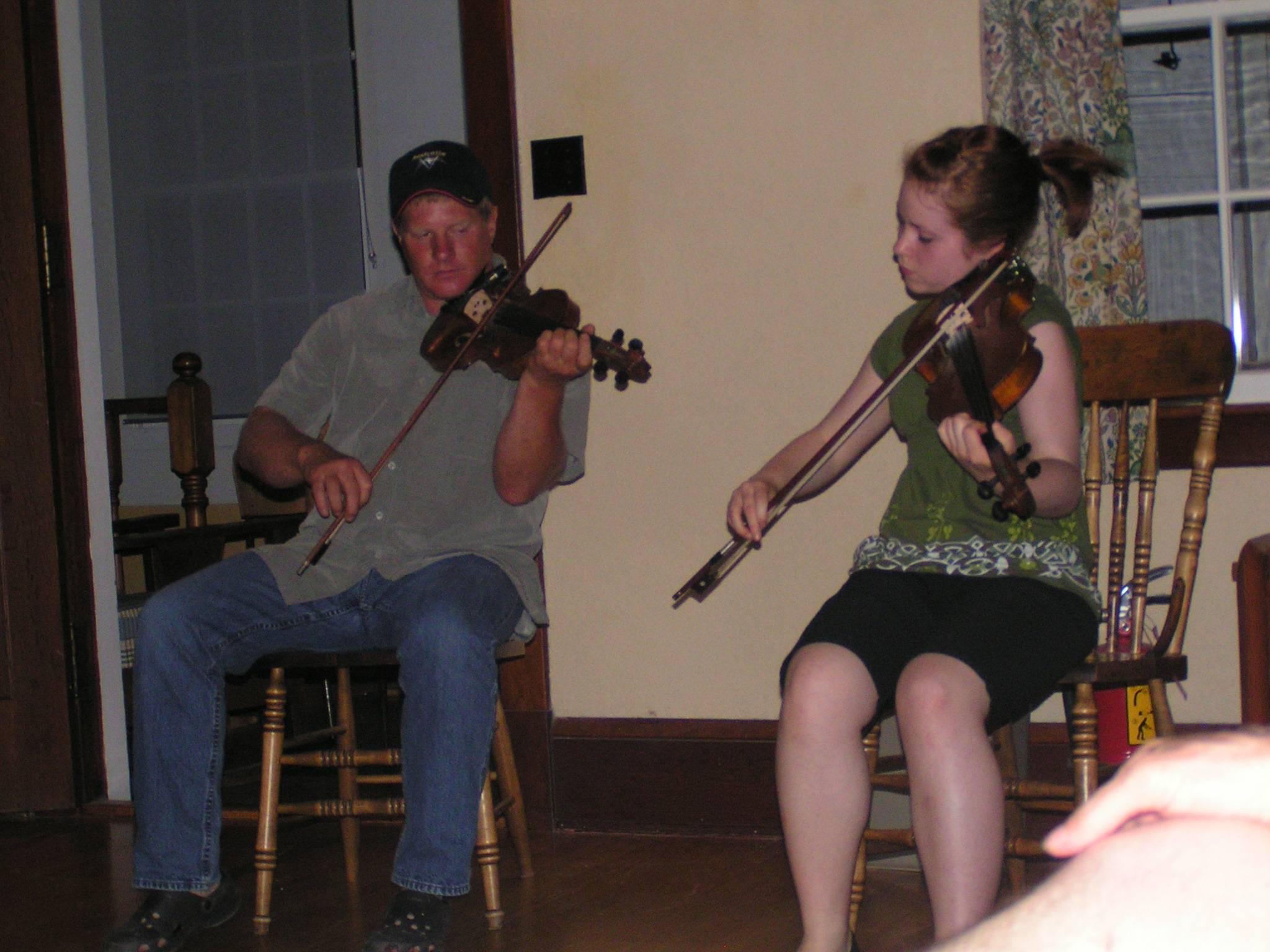 In this movie, we hear Kristin, Kelly, and Mary on piano.
****************************************
Friday, 4 July A cloudy start turns to sun again. High 22 – 24, depending on where. Farewell to Nova Scotia and Cape Breton Island. :-( It's on to P.E.I. Nova Scotia is going to be a hard act to follow, and I'm aware of wanting not to compare, so it's another opportunity to practice being in the here & now. (Speaking of which, we learn today that Canada's fave fiddler, Oliver Schrorer, finally succumbed to leukemia yesterday. He went peacefully, thank God, and his last words to the nurse were "I guess there'll be o excursions today." Bless you, Oli. You were a right inspiration, as they say here in the Maritimes.)
We get to the PEI Ferry at Pictou (pronounced PICK-toe) by noon, for the 1:00 boat. It's a beautiful crossing and takes over an hour to get to Wood Islands on the PEI side. The guidebook recommends a little shack about a kilometer from the ferry called Crabby's. The owner has taken on the personality of the restaurant's name. He charges an extra $1.50 per person just to sit at one of his picnic tables. Fortunately, there is a beach just up the road and we head there to crack open the delectable crabs legs and munch the sandwich of fresh lobster. Our next two days will be spent staying at the low point of the trip, the Rollo Bay Inn (read: Motel) to attend one of the high points of the trip, the 23rd PEI Bluegrass & Oldtime Music Festival.
****************************************