Niafunke
Mali 2008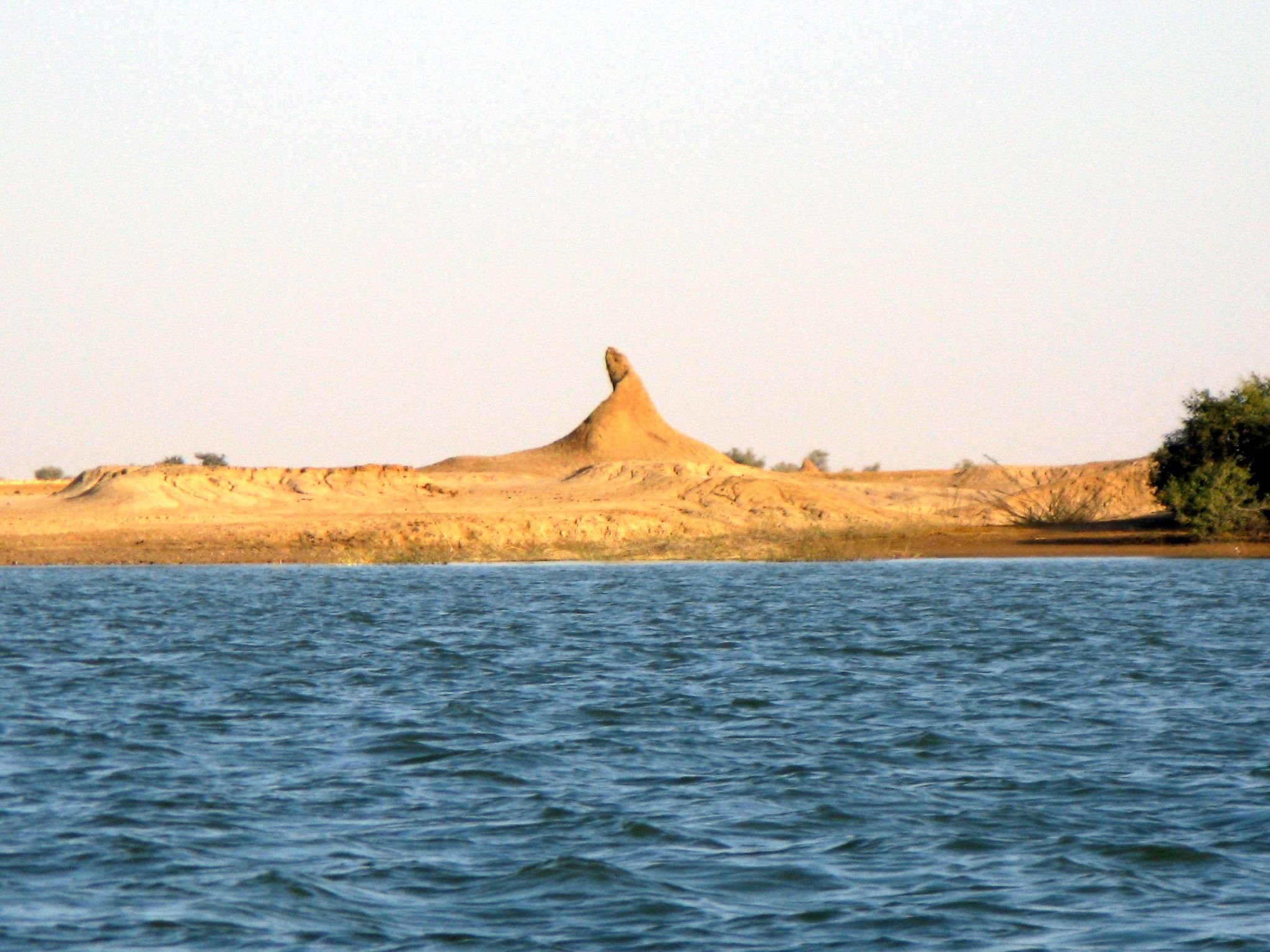 A sandcastle? No. This is a termite nest. Below, you can see them dotting the landscape to the left of this small village on the way to Niafunké.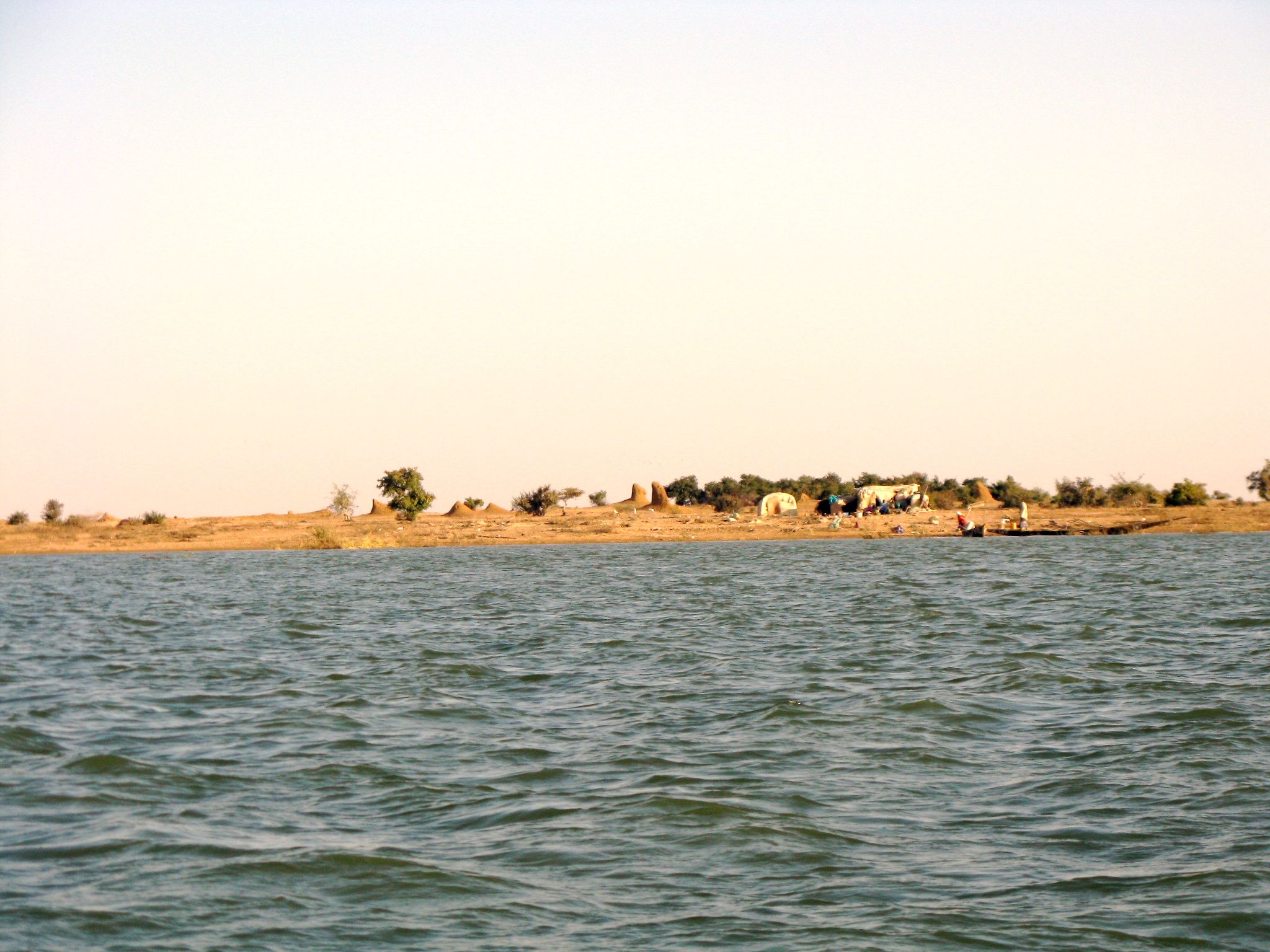 Niafunké is the birthplace of Ali Farke Touré. Graceland, Mali, Chris calls it. Kids again as we debark. Fewer and less frenetic, though. Little Abdoulaye, about 8, takes my hand as we walk through the streets. We wait outside Ali F.T.'s compound while Issaka and Arouna scope it out. After a couple of minutes they signal us that it's o.k. to enter. In a light blue boubou and glasses there is a big, beautiful elderly man who shakes the hand of everyone who enters (there's maybe 8 of us) and welcomes us. "Ca va?" he asks. "Oui, ca va. Et vous?" "Ca va bien, merci." and around it goes. (Afterwards I learn it is Ali's brother.) I ask Issaka to ask him if it's alright if we take pictures. "Absolument!" comes the instant response. No mention of pay like every other place we've been, or even a cadeau (gift). He points and says, "There is a horse." I walk about 20 feet and see, by a big satellite dish, amongst the chickens, a horse in his stall. To our eyes, Ali's home is anything but palatial, but I am guessing that the horse and the dish speak volumes to the Niafunkians. Ali's brother remains gracious as we reverently say our good-byes.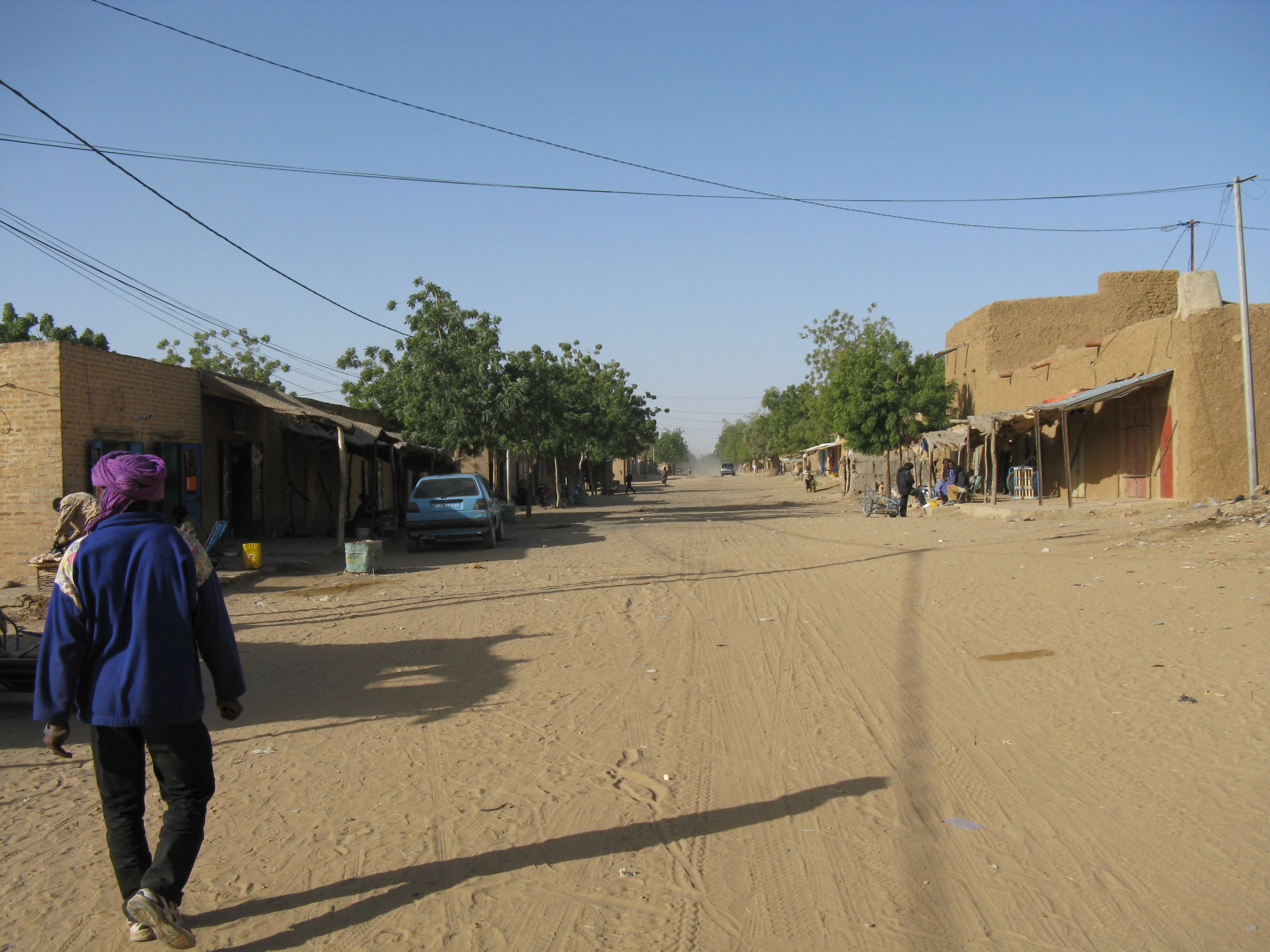 Issaka heads down the main street of Niafunké.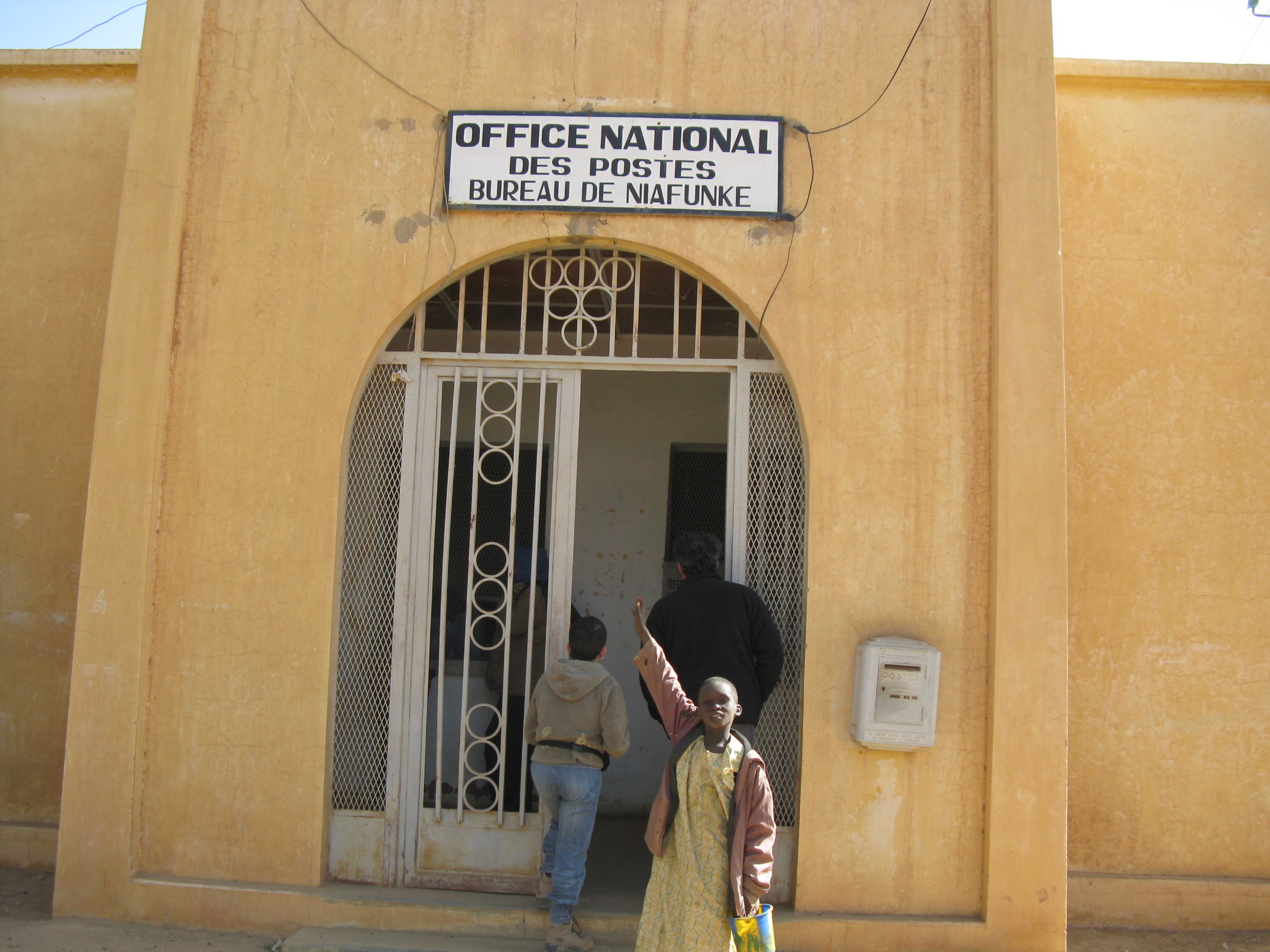 Abdoulaye points out the post office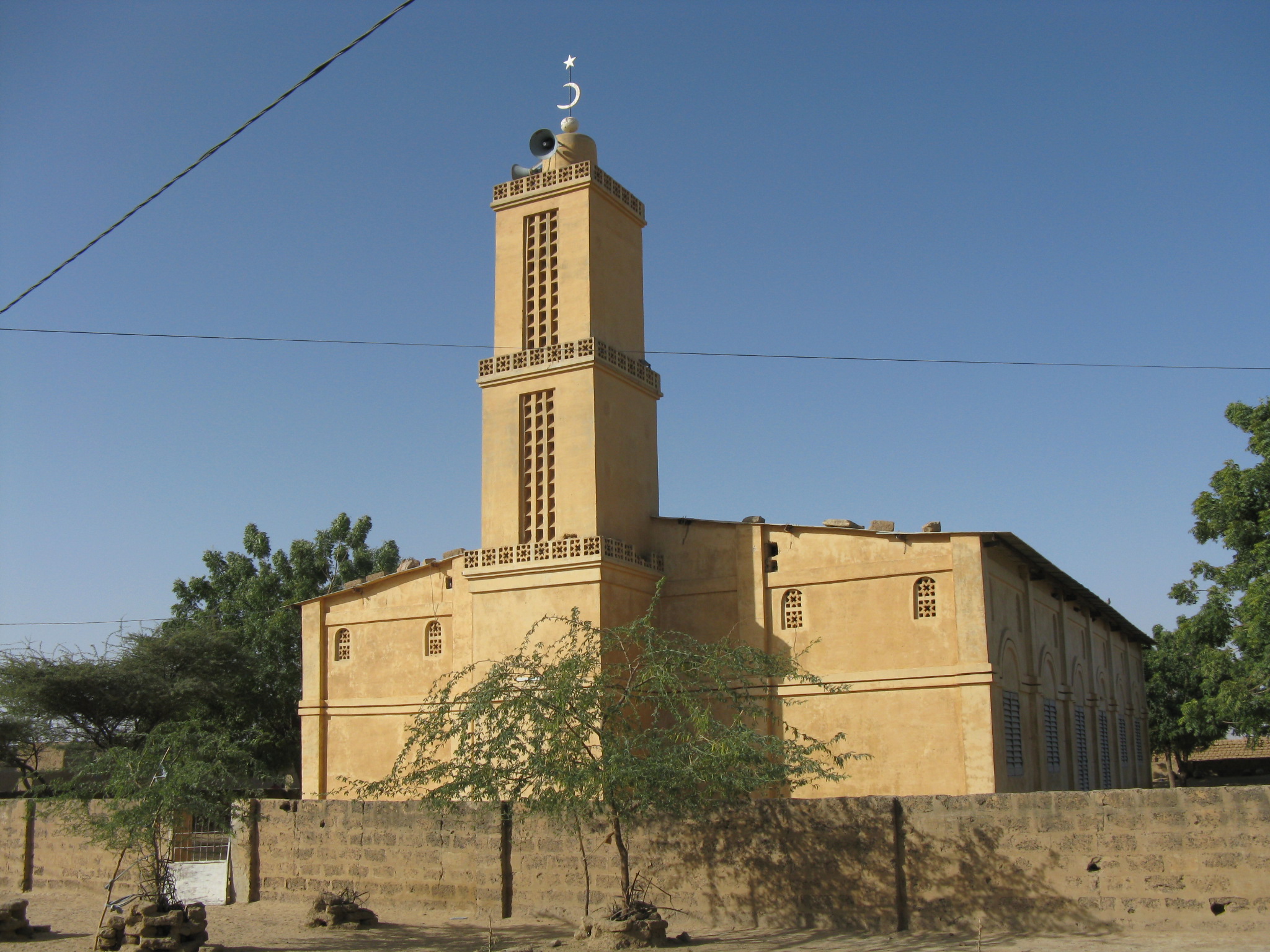 Note the loudspeaker, moon and star atop the Niafunké Mosque.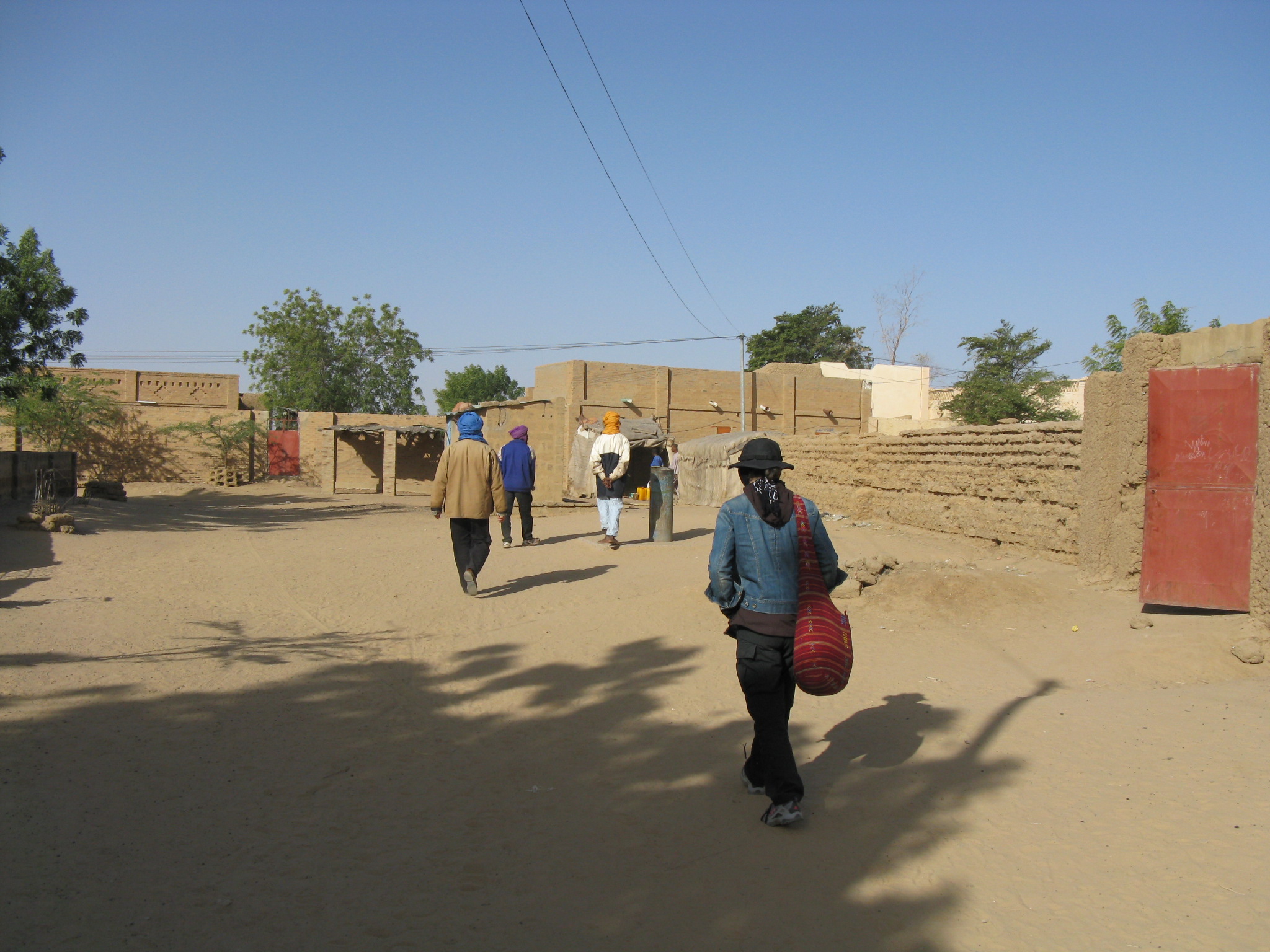 Raissa and Chris follow Issaka and Aruna to Ali's compound.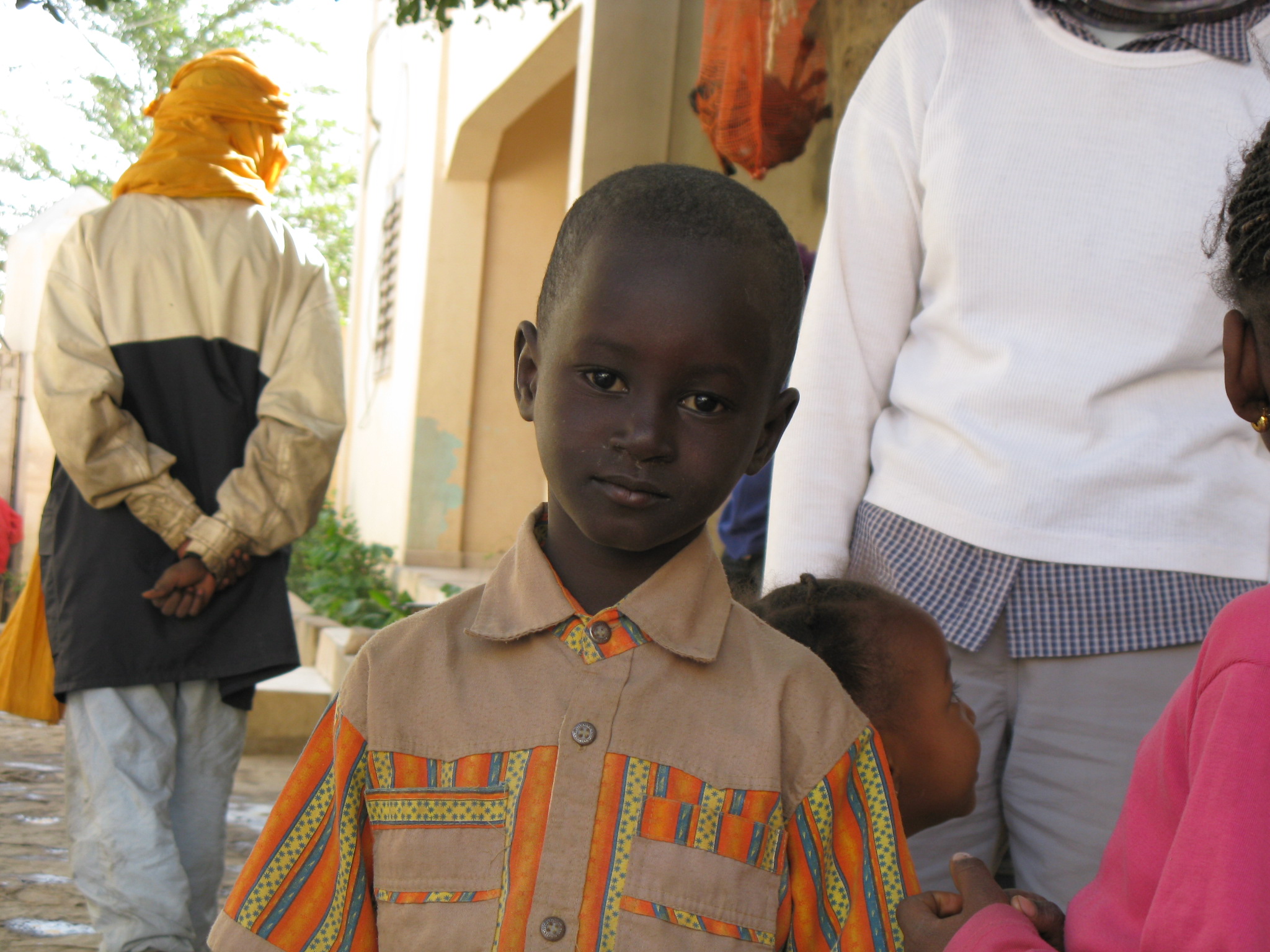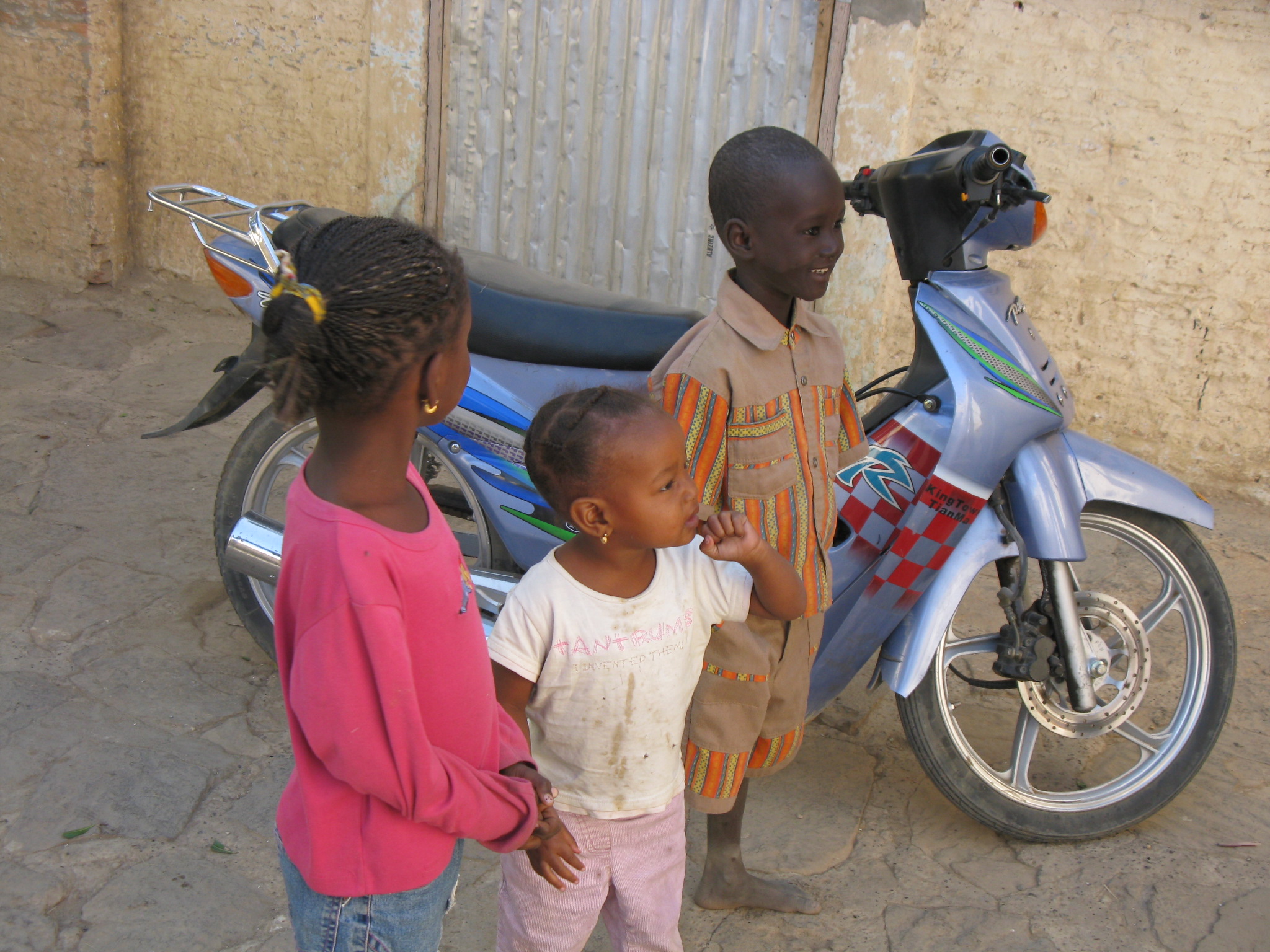 Kids come out to greet us and tag along.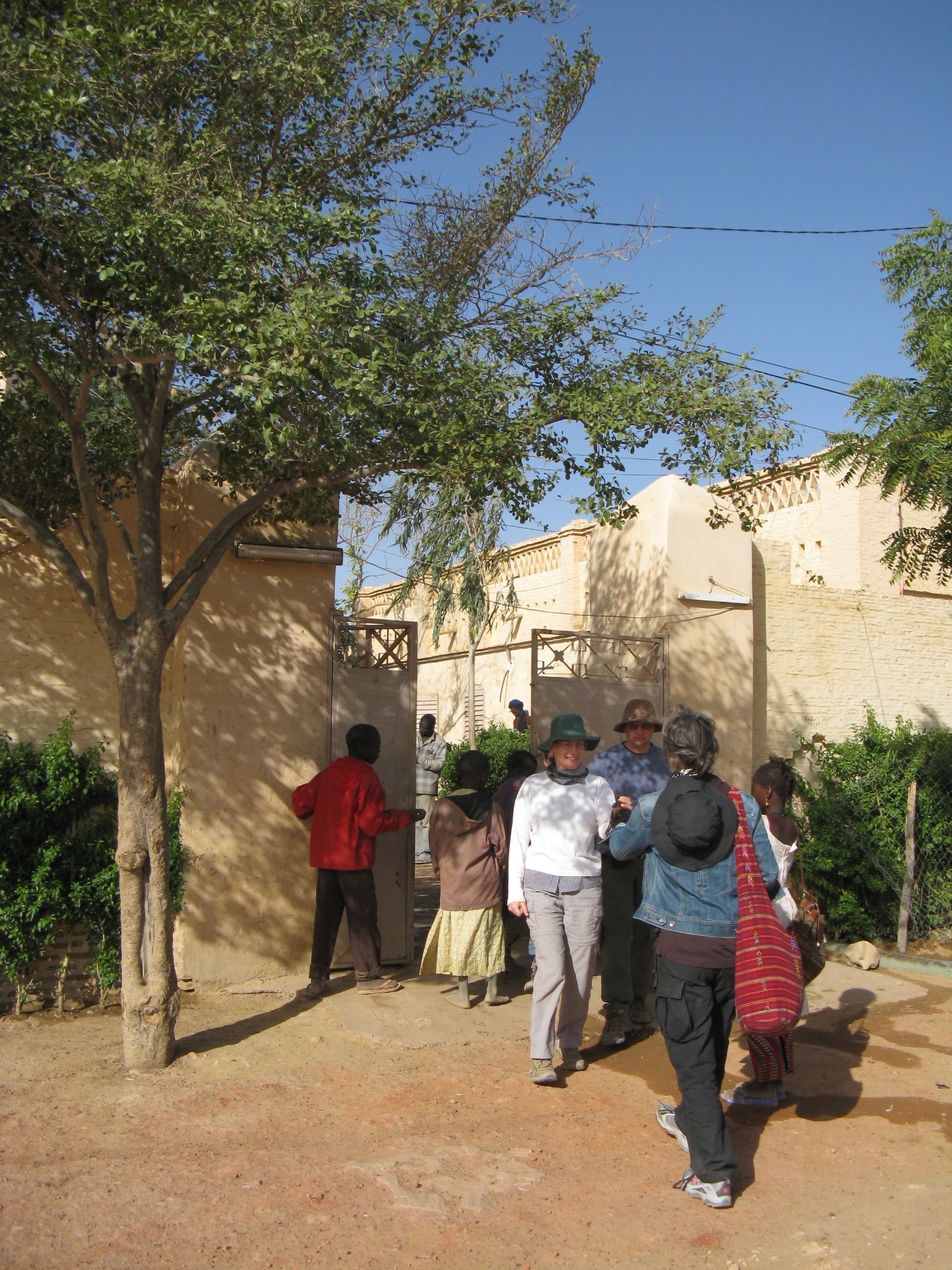 Waiting for the o.k. to enter Graceland.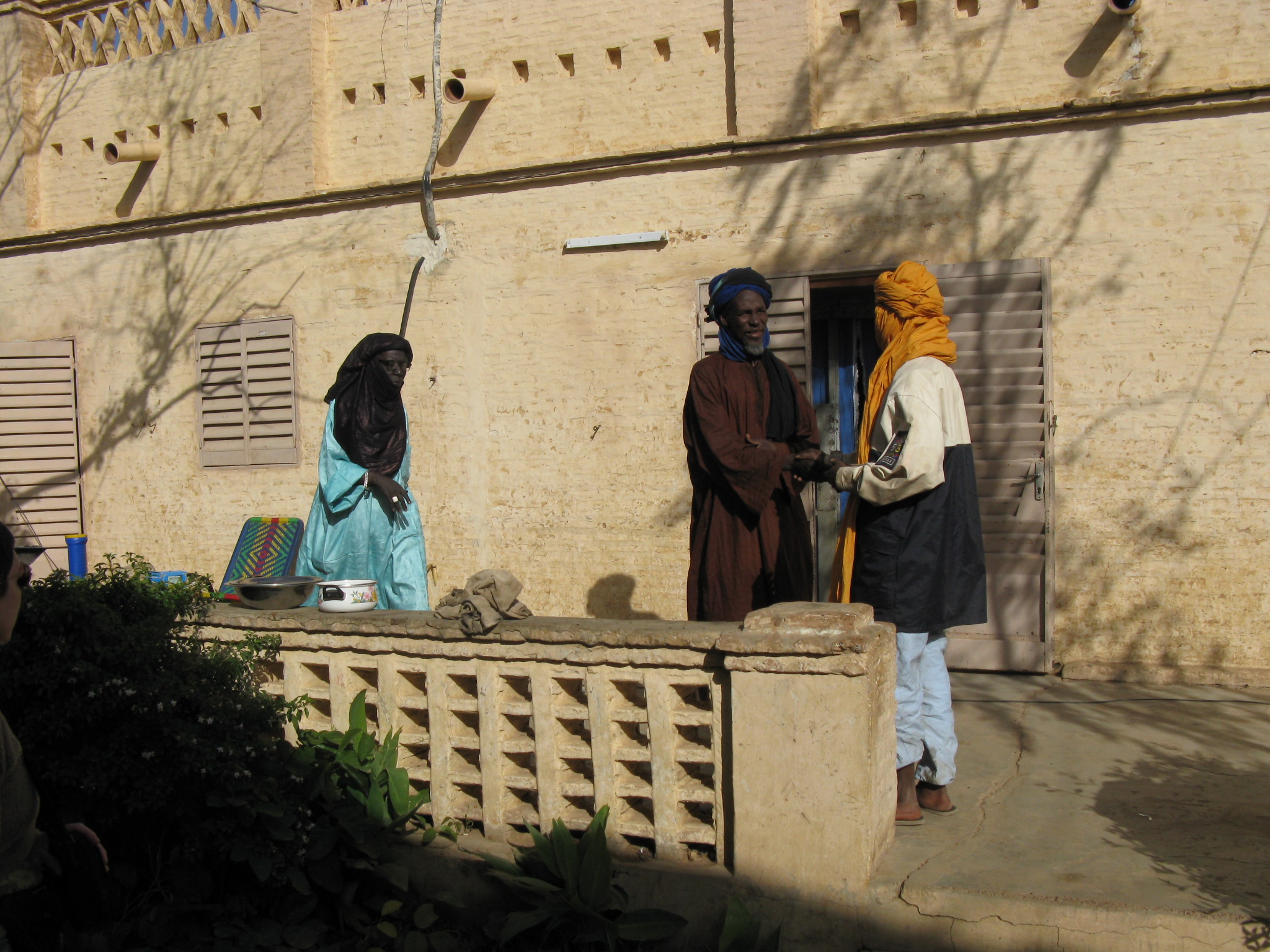 Aruna makes contact with Ali Farke Touré's peeps.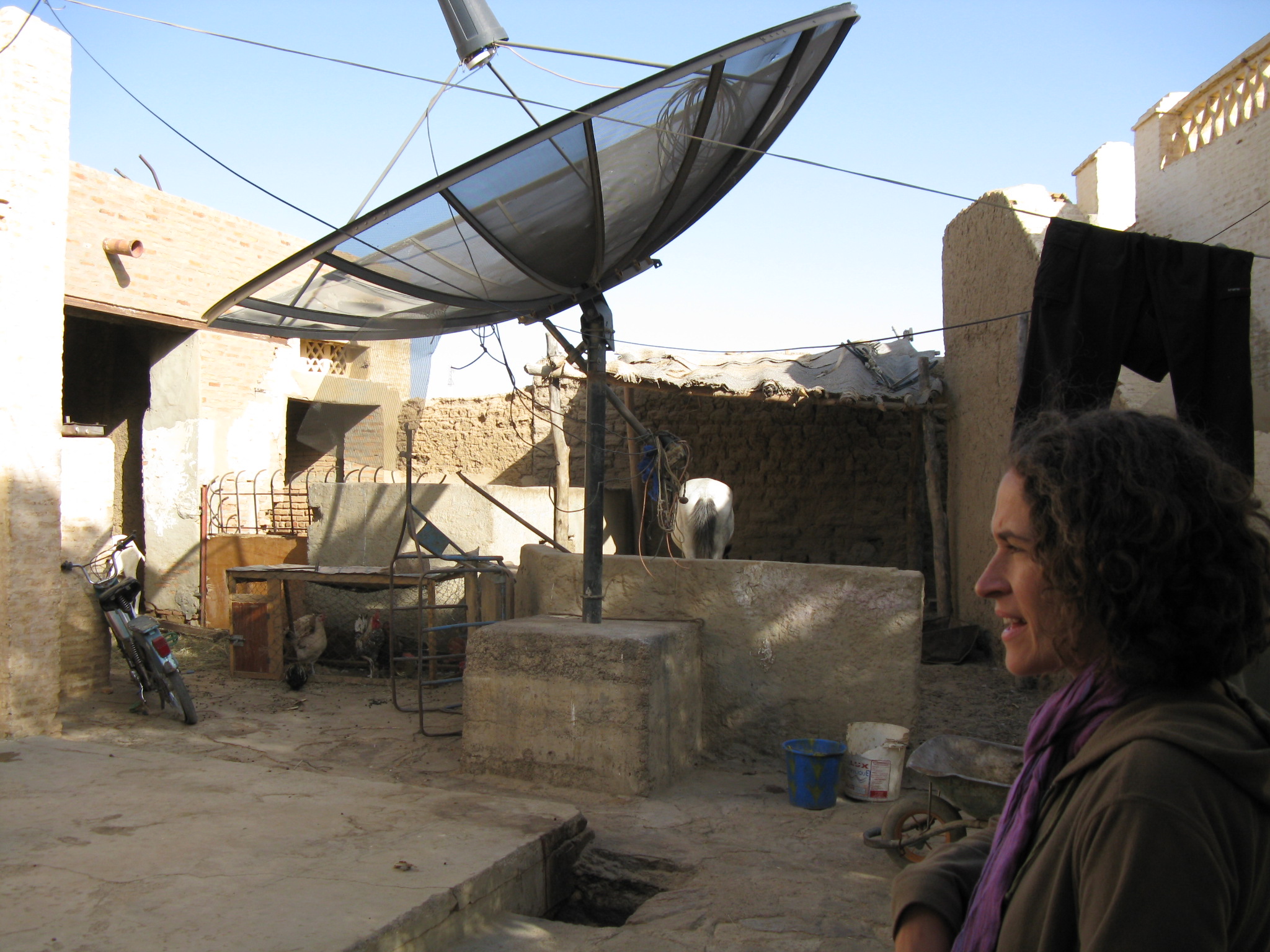 The horse and the dish at the Farke Touré compound.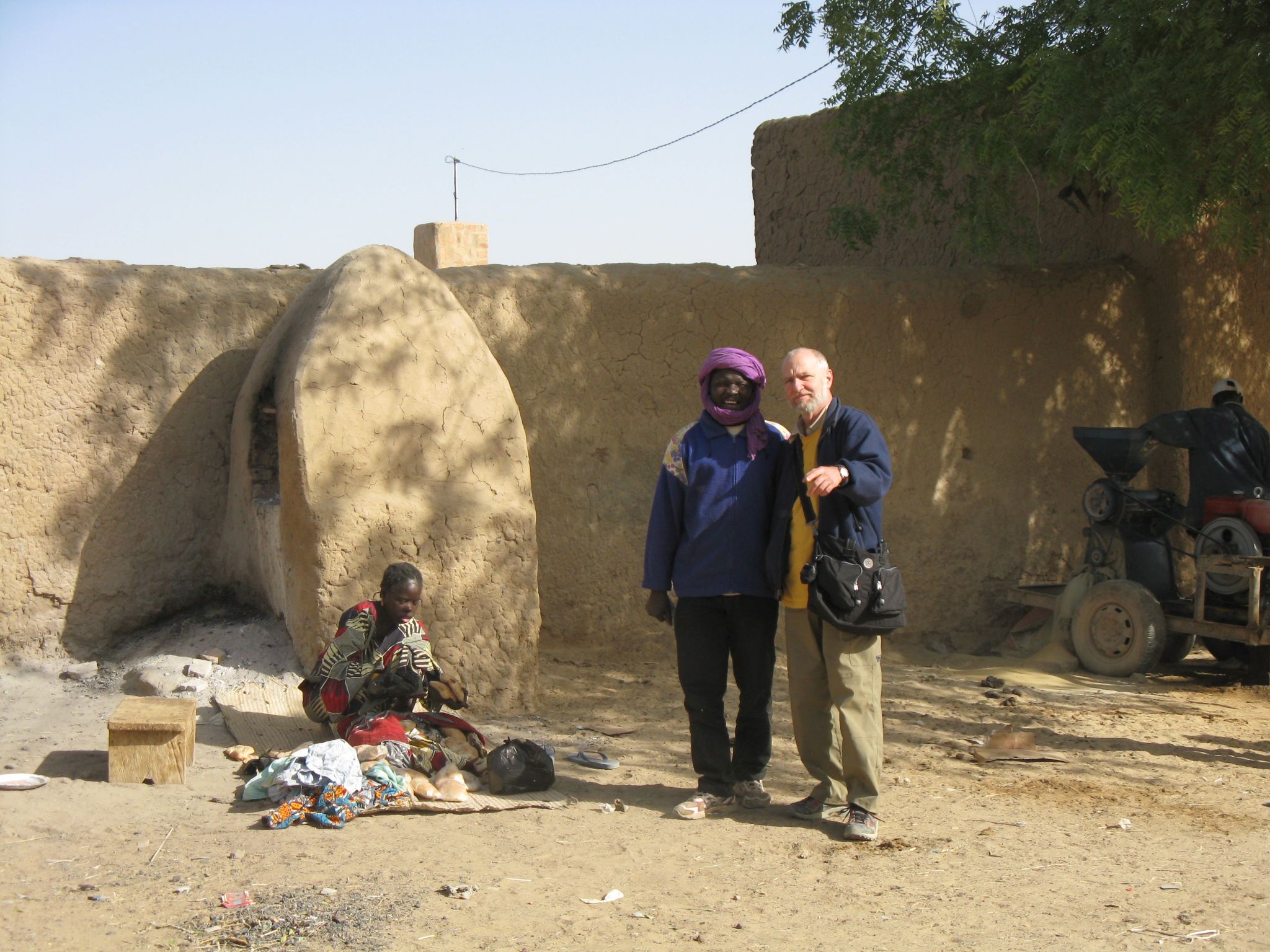 We buy buns for lunch at this oven.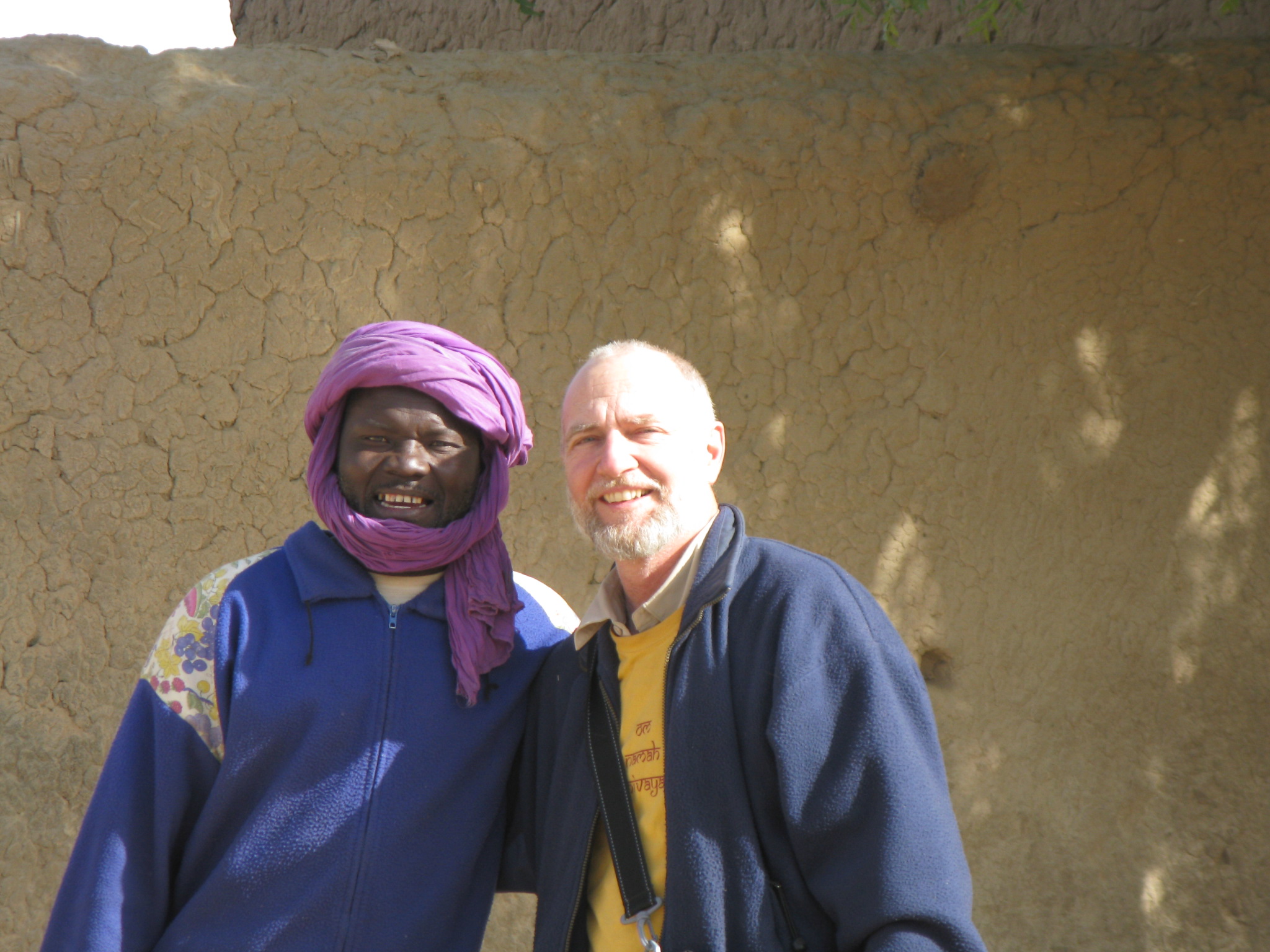 Mon bon ami, Issaka.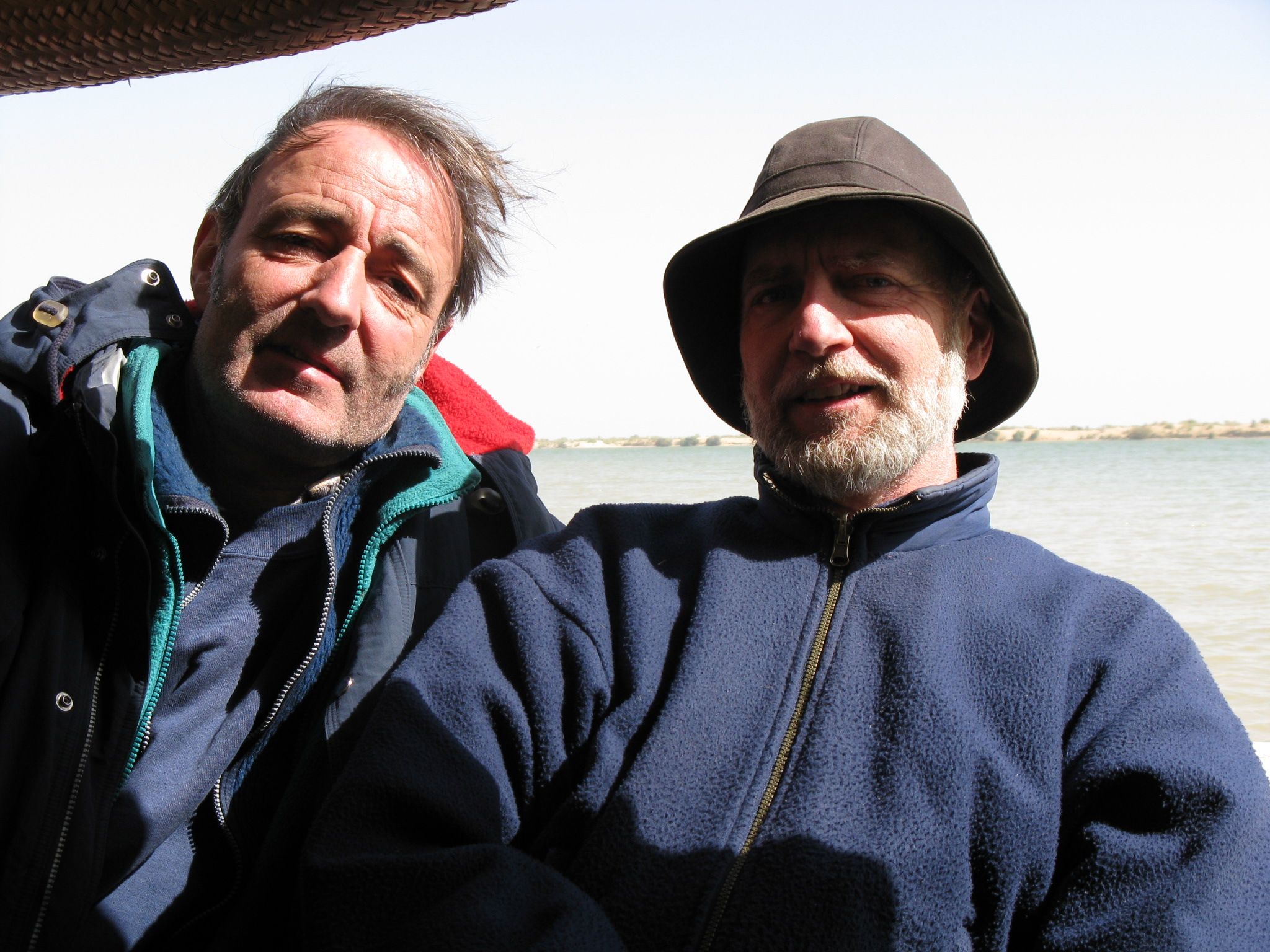 Il mio buon amico, Dieter. (Yes, they speak Italian in Switzerland.)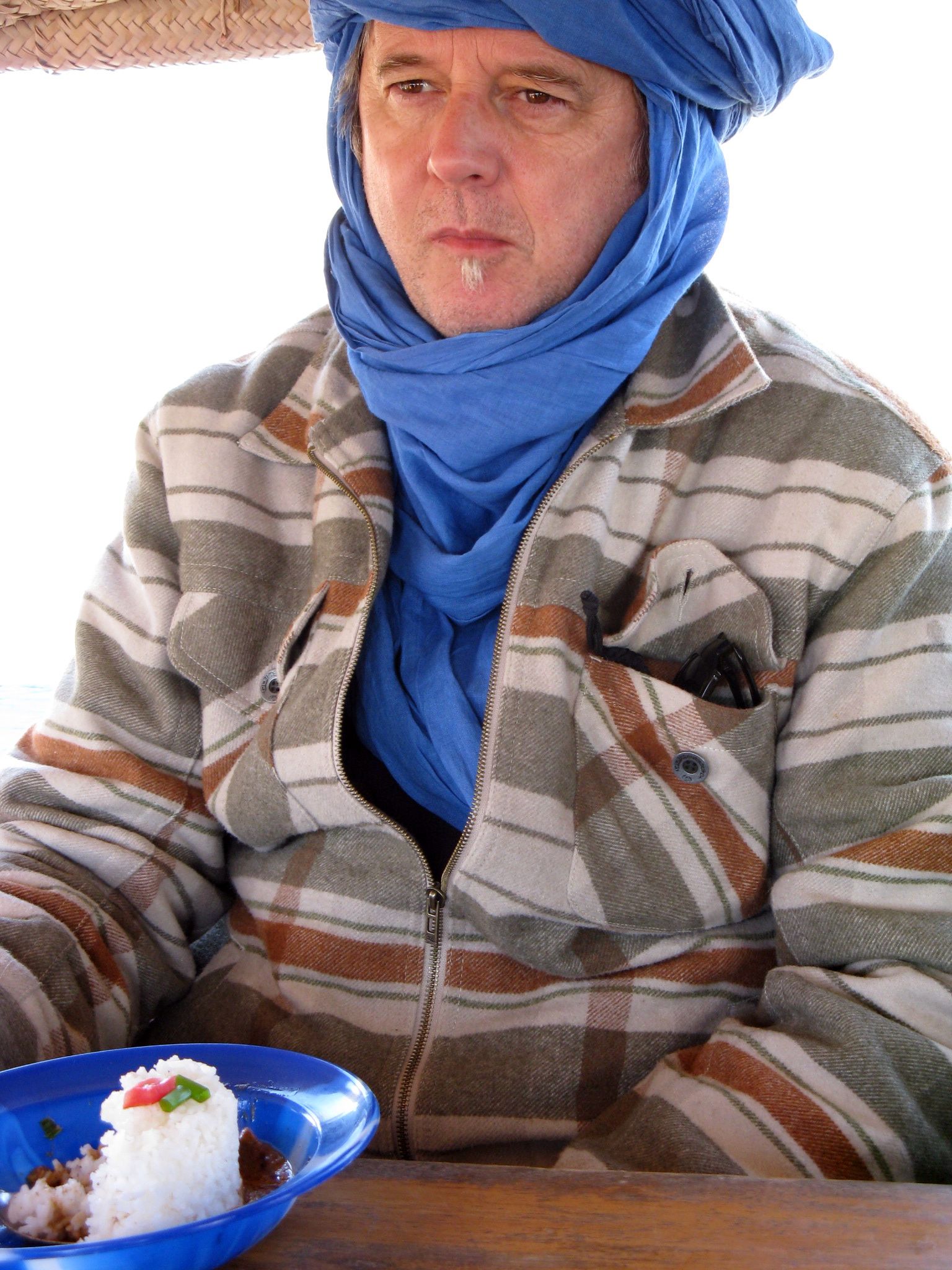 I last saw Chris Nolan in 1993 in Manhattan. Mahmoud says he's Tuareg at heart. Whatever Mahmoud says, I believe.
We stroll the town and "shops" for another 1/2 hour or so. I am greatly moved by these people. Every one of them so far has been just beautiful. Issaka and Aruna go off to buy some bread and fish. They tell us to stay behind. Must be some serious negotiating about to go down. We meet them at the boat.
Now a long afternoon on the river, broken up by an absolutely delicious lunch. Fish, meat, vegetables in a fantastic sauce. Sounds repetitious, I know, but each meal has been different. We will not make Tombouctou tonight as I had thought, so I will have to call Sharon, who is expecting to hear from me, on my cell (at $7/minute. Now, that's love). Amazingly, I have had service on over half of this trip. Ikatel in Mopti and now Malitel. The side effects of the convenience to which I am so accustomed rear their ugly radiating tentacles, here in this place full of sunsets without pollution and stars on the blackest of backdrops. How long can it last? It is 4:30 and we have just passed the village of Diré. The river trip has been refreshing and peaceful (especially compared to Paris!). Cool and anything but the dusty Africa I was expecting. I will be happy to get on to something else tomorrow, but not too.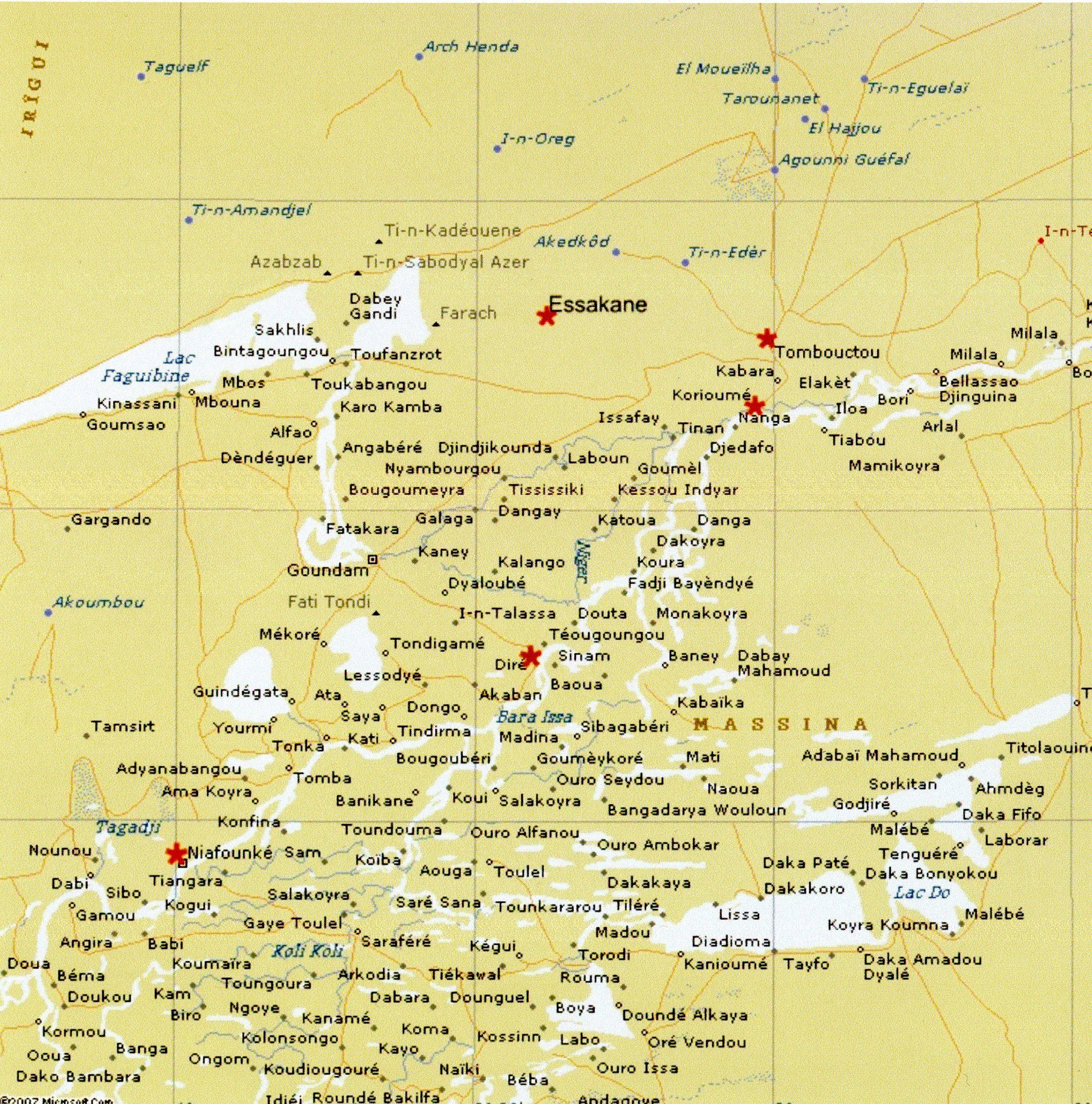 Some of the places we have visited along the Niger. Note that Essakane (home to the Festival) was too small for even this map. I had to add it in myself.
We drive into the night, looking for Mahmoud's headlights on the shore. The film crew needs to get moving, so they have arranged to get a ride straight to the Festival and bypass Tombouctou for now. Mahmoud is a little stressed because the truck carrying all of the sound equipment for the Festival has gotten stuck in the sand. He's in charge of that, too. He has to arrange another truck to offload the gear from the first truck and get it to Essakane. The Festival starts tomorrow!
We eventually spot Mahmoud's flashing headlights, and that is also where we camp for our third and last night on the Niger. Another night under beautifully clear stars. We've been traveling NNE, toward the Sahara so it's sand now, not the hard-packed earth of the previous two nights. Raissa decides to brave the beach with me this time. Just as we are all drifting off to sleep, a small piroge pulls up with a half dozen locals on board. I'm nervous, but it turns out they are just camping, too; probably on their way to the Festival.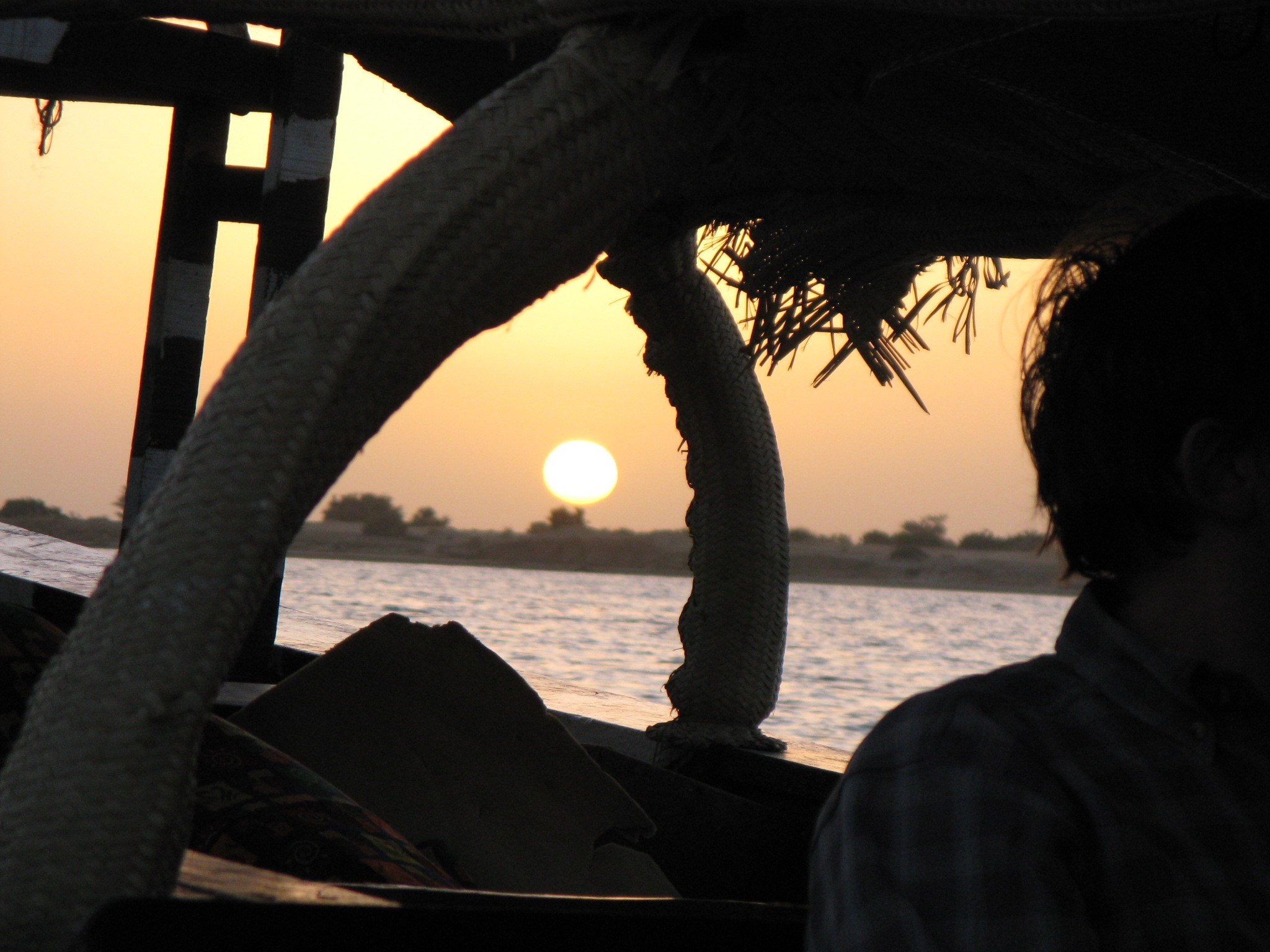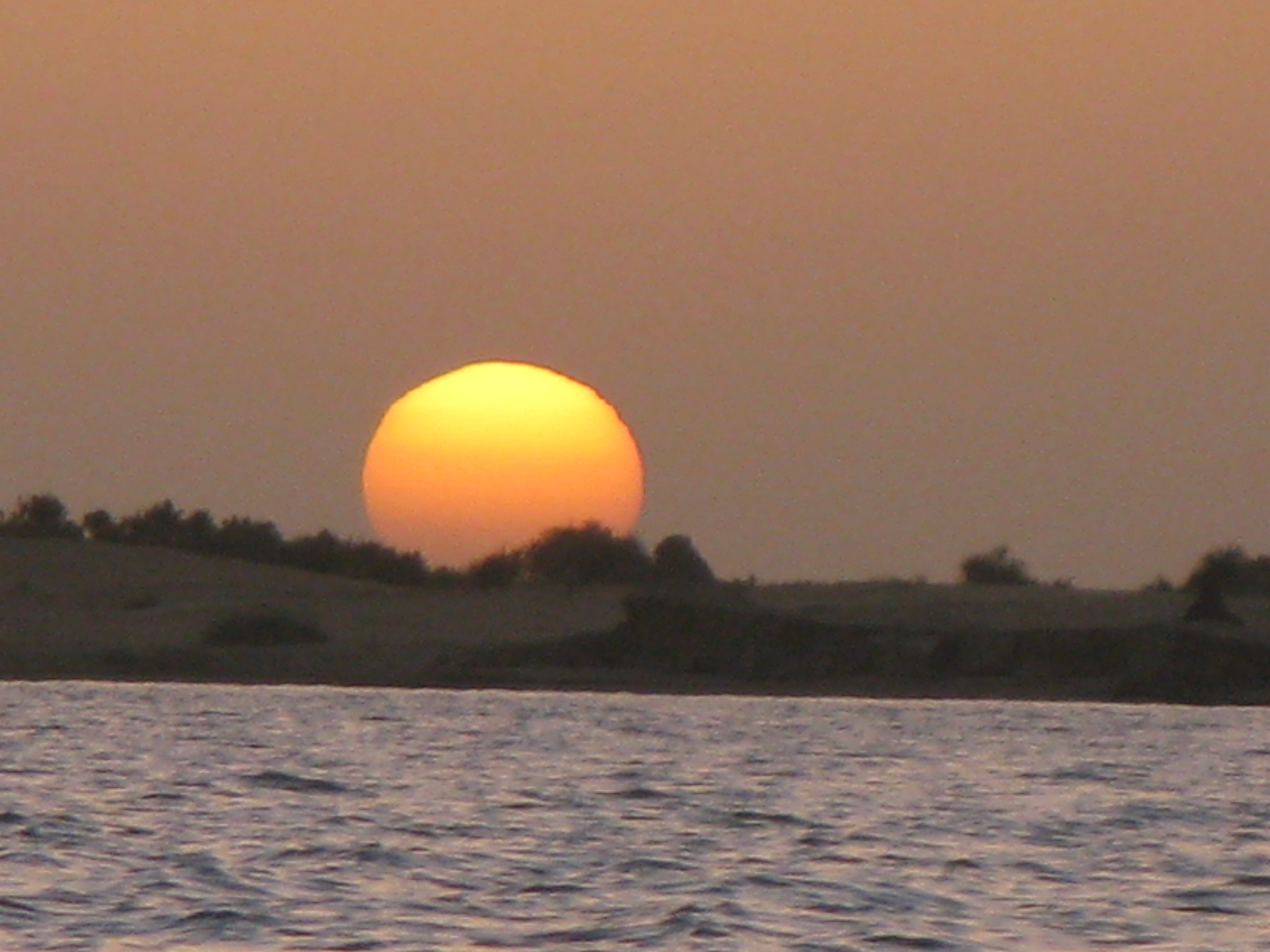 For dessert, sunset the colour of peaches.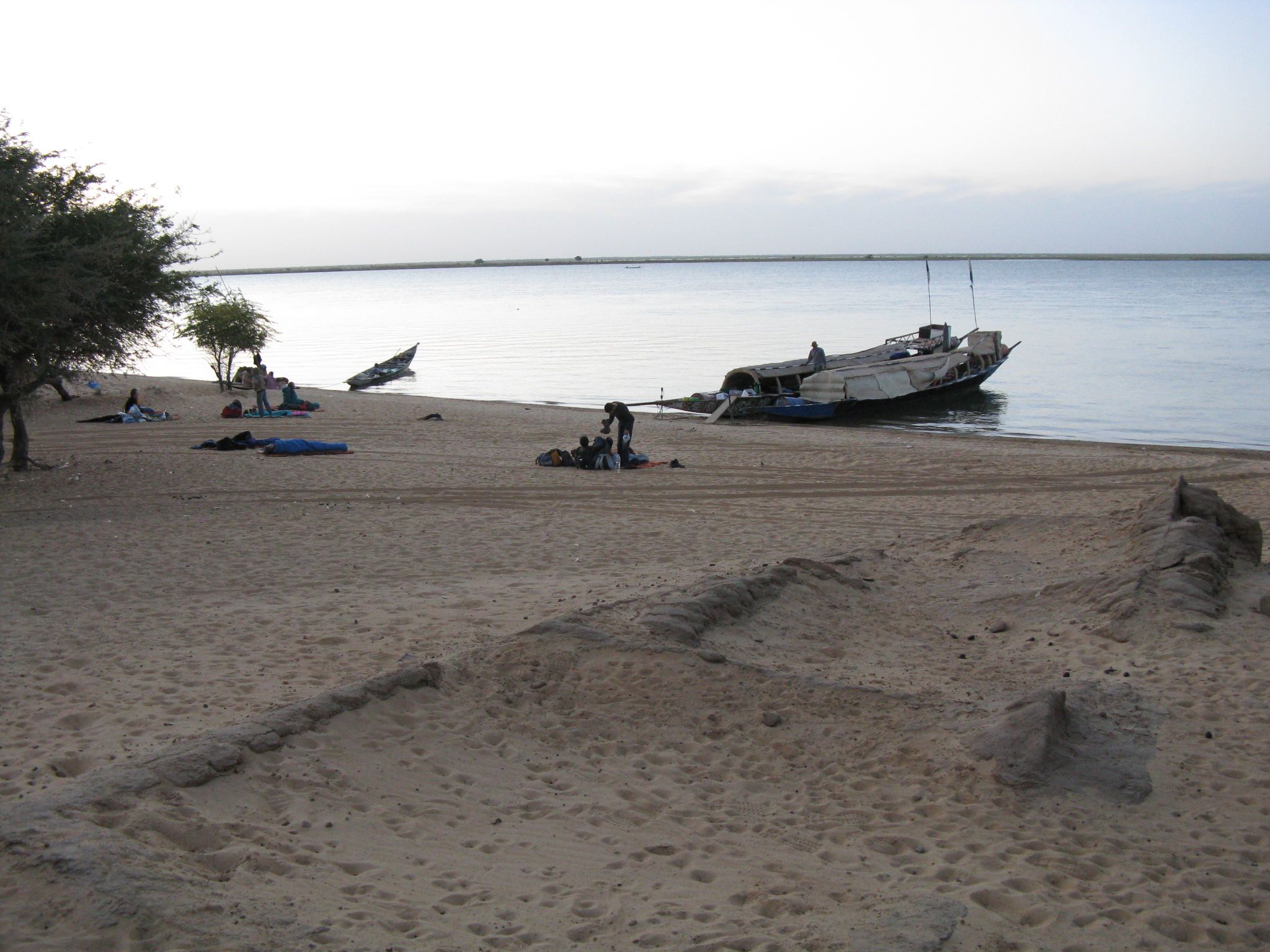 Waking up, and on our way to Tombouctou, and then the Festival.
We start off early (another Nescafé morning!) and very soon we pull into Korioumé, the port outside Tombouctou.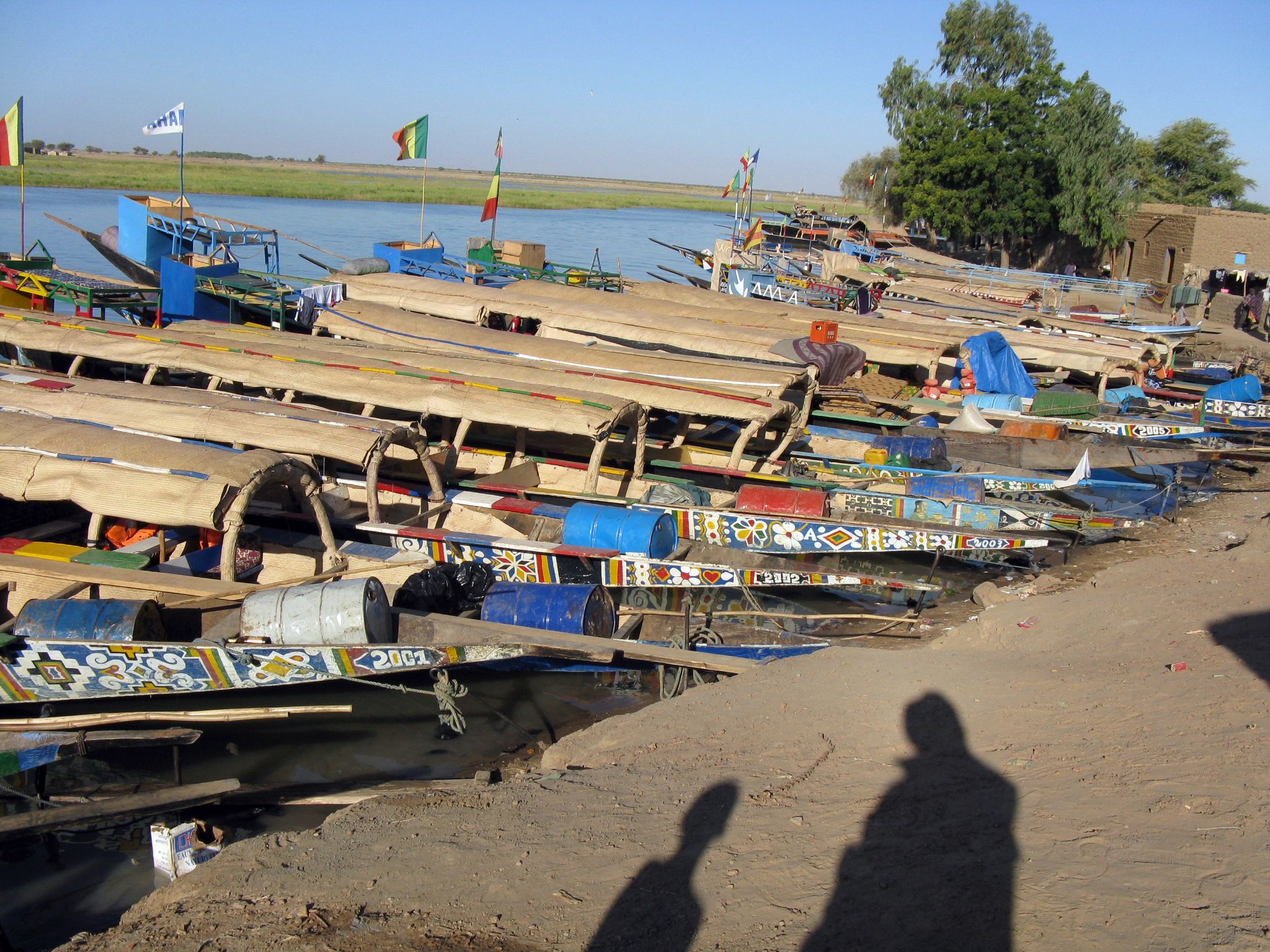 Korioumé. Pinasse city.
We unload our bags from the boat, pile them into a couple of 4x4s and head for town. Mahmoud is there. This guy really gets around. I recognize Ali as well, the 'cousin' who had driven us in Mopti.
This is a soundfile from inside our 4x4, Tinariwen in the cassette player, Mahmoud on his cell, speaking in Tamachek, the language of the Tuareg. You can hear he is talking about Chris.
Chapter 5 continues with more of Tombouctou...