Douentza Reserve
Mali 2008
Monday, January 14th, Douentza: I sleep with my money belt off for the first time, but it is right by my pillow. The night before I felt like a detective removing his holster after a long dusty day of crime fighting. I allow myself to sleep in. At around 8:30 I have a shower. It's cold, but what do you want for $8? The fact that it's wet and reasonably private is a thrill.
Around 9:30, I'm getting dressed and arranging my bags for the day and there's a knock. It's Davide. Oops, maybe I've been too leisurely. He says they've already had breakfast, and are starting to negotiate with our guide. I roll up my sleeping bag, finish packing, and head next door to the Auberge Gouna for breakfast. Can you hear the Nescafé jingle? Oh, yeah.
Tigani, our prospective guide (a friend of Issaka's, surprise, surprise) wears a tight black t-shirt, black jeans and Nikes. He could have just walked out of a gym in Brooklyn. He's got shades perched up on his head, and in the days to come, I will not once see him put them over his eyes. It's like they're glued up there. He seems nice enough, appears to know what he's doing, but his price is outrageous: 120,000CFA ($240) apiece for two days. That's $720 total. As a rule of thumb I have heard that $300 is a fair to middling annual wage for a Malian. Well, we know for certain the man's got chutzpah.
Gilles and Davide (and Tigani, of course) have practically zero English, and the French is zipping by me like a babbling brook. Nonetheless I can just feel that our goose (or goat?) is cooked. He's listing all of his expenses, they're huffing and puffing like a couple of stragglers in a jogging club. It dawns on me that there's really no need to understand the language. Negotiating, like music, is a universal tongue. The flung hands, the arched eyebrows, the sarcastic grunt...if you don't understand by age 58, you never will. I write 100,000 on a piece of paper and show it to Gilles. He and Davide nod. We end up at 110,000, and console ourselves that we are contributing to an economy that can really use it. "Will we see elephants?" I ask, grasping for a guarantee of some kind. "Yes," says Tigani. "For sure?" "Absolutely." Do I take the word of the man with the shades glued to his head? Do I have a choice? Actually, yes, but I think this is my best one, and once I toss my wounded ego out of the ring, maybe it's not so bad.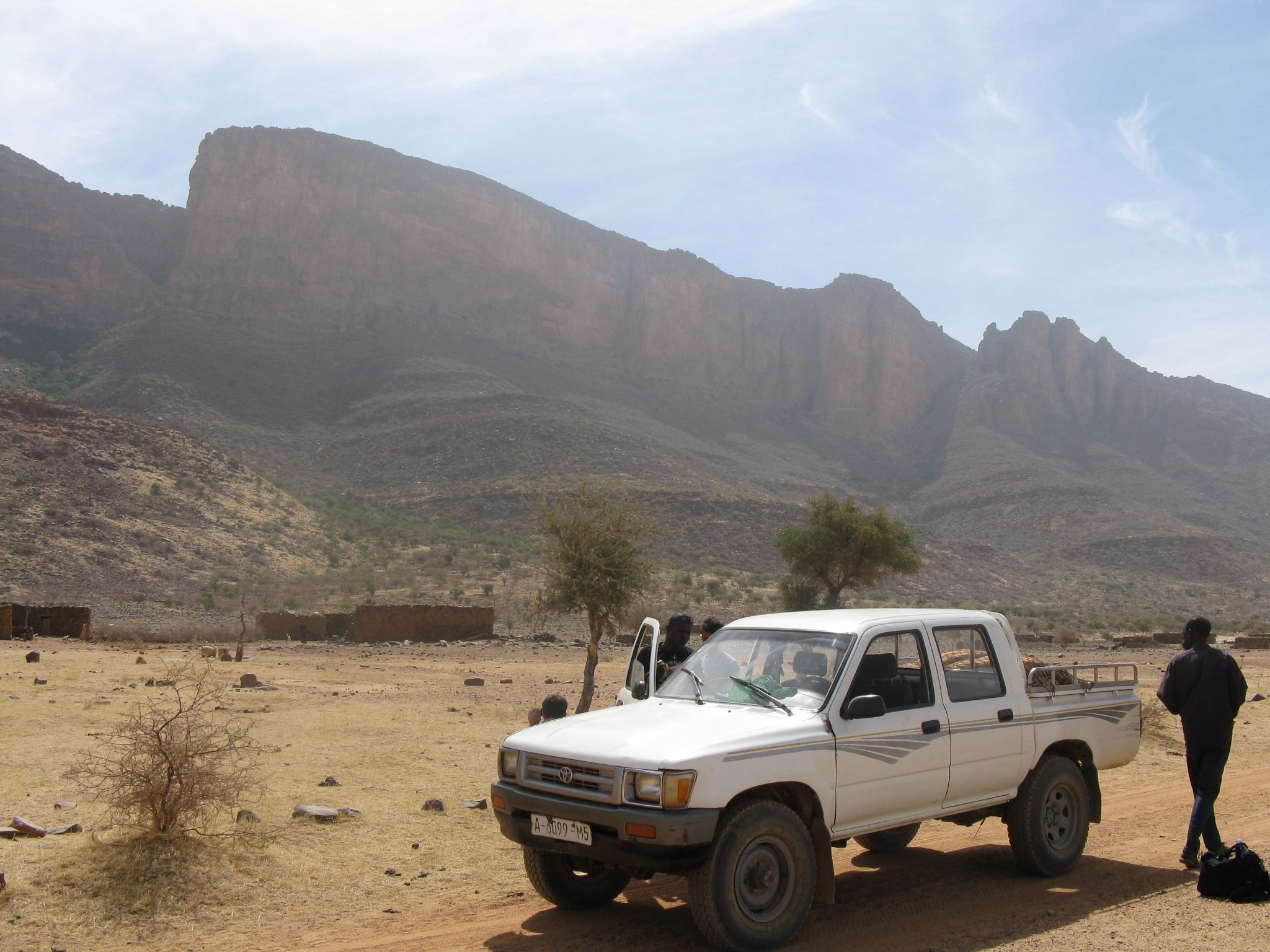 Tigani stands beside his 4x4 pickup. He rides in the front with our driver, while Davide, Gilles and I bump along in the back seat. In the background is one of the chain of sandstone mesas that dot the landscape between Douentza and Hombori (more pics in Chapter 11). They jut up so abruptly from the plains around them that they look as though they had been lowered and placed there by a giant helicopter.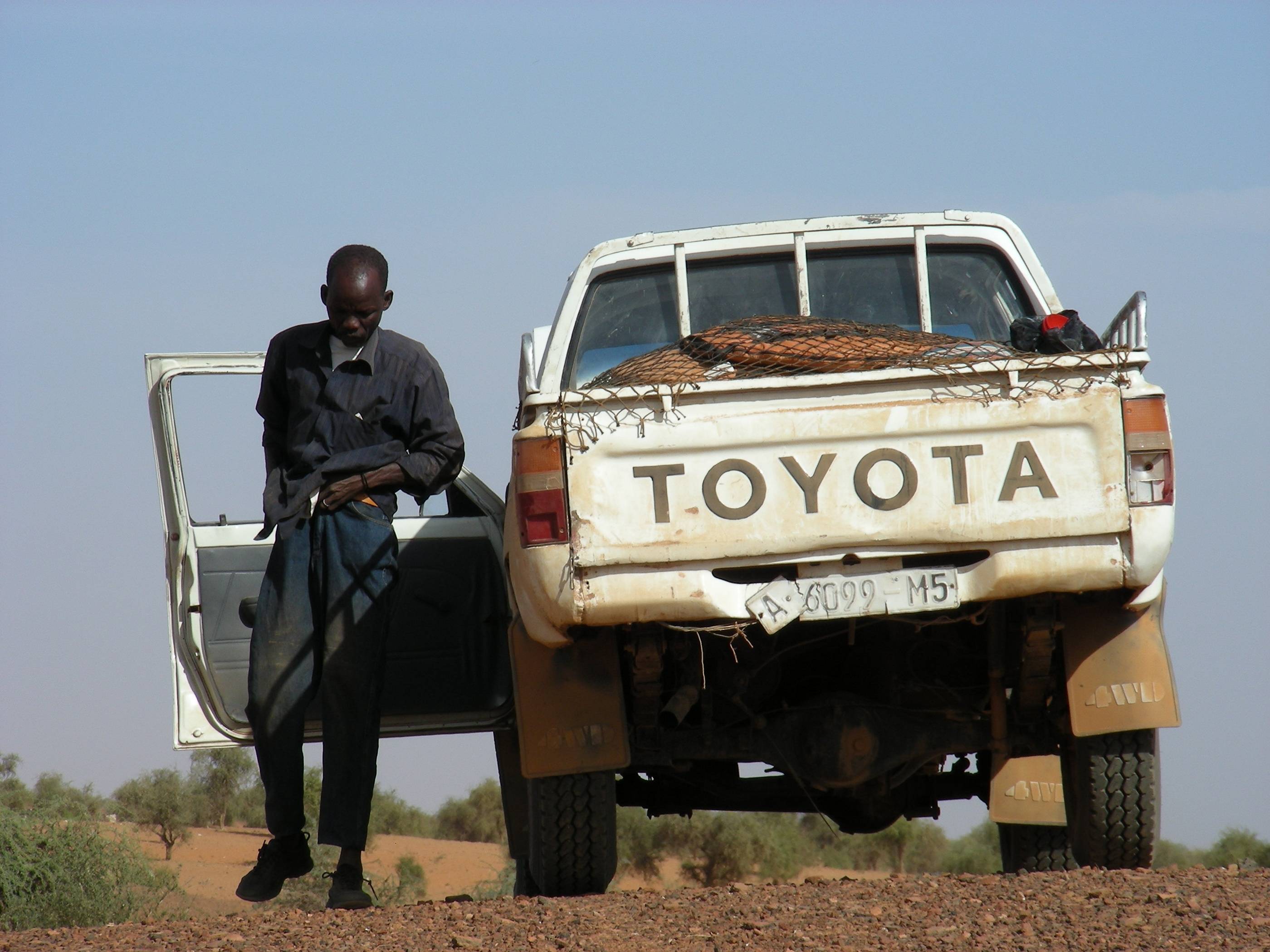 Driver and truck. This trip could have been a Toyota add.
We spend from 11-5 bouncing across the Douentza Reserve; 6 more hours of very rough piste. This clip will give you some idea...
___________________________________
At the end of that clip, you saw Gilles snapping a shot of some Blue Herons. We stop by Lake Banzena to have a little lunch. Tigani has brought for us some crackers and a can of... I'm not really sure what. It's sort of Spam-like. I try to read the ingredients, but I'm not feeling so great anyway, and I know I'm not going to eat, so why bother? I'm wondering if I got some water in my mouth in the shower this morning, and the parasites are inside licking their chops. Or maybe it's all the bouncing around and the dust, and the sun. I am not looking forward to the afternoon.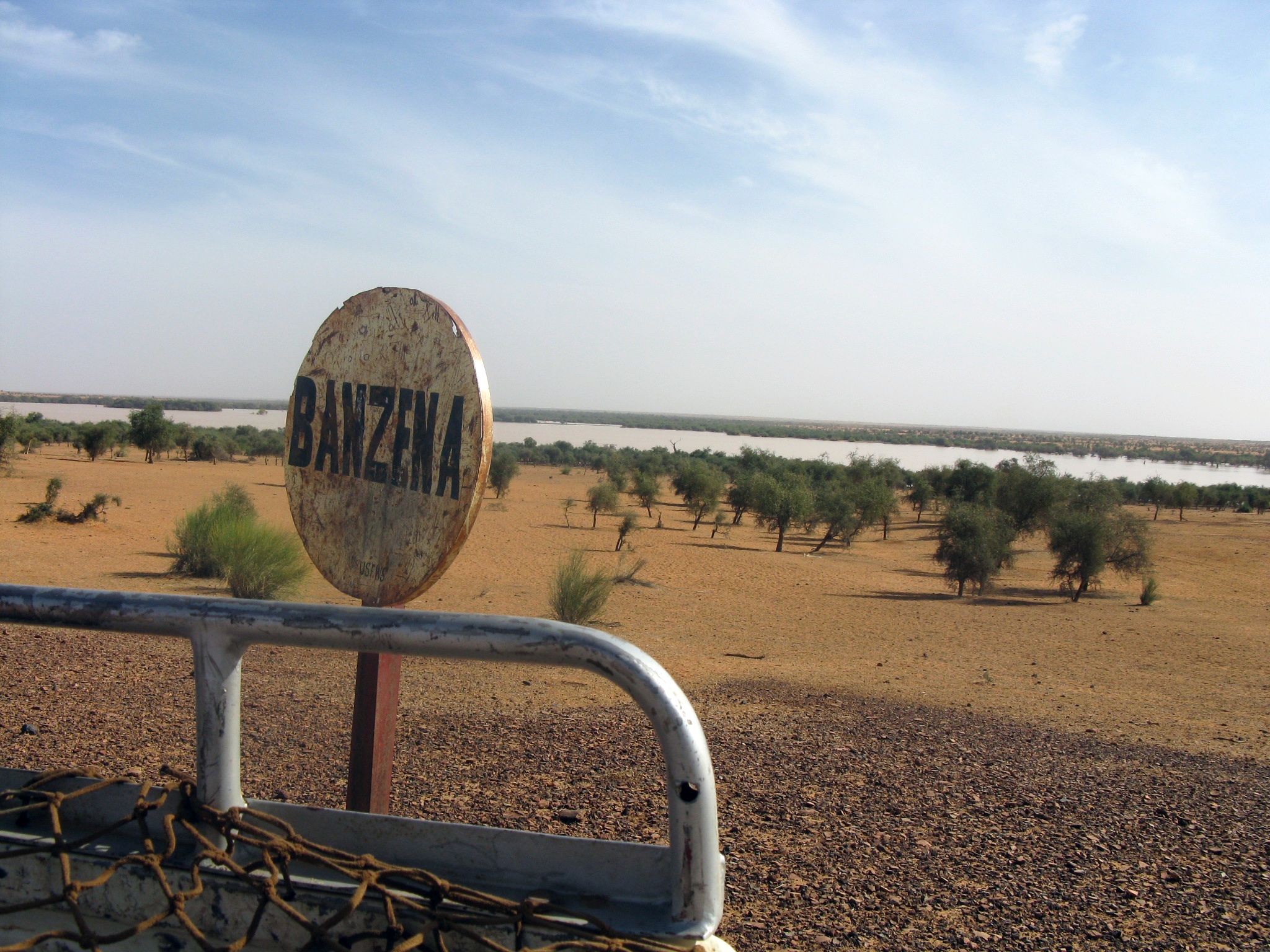 Mali is drying up. Lake Banzena is one of the major watering holes still left for the elephants in the Reserve. But there are none here today.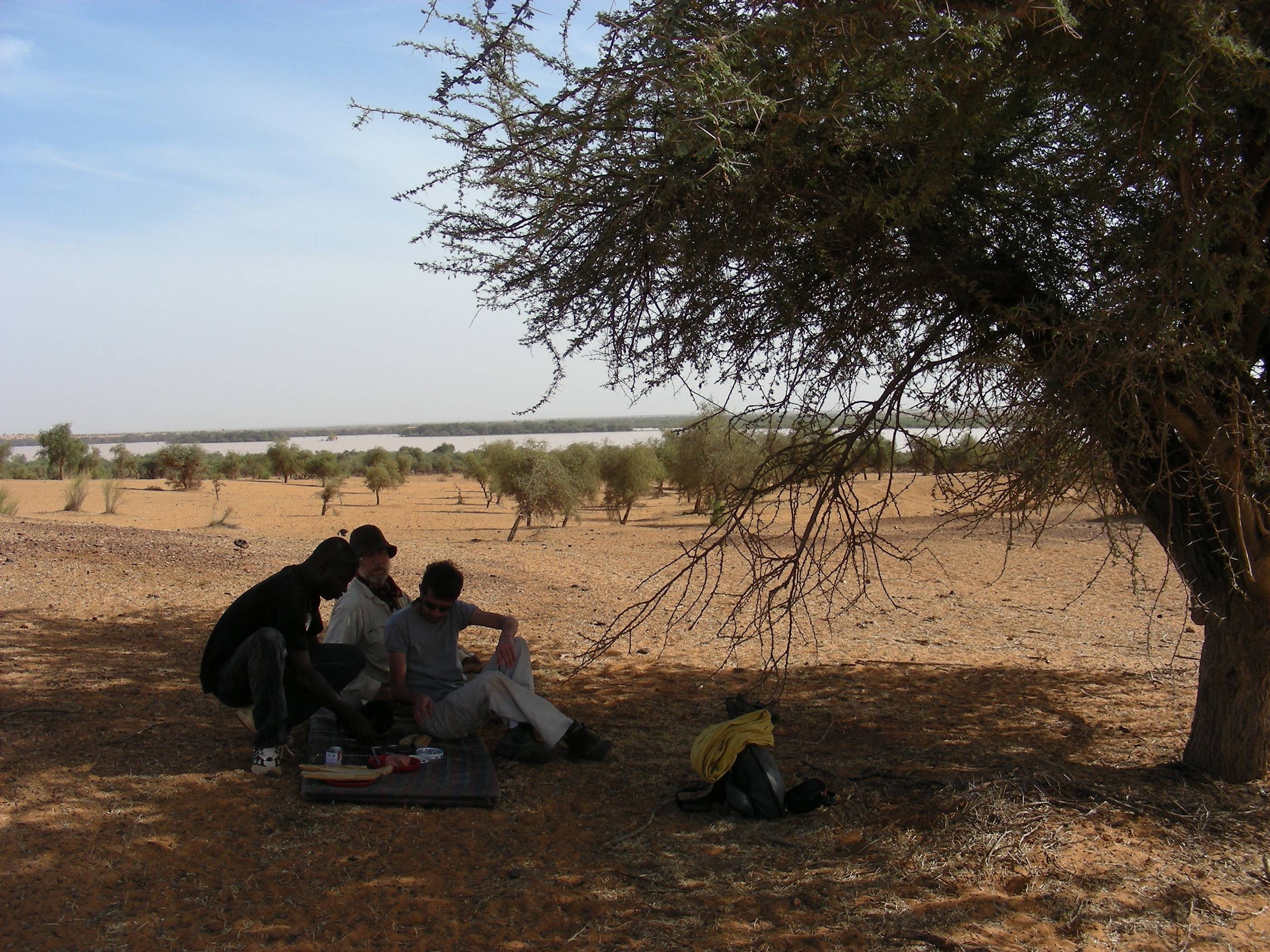 Tigani, myself and David picnicking. Photo by Gilles, who was kind enough to email it to me, along with several others.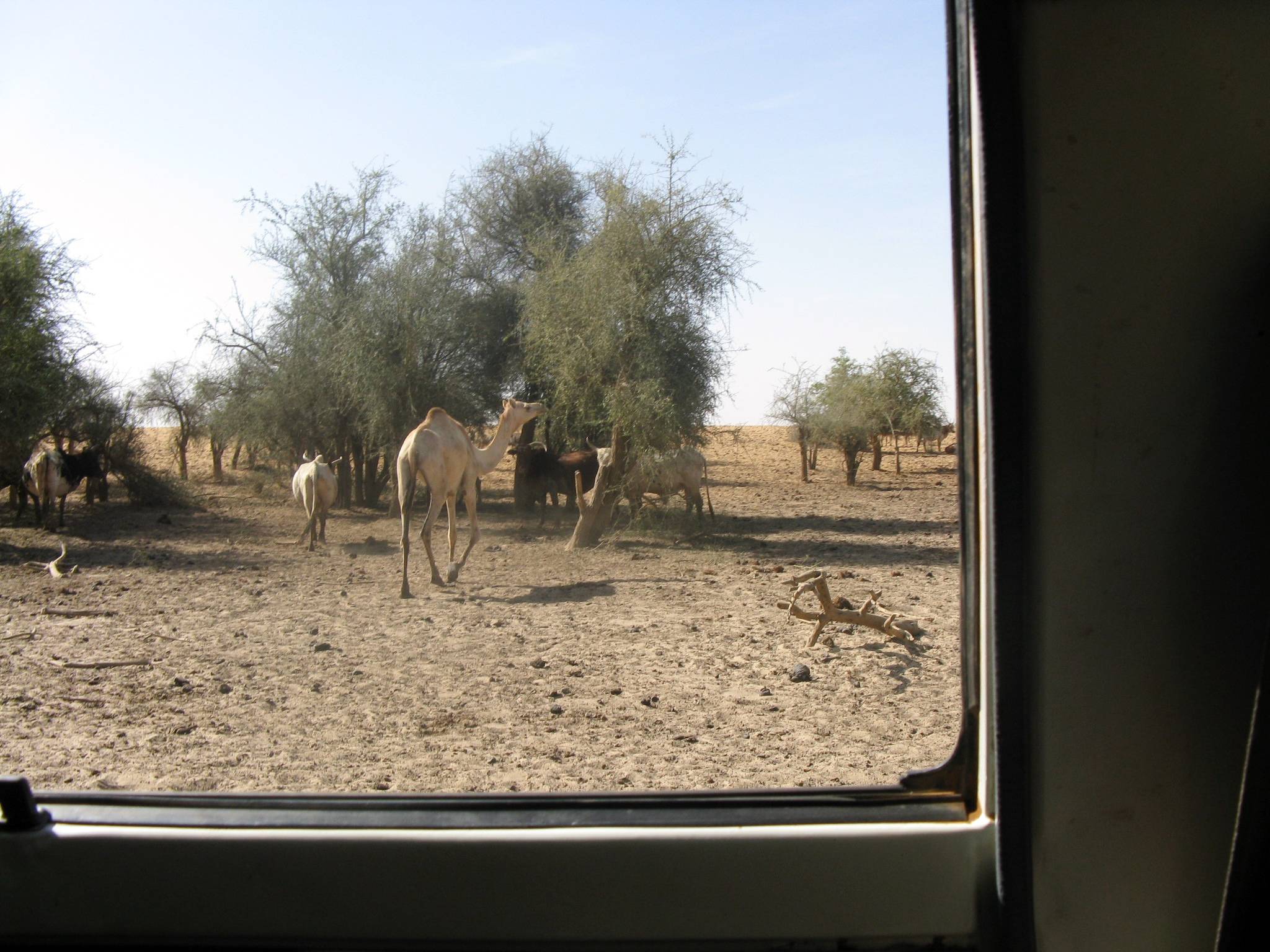 From the pickup window, we spot a lone camel amongst some cows.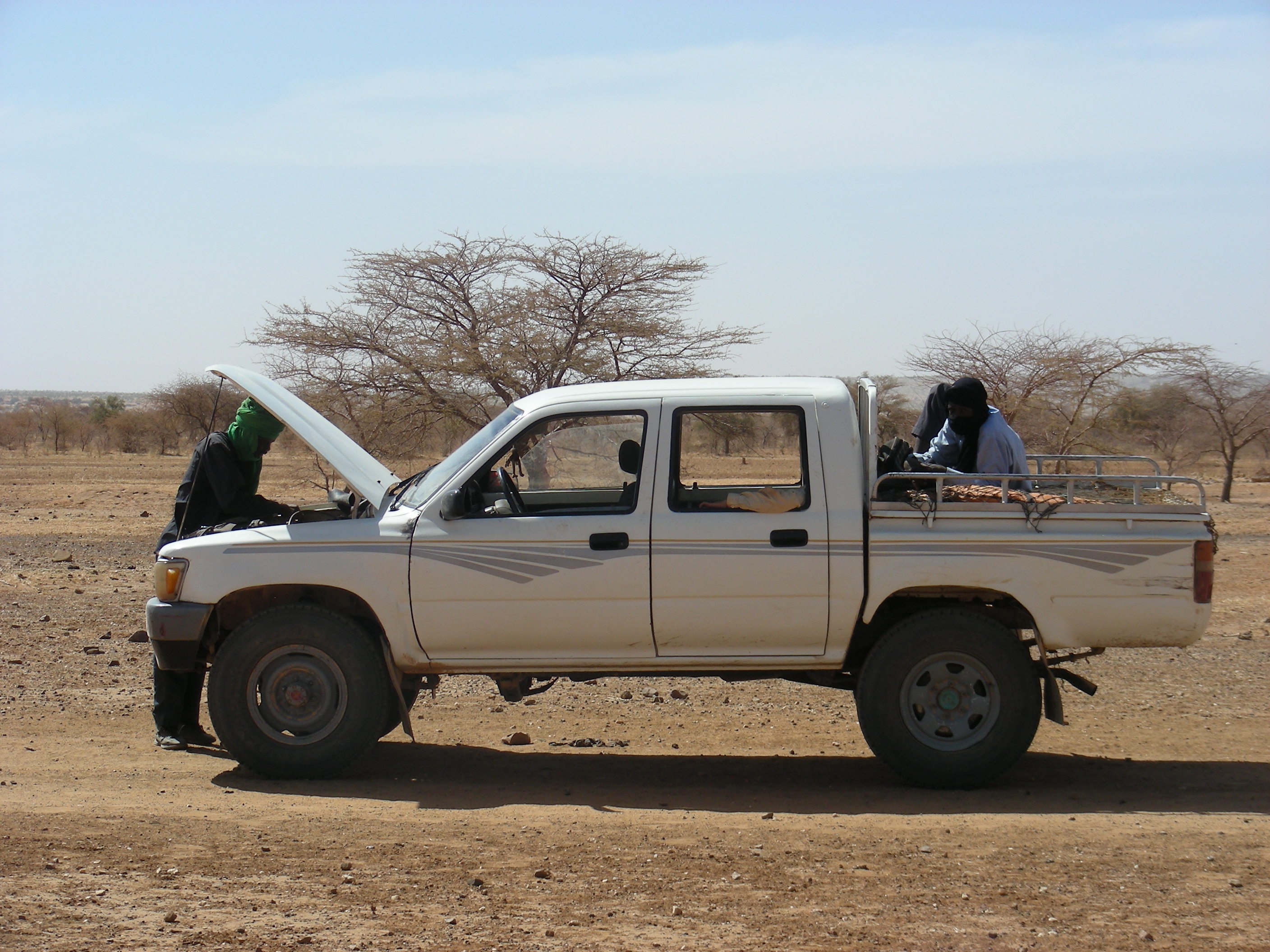 The driver has not been able to shift into 4th gear for most of the afternoon. We stop to have a look. Oh, well. 3 out of 4 ain't bad.
At 5 P.M., we pull into a good-sized Tuareg town for the night. (I think it is called Adittafane, or Inadittafane, but I haven't been able to locate it on any maps since.) The people are, as usual, very friendly and quick to share a smile. A couple of young boys, schoolbooks under their arms, accompany Gilles, David and I on a walking tour. There is a large, shallow lake with lily pads growing. I notice a woman picking them and ask why. One of the boys says "on mange," and signs with his hand to his mouth. These people import practically nothing from outside their immediate area, and let nothing go to waste. I had noticed it in the Niger villages, too. There would be a 20 x 30-foot area where mud bricks were drying for future house repair/construction. The mud was likely mixed with a little goat dung for cohesion. Talk about shopping locally. Like the cellphone service along the Niger, I am once again confronted with the bad side effects of the 'convenience' of our modern society. The simplicity here is such a wonderful thing. I know we can't just suddenly revert - the 60s taught me that - but I also know now that if we don't control our appetite for ease, we are only taking the planet deeper and deeper into trouble.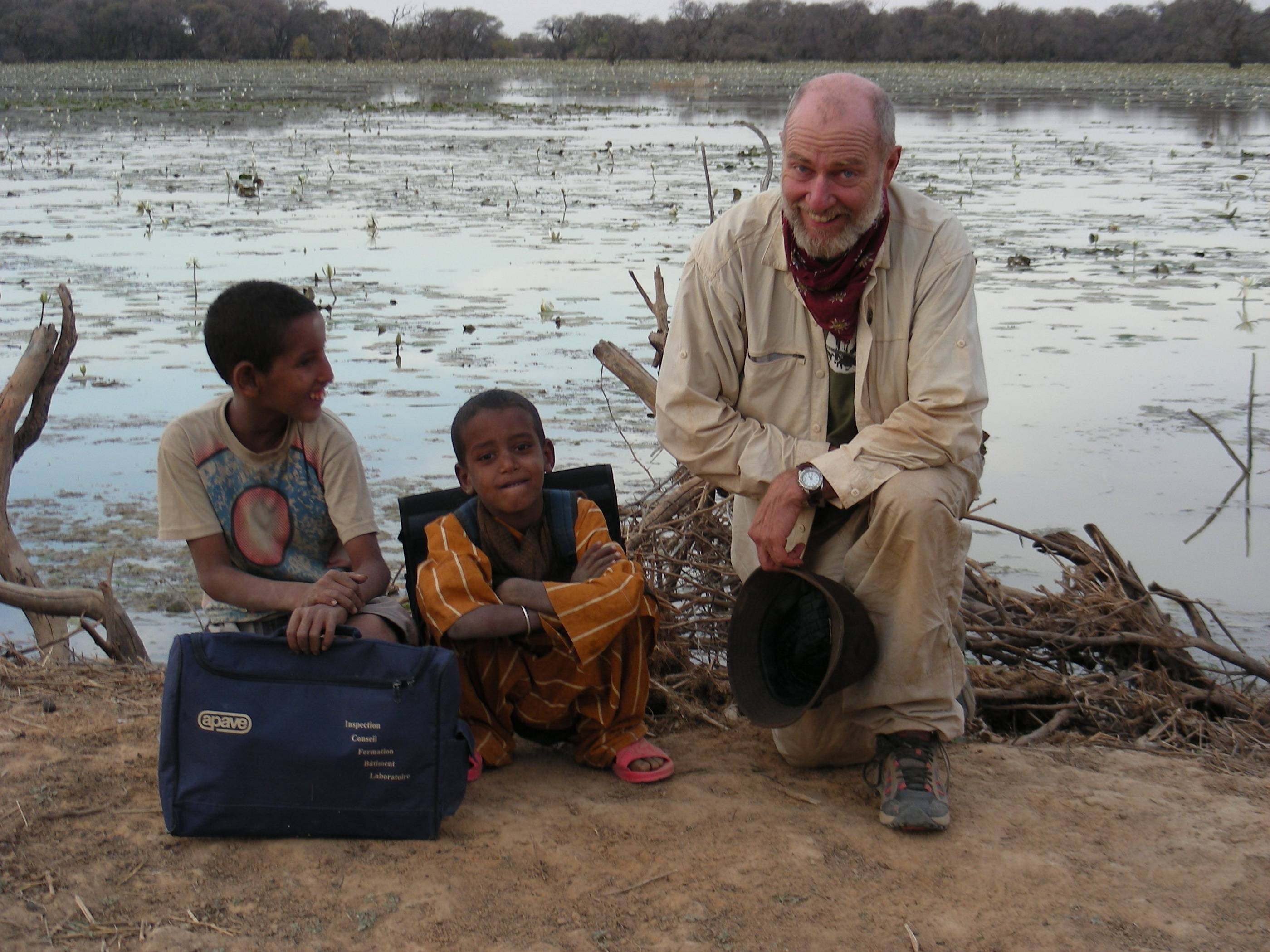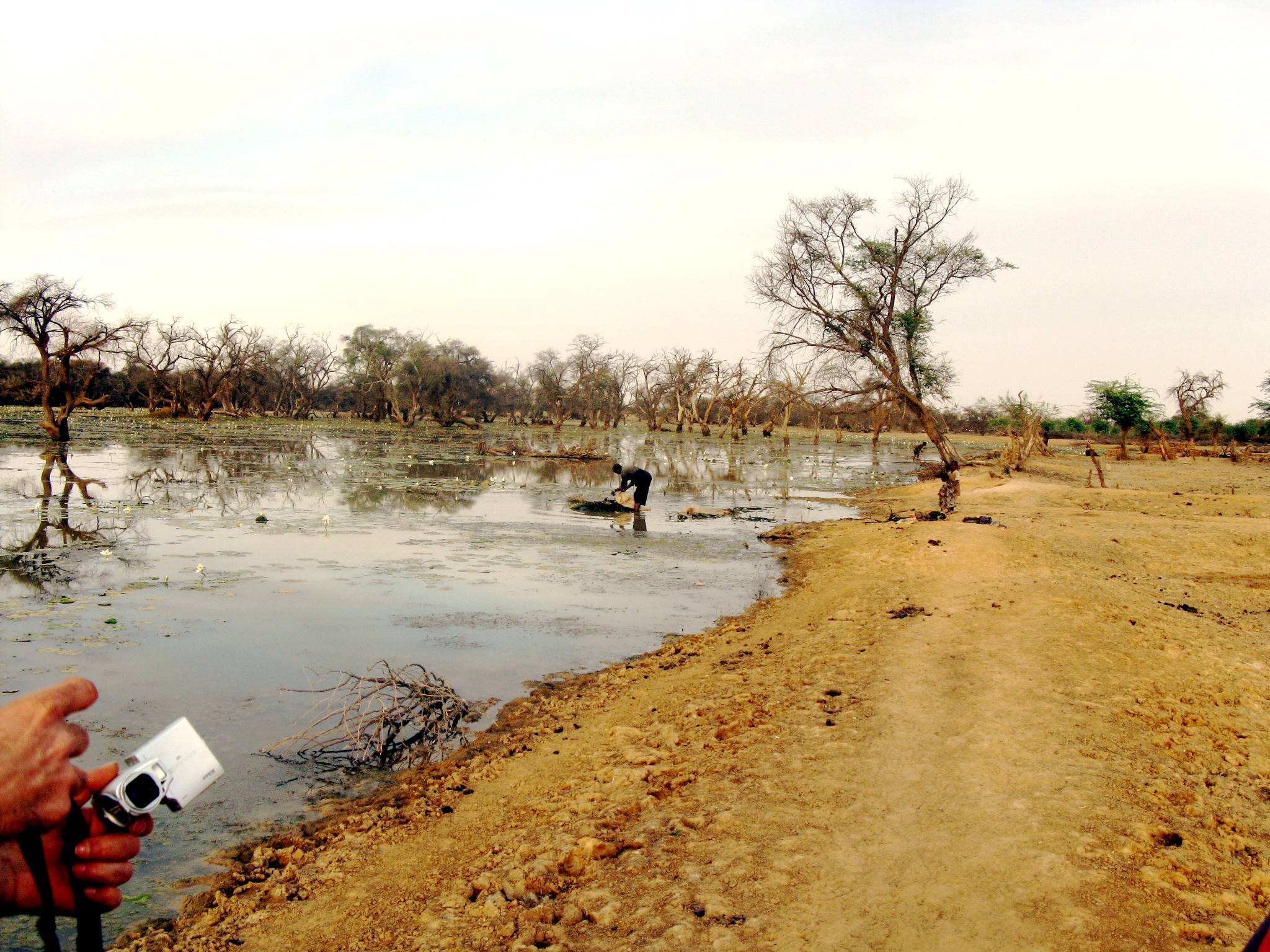 A Tuareg woman harvests lily pads for dinner. One of the boys runs to pick a small bouquet of them for me.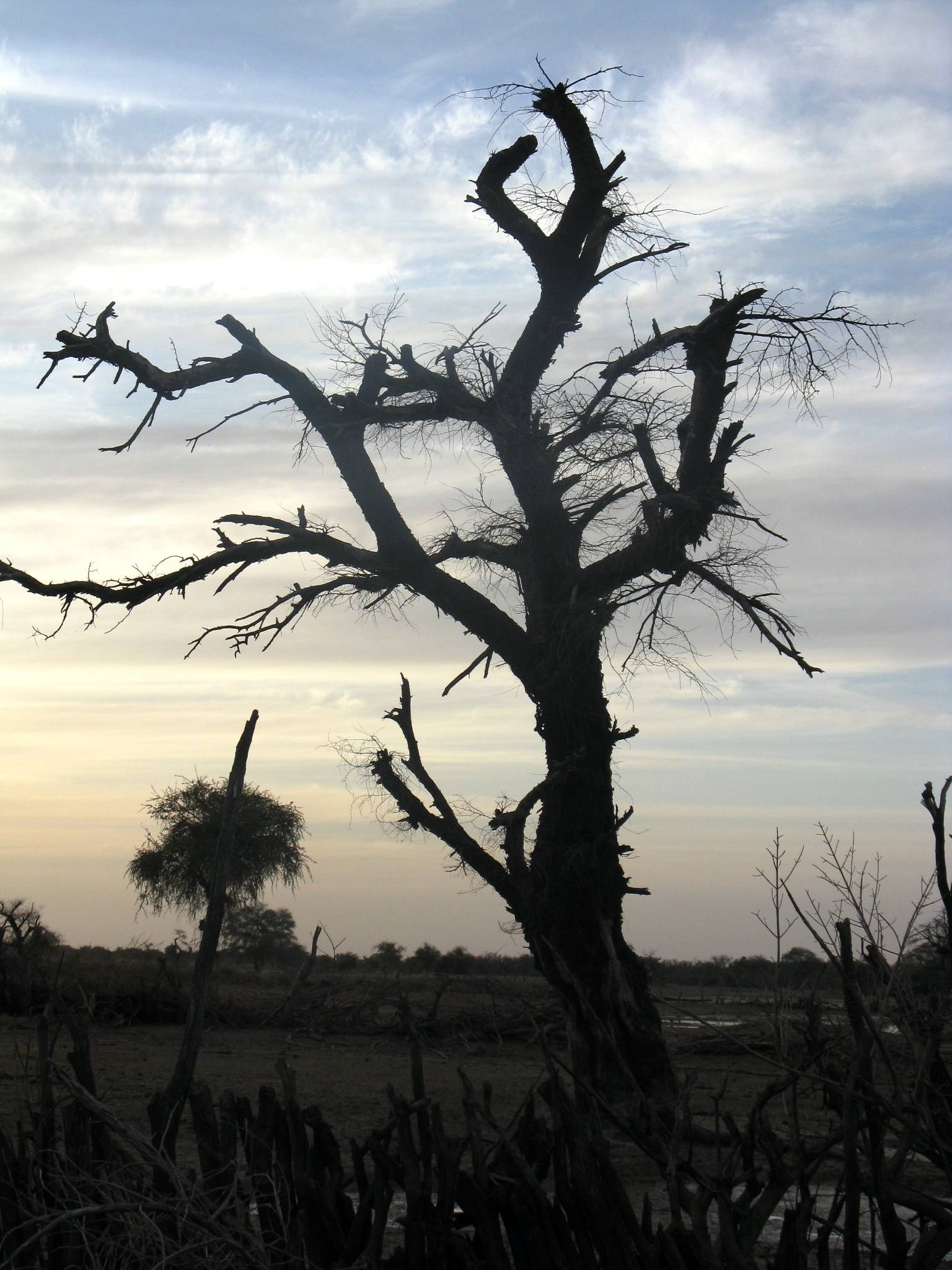 This tree is the definition of 'gnarly.' In the foreground you can see the fences which keep goats and donkeys out of the gardens.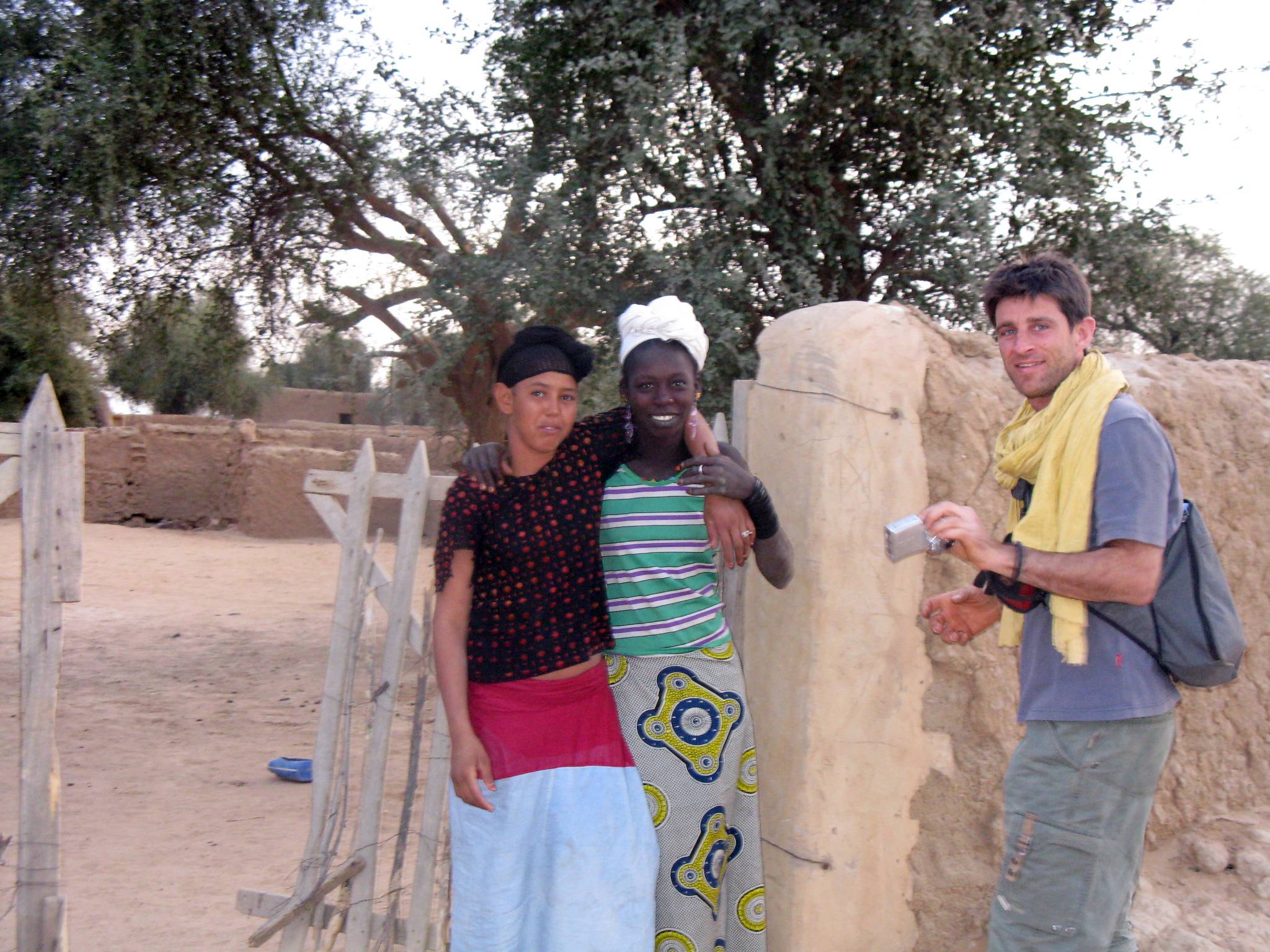 Gilles shows a couple of teenage girls a shot he has just taken of them.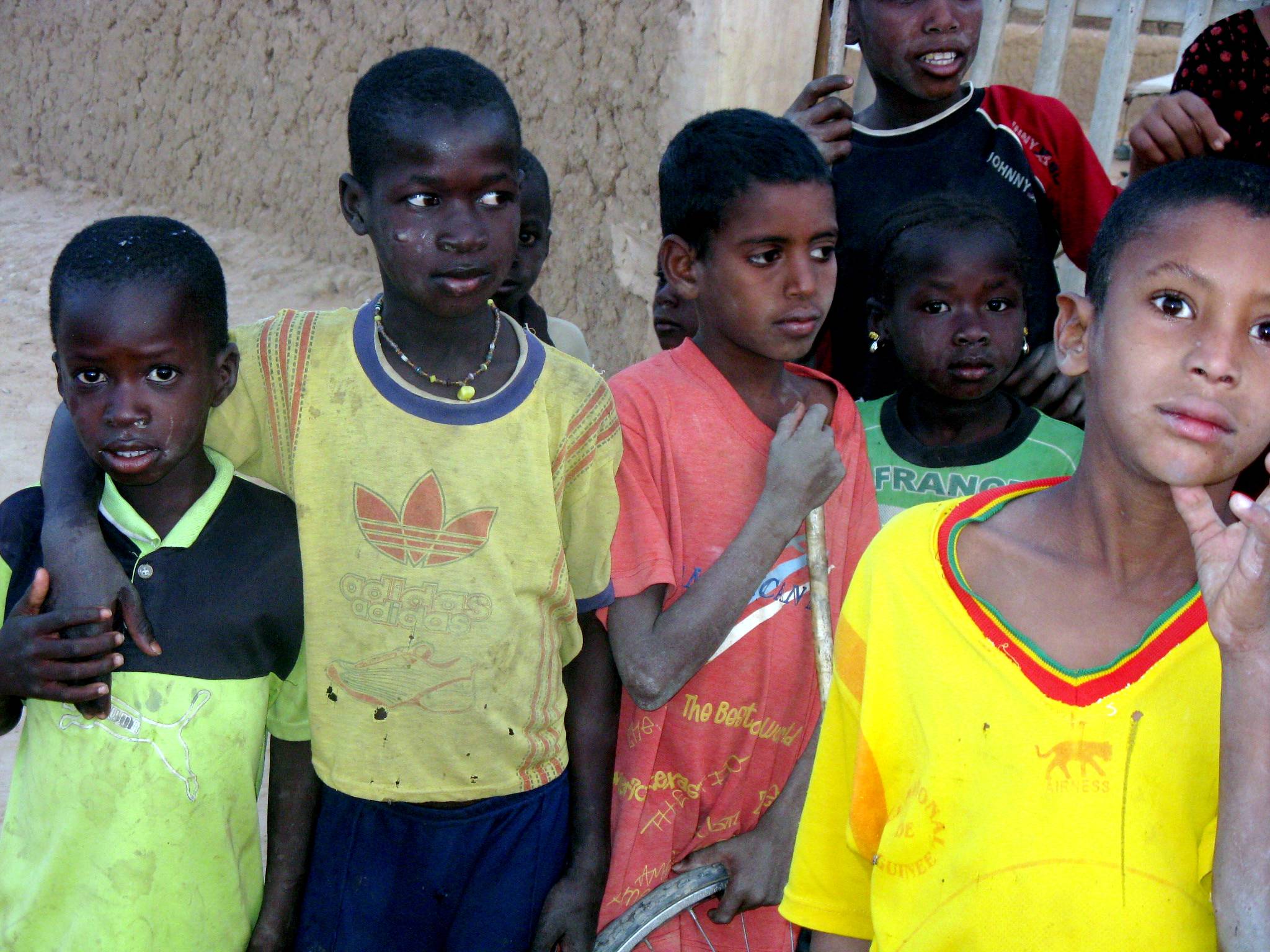 the kids of Adittafane
While I'm contemplating the ills of modern society, along comes a man who says he must show us something. He takes us to his house. Outside there is a woman cooking, and a daughter in her teens. He takes us over to show us something wrapped up on a mat on the ground. It is getting dark and I can hardly see. The French is flying and I'm not sure what is going on, but I sense it's not good. Gilles and Davide look concerned and step in front of me, blocking my view, as the woman, the mother, pulls back the blanket off her baby. The baby has been burned. I cannot tell how badly, but Gilles tells me later it is pretty bad. The child had gotten too close to a cooking fire and his clothes ignited.
Amazingly, there is a pharmacy in the town, and the pharmacist has written a prescription, but the cream is only available back in Douentza. They want us to take the prescription and have it filled, and send it back with whomever is coming this way. I know that will take at least two days, but I later learn that the accident occurred five days ago. We are in shock for this baby, for this family. The medicine will be free, so we know it's not a scam of some kind. Now I am directly confronted with the down side of this way of life, and I see first-hand that there is no easy solution. Gilles takes the prescription. He will have it filled when we get back to Douentza. What else can you do?
In this town, there are huge ditches. I mean HUGE. Five feet deep and maybe the same across. I ask what they are for. Irrigation? No. Elephants. It's to keep the elephants out of the garden. With the (human) population growing, the earth heating up, the water is drying up, so the vegetation is decreasing and the elephants are becoming more interested in the villagers' food. Apparently, in November, you don't have to go looking for the elephants. Just pull up your easy chair and watch them stroll by along the street. They usually come by at night, when there's not too much noise.
For dinner there is spaghetti with chunks of beef or goat; I can't tell which. It is very tasty, but I can't eat much. My stomach is still upset. There is a young man who has joined us. His name is Shita (SHEE-tah) and he is an elephant tracker (pisteur). He has a very big unfettered grin, and wears it most of the time. His enthusiasm is a beautiful contrast to the way I am feeling, and the sound of the crying baby not 50 feet away. He stays up until almost midnight telling stories. Gilles and Davide are enthralled. Between my queasy physical condition and mon handicap linguistique, I decide to go to my tent and roll out my sleeping bag at about 8:45. The piste has worn me down and I know there's more coming tomorrow. I hope the elephants will be kind and not make us hunt too hard. Somehow, I drift off to the sounds of Shita's animated storytelling and the baby's crying.
Continued in part 2 ...