Bamako
Mali 2008
My reason for coming to Bamako is music. The scene is world renowned, and Studio Bogolan is where practically every great Malian musician has made CDs - Ali Farke Touré, Oumou Sangaré, Amadou & Miriam, Toumani Diabaté...the list is as long as the Bandiagara Escarpment. It had been run by a Frenchman, Yves Wernert, for years, but I had heard that it had been taken over recently by three guys from Mali who were supposed to be very good. I want to meet them. The thought of actually recording something had crossed my mind when planning the trip. I decided it would be too complicated for this journal foray, but the idea gradually began gathering steam, moving from an idea to a dream. One of these days...
But for now, I have Thursday, Friday and Saturday in Bamako. Sunday morning, I will begin a 3-part journey home. An 8-hour (so they say) bus ride back to Mopti, then on Monday morning a Pointe Afrique flight to Paris, and Tuesday morning, Air Canada will whisk me back to the snow dunes of Toronto: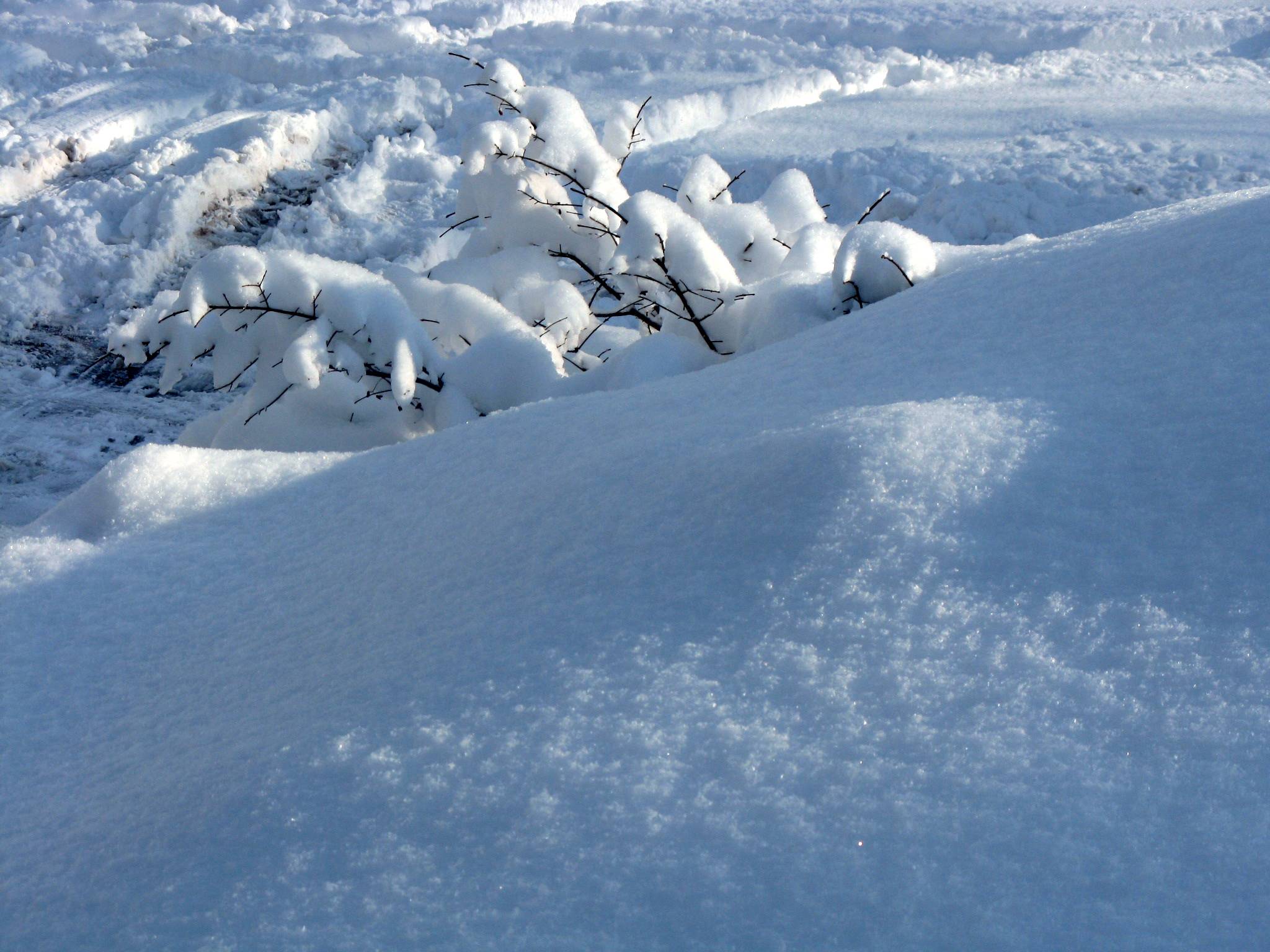 I'm not sure I will spend all 3 days and nights in the Hotel Rabelais. Though far from luxurious, it feels a little TOO nice and I consider moving to someplace a little more downscale. My motto for this trip - not to be confused with my mantra, this is not a movie, this is not a movie - has been "keep it simple." I do not want this to become one of those If This Is Tuesday, It Must Be Belgium kinds of trips. So I decide to stay put. It's only $70 a day, after all, not $270.
Thursday, 17 January. For some reason, I'm awake at 7 A.M., 2½ hours after passing out from the big bus ride. I coax my sleeping self back, and manage another couple of hours. By 9:45, I have found the breakfast room. They have - are you ready for this? - perked coffee!! And it's in a silver pitcher. The cups are neither pink styrofoam nor turquoise melamine. They, like the nondisposable plates, are white, and made from ceramic. The glasses are glass, the silverware silver, and I have lived to see heaven, or at least some of the comforts of home. I brush away guilt like a housefly, as a waiter, a young Malian, attired in white shirt, black vest and friendly smile, brings me a glass of orange juice. I see a flash, a quick image of a slave in a Southern mansion - and I am gentry - come and go like a subliminal message at a drive-in movie. The next frame, fading quickly in and out, is of the angry teenage boy I saw sitting on a wall in the village on the Niger. I am tired. I'm operating on very little sleep. I turn my attention to this nutritious bowl of fruit and yogurt that will give me the energy I need to attempt a walk through the streets of Bamako.
As I head through the gates of the Rabelais,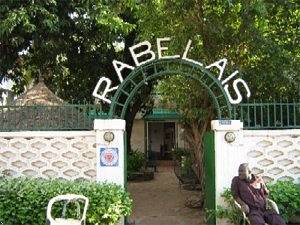 I'm instantly targeted by at least 6 hungry taximen. I say a thousand "no merci"s and "pas maintenant"s, but they are so aggressive, it's very difficult to tear myself away without getting really pissed off. Whew! Next time, I will know enough to take a deep breath and mentally ready myself.
___________________________________
In the above movie clip, you'll see scenes I shot surreptitiously, either on the street or from a cab. It should give you the sense of this teeming, dusty city of 1.6 million.
___________________________________
Bamako Kids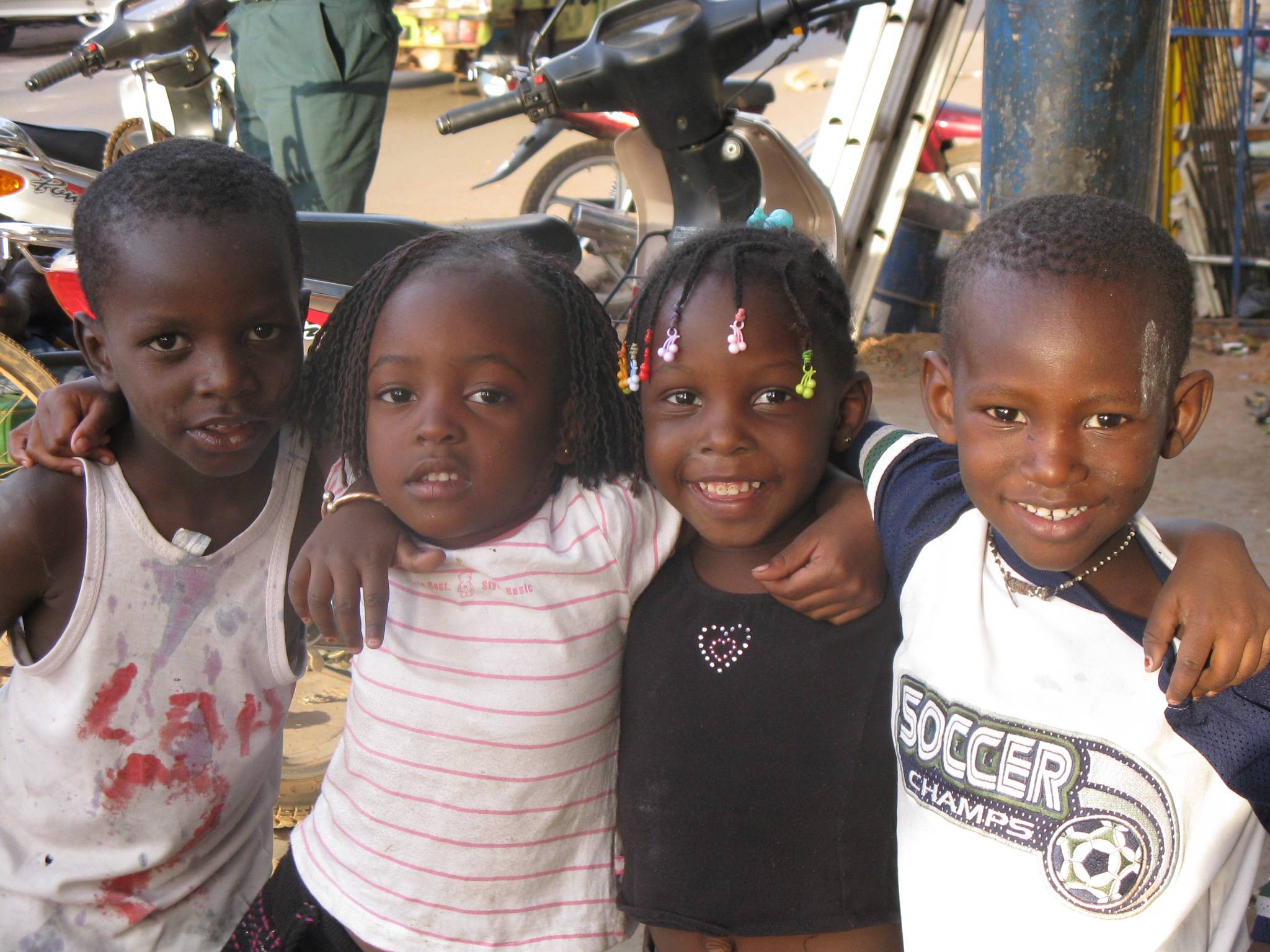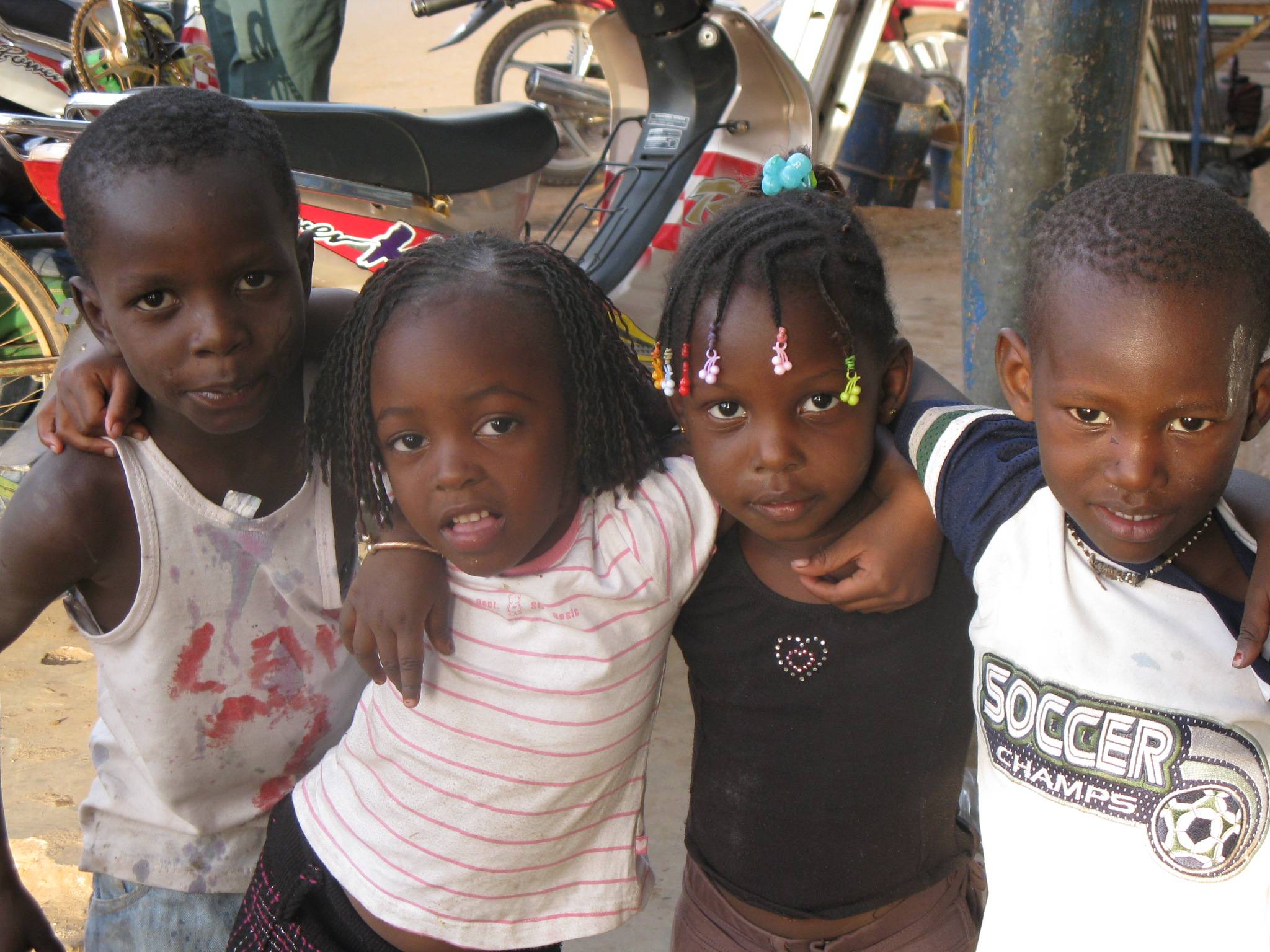 I'm pretty sure that the Bambara name of the young lady 2nd from the left is "Yougottaproblem Mista?"
I set my sights on simplicity. I've plotted out a clockwise walk around a long block. All right turns. Can't miss. journal west, then north, then east, then south. A final right turn west, and I'm back home. It looks like it's only about 4 km in total, and from my trusty Lonely Planet Guidebook, I know there's an internet cafe at about the halfway point. It has a high speed connection and Skype, so I can, for the journal time since I got to Africa, sit and have an unencumbered chat with Sharon. I'm also looking for a bank where I can change some large bills, to avoid the "sorry, I can't change a 10" scam. The hotel clerk tells me there's a bank about a block west. I walk west along Route de Sotuba for about a block or two. No bank. I ask directions, and get a totally different story. I ask yet another person and finally find a bank. The guard asks me what I want. I tell him. The manager comes out. "Change?" he smiles. "We don't do that in banks. You have to get change when you buy something in a store." I protest, and he capitulates, but only slightly. He will change one 10,000 CFA note (that's a $20), but he insists on telling me at least 3 times that he's doing me a big favour. I smile and thank him profusely, as though he's just opened the vault and said "Help yourself, toubab!"
Back out on the street, I turn north (right) at what I'm pretty sure must be Rue Achkhabad. I say pretty sure, because there are very few street signs here. Probably due to the low literacy rate, I postulate. I don't ask, because I'm pretty sure I'll mispronounce it and just complicate things. Walking north, I find what I think must be Route de Koulikoro, which is also known as Avenue al Qoods (or Ouds on some maps), and turn right, eastbound. I ask for the internet café, which is called Ikatel. No one has ever heard of it. I keep on walking. After much asking, wondering and walking, I discover that Ikatel, one of the 2 major phone companies in Mali, has changed its name to Mali Orange. It takes me close to an hour to find it. I am hot and flustered, but the place is air conditioned, inexpensive, and the computers work like lightening.
More comforts of home. A nice long talk with my favourite woman, a leisurely checking and answering of emails, tidying up the ol' inbox, and I'm air conditionally refreshed for the 2nd half of my walk. I head south (right) on a narrow dirt street crowded with people sitting in front of small ramshackle buildings that are either dwellings or businesses, I can't tell which. In retrospect, they were likely both. There are also lots of people just hanging out, or walking by. None of them seem anxious to greet me, so it feels less friendly than the Mali I have seen thus far. I start to concoct a theory that this is what city living does to people. It hardens them, makes them more fearful ... Maybe it was all those hours in therapy, maybe all those moments in meditation, but my grown-up brain suddenly kicks in and says 'maybe it's me and not them that's the problem'. The next group of men sitting in metal folding chairs around a card table outside their run-down shack receives a big smile, a tip of the hat and a hearty, "Bon jour, mes amis. Ça va?" from yours truly. And that's exactly what I got back. "Oui. Ça va tres bien. Et toi, monsieur?" Now that feels good. My dirt street deadends at Route de Sotuba. I make my last right turn and easily find home.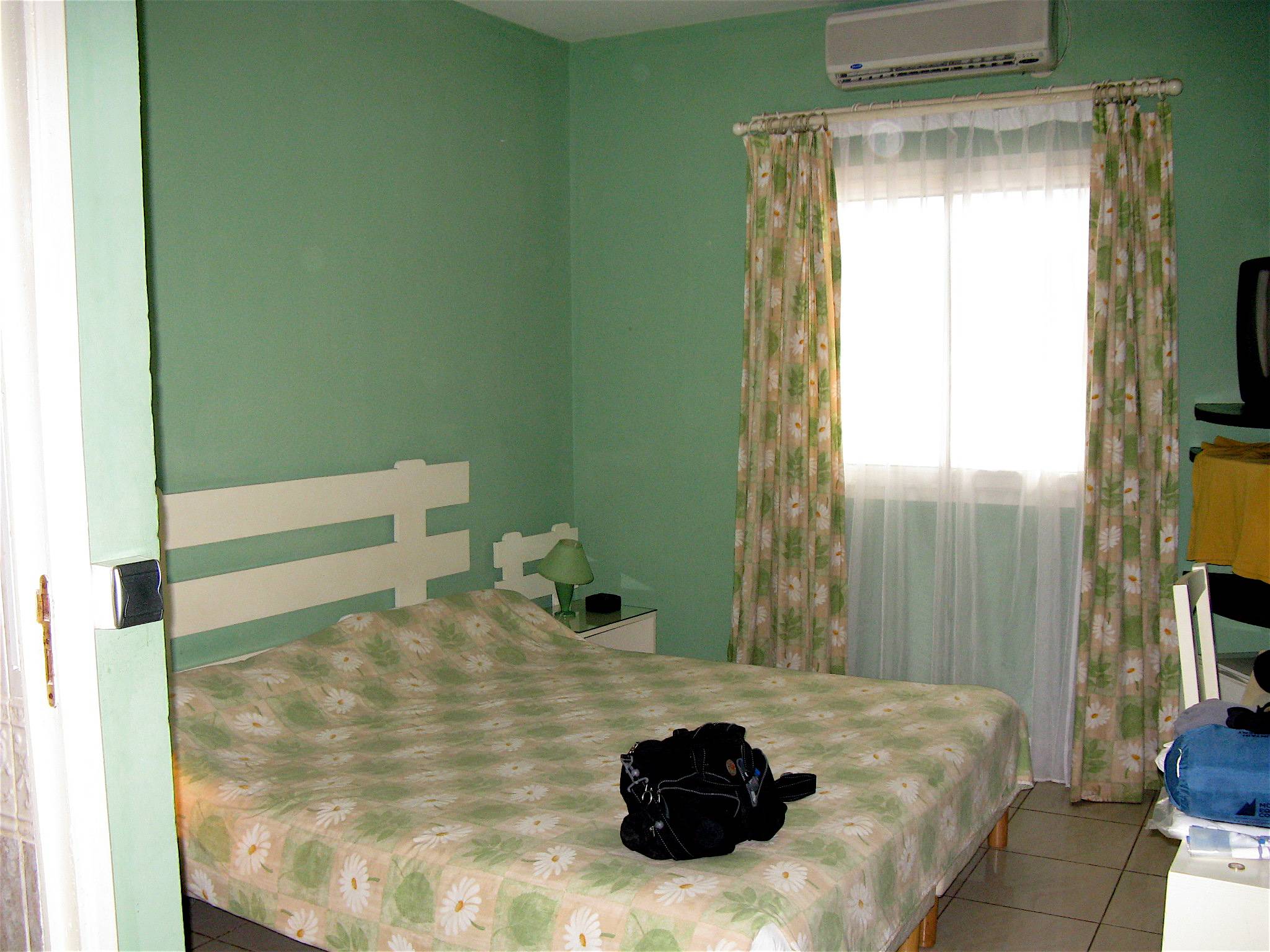 Back in my room, I look through my Lonely Planet guide for a funky lunch spot, and try to sus out the Thursday night music scene.
There's Restaurant San Toro, which The guidebook says has great food, is medium priced, and features a Kora player every night. I love the kora. As Sharon said, "It's heavenly like a harp and, at the same time, it's earthy like the gourd and the goatskin it's made from." Or maybe she said "from which it's made," but I doubt it. This is a Kora: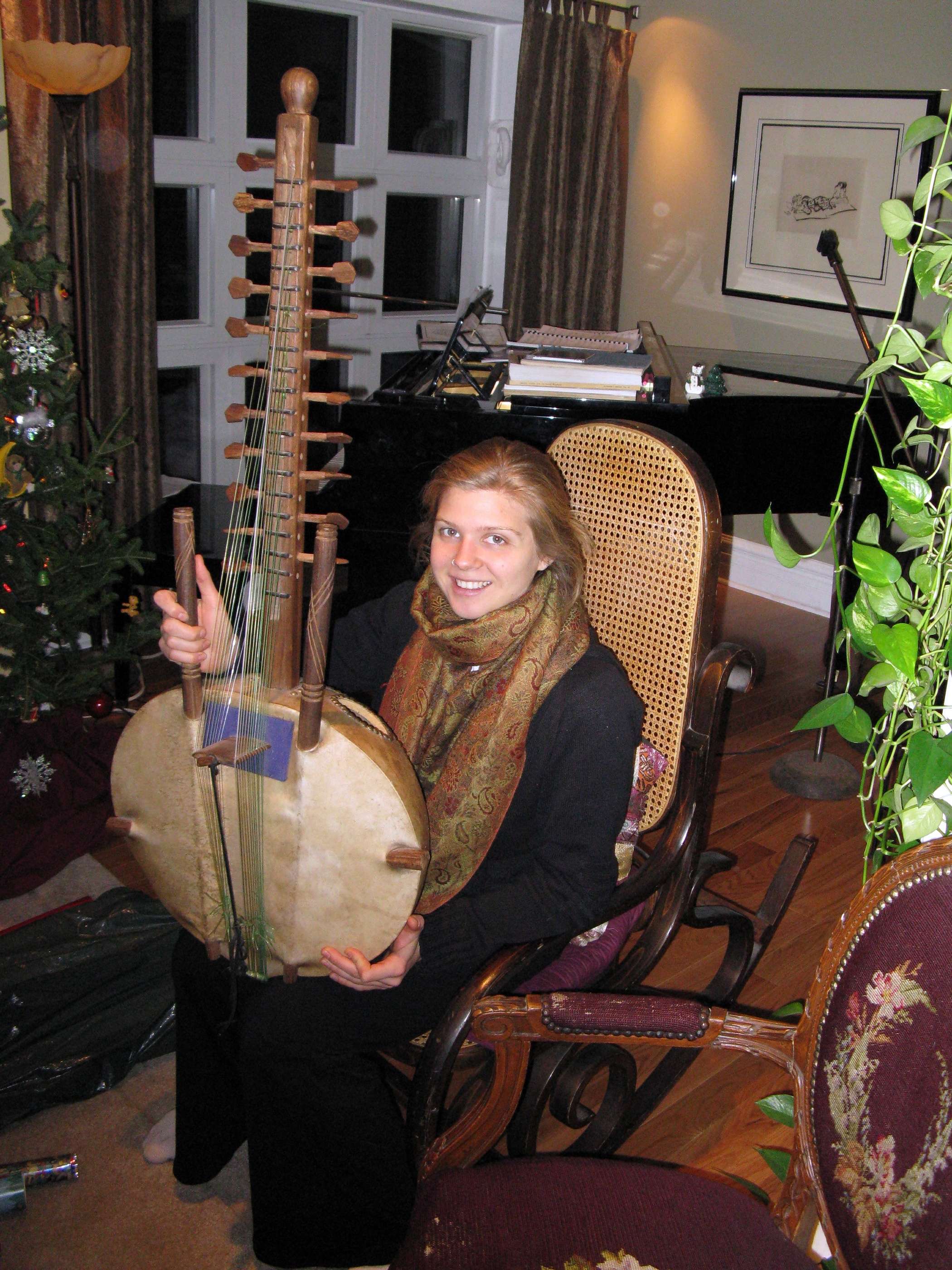 My daughter, Katrina, lends her beauty to this shot of a kora I took in our home shortly before my departure. I borrowed it from a Toronto composer friend. I needed a headlamp just to attempt tuning, and this one's a Westernized cheat. It has pegs for tuning instead of rawhide straps like the ones the Malian maestros all use. I never did get it in tune, never mind actually playing it. But I love listening to it in the right hands.
I call the San Toro. "Tonight we have a balophone and guitar duo." Disappointing. Balophone is not my favourite, but I at least have some activity in my back pocket for this evening. For lunch I decide on Restaurant de la Paix, another Lonely Planet recommendation. Heading back outside in the heat of the afternoon sun, this time I decide to let the cabbies have their way with me. Feeling like the belle of the ball, I offer my 10¢ dance to a young man who calls himself Lassi. He's not all that knowledgeable of the nooks and crannies of Bamako, but he's very nice and speaks fairly easy-to-understand French. Adding to the ballroom metaphor, he offers me his phone number and says I can call him any time, day or night, and he will come and drive me. "Why, thank you, Rhett. I have always depended on the kindness of strangers," I muse, still a little short on sleep, as I take his card.
Restaurant de la Paix is described as a "cheap and cheerful sit-down restaurant which serves spicy Senagalese dishes for around 1,000 CFA ($2) and doesn't normally bother with a printed menu." Lassi drops me out front. I walk through a stone archway into a courtyard containing about 10 people. This is no restaurant. This is a family home. Aunts, uncles, babies, teenagers - all just standing around, sitting or walking around, going about their business. A bare breasted woman steps out of a doorway, sees me, covers up. I have walked into somebody's courtyard! Finally a young woman with a pad and paper and a look that says "we're closed for the afternoon but we really need the money and this toubab looks like he might have some" comes over and ushers me up a set of concrete steps to an empty room with a bar and a few tables. Obviously reservations are not necessary, so I take a seat. The chalkboard has two items: Omelette Frite and Omelette Simple. I opt for the frite one and she shakes her head. O.K. Simple it is then. It's my motto after all.
After my omelette, I want to go to the famous bar, Le Hogon and see who's playing this weekend. I have heard that the best kora man in the world, Toumani Diabaté has been known to play there often. I decide Lassi will never find out if I cheat on him, so I hail the journal cab I see. This driver also gives me his phone number. I blush and thank him politely. I feel like a real trollop. I ask him to wait as I go into Le Hogon. A large woman with glasses looks like she works there. I go up and ask what the entertainment is for the weekend. Remember back in Chapter 11, when I said that the man in the back of the bus was one of the two grumpy people I'd meet in my Mali travels? Well, please allow me to introduce #2. "Nobody here tonight," she grumbles without looking at me. "And Friday?" I ask, pulling teeth. "Toumani." My dad, the punster, makes a cameo in my head. But somehow it comes out my mouth. "Too many what?" "Diabate," she mumbles, not having understood my English. Or did she? Whatever the case, I am visibly excited by the prospect, which she finds, I don't know, somehow disgusting. "And Saturday?" "No Saturday." This woman is not going to spend a single syllable she doesn't have to. I think she must have had to drive one too many a hard bargain at the Bamako market. But she can't dampen my enthusiasm for what I know is going to be one hot Friday night.
Thursday night at the San Toro is quiet. The music starts at 9. Lassi drops me off and says he'll return for me at 11 when the show's over. The atmosphere is very laid back; upscale, but not pretentious. There's maybe 10 people occupying 4 of the 20 or so tables in the place. I am seated at a table in the middle, up close to the band. I order a coconut chicken dish with spinach and squash. They don't serve alcohol.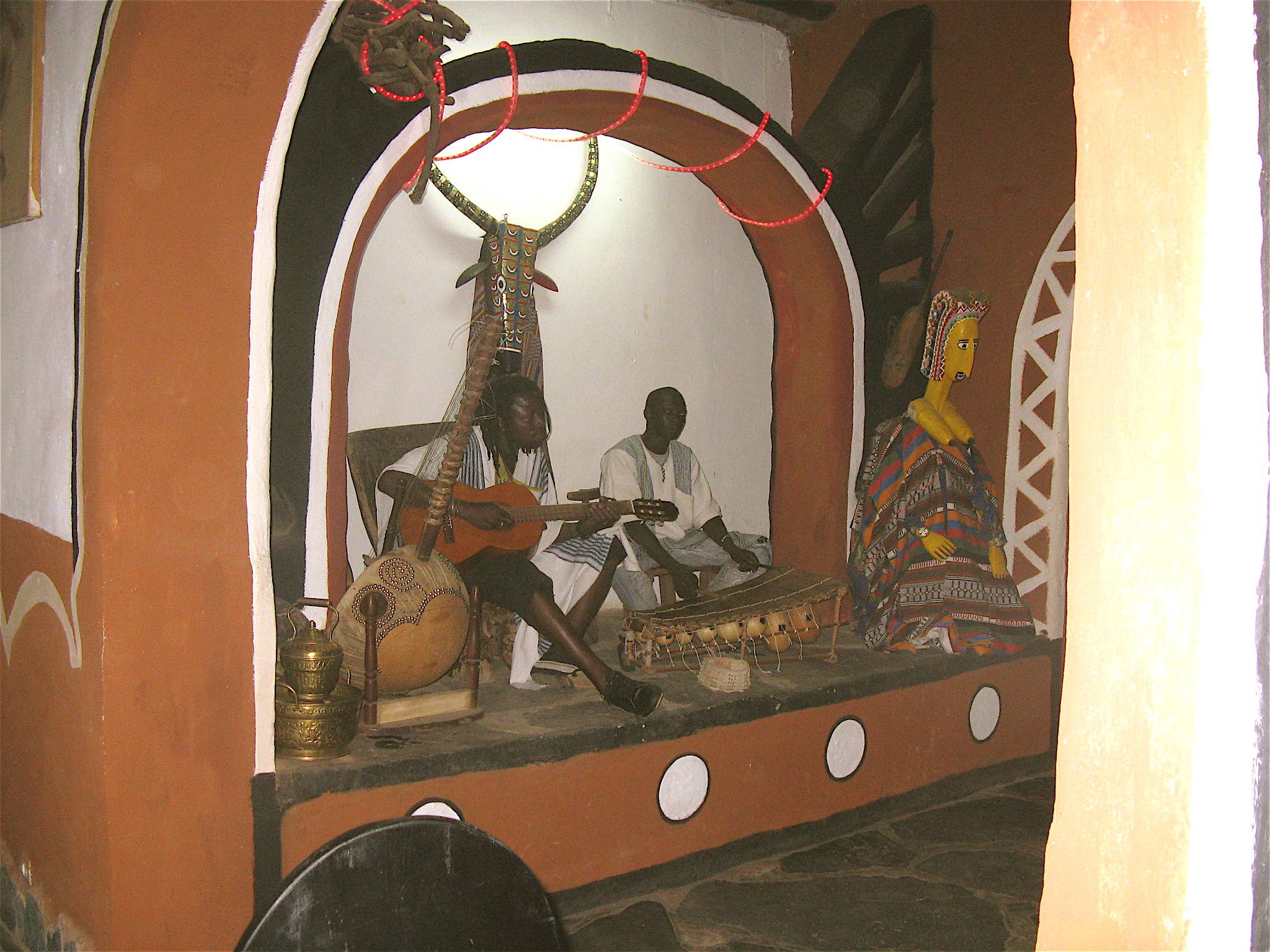 The stage at the San Toro.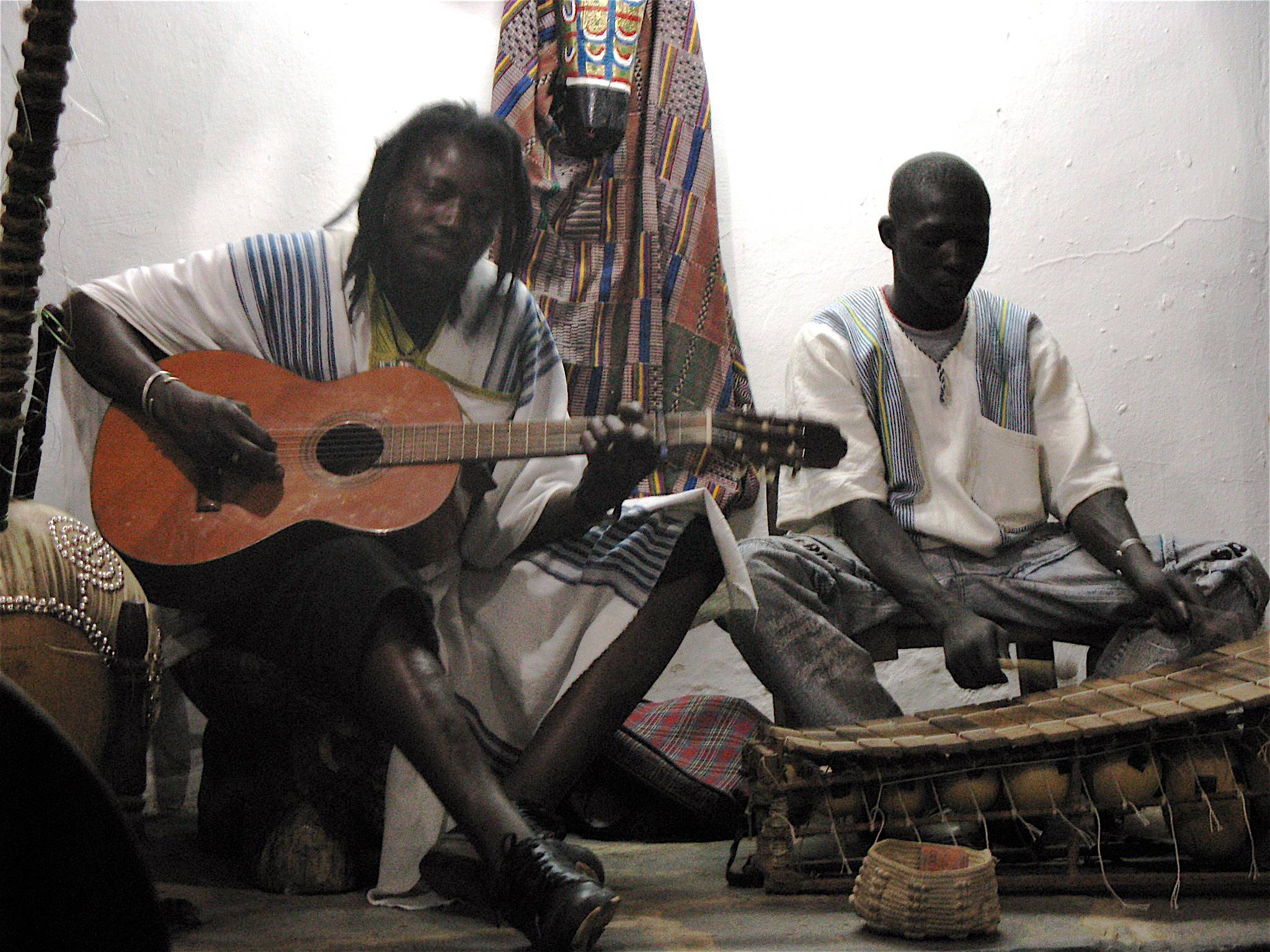 This very laid back duo is headed by a man who introduces himself to me as Julien Sembélé. I ask him if he would mind my making a recording and he tells me with a smile that I can do whatever I want as long as I put money in the basket. Julien is not a famous musician, just one of a great number of talented Bamako musicians trying to make a living. I get the sense that he is one of the more successful ones.
___________________________________
Music from Julien Sembélé and his balaphonist partner.
Click here to play.Click here to play.
___________________________________
Across from me there is a single woman finishing her dinner. As a song ends, I applaud, alone at journal. Then she picks it up and gradually it catches on and the two players nod to me, smiling appreciatively for what I have started. Julien asks whoever in the audience is paying attention (that would be the two of us) if anyone plays, or would like to play, the balophone. I hear her respond in a Scandinavian accent that she's sorry, she doesn't understand, she doesn't speak French that well. I translate their words for her, and she smiles appreciatively. After the next song, she says something I can't quite hear, but she is motioning toward my recorder on the table. She comes over and says, "I see you are recording." We chat for a bit, she seems nice and I ask her to bring her coffee over and join me.
It turns out that Kristin is a Norwegian singer who loves the music in Mali so much, this is her 5th trip to Bamako. She has done a number of albums, and we talk about her latest one (which she will later give to me, which I will later play back in Toronto, which I will be absolutely blown away by), a collection of obscure gospel songs she received from her voice teacher before she passed away. She has also composed a soundtrack for a Hollywood film. So, not only do we have a lot in common, but we are instant friends. There's a connection there, and my god, is it ever great to speak whole sentences in my native tongue! But what really hooks me is her attitude. She talks about interpreting a song. "You have to be inside the song, and make your interpretation from there. Too many people stay outside the song when they sing it, and it doesn't work. It's just clever." Ironically, we are now the ones who are so engrossed in conversation they aren't paying attention to the band. But at least we don't forget to clap and drop a few extra francs in the basket when the music ends at 11.
We don't want to end the conversation, so we decide to go next door for a drink. Just one, we agree. To my surprise, Lassi is there waiting for me like the Fairy Godmother after the ball. I tell him that if he can come back at midnight (no kidding) I'll have two fares for him. He happily agrees. So, Kristin and I go to Le Relax and chat over a beer for another 45 minutes, Lassi comes back and drives her home journal, then me. We make a probable date to see Toumani Diabaté at Le Hogon the following night.
___________________________________
Friday morning I have the energy to meditate before another peaceful late breakfast downstairs at the hotel. I head out to find the famous Studio Bogolan and hopefully meet the proprietors. I know it is near Mali K7, an outlet where one can buy cassettes (K-sept, get it?) and CDs and know that they aren't pirated. Pirating has done a great deal of damage to the Mali music industry, and if I understand correctly, Mali K7 was instrumental in helping to get the government onside in the effort to outlaw it. The problem is still pretty rampant from what I can see. Dozens of young men try to sell me music on the streets. I had noticed a sign for Mali K7 on my walk yesterday. Following the signs, it turns out it is almost directly behind my hotel! And Studio Bogolan is just across the dirt lane. There is a brick wall interrupted by a pair of blue steel gates. I open them and can instantly sense a difference. What's that familiar smell? Ah, yes. Affluence.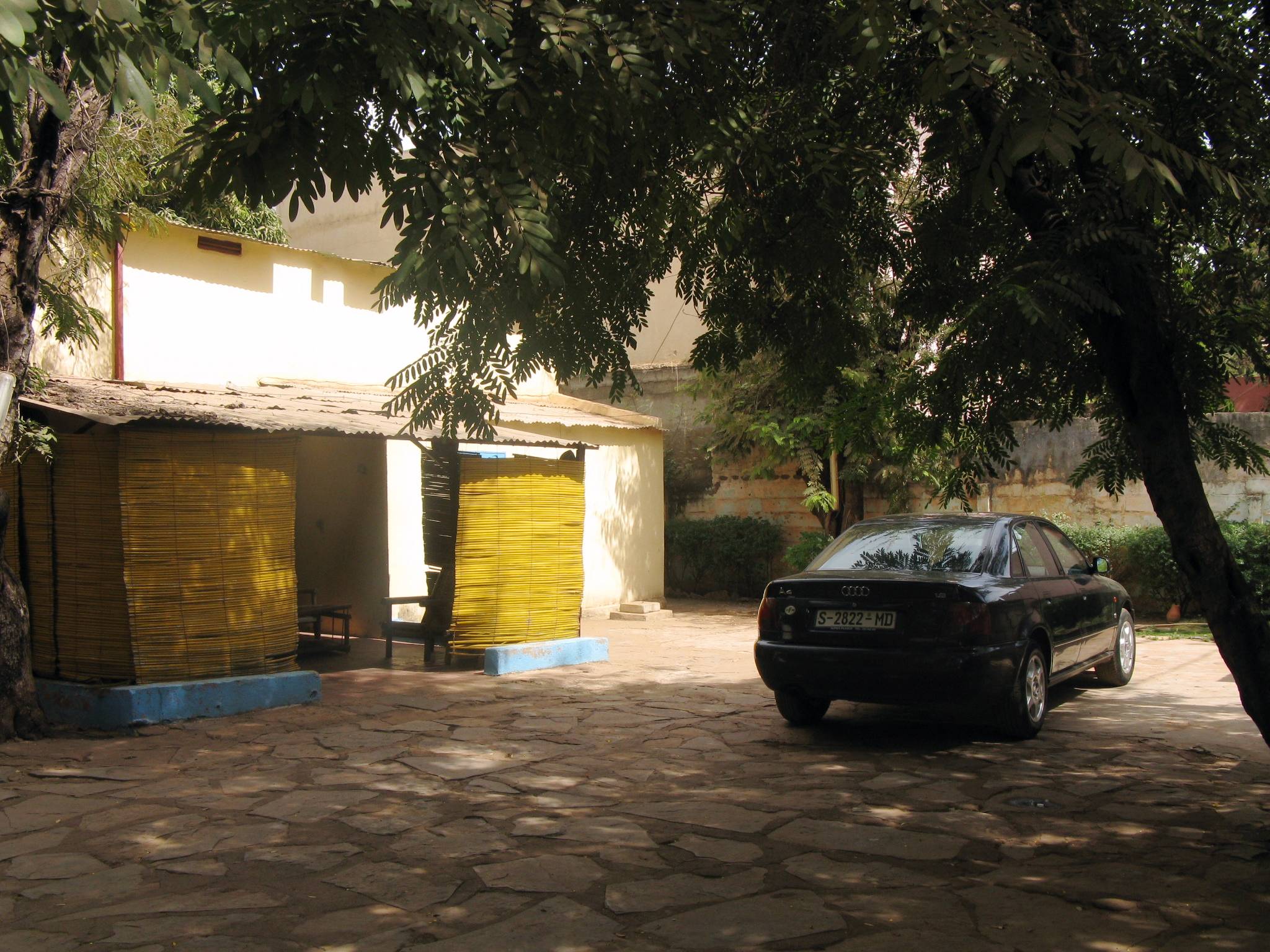 An Audi parked peacefully in the shade of the courtyard outside Studio Bogolan's entrance. Things here are cool, clean and well-kept compared to the dusty chaos outside the gates. Between the yellow bamboo curtains is a single metal door leading into a medium-sized single-storey stucco building.
I walk into the 4x8 lobby, and I am surprised to find myself practically in the control room. There are four people sitting by the big Yamaha digital mixing board - a guitarist, a singer, the engineer and probably the producer. They are running down a tune. The engineer comes out to the lobby. I tell him who I am and give him my card (luckily there were a half dozen that were not in the backpack which was stolen in Paris.) and a CD of my music, and tell him why I'm here. His name is Soufi - short for Souliane - Kaba, and he's very happy to meet me. He explains everything about the studio. He's a very charming and self-assured guy. He and his brother Olivier run the place along with Pierre Duret, both of whom are in Paris at the moment. He says my idea of recording film music here is totally do-able, and reassures me that they have done it many times. They could indeed help me find the right players for the job. Soufi gives me a tour and paperwork listing all the contact info for the studio and even though he says I'm welcome to hang out and listen to them rehearse, I tell him I'd just like to look around the recording room and take a few pictures before I take my leave.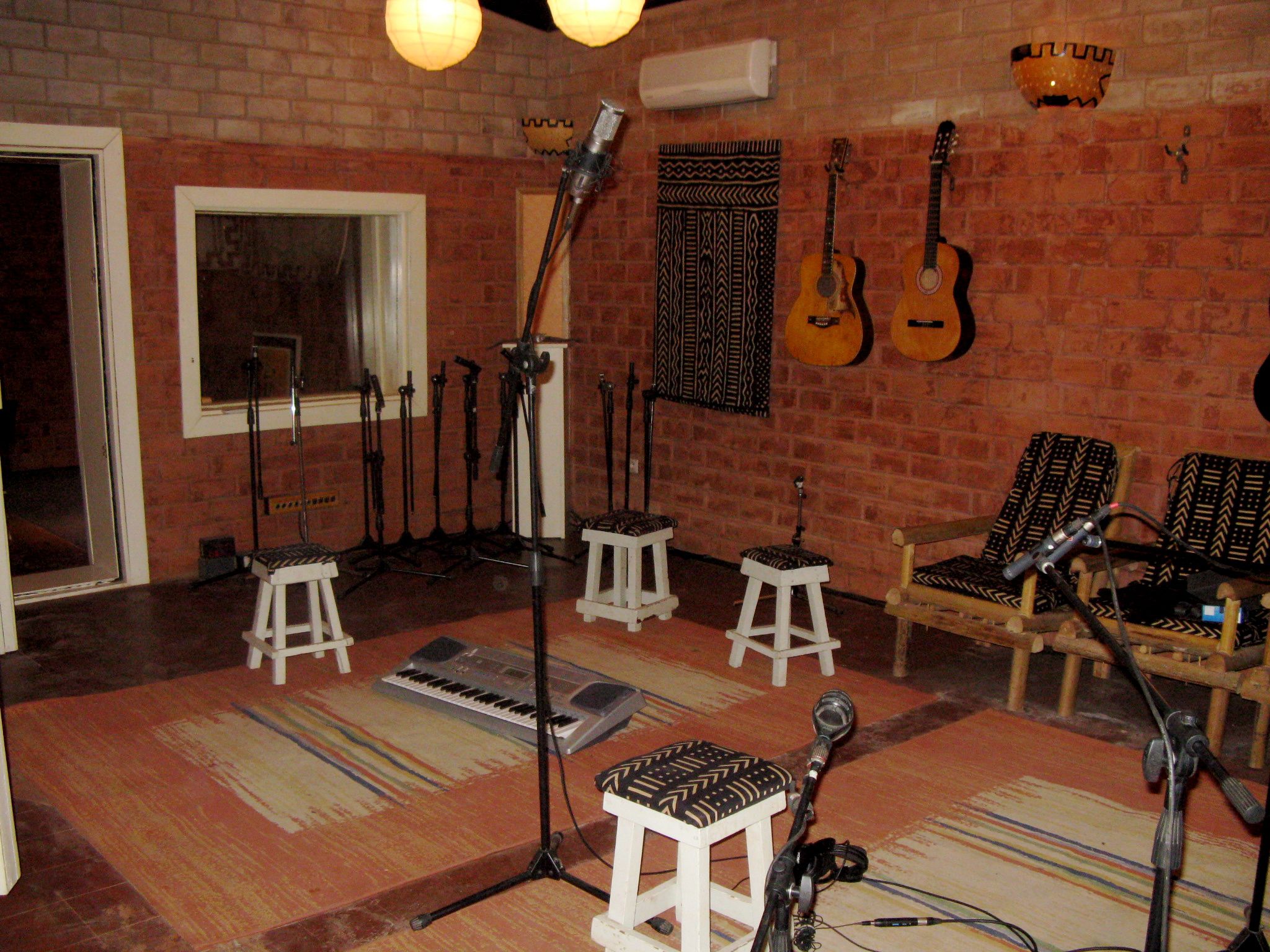 Bogolan's main recording room; looking toward the drum booth.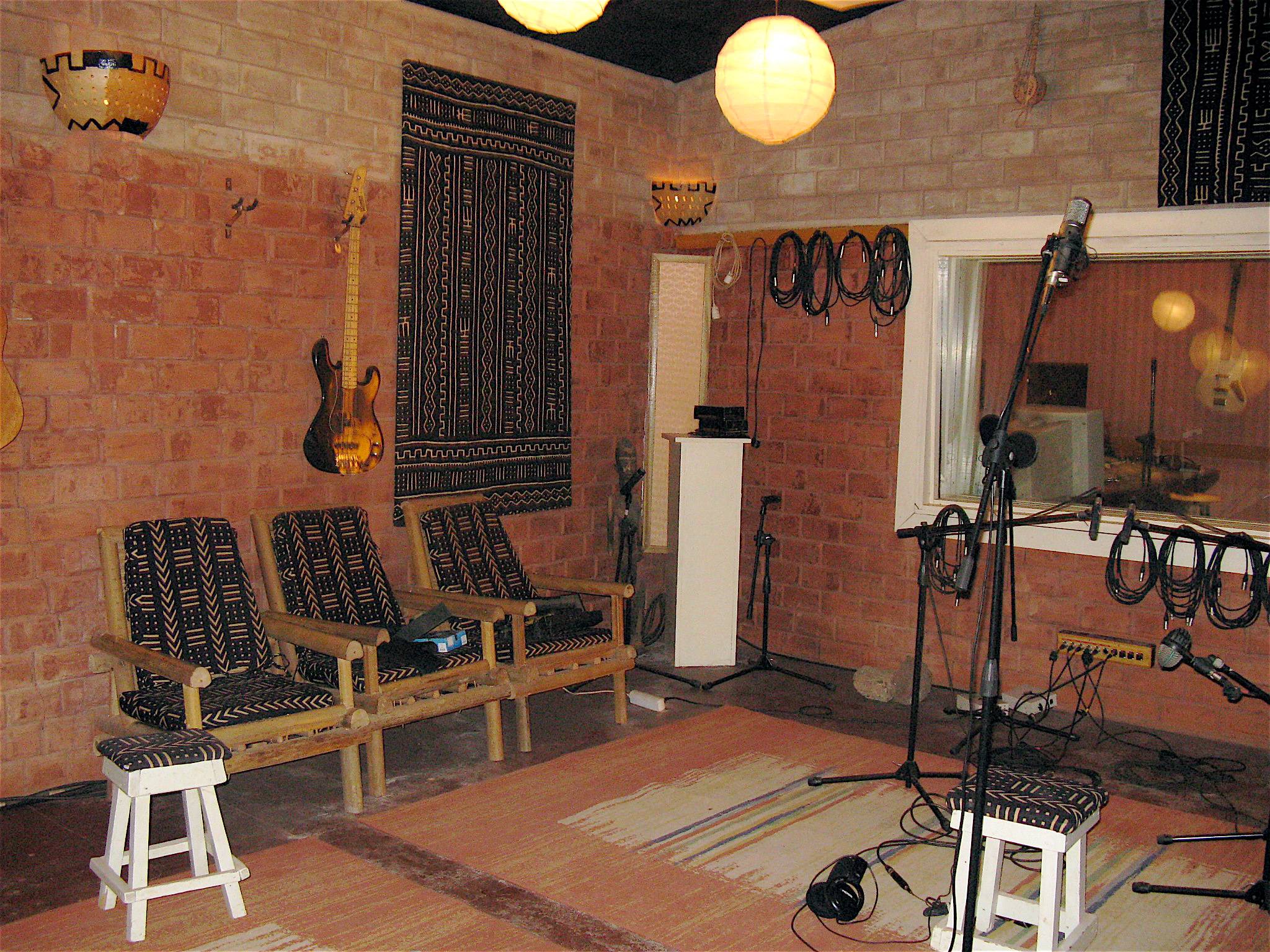 Looking into the control room, where there is a quiet acoustic rehearsal going on. I don't know who the guitarist and singer are, but it sounds beautiful.
It is difficult to go. I am very tempted to stay and meet the others, but my shyness and less than fluid French ultimately have me waving a friendly au revoir et bonne chance. I head across the lane to Mali K7. Kristin had given me a list of some of her favourite female singers the night before. I grab a half dozen or so CDs, plus one by the pioneer singer/songwriter Boubacar Traoré. I ask the clerk which is the oldest Ali Farke Touré CD. He has one from the early and mid 70s!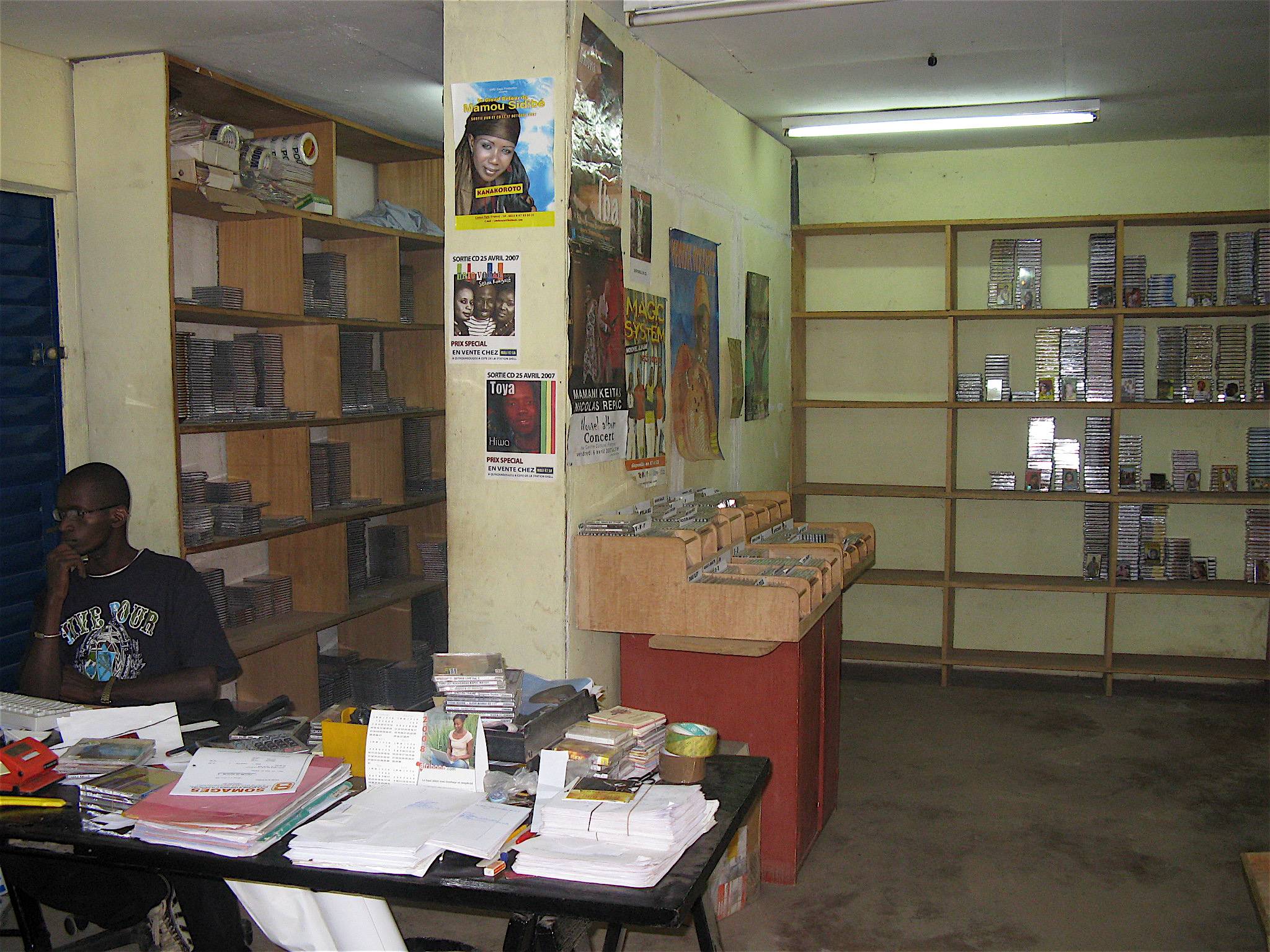 Mali K7 looks more like a government bureau than a music store, but they have a great music collection, and it's guaranteed the artists will get the benefit, not the pirates.
I head back down the lane, and continue my walk around Bamako. In the Hippodrome area is another Lonely Planet recommendation. It's for a boutique full of beautiful African arts and crafts on Boulevard Nelson Mandela. The guide says Mali Chic's "commitment to working with over 175 artisans deserves to be supported." Who am I to argue?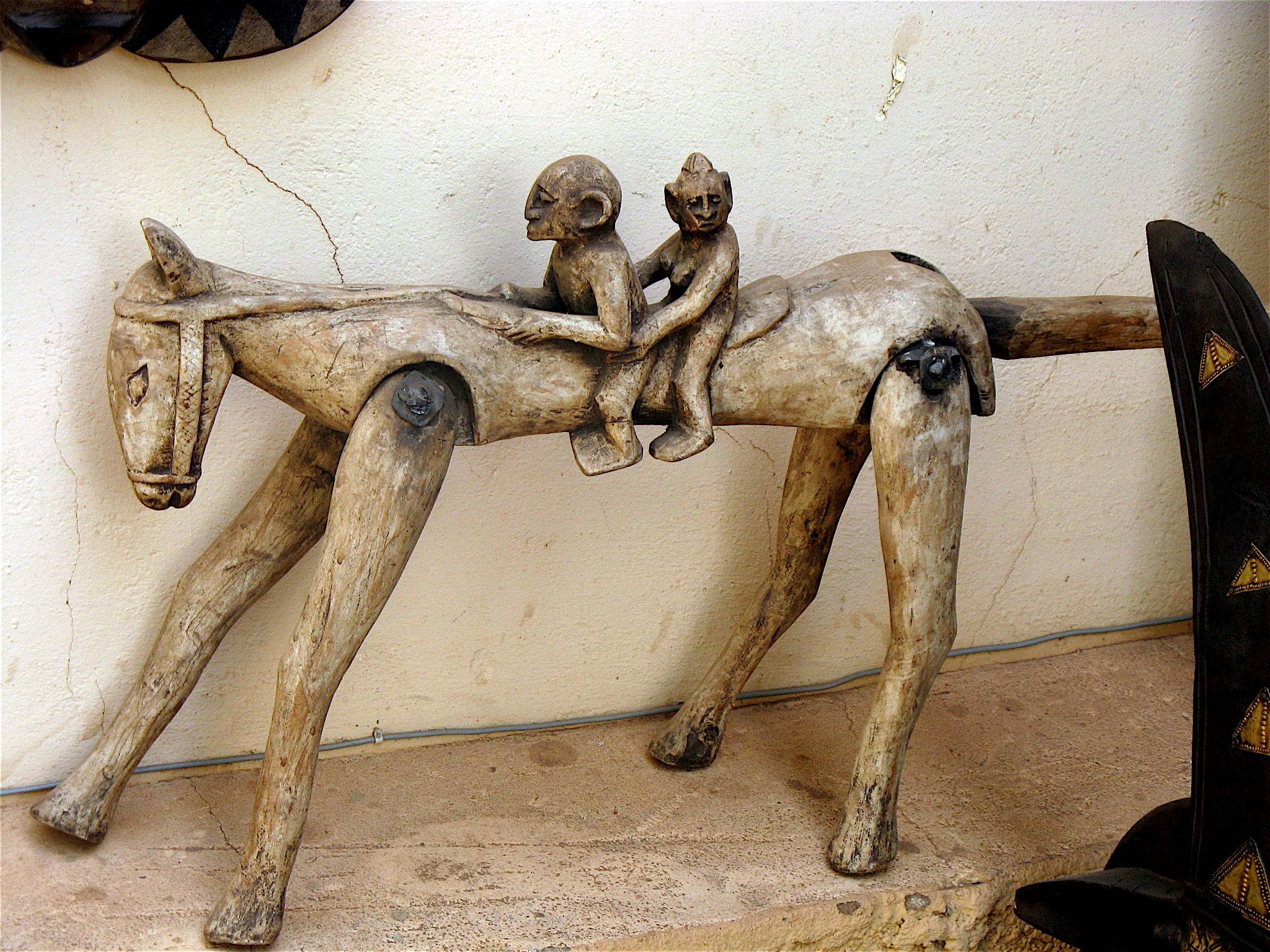 This horse with two riders is about waist-high.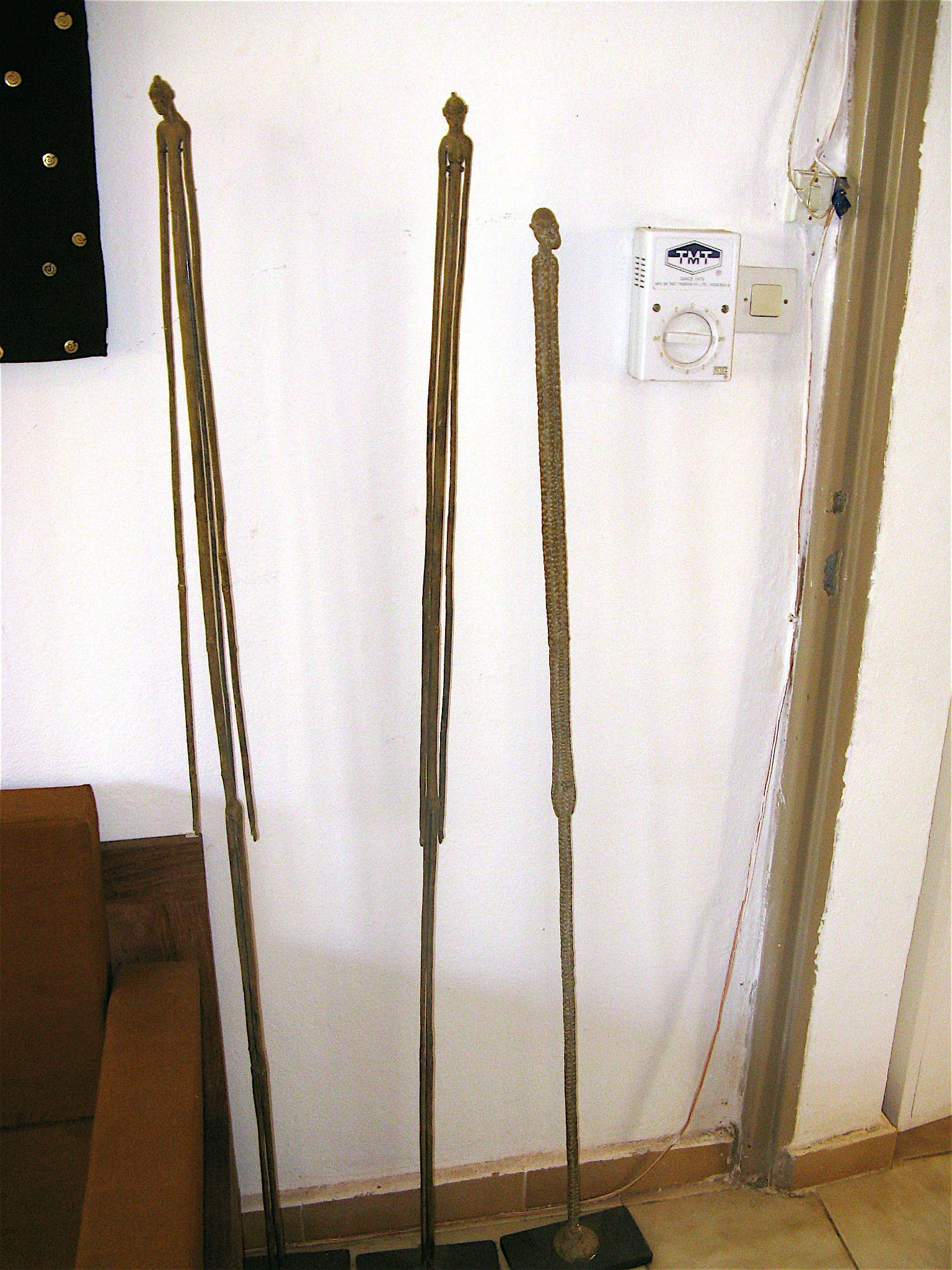 These Dogon metal statues are very detailed representations of male and female. They stand about 5½ feet tall and are no more than two inches in diameter at their widest.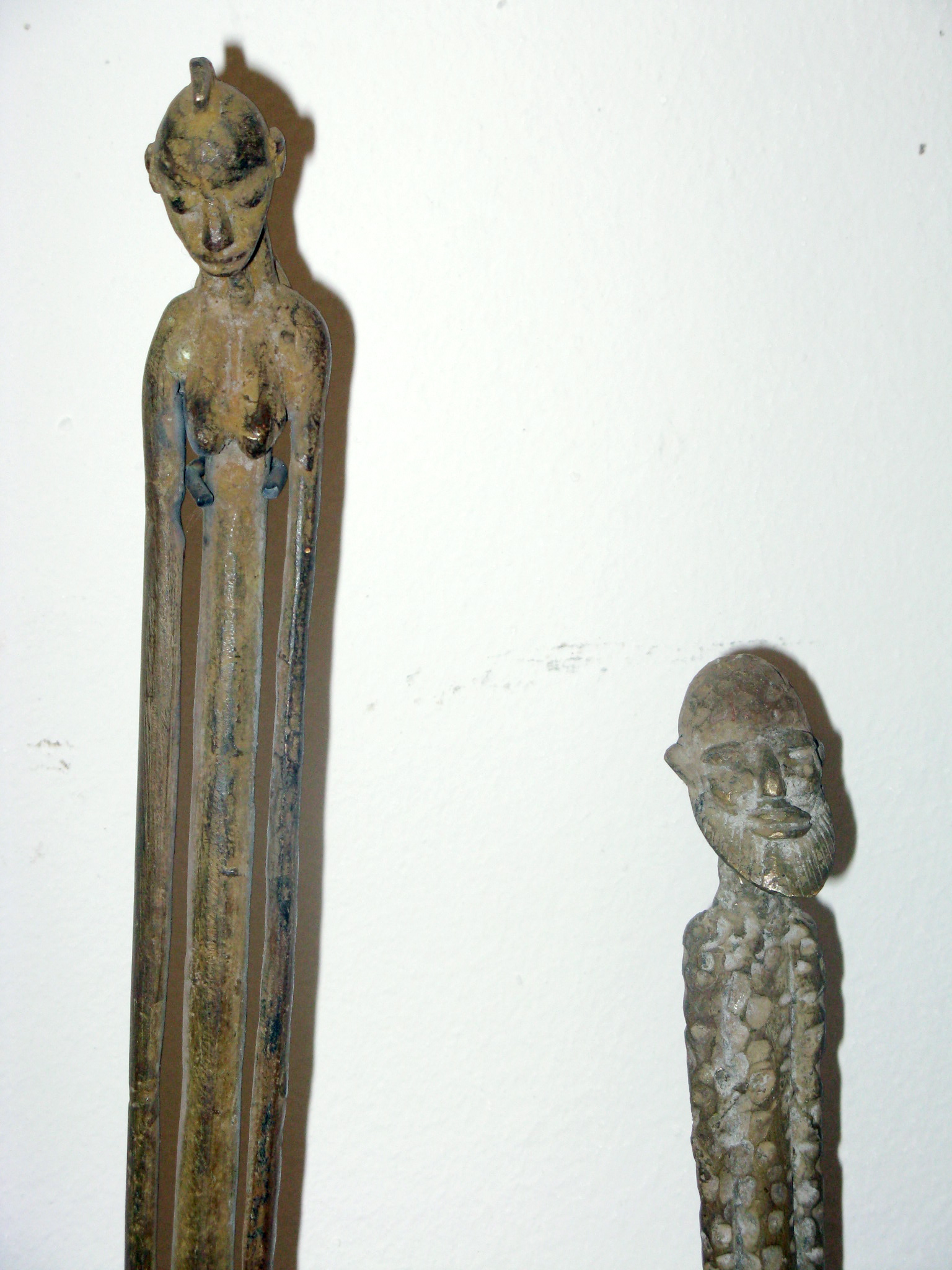 Detail of the Dogon metal craft. I really want these but decide they will be too difficult to bring home. I end up buying a 16-inch version for the mantle. P.S. The name has changed from "Mali Chic" to "Mia Mali", in case you're going shopping.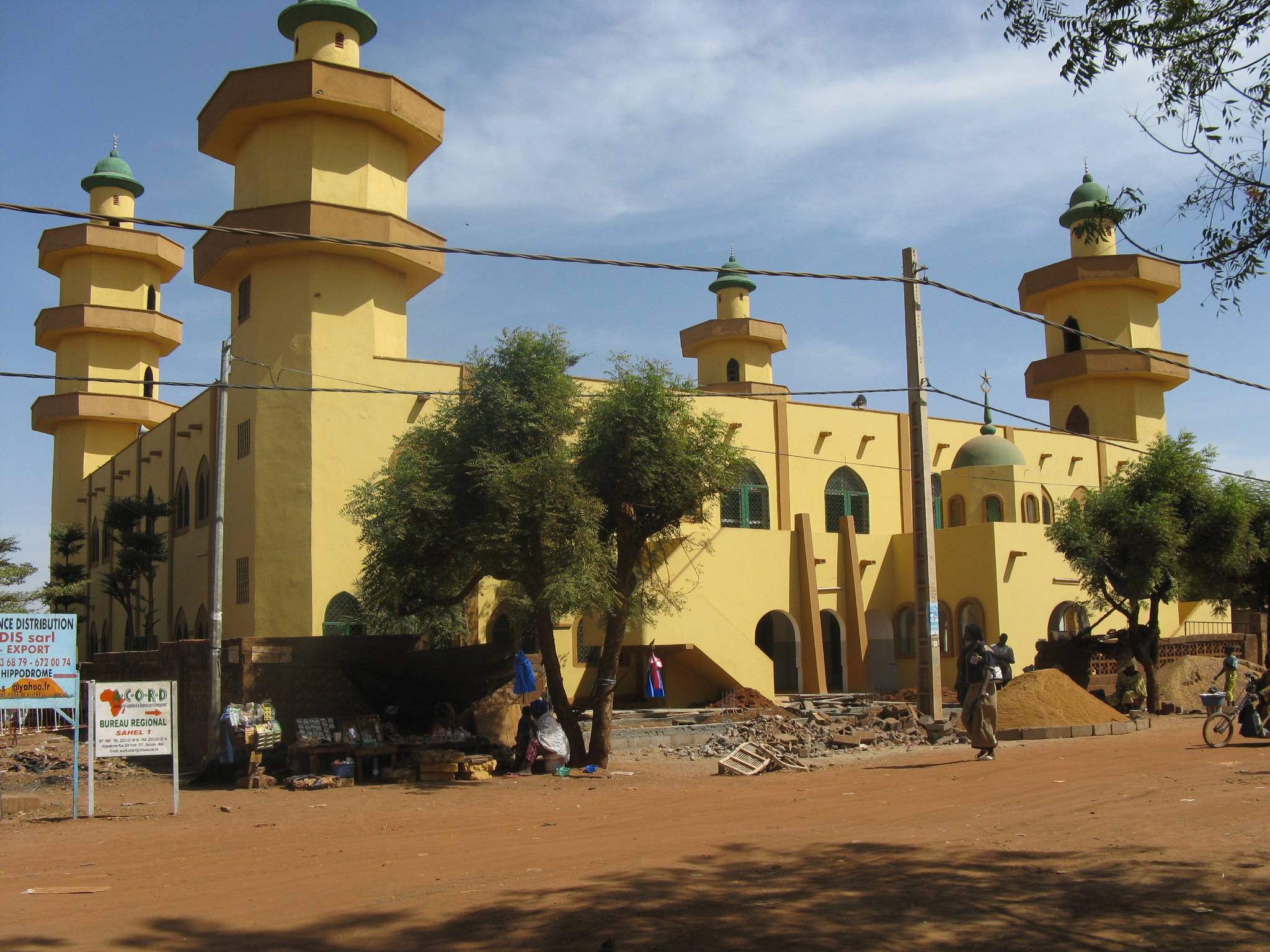 A mosque just down the street from Mia Mali.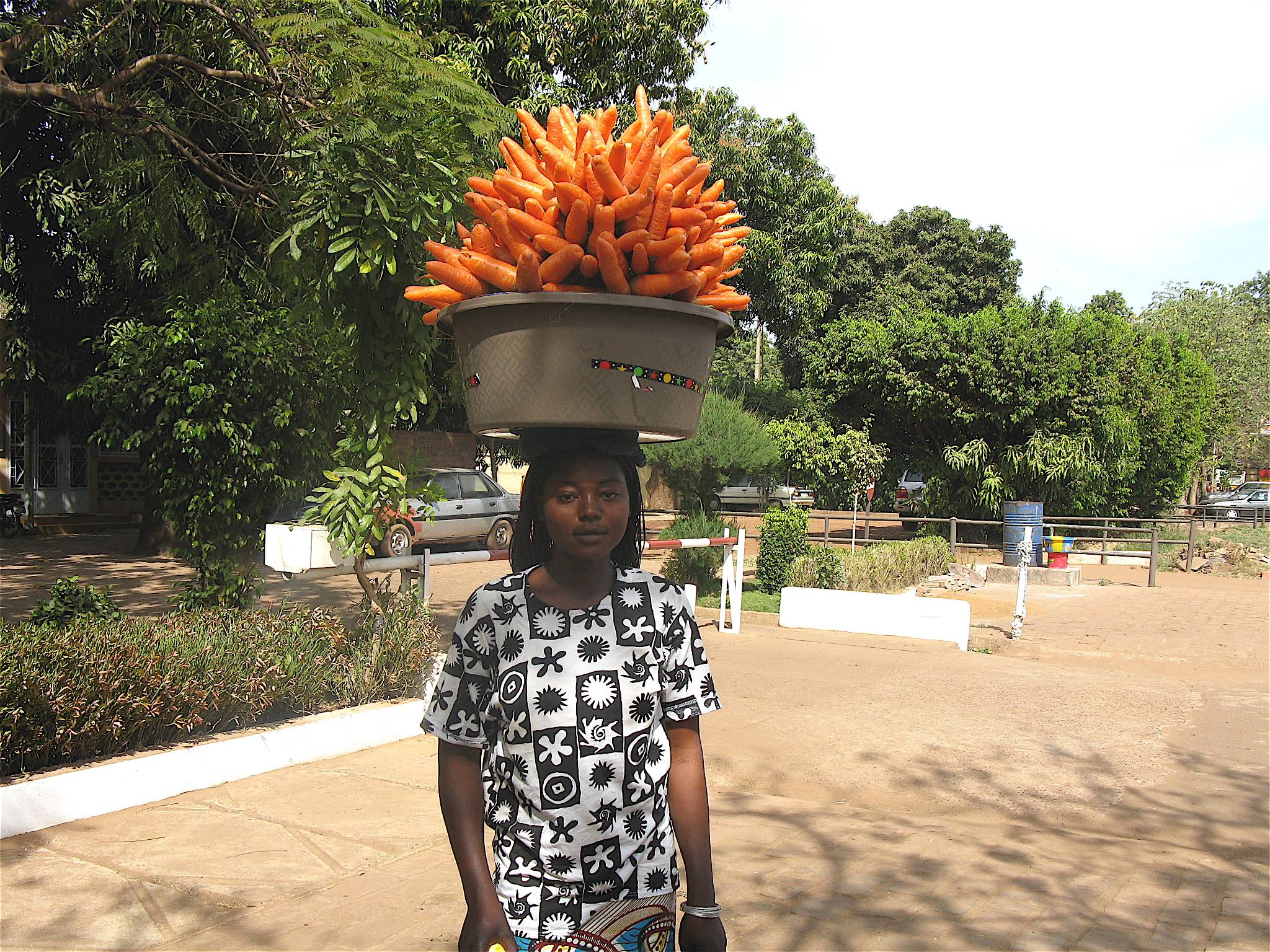 Everywhere women walk the streets with all manner of vegetables on their heads. I stop and buy a few carrots from this lady. The photo costs extra.
I walk back to the hotel and call Kristin (an Oslo cell number) to see if tonight is still a go. We settle on meeting at Le Hogon at 10:00. There's enough time for me to wash out a few clothes - most of my stuff is still disgustingly dusty from the desert, the Reserve and the bus ride - and grab a snooze. Then I'm ready to rock out with Toumani Diabaté and his boys!