Arrival in Mopti and up the Niger
Mali 2008
Chapter 2
Three days on the Niger River, from Mopti to Tombouctou
2:30 A.M. take-off. Africa-bound at last. I am sitting by the window next to a friendly Swiss woman in dreads. With her is a Swiss man who says hardly anything the whole flight. Her name is Orit and she tells me they are waiting for a friend to board at our stop in Marseilles. I explain that I'm also am expecting someone. My old college friend, Chris Nolan and his friend Raissa St. Pierre, from upstate New York, will also be getting on at Marseilles. Orit says that her friend is with two Americans that Orit has never met. Suddenly it hits me. "Your friend's name, is it Dominique?" "Yes. How did you know?" I vaguely recalled that Chris mentioned that name in an email. He and Dominique had met at a previous Festival au Desert and he was probably going to meet up with her in Marseilles. That wasn't the end of the coincidence, either. Orit is a camerwoman, the man next to her, Dieter, is a sound recordist and Dominique was their director. The six of us , it turns out, would spend the next week together on the Niger River and as tent neighbours at the Festival.
Because of thick fog, we circle Marseilles from 3:30 and land there at 4:10. It is wonderful to see Chris again - he is the one who introduced me to the Festival and whose help was instrumental in me getting here - and to meet Raissa, whom I already like just from the emails we have exchanged. She's a drummer, vinyl collector and radio host (Radio Archaeology, WKZE, Red Hook, NY) and also works at Bard College.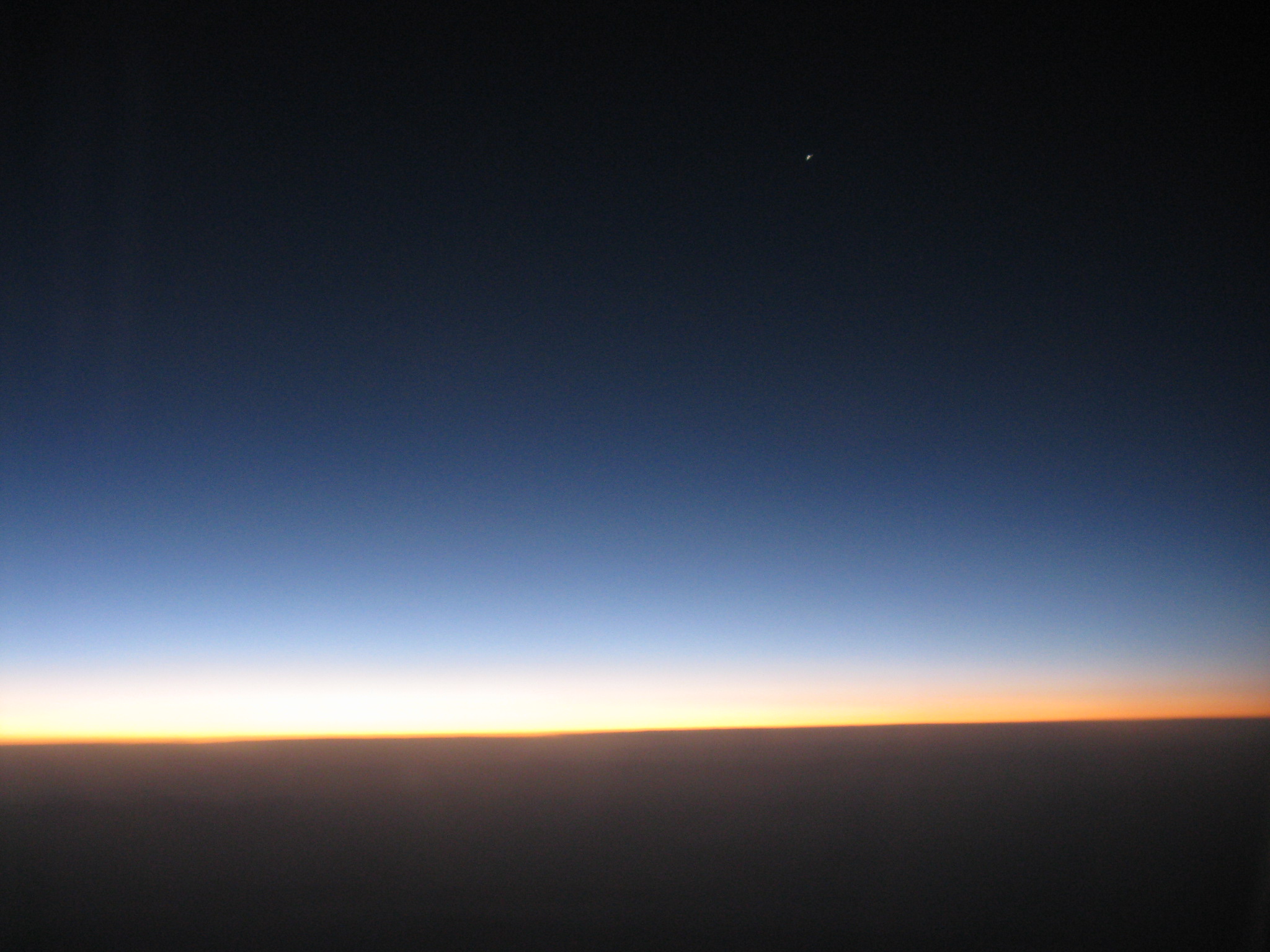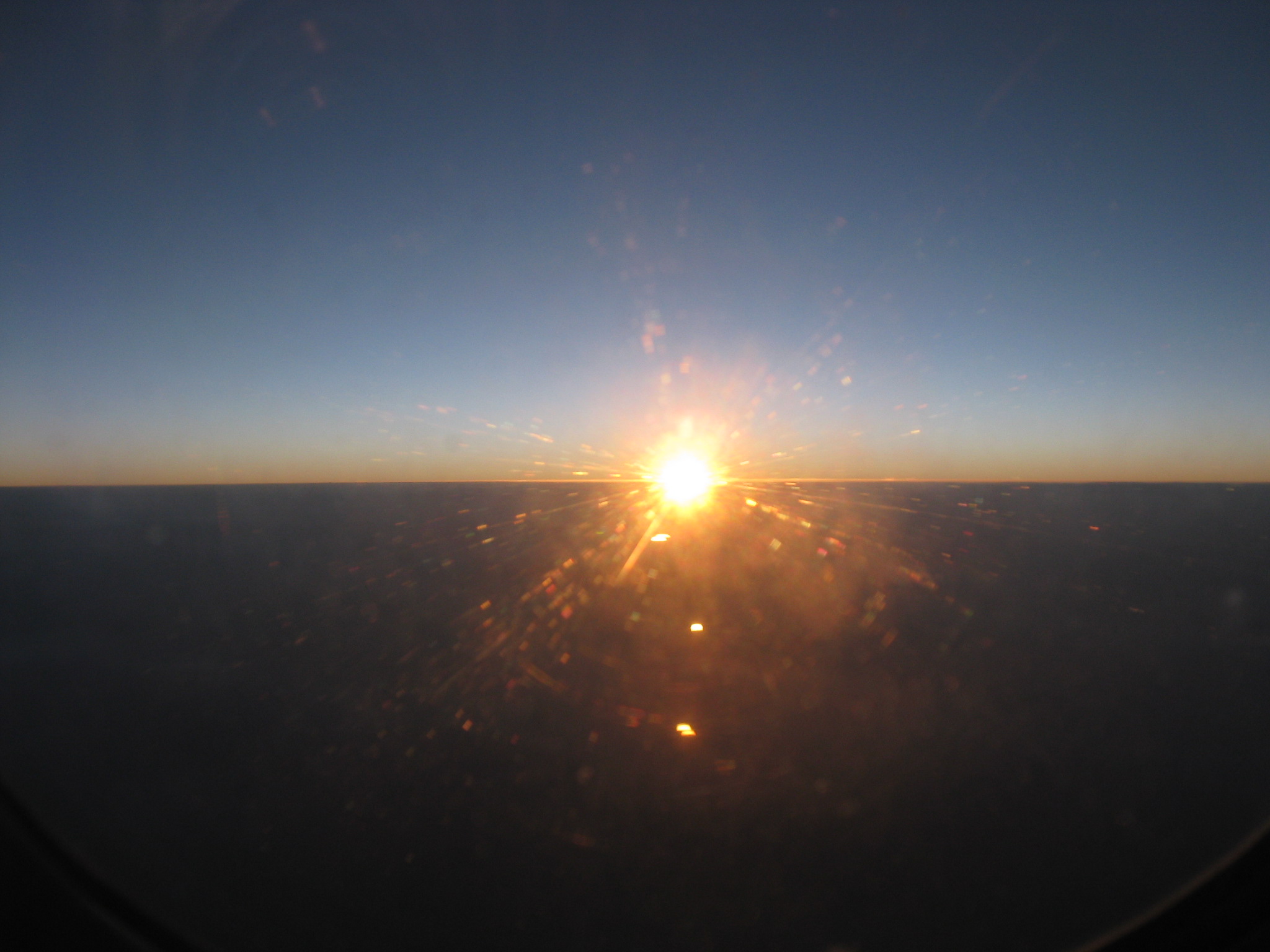 Sunrise over Algeria from Pointe Afrique Flt. 7320
We get into Sévaré airport, 12k from Mopti, about 1½ hours late - 8:30 a.m. Mahmoud, our tour guide is right there waiting. My luggage arrives in one piece (thanks, god). We climb into 4x4s. Our driver is Ali, Mahmoud's 'cousin'. We head to the Hotel Flandre and sit in the courtyard and have a little lunch, then off to the port in Mopti.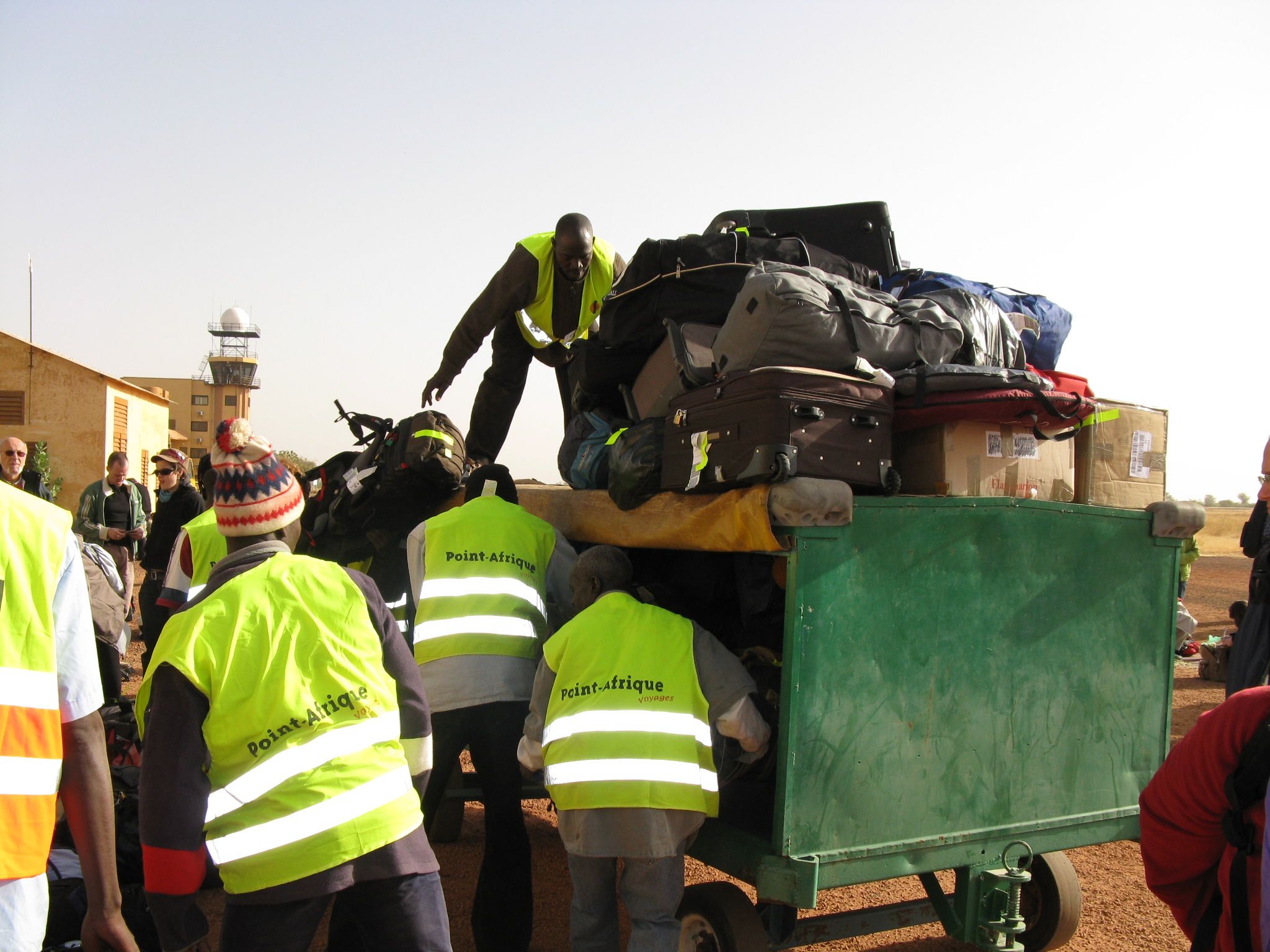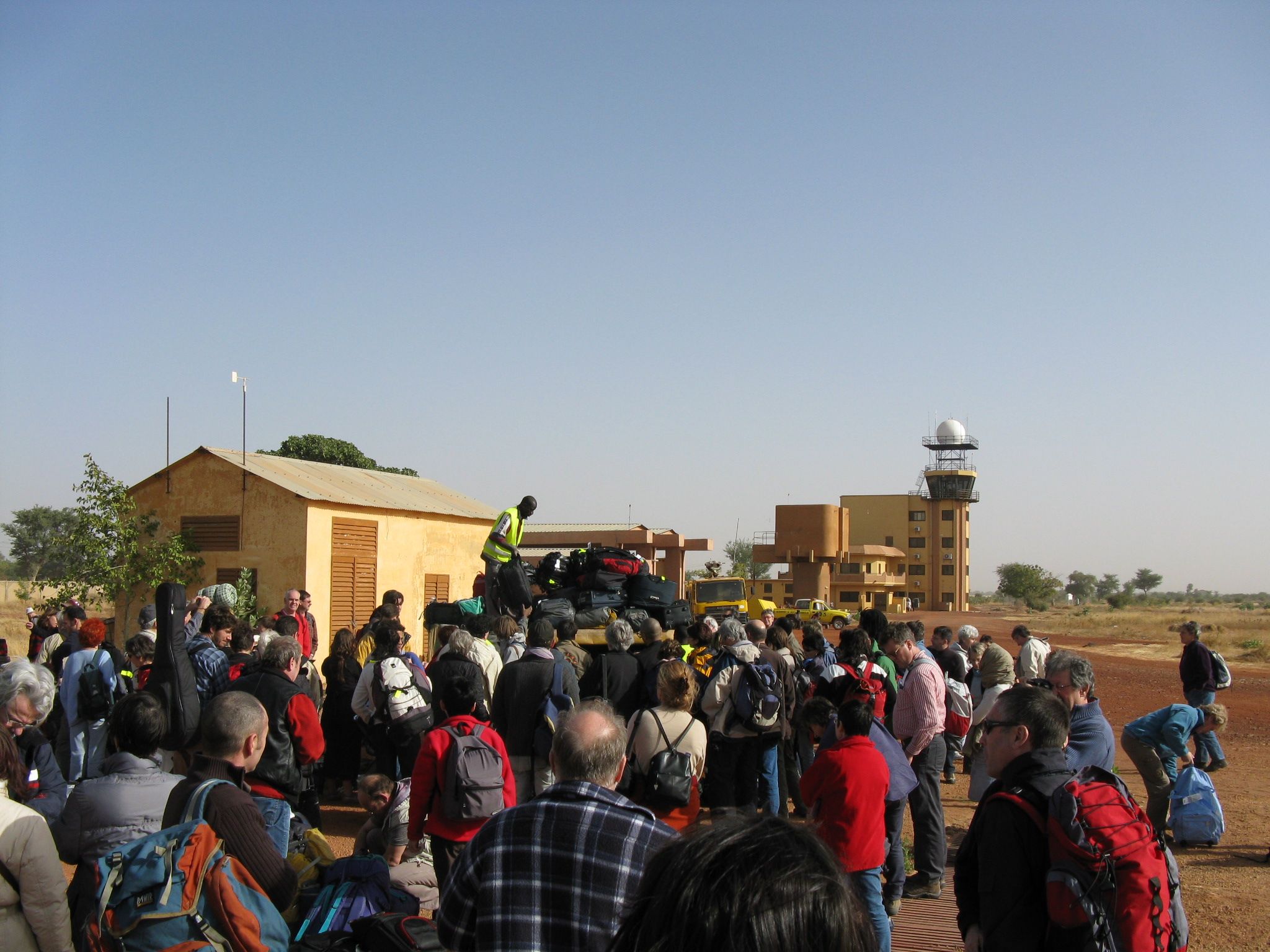 The 'baggage carousel' at Sévaré/Mopti Airport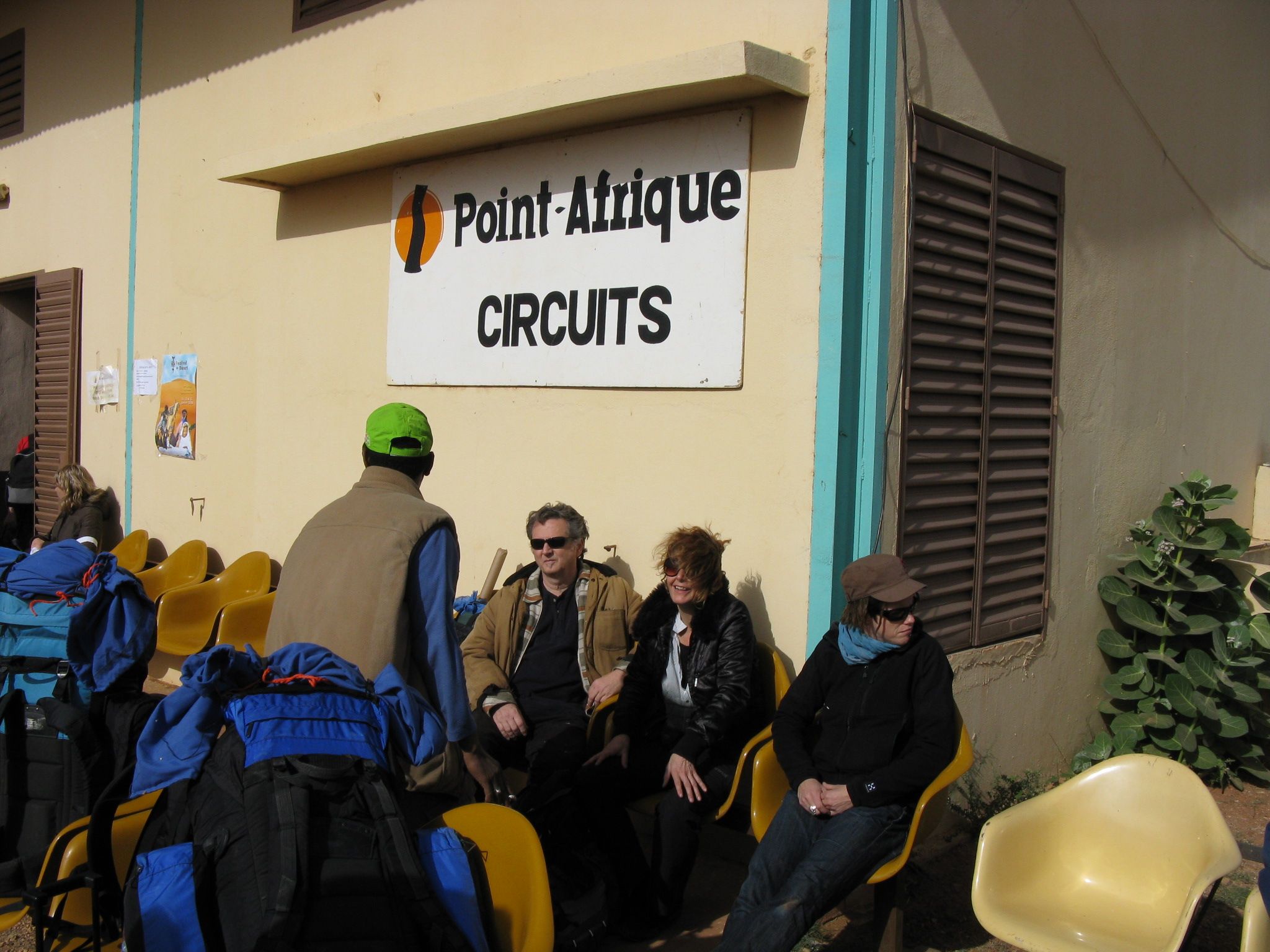 Mahmoud in the green baseball cap, Chris Nolan, director Dominique and camerawoman Orit.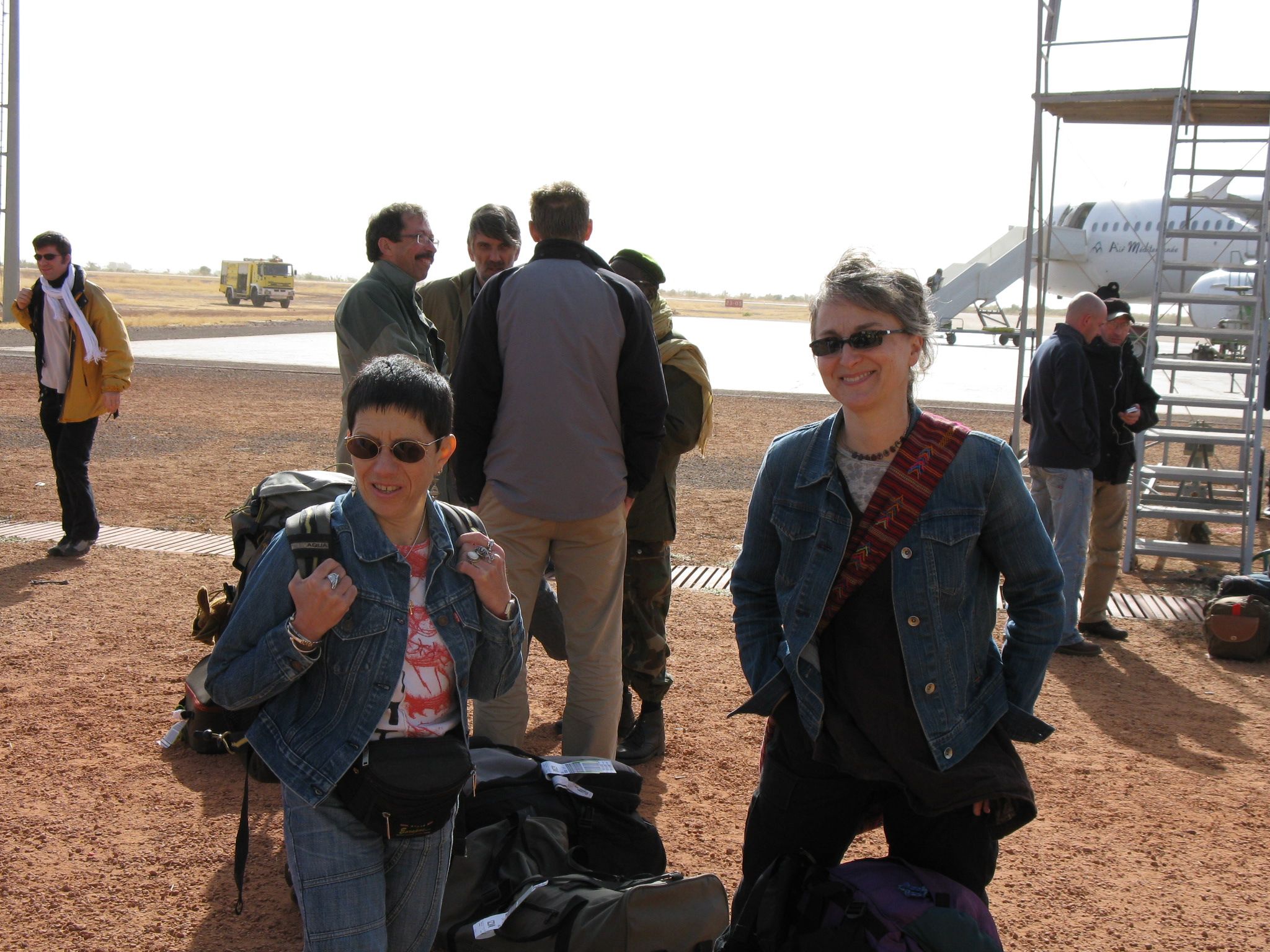 Valerie, ornithologist and bat specialist (?) and Raissa St. Pierre, whom Mahmoud calls "Président" for some reason.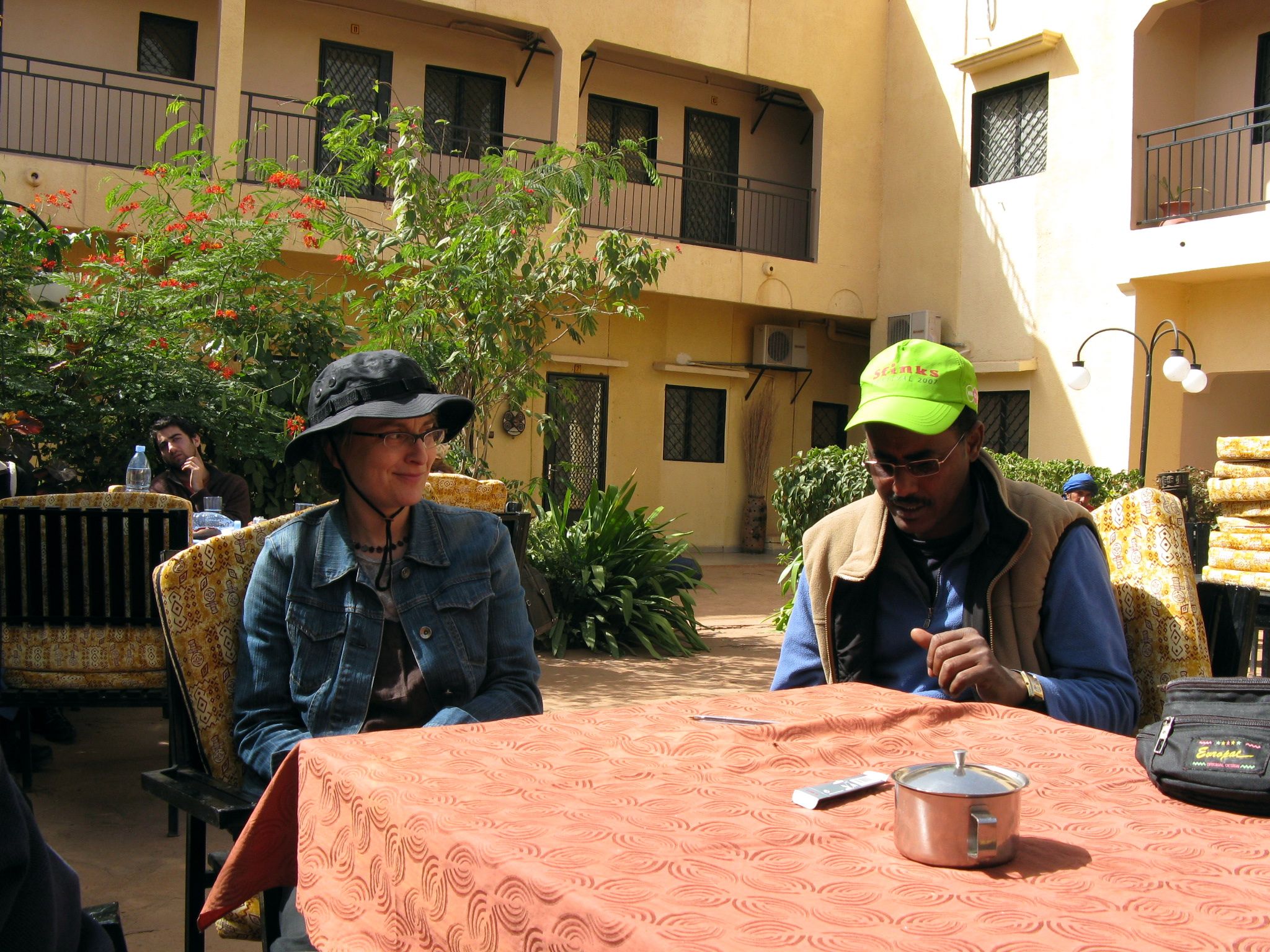 Raissa and Mahmoud in the courtyard of l'hôtel Flandre. This is the most civilization any of us would bee seeing for a week.
On the beach, local women scrub clothes, a guy washes his motorbike. It's over 30° Celsius, but a breeze makes it pleasant. There is a second pinasse with 8 more travelers from Mahmoud's tour. His company is Arawane Tours, by the way, and I totally and wholeheartedly recommend him. He is Tuareg. The man has his act together. He can be reached at arawanetours@yahoo.fr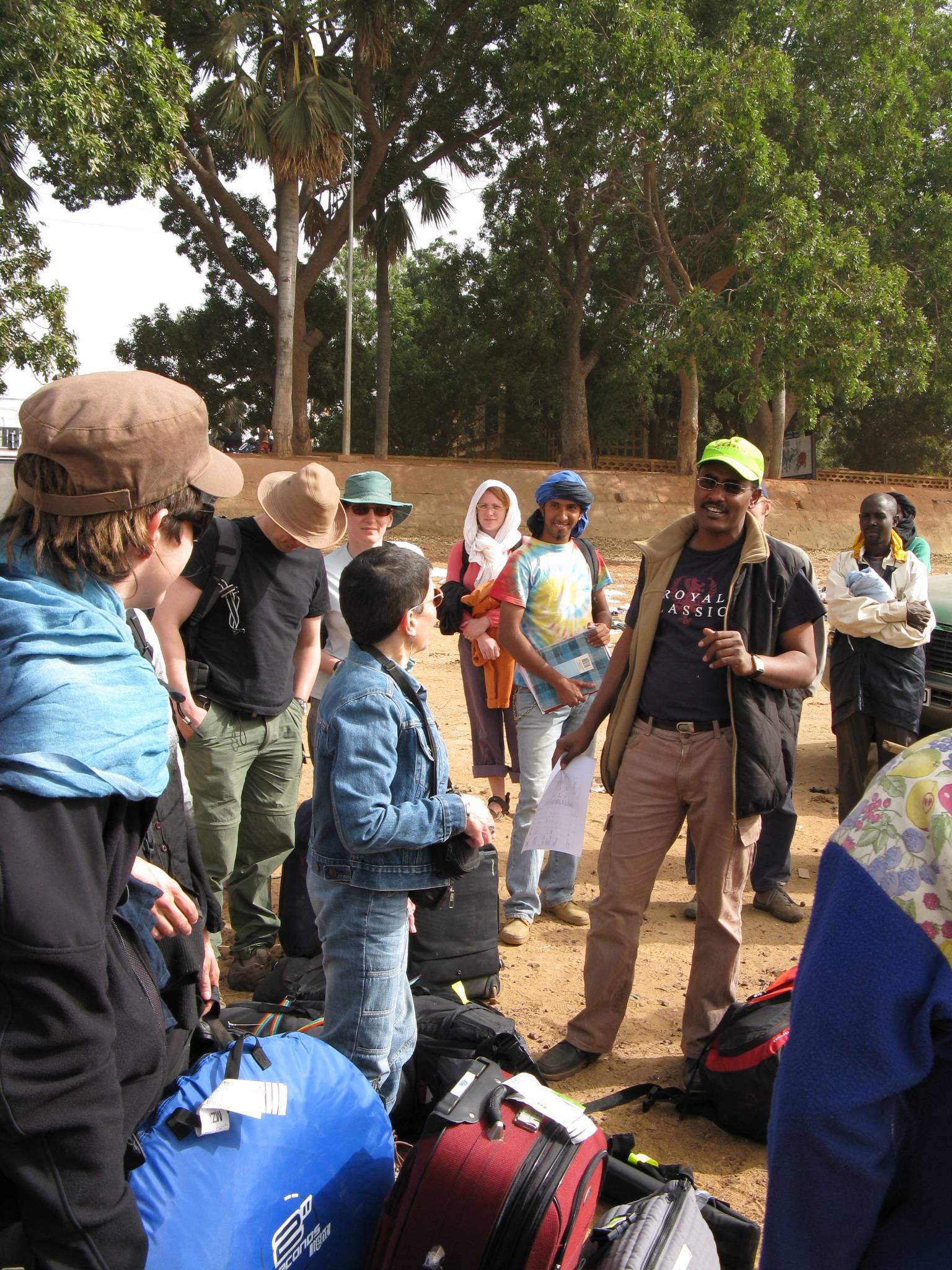 Mahmoud addresses his tourist troops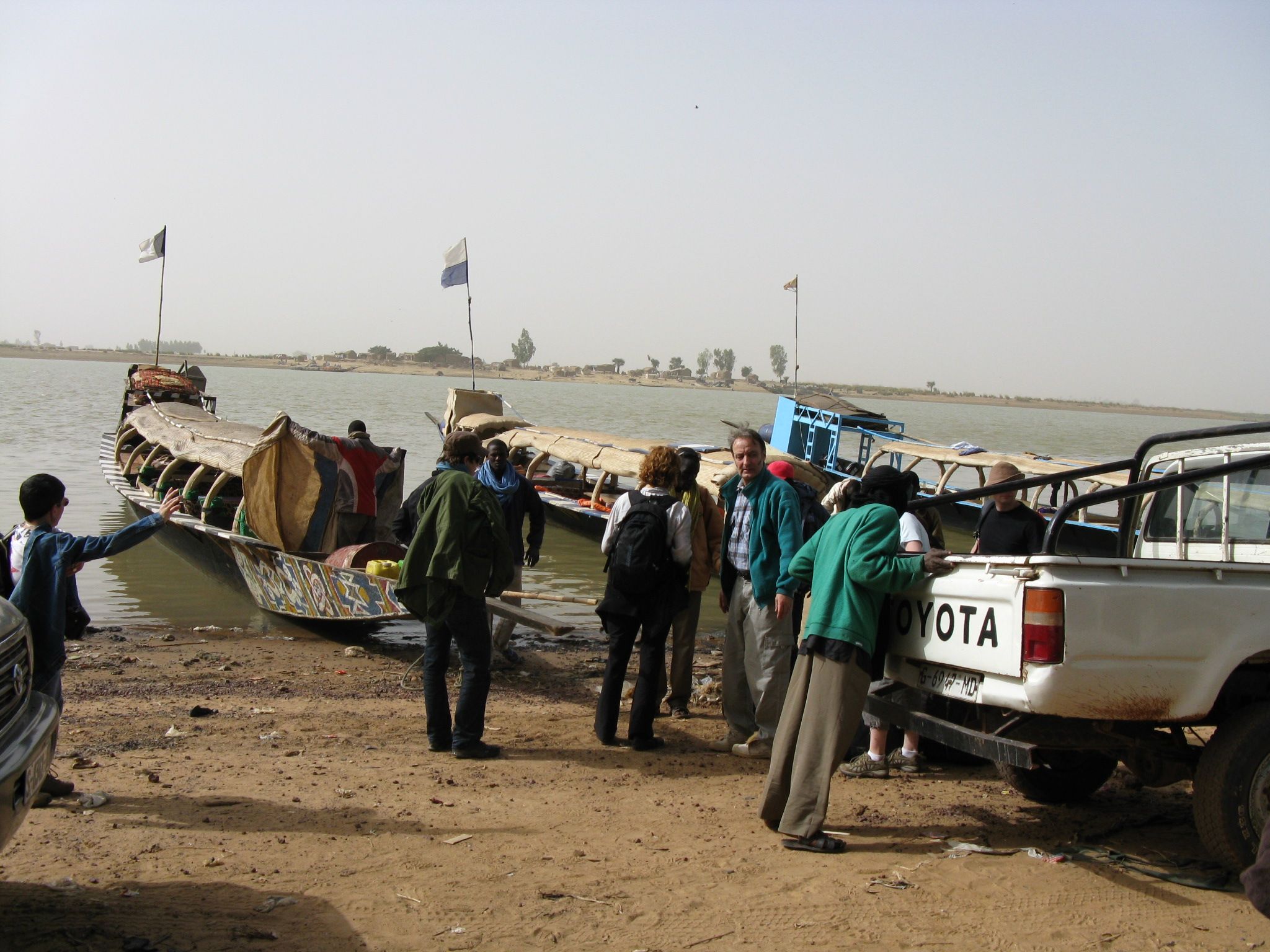 On the beach at Mopti, getting ready to shove off. These are our 2 pinasse (covered canoes). They are beautifully and simply built. The box at the back with the flag is a bathroom, i.e. private hole in the floor. Each of the first 3 openings at the side contain padded benches with backs, the next two have a table that comfortably seats six and behind that, another bench where dinner is cooked, and finally, the driver sits at his small outboard motor. One can safely walk along the sides holding onto bamboo poles fastened to the roof.
Dozens of small parogues (dugout canoes) drift by. Two to a boat, often a young boy pushing with a pole and a man (dad?) with a net pulling up capitaine - Niger perch. Sometimes a group of locals just traveling by.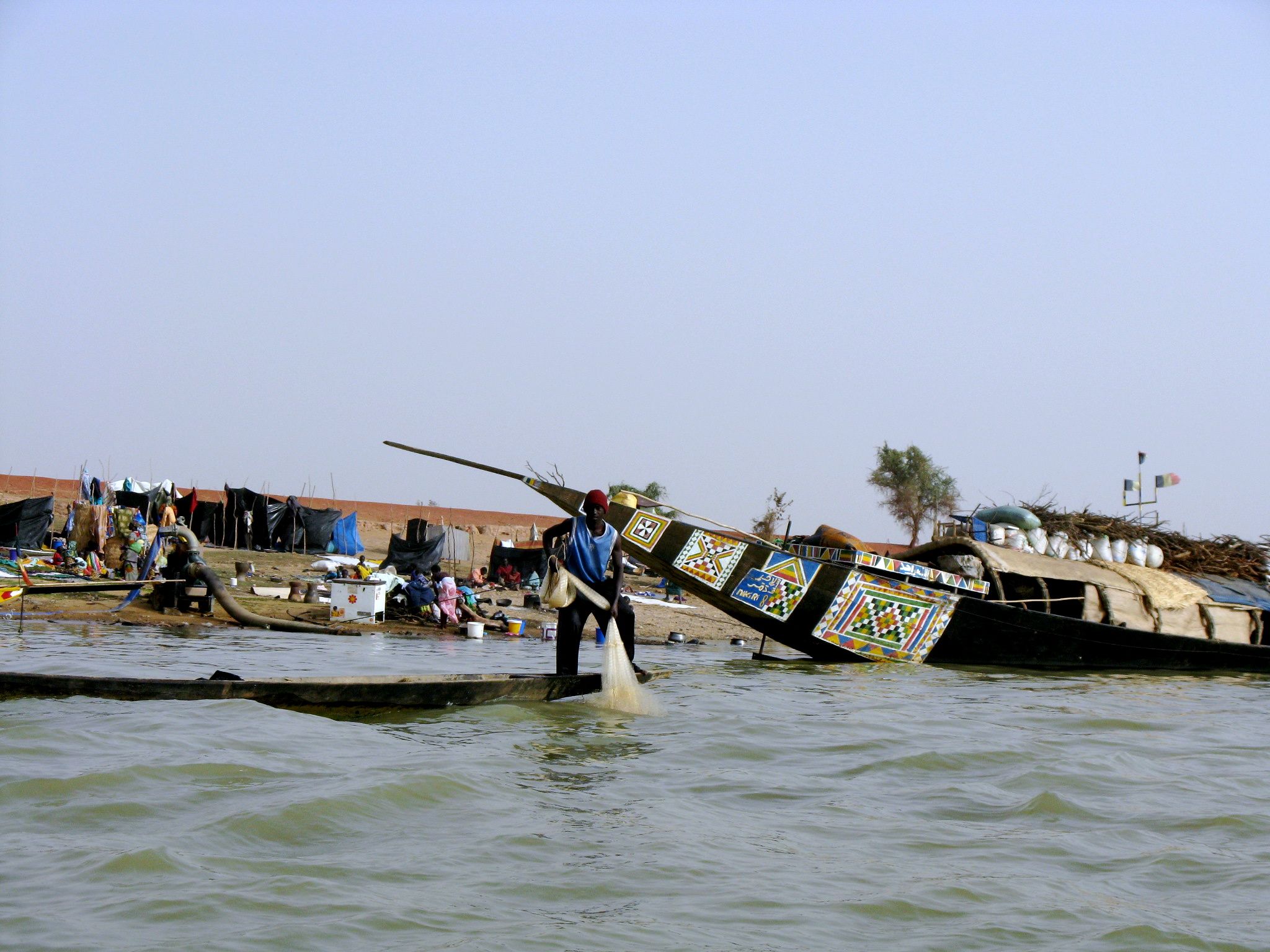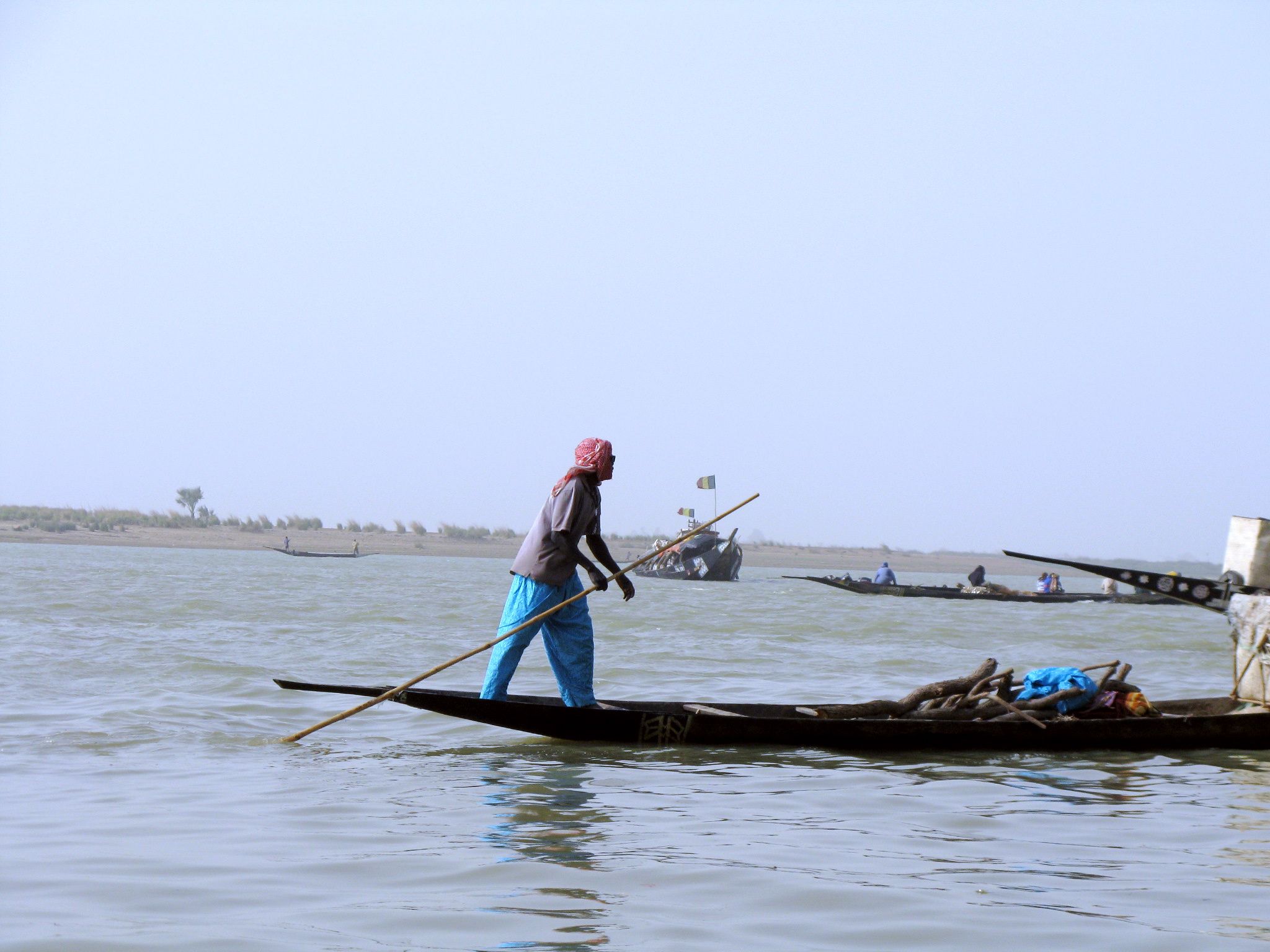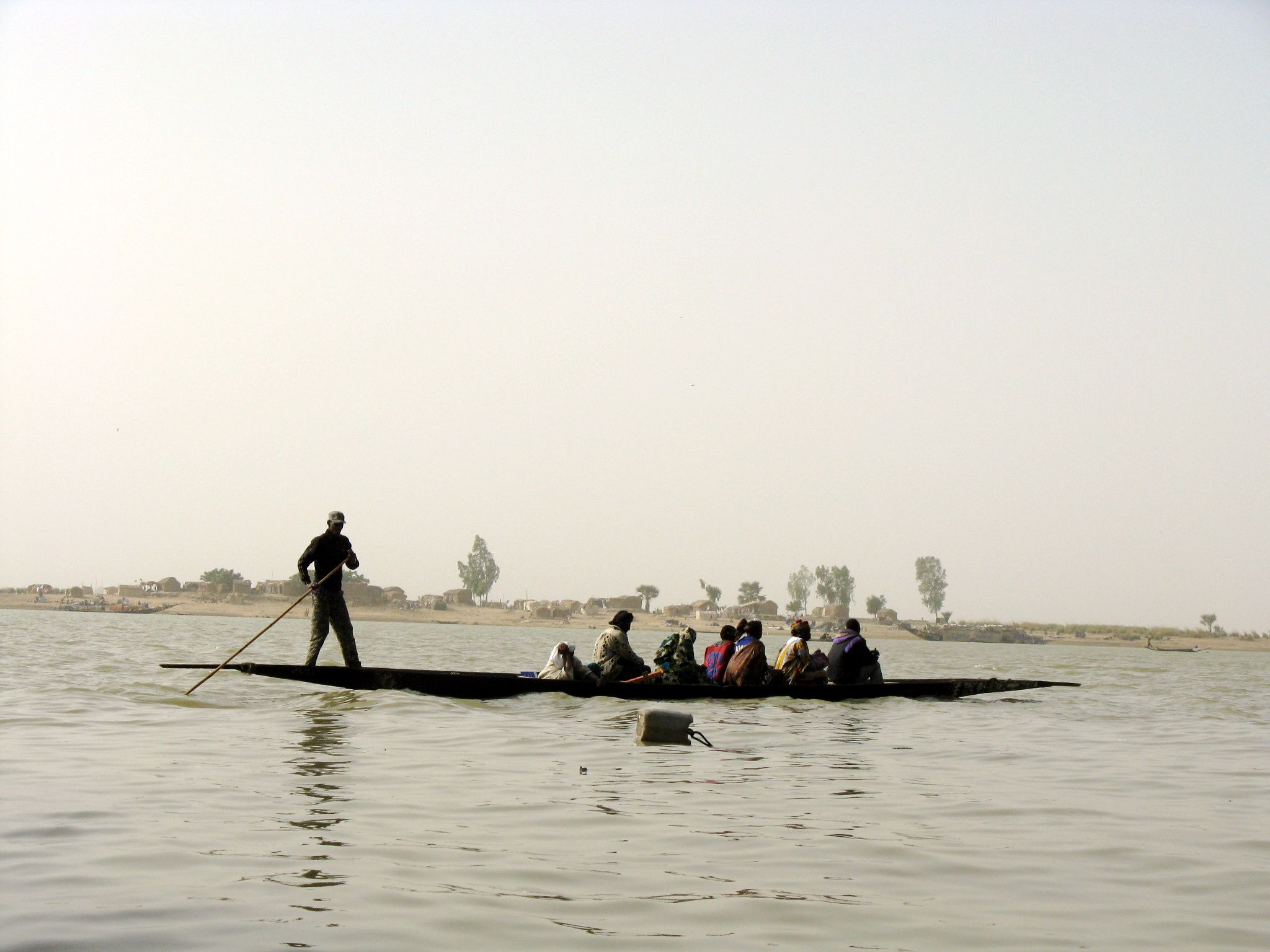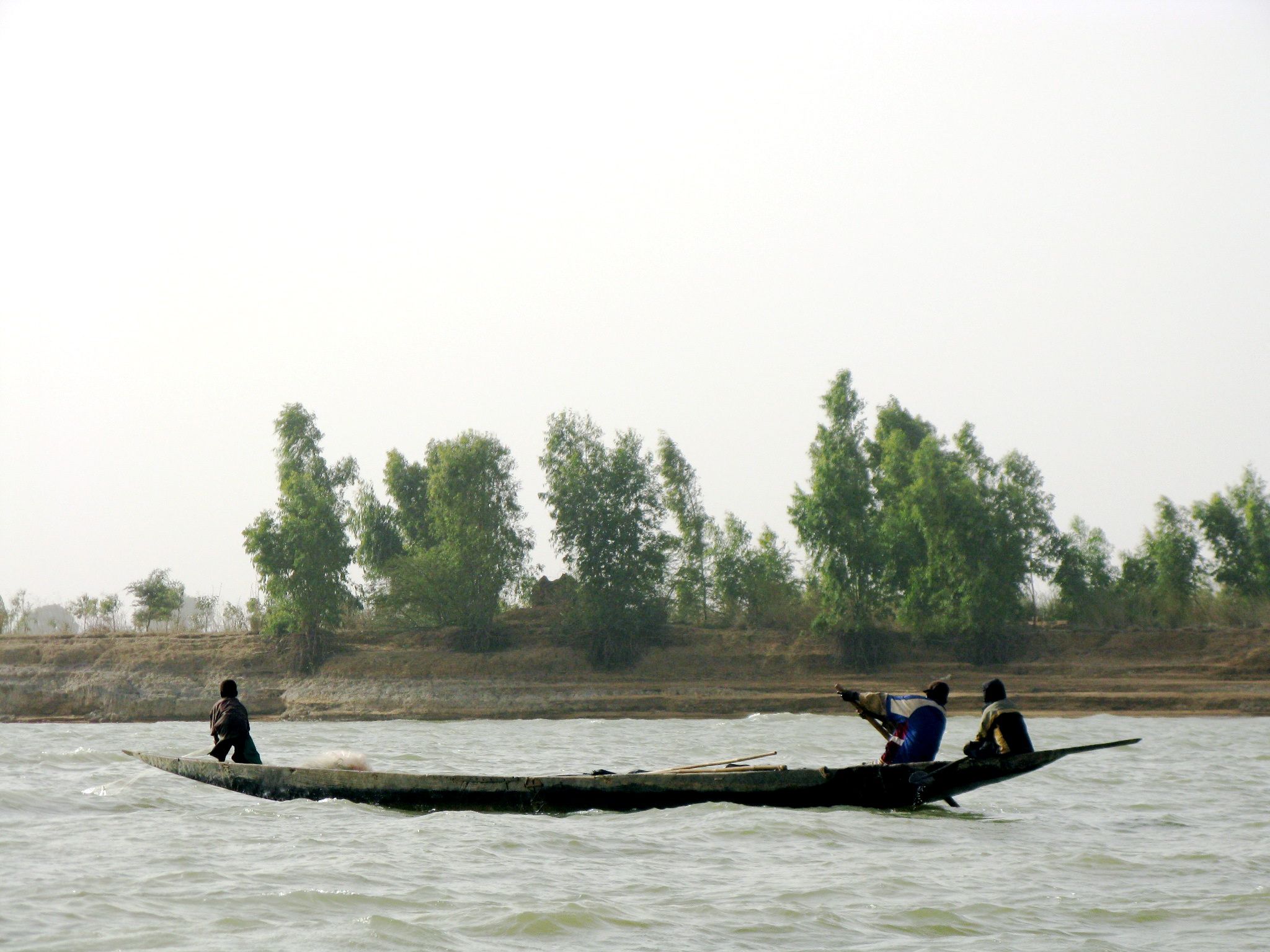 Mopti harbour. We would see small father & son fishing-boats by the dozens on our trip up the Niger to Tombouctou.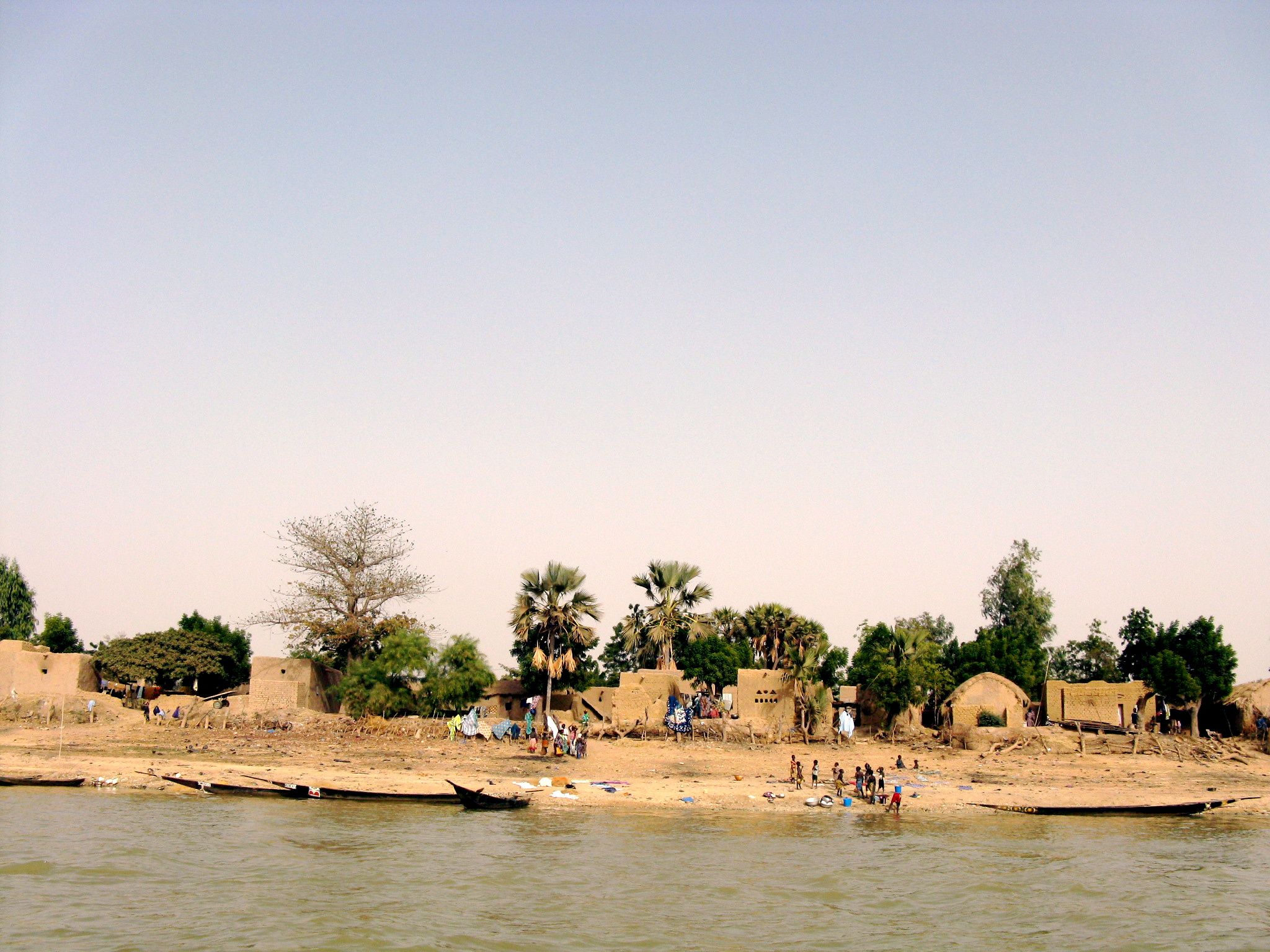 The first of many villages we would pass. They range in population from 20 to maybe a few thousand.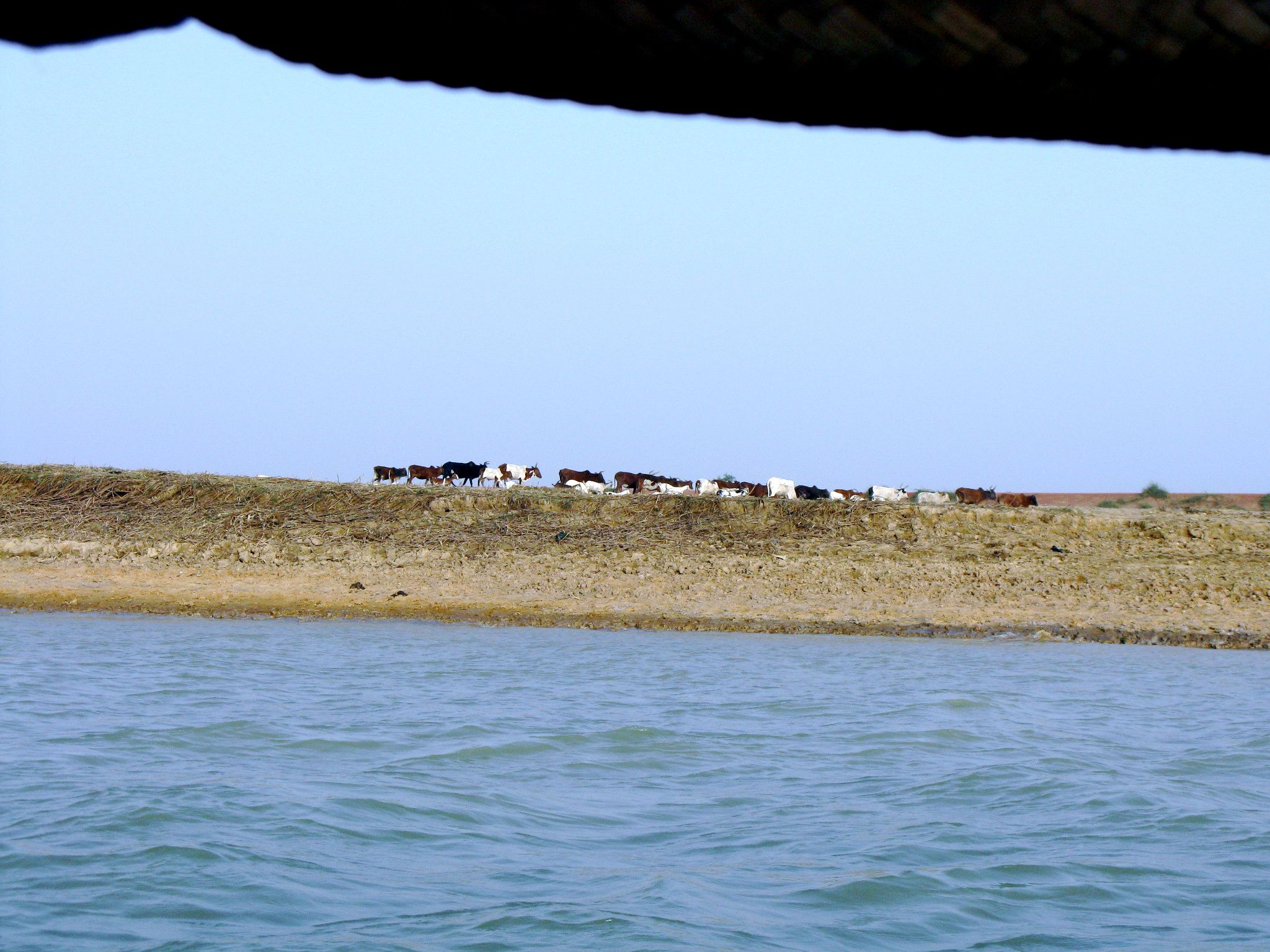 Cattle were plentiful...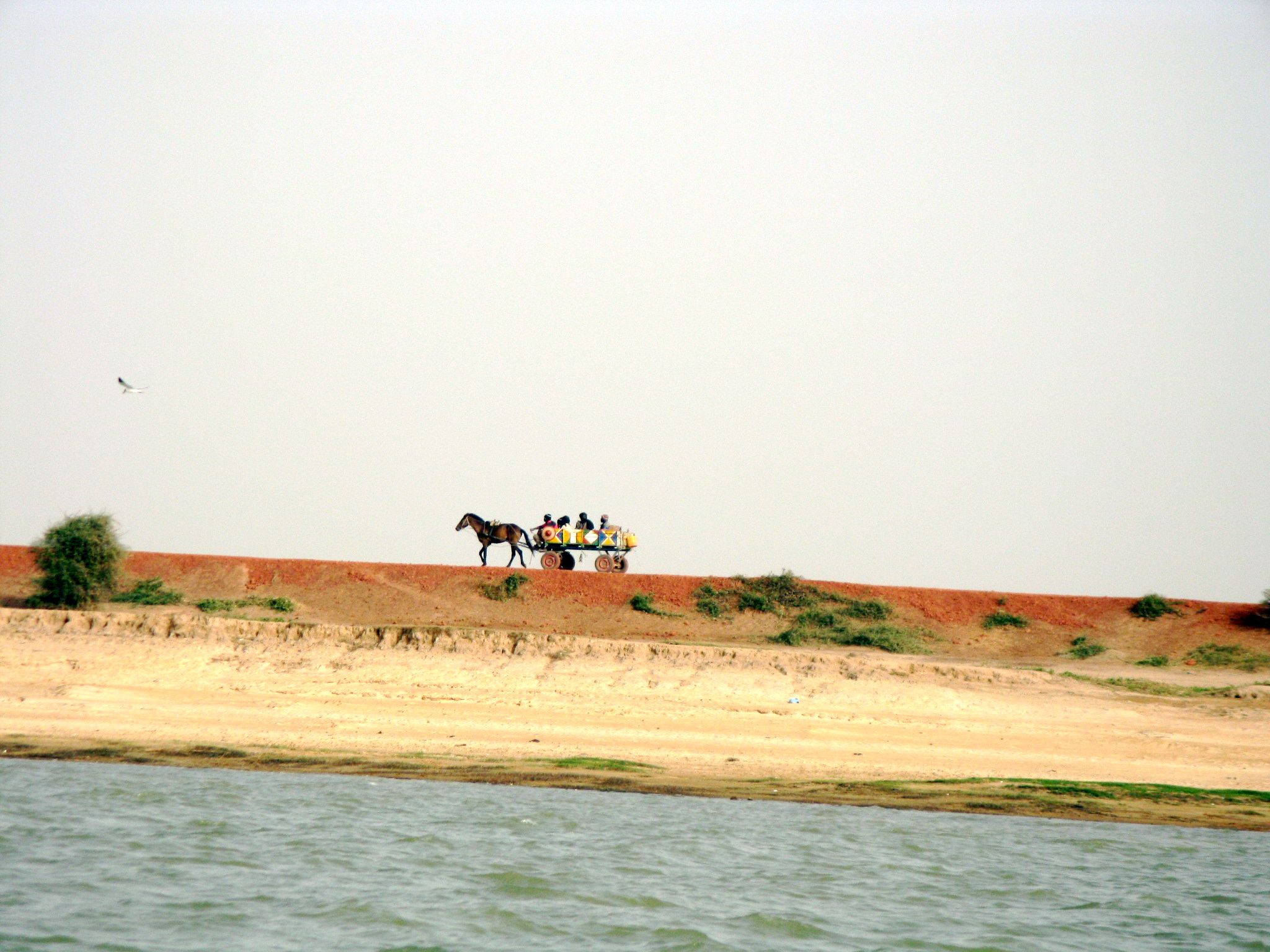 ...horses not.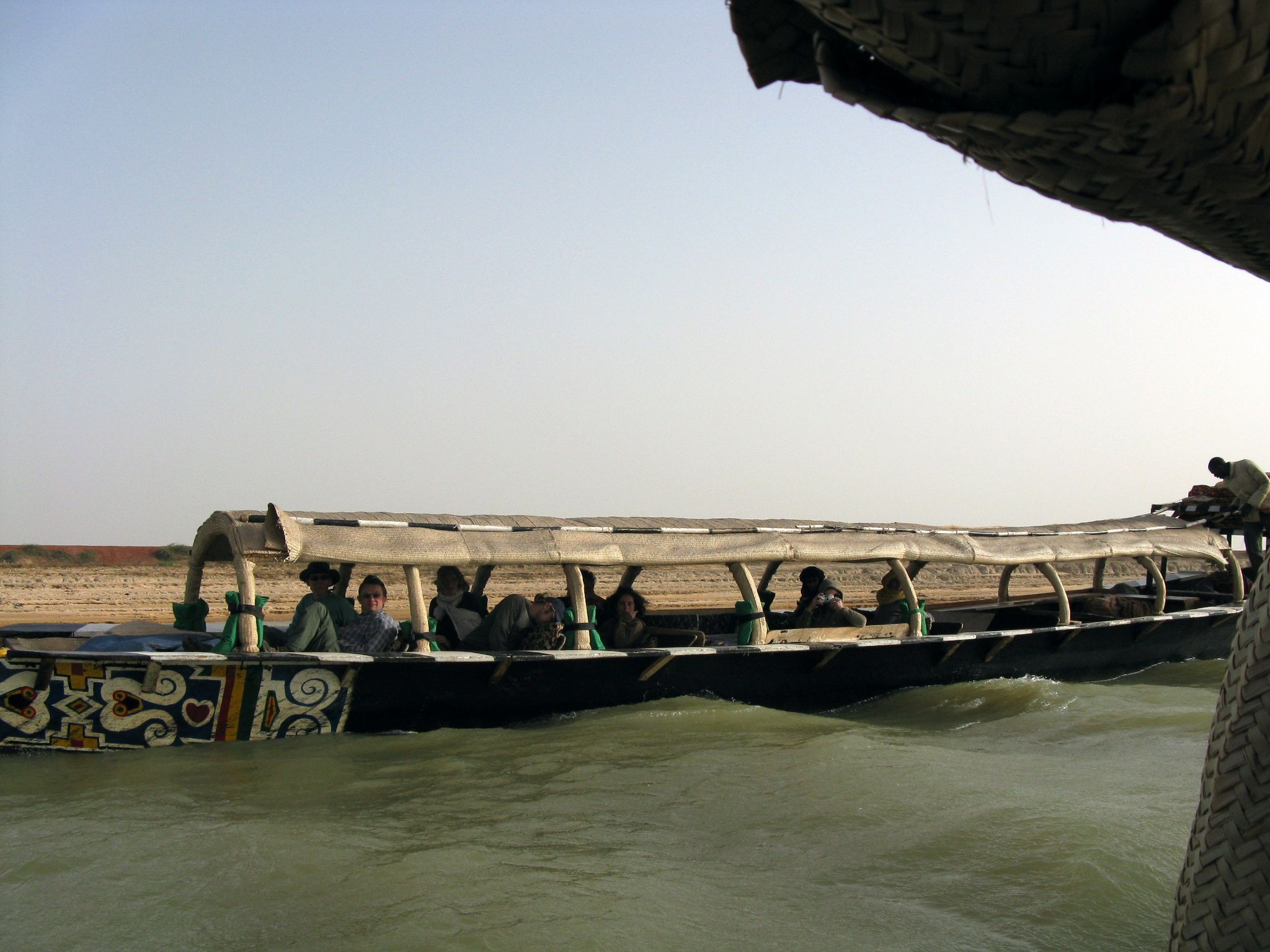 The other guys' pinasse. You can see the bamboo pole attached to the roof and the blue and white plank for walking along the side.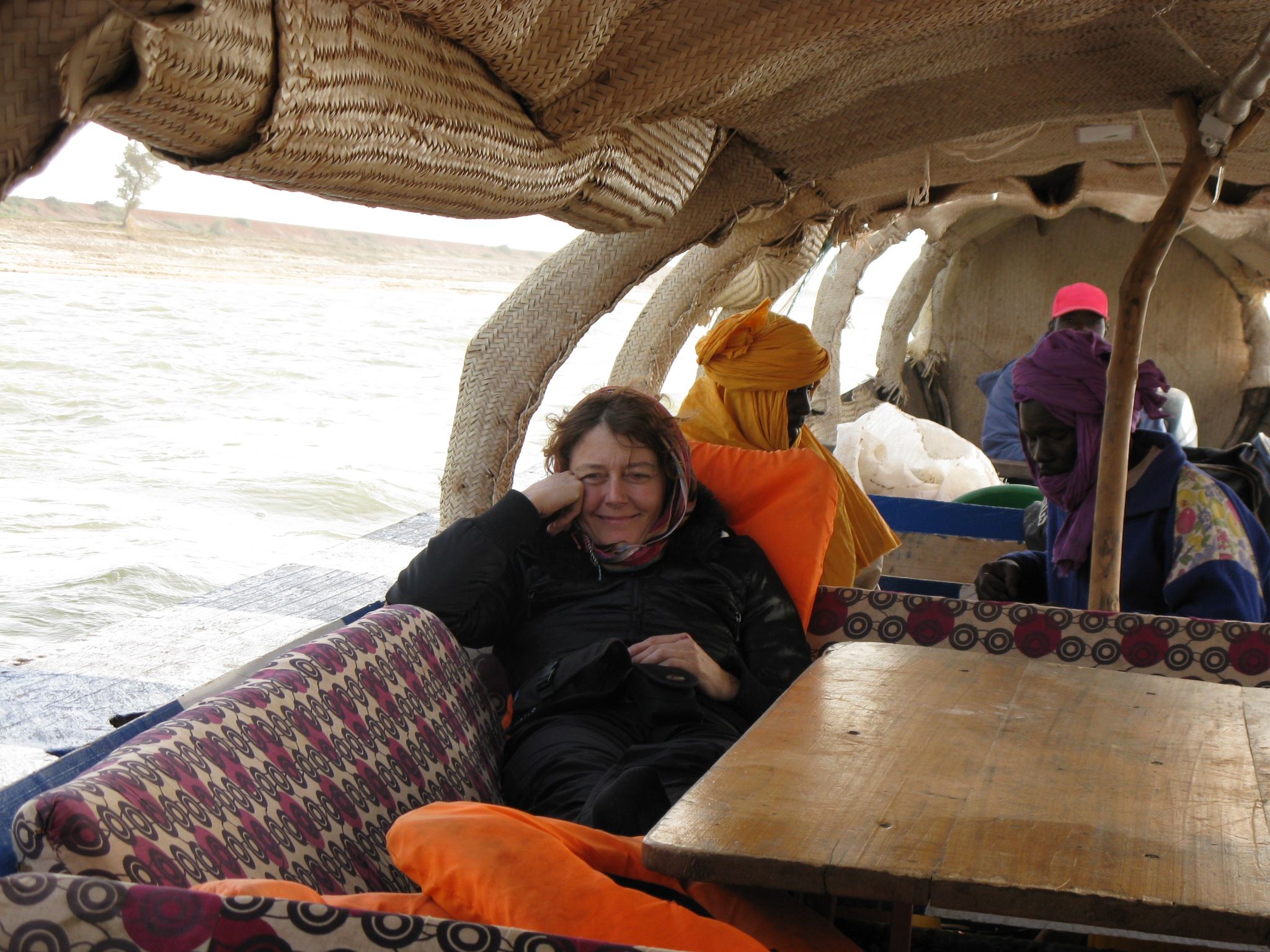 We're all pretty exhausted. Dominique grabs a rest at the table. Behind are cooks Aruna (in yellow) Issaka (purple) and the driver in the pink baseball cap.
___________________________________
a short movie (:20) of our passing by a village in our pinasse.
___________________________________
We only travel until 5:30. We pull up on a beach near the village of Konza. Dinner prepared by our two chefs, Issaka (is-SHA-ka) and Aruna (Ar-OO-na): a brothy soup, then a kind of salad with rice, cooked pumpkin squash and plaintain, and a skewer of tasty beef. It is prepared on charcoal burners near the back the boat, just in front of the outboard motor. Don't worry, the gas tank is WAY up front.
We eat on padded benches with backs which surround a 3 x 5 wooden table, mid-pinasse. These are great people. Intense political chat over dinner spearheaded by a very knowledgeable Chris. His conviction about the military industrial complex is inspiring, and a little frightening. He thinks we should all buy Hummers and drive TOWARD the inevitable bullet shot from the gun of our oil dependence. Excitable boy, Chris. But you can't help but love him.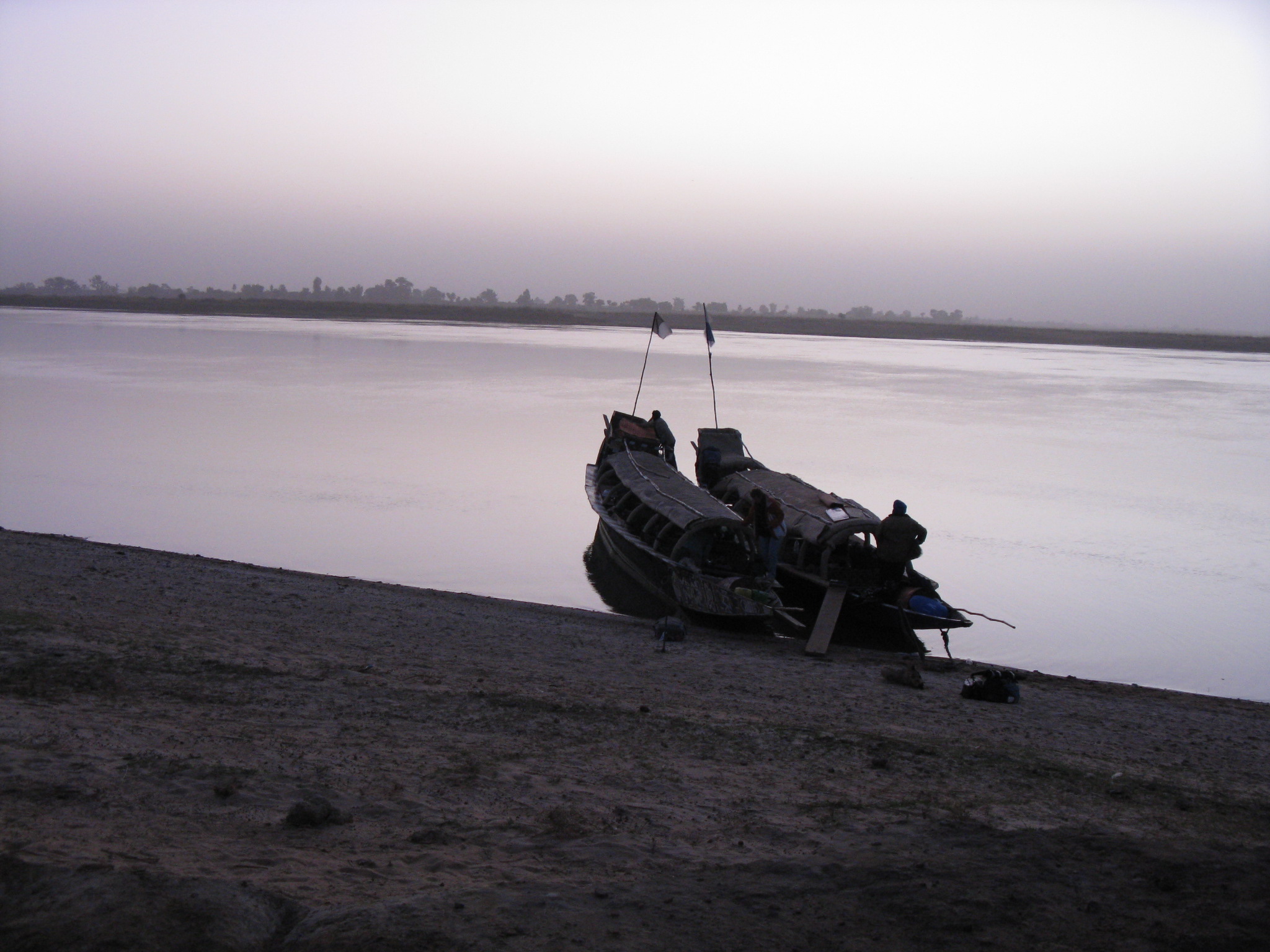 We pull up for the night. Some sleep in the boat, others in tents, others simply out under the stars in their sleeping bags.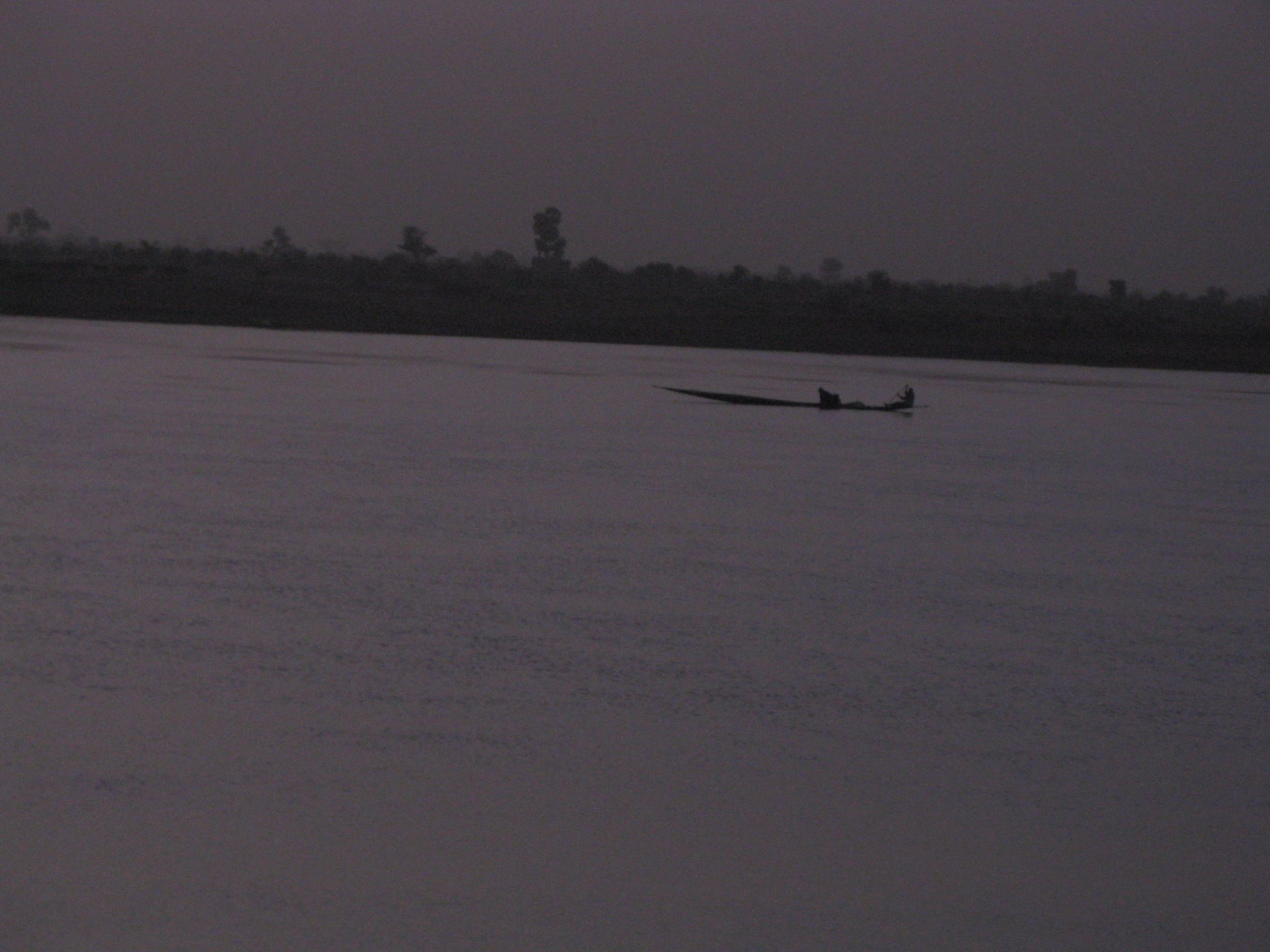 Netting the last of the day's catch.
I go up on shore. Several of the others are already exploring. I meet up with Raissa. We walk toward the small, mud-brick walled village but decide it is too late. It's getting dark and there is no electricity. We have our flashlights but decide that it would be rude to go inside the walls. That night Chris, Raissa and I sleep on the boat. Chris in the front bench, me in the 2nd and Raissa in the 3rd. I sneeze. Half a minute later...again. A pause. I think I can hear her snicker. One more big sneeze. I say into the darkness, "I must be allergic to the sleeping bag. It's my girlfriend's ex-husband's." Raissa starts to giggle, then chortle. Then wheeze. It is contagious. We are having a hard time catching our breath. This is excellent. Puts me to sleep.
Tuesday, Jan 8: Niger River Day 2. Chris snoring, 2 A.M. Chris snoring, 4 A.M. I whack him (gently). Cook's cellphone alarm, 5 A.M. Then roosters, then goats, and then DONKEYS. By 5:15 I am dressed and I gymnastically crawl out of my berth. Pitch black except for the stars, which are screaming along with the animals. I am the only one awake and moving. I walk up the slope of the 'beach', using my headlamp only occasionally to avoid tripping. I do my stretches. The Imam's chant erupts out of the barnyard symphony. The French horn taking the lead line. I try to catch a bit on my Zoom digital recorder. I finish my stretches.
___________________________________
a soundfile of the animals and the Imam in the distance. You can also hear the other travelers beginning to stir. The level is quite low, so you may want to boost your volume. Close your eyes and imagine the stars, the dark, the solitude and quiet.
___________________________________
With a couple of life jackets-cum-meditation cushions, I head about 20 yards across the hard-packed ground to find a bush. I sit behind it and actually manage a focused meditation for 25 minutes or so. It reminds me that I am the same me no matter where I am, give or take an ego or two. I am interrupted because I hear what I think may be birds, but I'm not certain, so I take a peek. Yes. Birds. Whew. Not some unknown prowling beast coming to have me for breakfast. It must have been the donkeys who woke the birds, because this is the first I've heard from them.
The second interruption is footsteps. "Oh, sorry, I see you've already claimed this spot." Allison, the young British woman looking for some privacy for her morning call to duty.
By 6:30 I am finished and several people are moving around, stretching, rolling up their sleeping bags, etc. Their silhouettes against the dawn, looking over this wide Mississippi of a river nestled in its shallow valley, are beautiful.
6:40 and we are on our way. The cooks have made some toast. Triangles of foil- wrapped soft cheese and an unlabeled jar of runny-but-tasty orange marmalade. A package of Nescafé, powdered milk and a sugar cube. Not Starbuck's. Thanks, god.
Thus far, Dieter is a quiet man. I ask for a package of Nescafé. Orit accidentally grabs an empty one. Passes it. I jokingly bite into it. "Mmmm." The groggy crew around the table laughs. Dieter says, "Not yet." A delayed laugh. It takes a while for it to dawn on us. He begins to tell his story. He had worked as a guide in the later 70's through the 80's. Switzerland to Tessalit (a Tuareg city in Mali's Kidal region, a frequent stop for trans-Saharan travelers) by car. Switzerland to all over the Sahara by car & camel. "There were fights," he says, "here...and here," pointing to the huge map Dominique has pulled out. We all help spread it out on the table.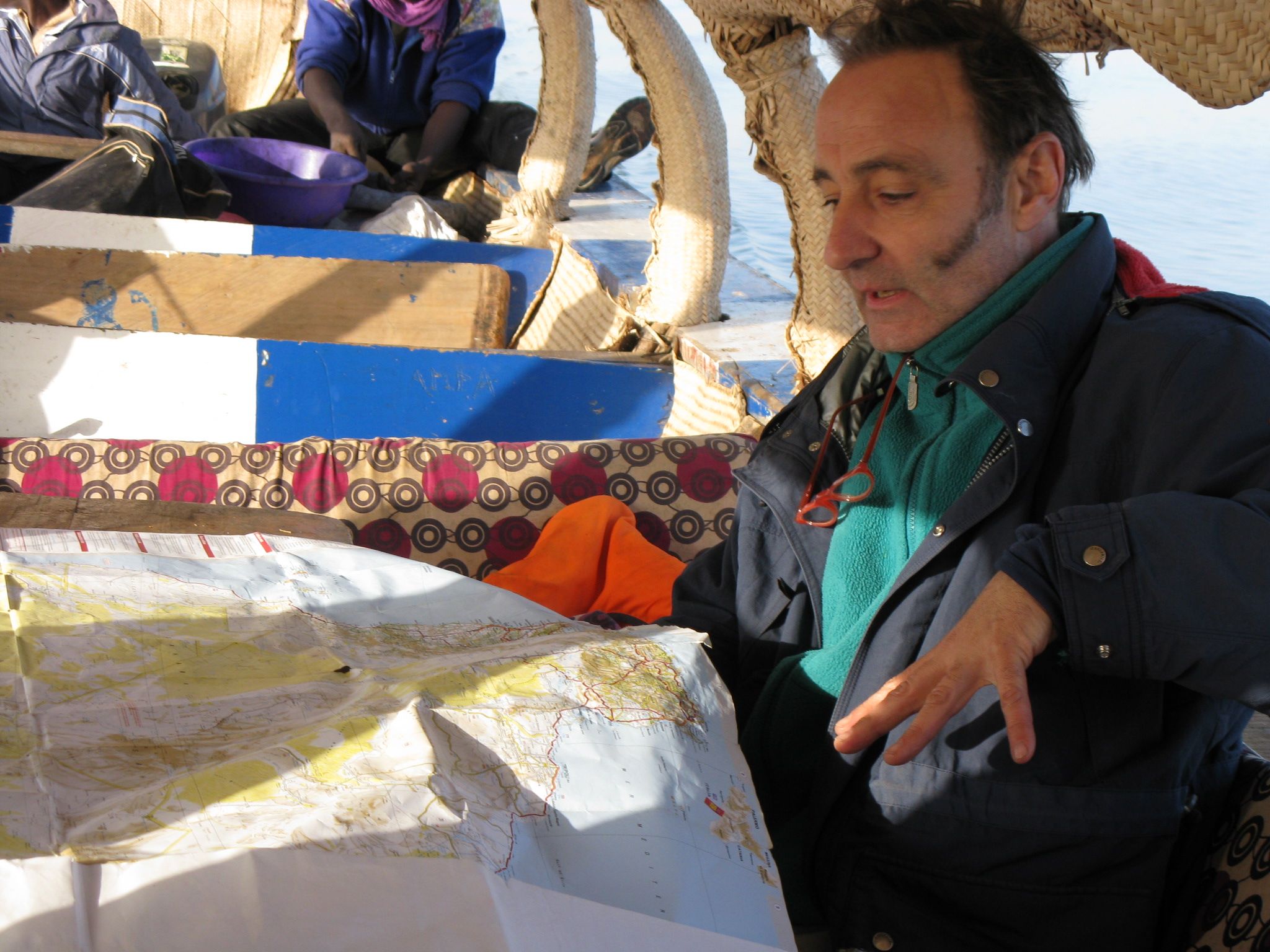 Dieter
Stories of tours gone bad, running out of money, etc. He points to Mauritania, to Algeria, the Mountains of Tessalit. Explains the north-south routes down the west side and through the middle of, the Sahara. Ten years of guiding, and about a dozen trips. This heretofore quiet sound recordist opening up like a desert flower. He knows the Tuareg; their paths through the desert, their place in the African hierarchy. How the society moves and why. How the African societies mix and mingle - he intertwines all 10 fingers - like a rainforest ecosystem, it is all so complex.
A little while later at the front of the boat, I thank him for sharing all that. He says it can't really be told. It is all just stories. No one can capture the reality of Africa and the Tuareg, the Arabs and the sub-Saharan blacks. Funny, Dominique and her crew are here to make a documentary about the Tuareg. I hope they will make a good story. Dieter and I talk sound gear for a while.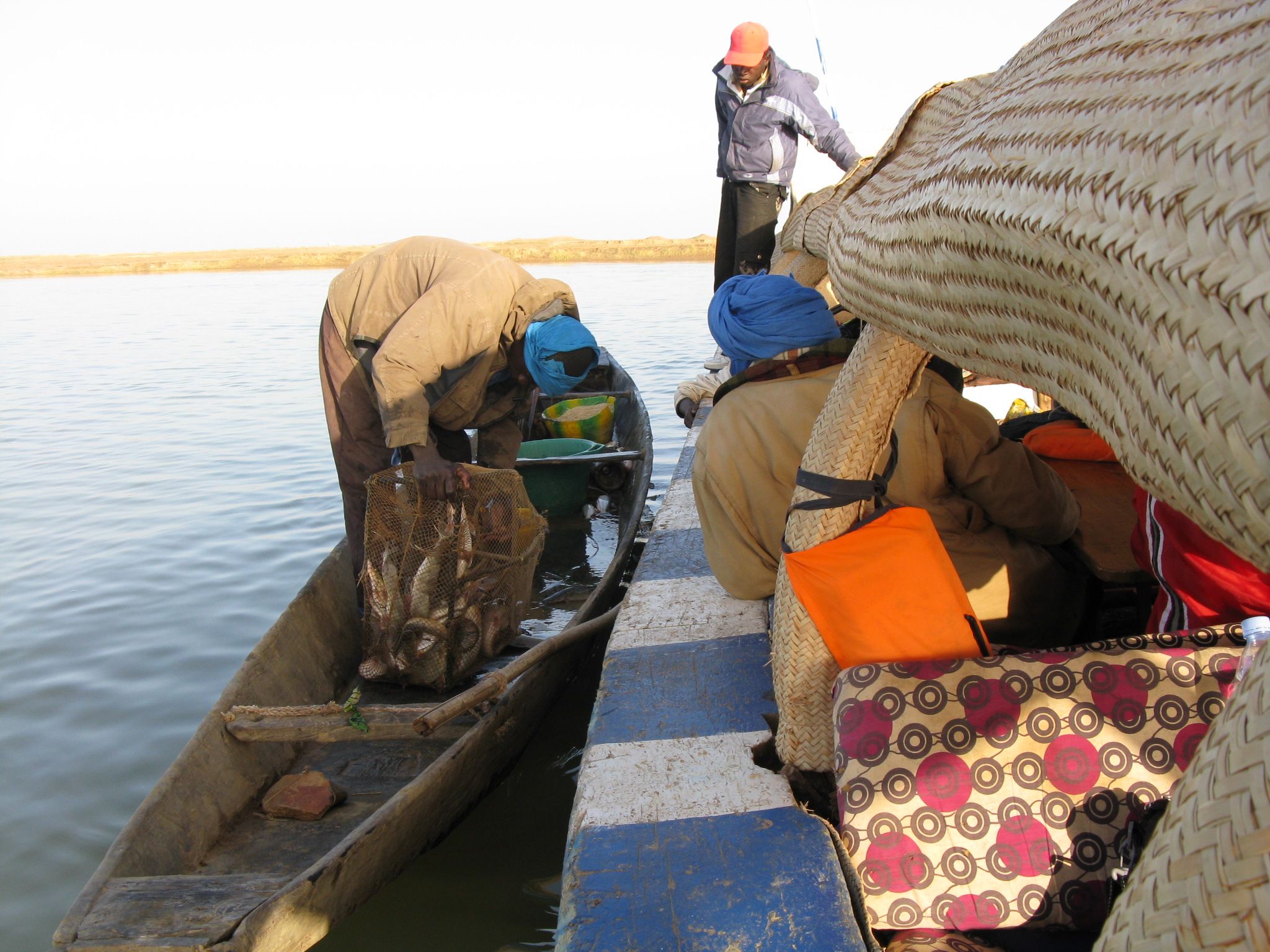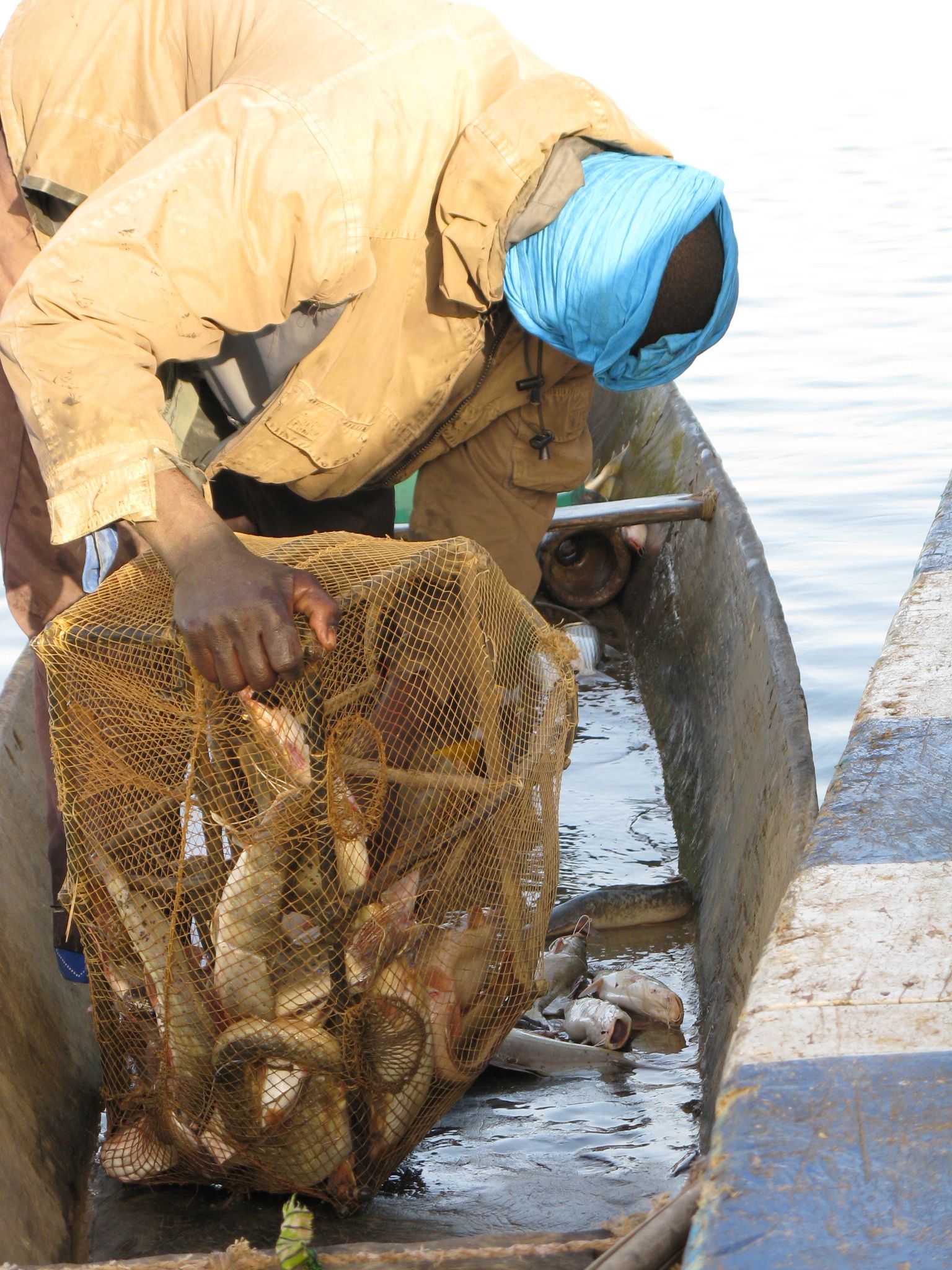 Around 7:30, we stop a fisherman to get our lunch. For some reason, Issaka takes a pass on this guy and we move on to the next boat.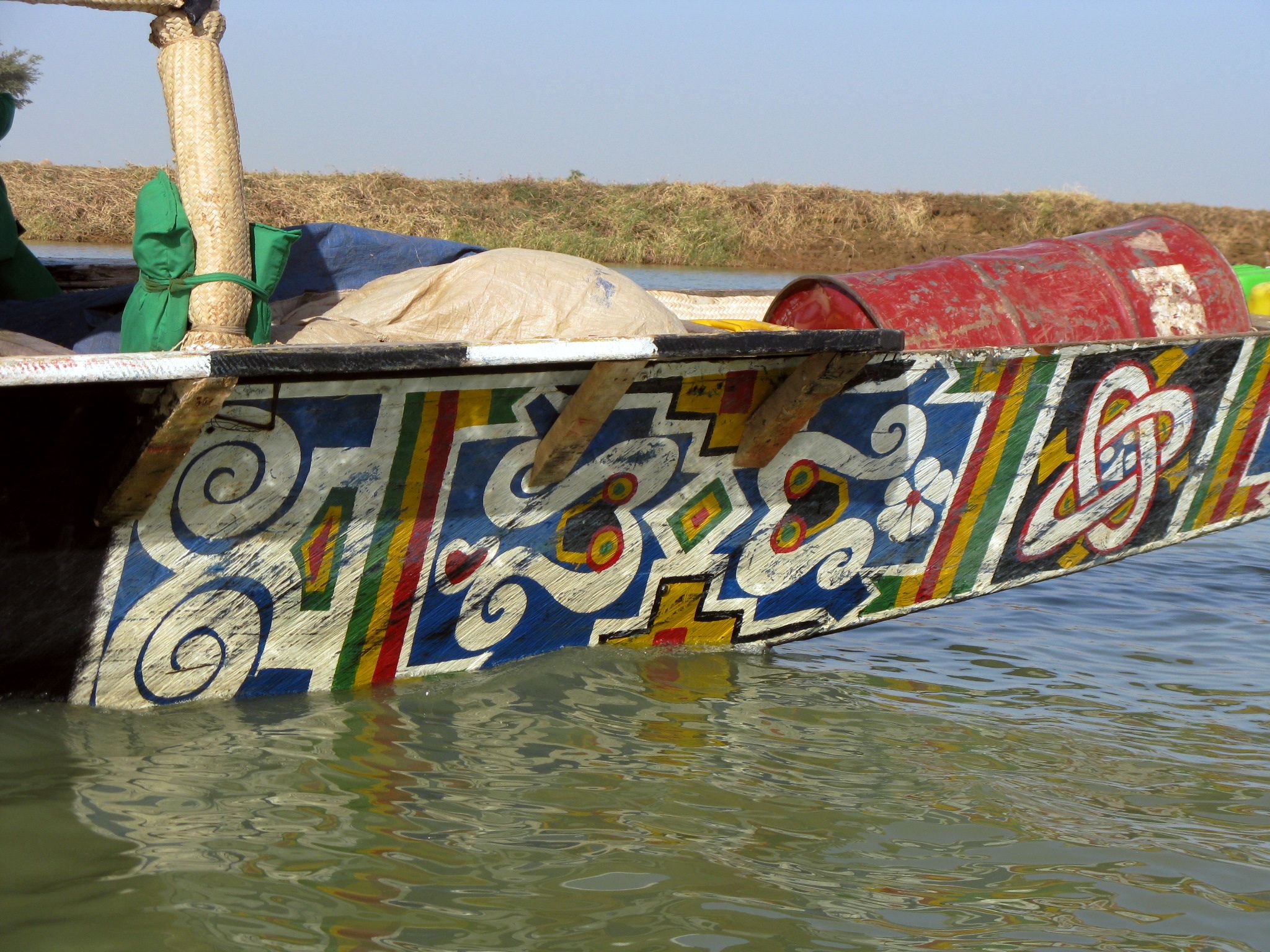 All the boats are beautifully hand painted.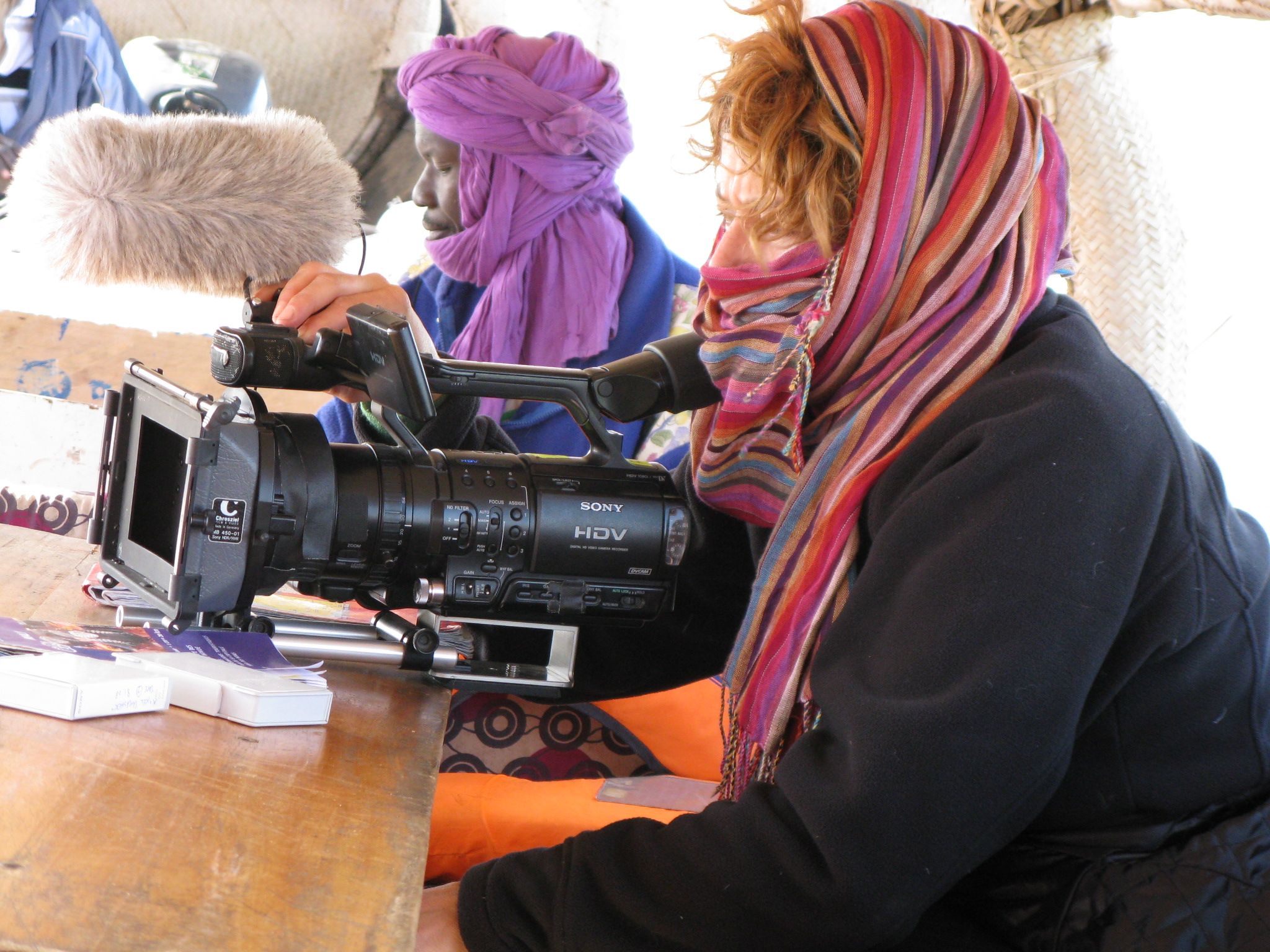 Dominique setting up a shot. Issaka behind.
Chapter 2 continues with the rest of Niger River, Day 2...