Adieu Festival & Route D'Espoir
Mali 2008
Festival Day 3:
One more Nescafé morning, but the first hard-boiled egg I've seen since arriving in Mali seems like a delicacy. It is hot this morning. I walk around the Festival. This sand is work, even on flat ground. My back has not felt this good in years.
The market area is too intense. I don't dare even make eye contact, or let the vendors know I'm looking at some of their wares, because they glom on to your attention like a pit bull on a shinbone. One of the vendors catches my eye. I tell him "No, merci." He insists, "You don't have to buy, sir; just let me tell you story about these bronze Dogon animal replicas." I listen to his long, and I must admit, fascinating account, and say, "very interesting, but as I mentioned, I'm not buying this morning." "Go ahead, sir. Tell me your price." "I'm not buying. Why would I have a price in mind if I'm not buying?" "But, sir, what do you think it's worth? It's VERY old," he says.
I don't think our English cliché "What part of 'I'm not buying anything' didn't you understand?" would translate too well, but I say something similar. "But, sir, today I can give you a very good price." Finally I pull out the big guns, BEFORE I get ugly and lose my patience. "I don't need anything. I have plenty of things. I have even MORE things at home in Canada. What I could use, though, is a beautiful spirit and some inner peace. If you have any of that for sale, I'm definitely buying." He looks at me and smiles. "Have a lovely day sir."
There is a musical group that meanders around the Festival, finds a good spot between the dunes, stops, and does an unbelievable show. They are called Hogéré, I believe, and they come from Goundam, a village a little way SW of Tombouctou. There are 3 guys playing calabash (a very large gourd cut in half) with their fingers, which have little metal rings on the tips. There's one guy playing a large drum, a singer and a flute player sharing the same mic, and two women who just kind of stand there and groove to it all. Oh, yes, and this one old man, off to the side, dressed to the nines and playing the ngoni. The speaker is distorted, but it sounds fabulous. It is powered by a car battery.
Have a listen to these as you look at the next three pix.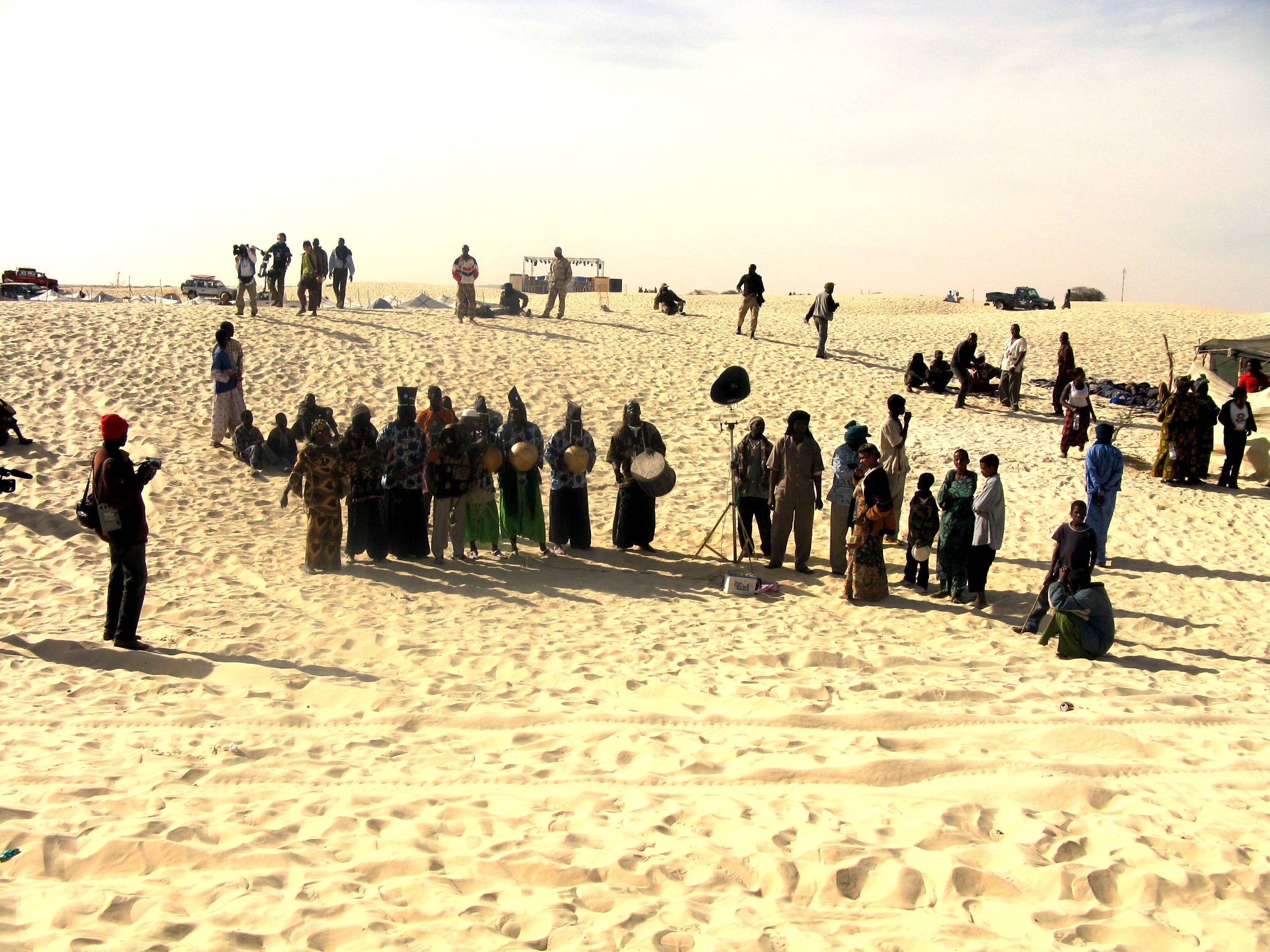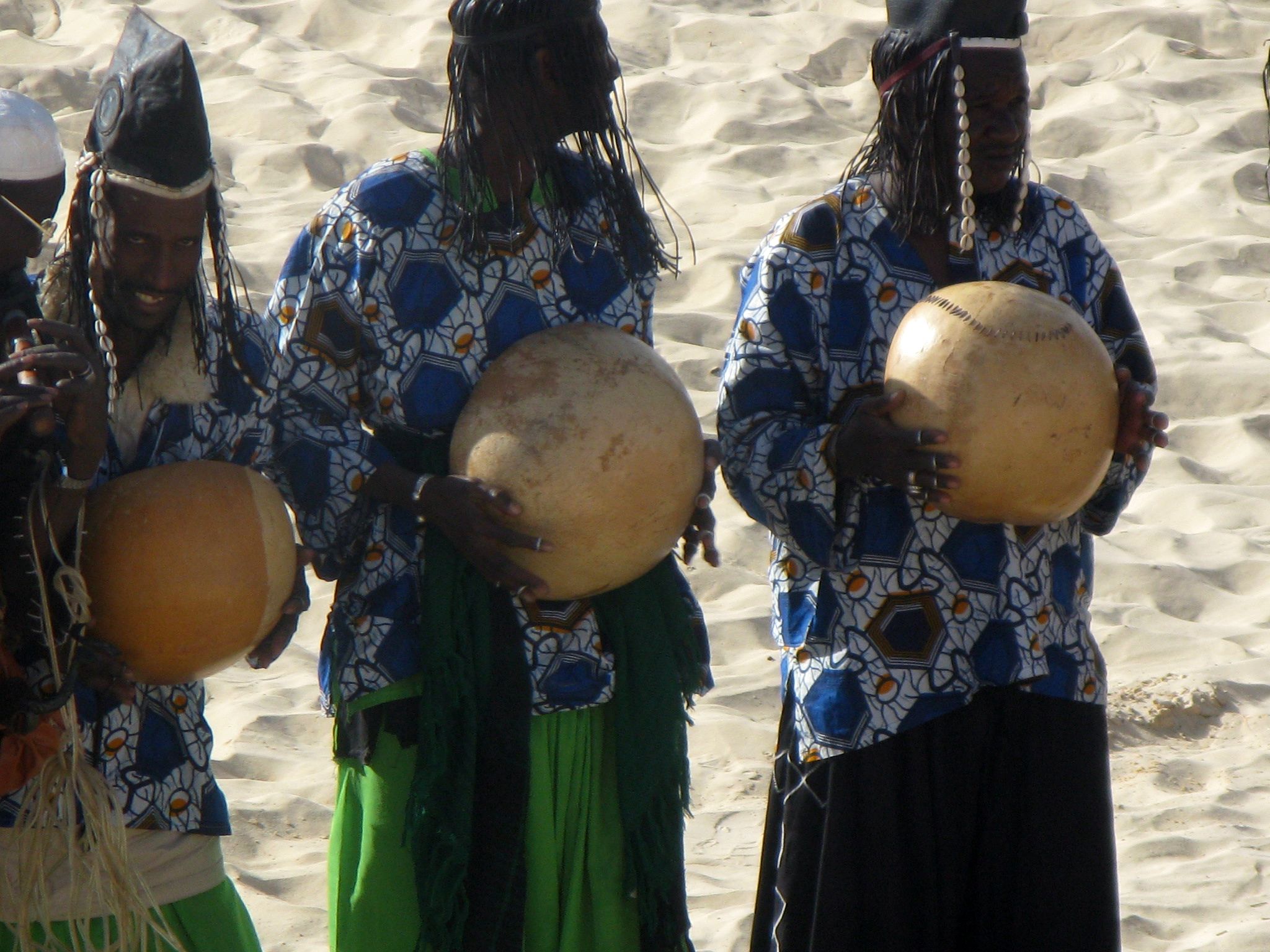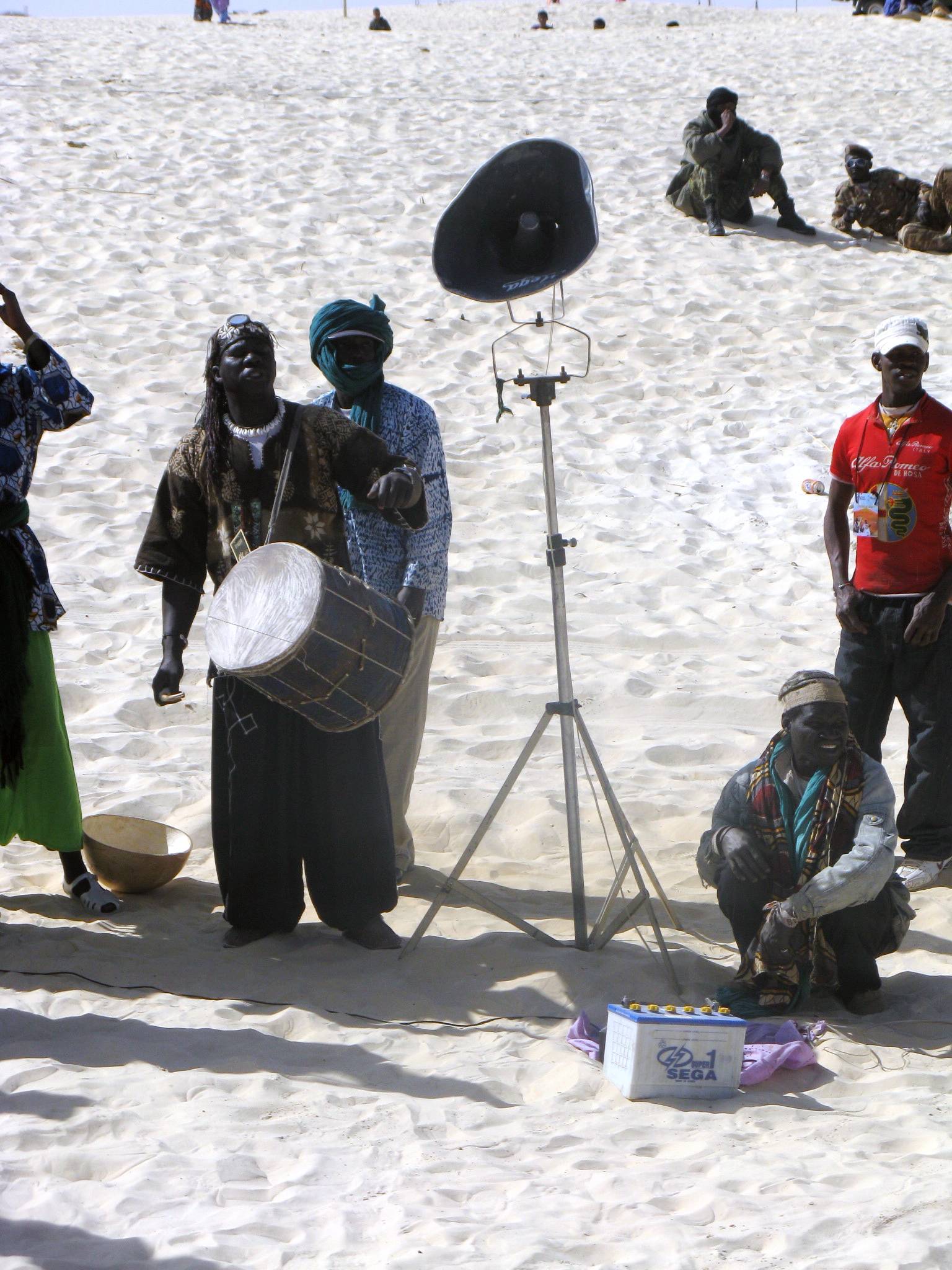 A battery in the sand powers the sound.
One of the men also does a gymnastic dance with his instrument. It is somewhere between breakdancing and a series of NBA moves. He blows a parade whistle as he dances. We give them a few CFA, and they take it up a notch. The music is repetitious and entrancing, literally. After a while I don't know if I'm hearing triplets in 4/4 or eighth notes in 6/4.
I walk around a bit more. Sometimes I just can't believe where I am. "This is not a movie. This is not a movie." is my mantra as I watch a man hack a skinned goat tied to a tree, and people napping under a bundle of firewood branches for shade: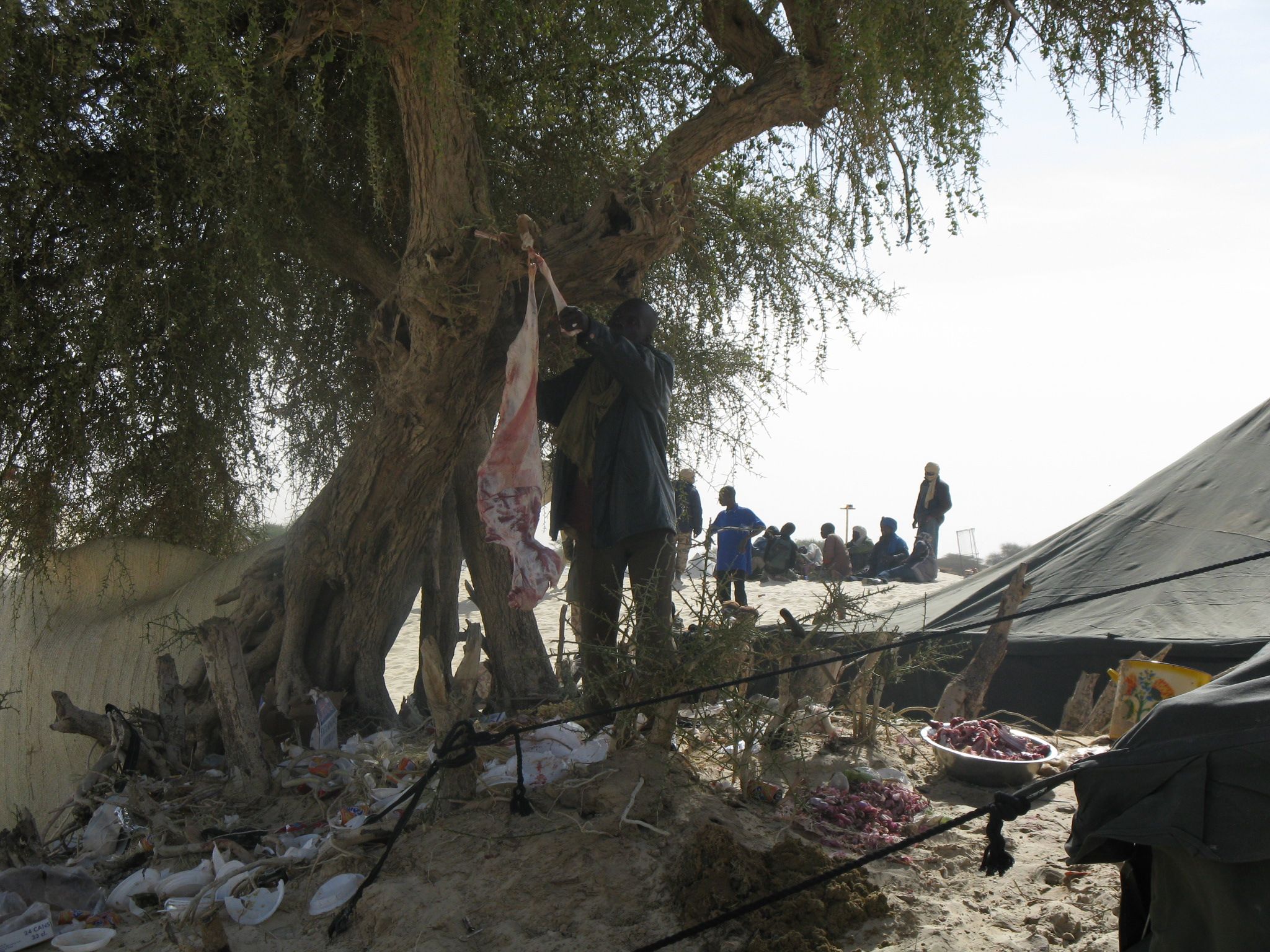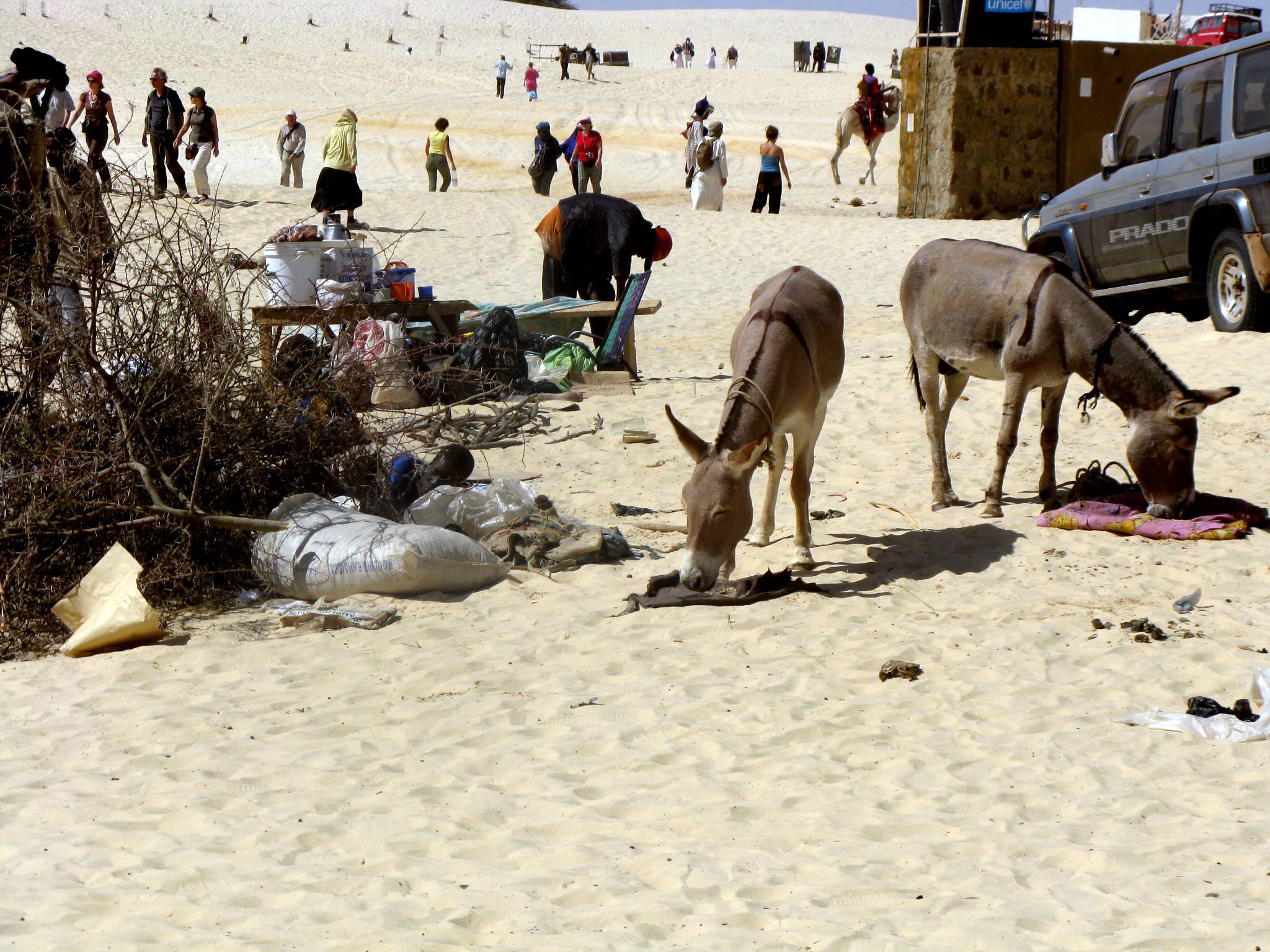 It's too hot to spend the afternoon in the sun, so I head back to the tent for a little time out. A little lunch, maybe a nap, maybe catch up on my journal. Mahmoud is sitting with a young Tuareg man. Chris, Raissa and I join them on a blanket next to the cook shack for lunch. The young man is Pino, bassist and leader of Tamakrist, an up and coming Tinariwen-influenced band who is playing on both Night One and Night Three. He is a very sweet guy. He knows French, English, Tamachek, Bambara and who knows what else. He is very devoted to his band and talks with us about some of the problems they are having. They need management, and he asks Chris & I to see if there's anything we can do from our side of the world. Raissa offers to play some of their tunes on the radio, but he explains they really haven't had a chance to do a proper demo. Nonetheless, they have some tunes on tape and he will endeavour to get her a copy.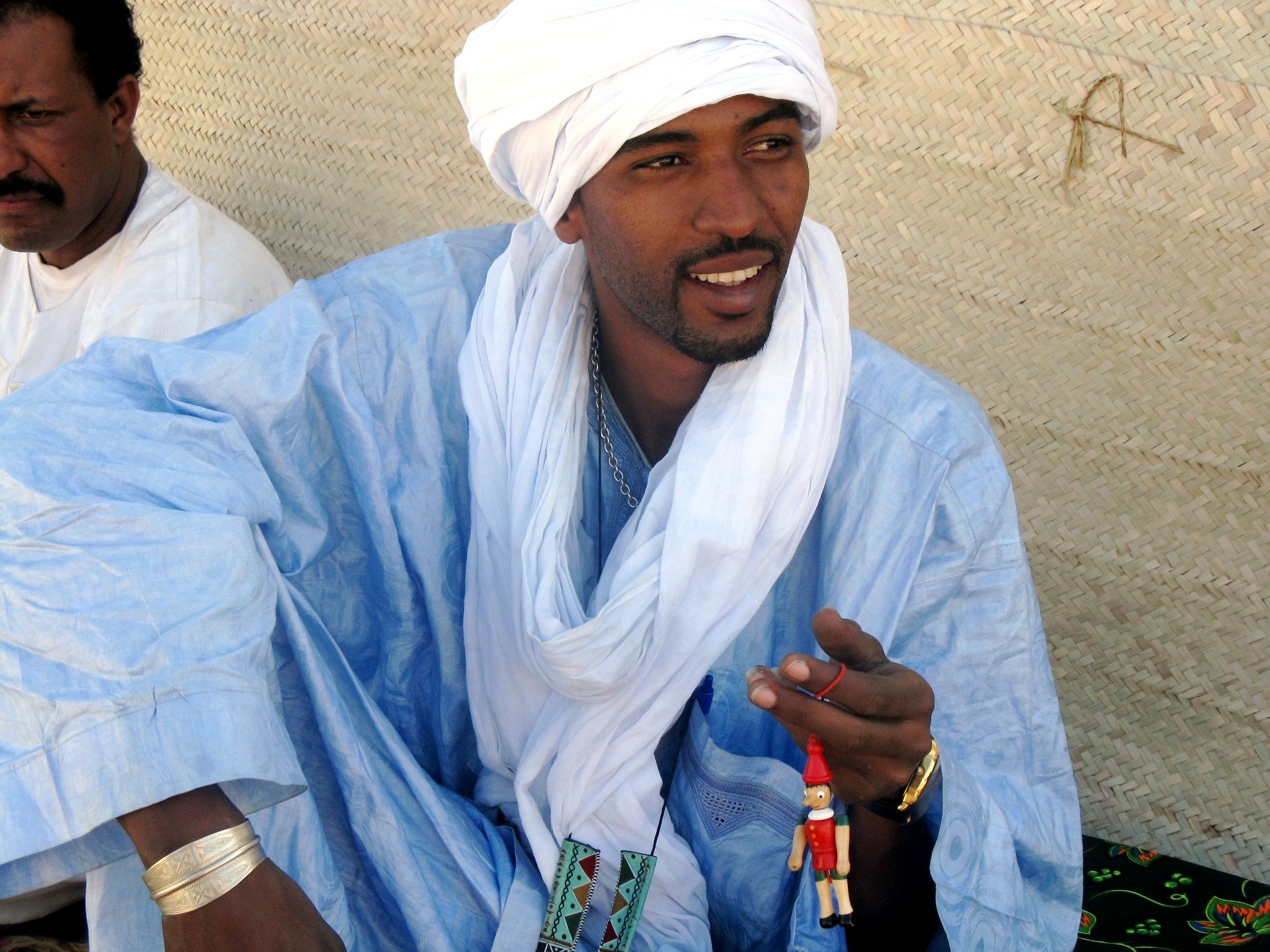 Pino of 'Tamakrist'. I ask him about his name. He says "My grandfather gave me a wooden Pinocchio when I was little, and everyone just started to call me that." He reaches in his robe to show it to me. Pino is 24, the same age as my daughter Katrina. (not that I'm homesick or anything.)

Below is a sound clip of Pino's group.
Tamakrist
___________________________________
At around 4 o'clock I head back out. There are more dancing demonstrations, camel races, etc, and the first act on the mainstage is going to be Hogéré. Then there is a Tuareg men's choir. Here is a soundfile of their performance. I love the lead guy:
Tuareg Choir
___________________________________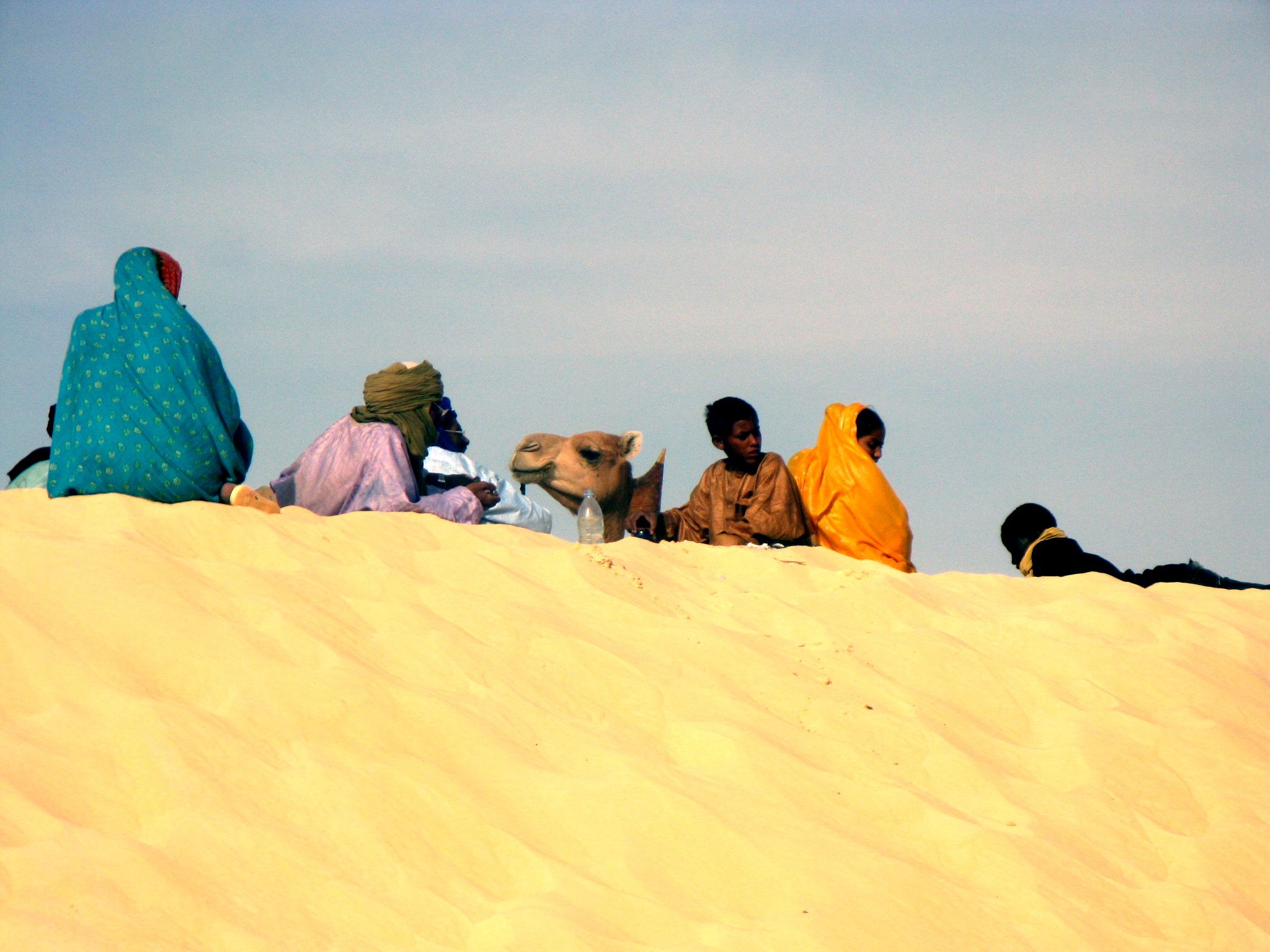 A camel's head pops up from the far side of a dune.

These beasts make a variety of strange sounds. I try to capture some on my Zoom later that afternoon.
Camels
___________________________________
Dung beetle tracks on the sand.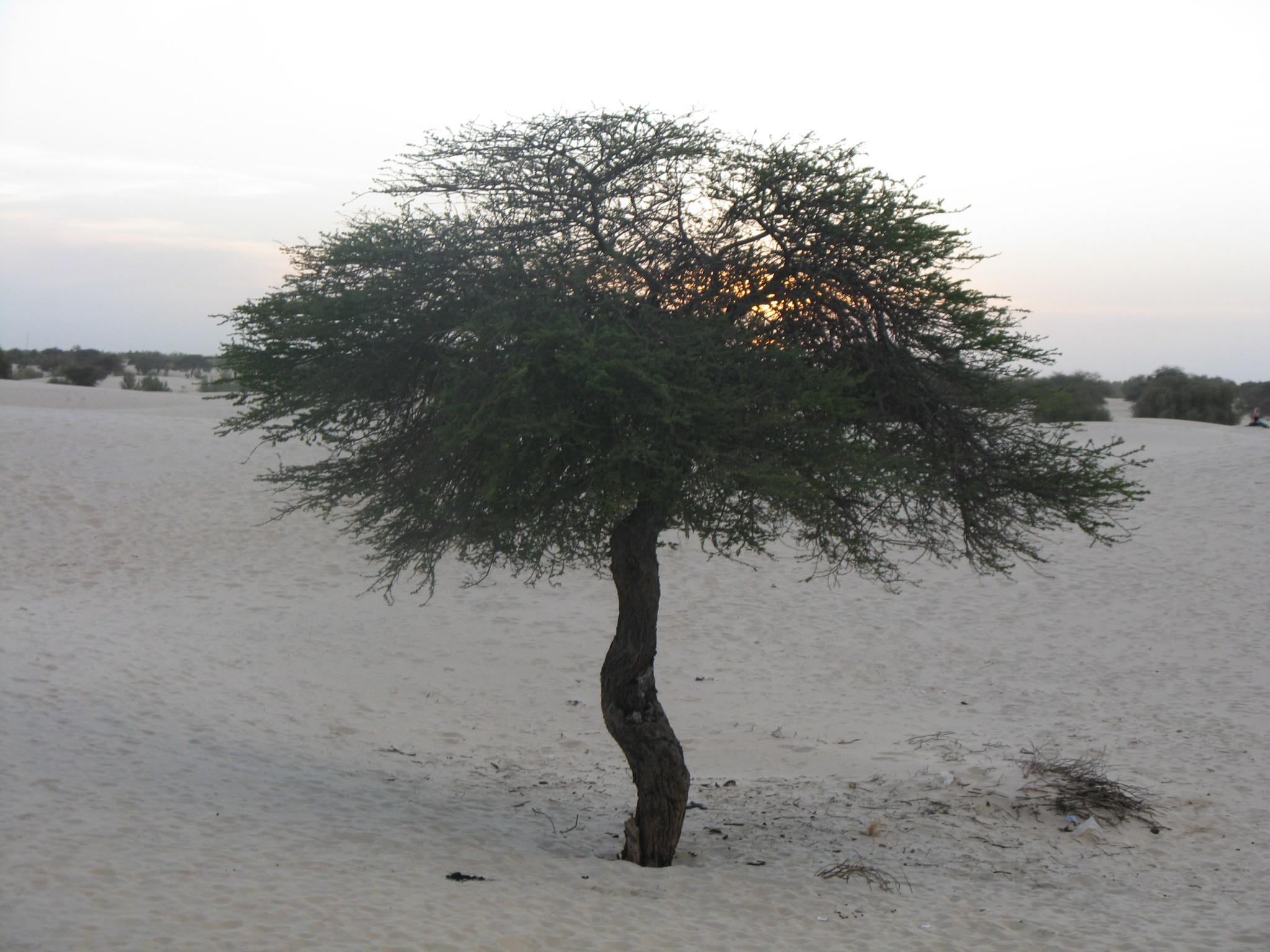 The sun sets behind a lone tree.
Dinner is around 8:00. Mahmoud has Issaka and Aruna and the crew prepare us a special last supper. Below you see two goats laid out on a large table. It was wonderful treat. Thank you, goats.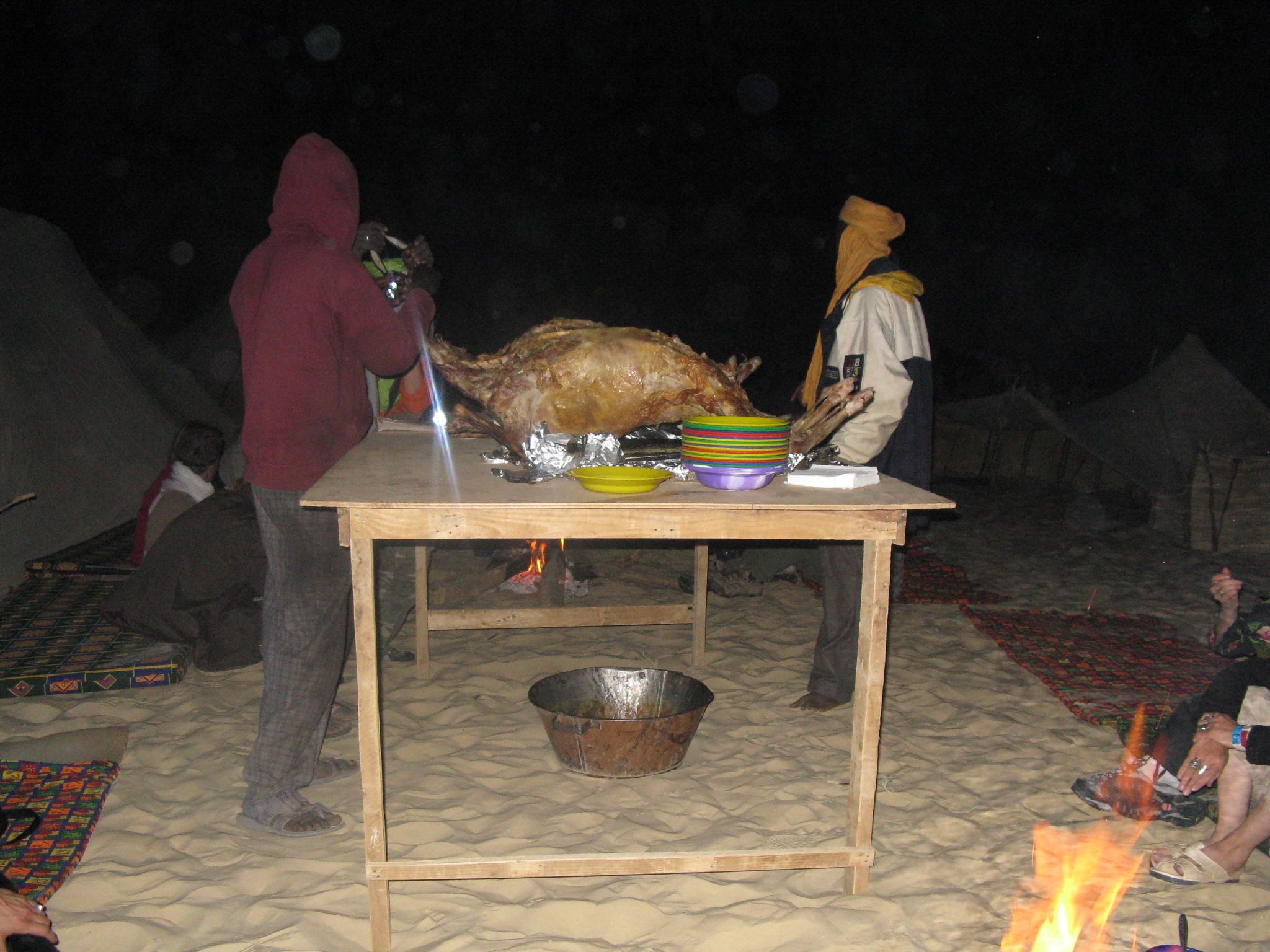 After a delicious dinner, we climb the big dune once again and head for the main stage. Tonight there is Ladji & Company from Mali, Liam & Paddy from Ireland, Artcirq from Igloolik, Canada, Electric Dharma from Catalogne, Spain, Troupe something or other from Burkina Faso, and closing the night Tiken Jah Fakoly, from Côte d'Ivoire.
___________________________________
Please click on the sound files and movies below for a sampling of Night Three.
Ladji: On To Bamako
___________________________________
I am considering going 'on to Bamako' myself in a few days, but I'm still not sure. Gilles and Davide, two young men from the St. Tropez area in the south of France, approach me and ask if I'd like to share the cost of a guide and go to the Douentza Reserve looking for elephants, and then for a hike through Dogon Country after. I thank them and tell them I will think about it.
Liam & Paddy sing and play banjo and bagpipes. They dress in Tuareg garb. They do traditional old Irish music, as well as some Australian aboriginal singing. I quite enjoy them.
Liam & Paddy: Irish traditional
___________________________________
Liam & Paddy: Irish / Aboriginal
___________________________________
___________________________________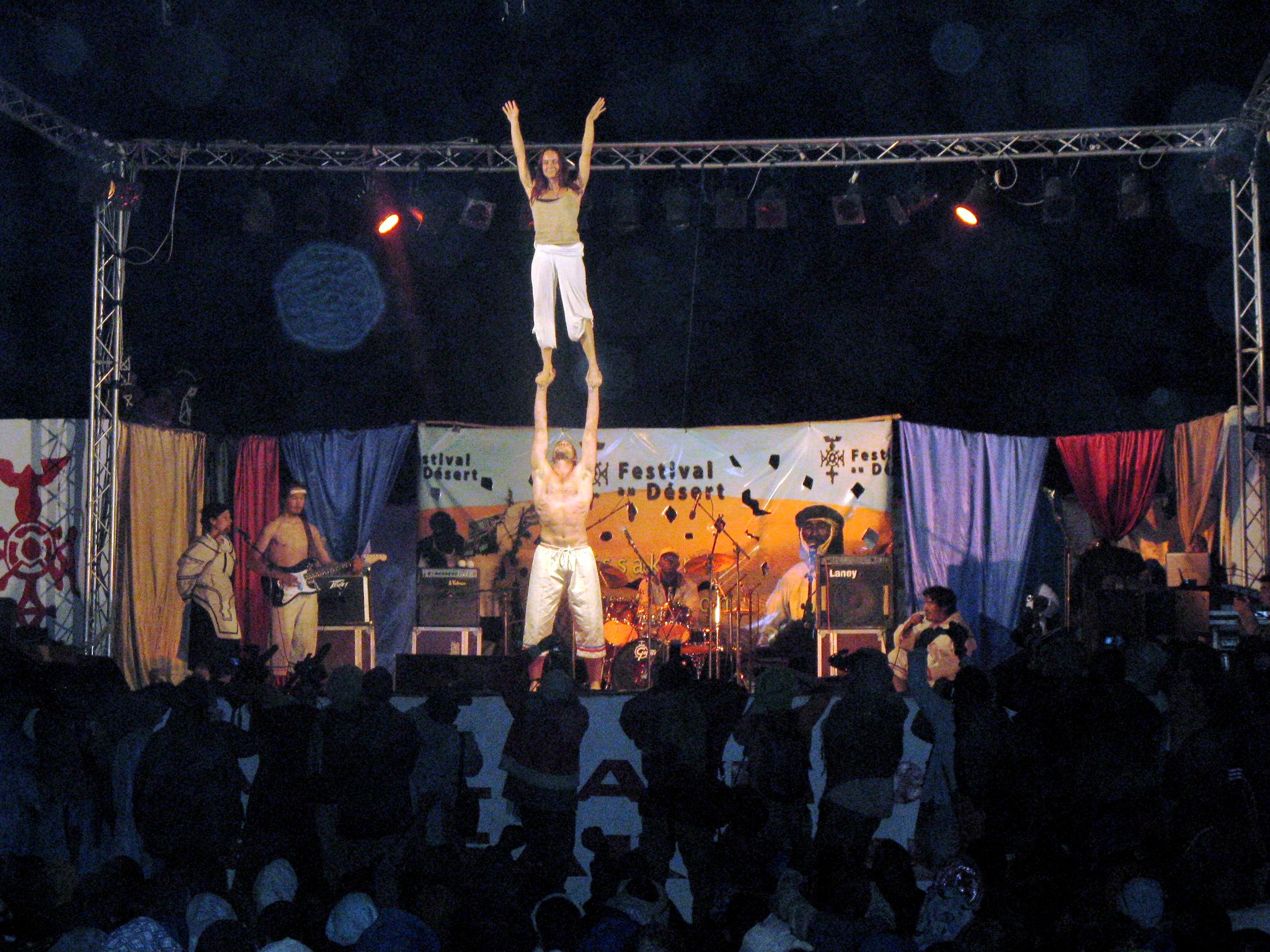 The Inuit troop Artcirq performs. The throat singing by Sylvia Cloutier and Celina Kalluk really enthralls the Turaeg, and everyone.
___________________________________
At one point 3 or 4 Dogon in traditional costume - one on stilts! - join Artcirq on stage.
Dogon and Inuit
___________________________________
After a full day on the dunes, and a couple of beers at the "bar" tent - which my friend Chris likens to the intergalactic space bar in Star Wars - I don't have the energy to stay up to hear what many say was the best band of the festival, Tiken Jah Fakoly, although I did listen a bit from my sleeping bag.
___________________________________
Leaving the Festival: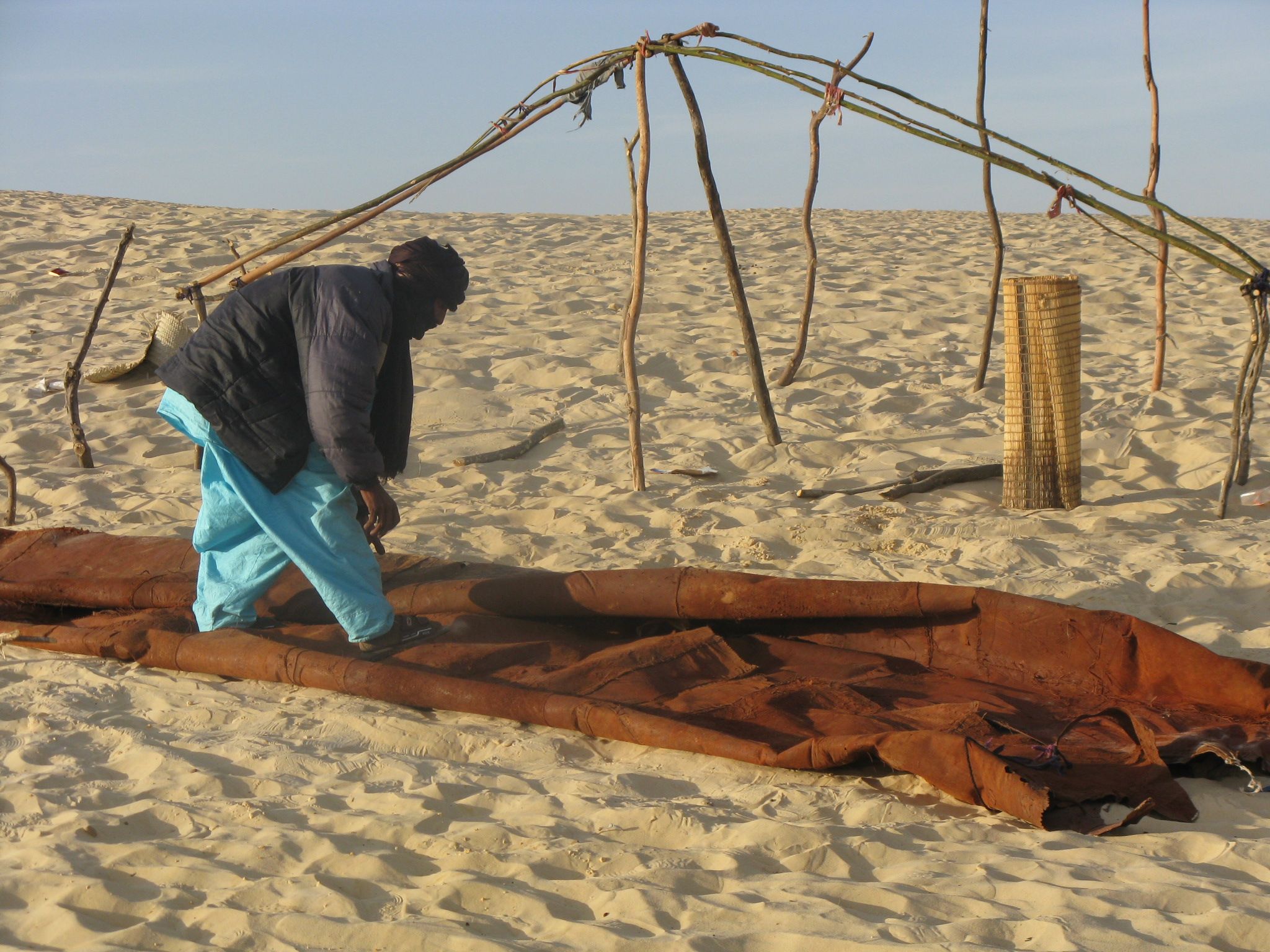 Tearing down the tents. Adieu, cher festival. Until next year.
A cup in hand you know it's worth your while A cup in hand Let's sit and stay for a while Let minutes turn to moments Let's sit, Let's talk One moment One Nescafé
I'm afraid there's no hanging around this morning, Mr. Nescafé jingle man. (And doesn't "Nescafé" sound like Portugese for "Not Coffee" or something? Ahh, truth in advertising.) At any rate, we're on the road by 7:45. Other than the bouncing, the flat tire, and the bouncing (did I mention the freaking bouncing?!), it is a good trip. We reach Tombouctou in just 3 hours.
During the night, I have decided that I will take Gilles and Davide up on their offer to go to elephant country in the Douentza reserve. I still am not sure what I will do with the 4 or 5 days that would remain after that. How will my movie end? Will I hike through the escarpment where the mystical Dogon people live or head to Bamako to make connections in the recording studios and hear some of the best music the world has to offer?
The plastic punching bag clown hasn't seen too much action recently. It's about time. I notice that Gilles and Davide are not around the breakfast fire. Must be sleeping in, I think. I ask Julie, one half of Julie et Vincent, a lovely young couple from the Cognac region. She tells me, "They left about 4:30 this morning. They were in a hurry to get to the elephant country." Plan B, anyone? Bounce, bounce.
We hang in Tombouctou for a few hours. We get some lunch and a shower at the hotel of a friend of Mahmoud's. (yes, a shower. My last one was Paris, Sunday, January 6th. It is now the 13th. I wash thoroughly, or so I think. Drying off, the white towel comes out of my ear a beautiful bright shade of desert orange.)
This hotel is where Dominique and her crew will stay. We say good-bye. I will miss these bright and brave Swiss folks.
About 10 minutes outside Tombouctou is the ferry across the Niger. The lineups for this ferry are legendary. But for some glorious reason, we are the only ones there. So we go right on.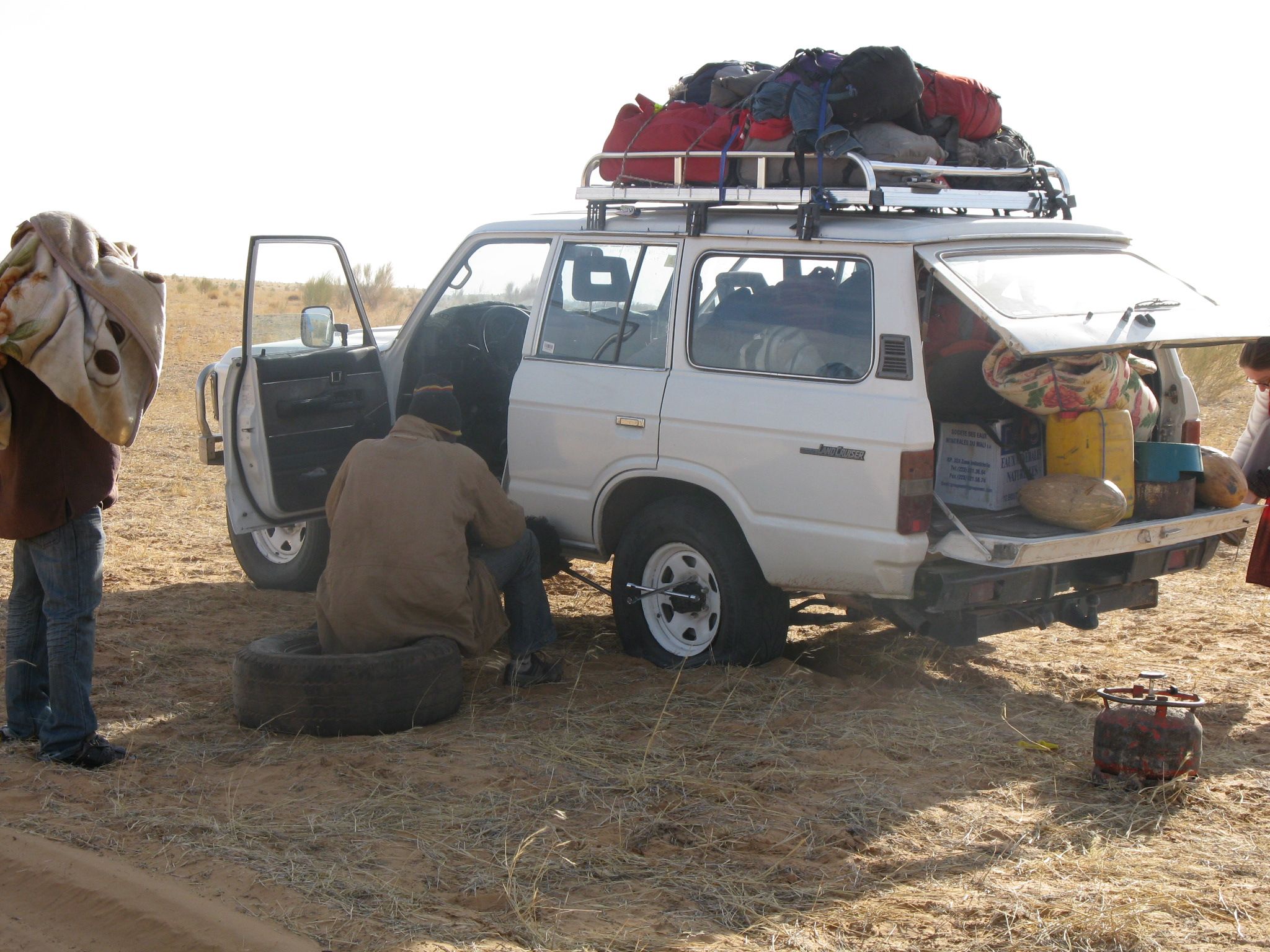 We get a flat about 45 minutes out of Essakane.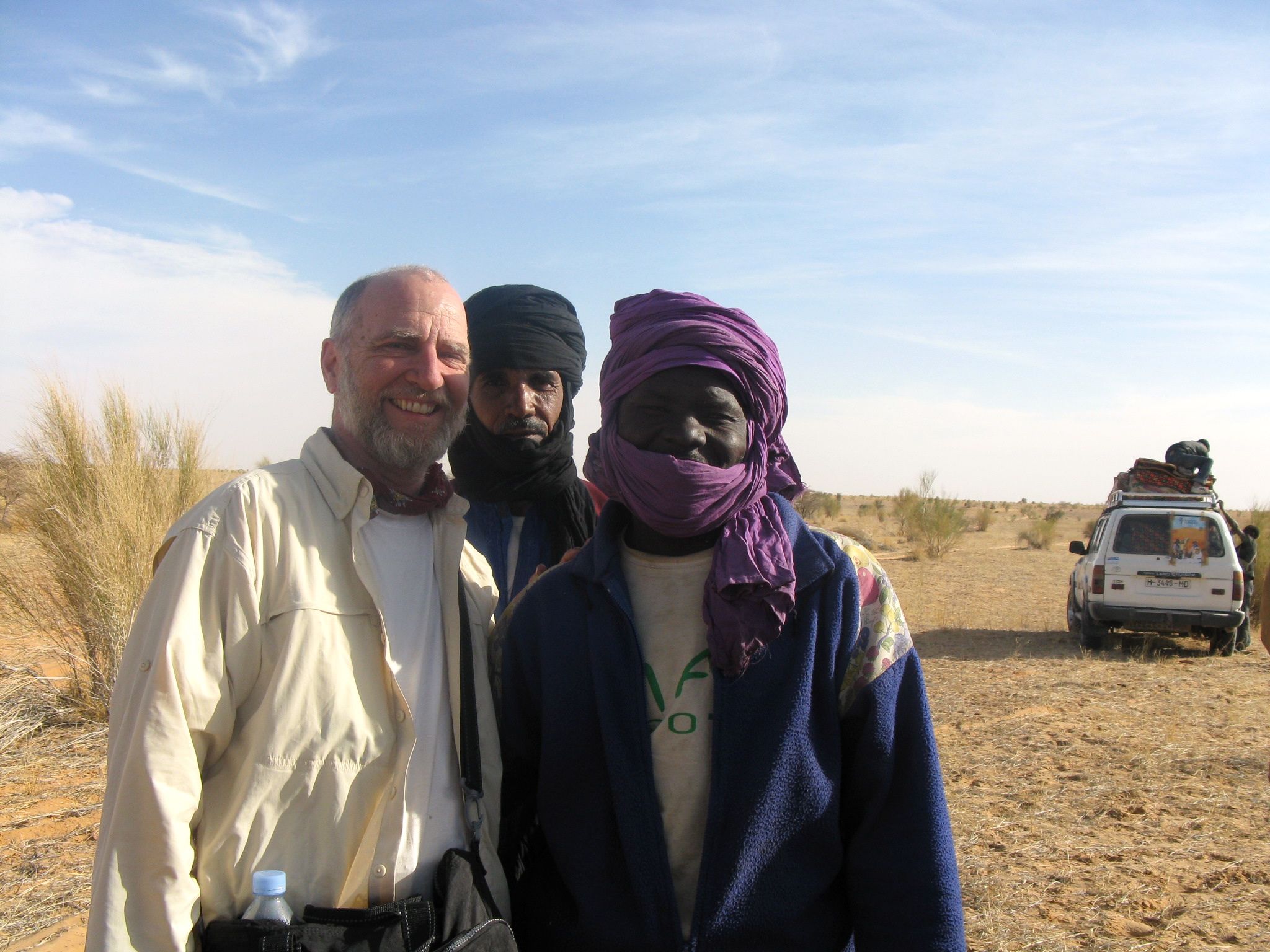 Bob Toubab, driver Ali and chef Issaka.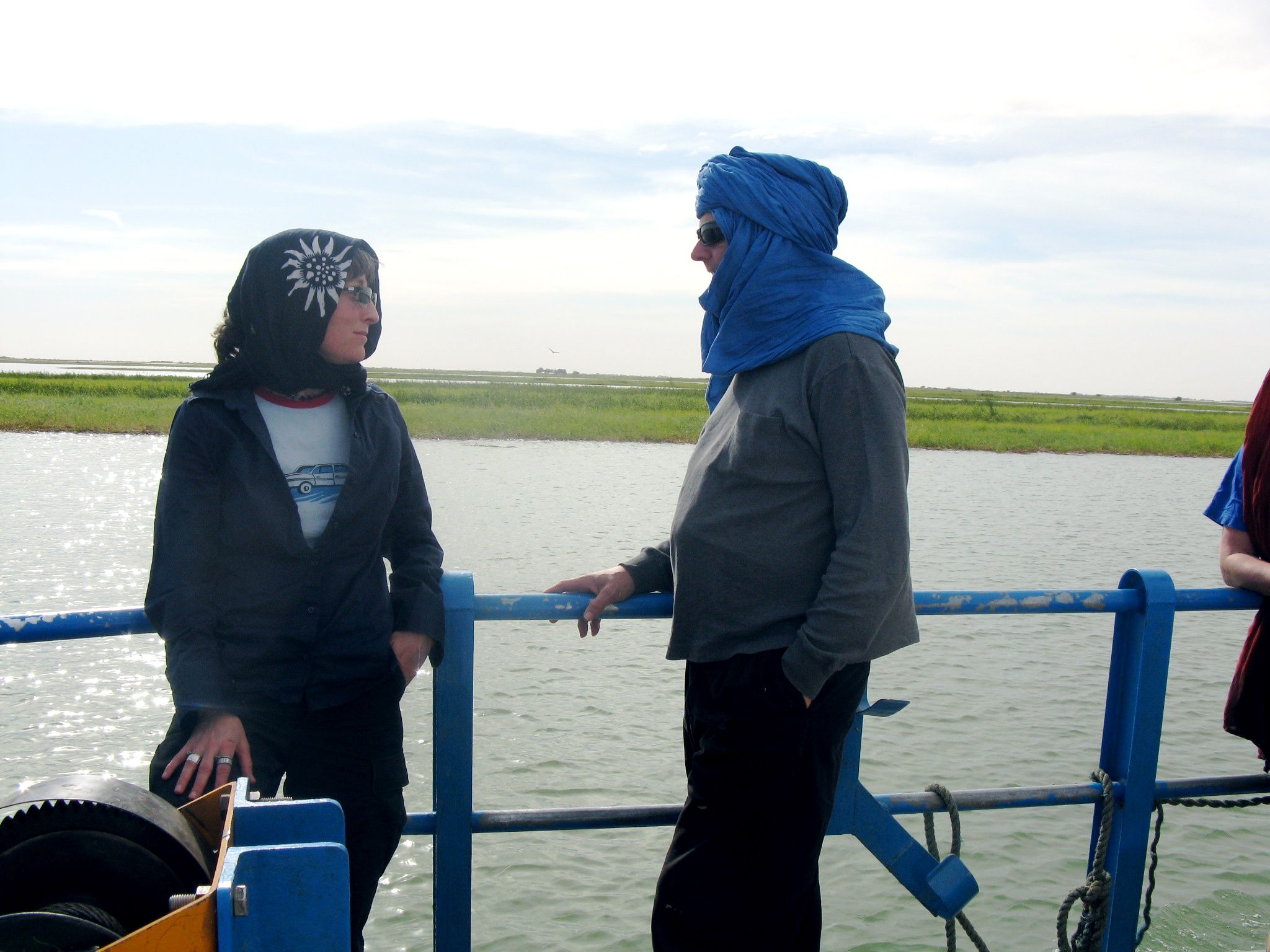 Raissa St. Pierre and Chris Nolan on the ferry.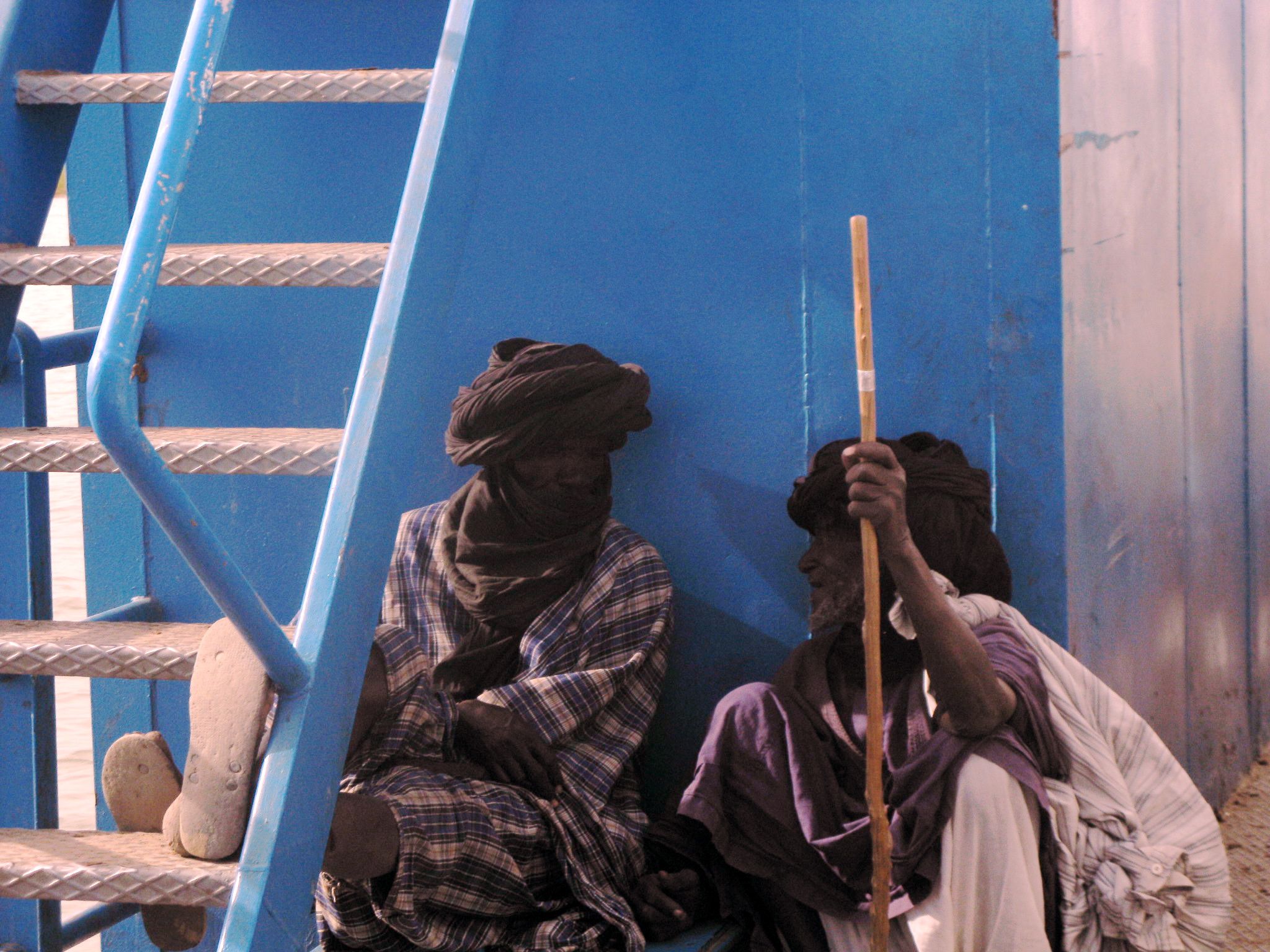 Decidedly

not

Raissa and Chris on the ferry.
After the ferry, comes more trepidation. The trip back to Mopti along the Route de l'Espoir is long and arduous. I am told that the 'espoir' (hope), is that one will actually make it to Mopti. From the ferry to Douentza (195km) it is mostly a track (piste) through the desert and the brush. At best there are occasional strips of broken up asphalt. The rain can wreak havoc.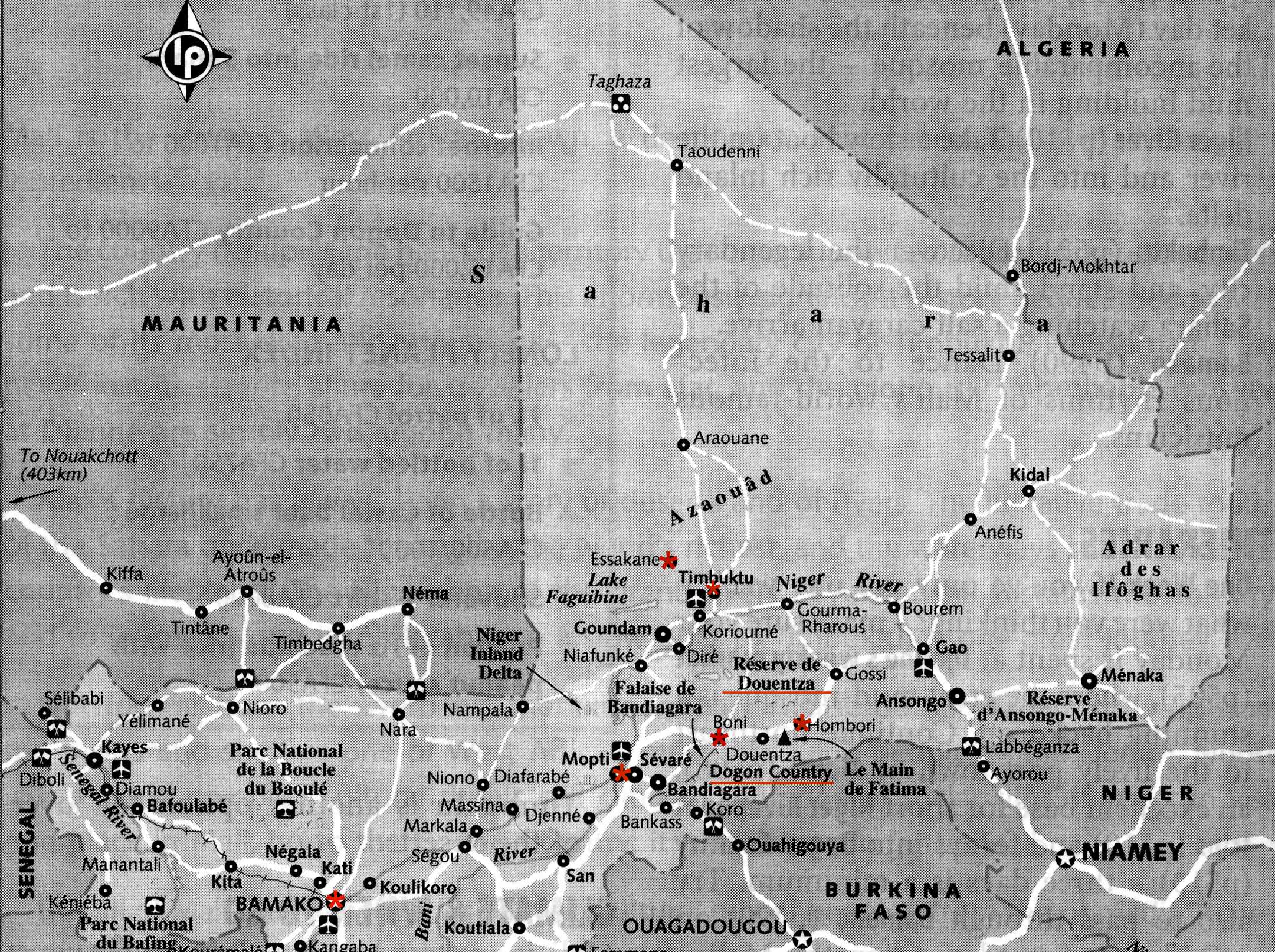 Barely visible on the map above, the Route de l'Espoir loops south and east out of Tombouctou, then south and slightly west down into Douentza, then there is the nicely paved section into Mopti which is part of the long main road from Gao in the east to Bamako in the west.
As we bump and thump along, I am reminded of winter roads at home. The ones that never get plowed, and the ruts make you wonder if the shocks are going to gasp and fail right then and there as your rocking head whacks first against the window and then the roof as you fly off the seat. My left arm is losing circulation holding on to what Raissa refers to as the B'Jeezus Bar. And I now understand the Tuareg headgear. Left hand on the bar, my right is holding my shirt over my mouth and nose in a makeshift effort to filter the dust. Sometimes, three weeks later, I will still smell and taste it.
We stop at a gas bar. There is a bus that has broken down, and several other travelers milling about. It is a chance to go off to the bushes for a pee. Back on the road we pass farmers with their large herds of goats. We pass donkeys laden with huge sacks of grain - likely millet or rice.
___________________________________
Here is a clip in which I count at least 50 donkeys
beasts of burden
___________________________________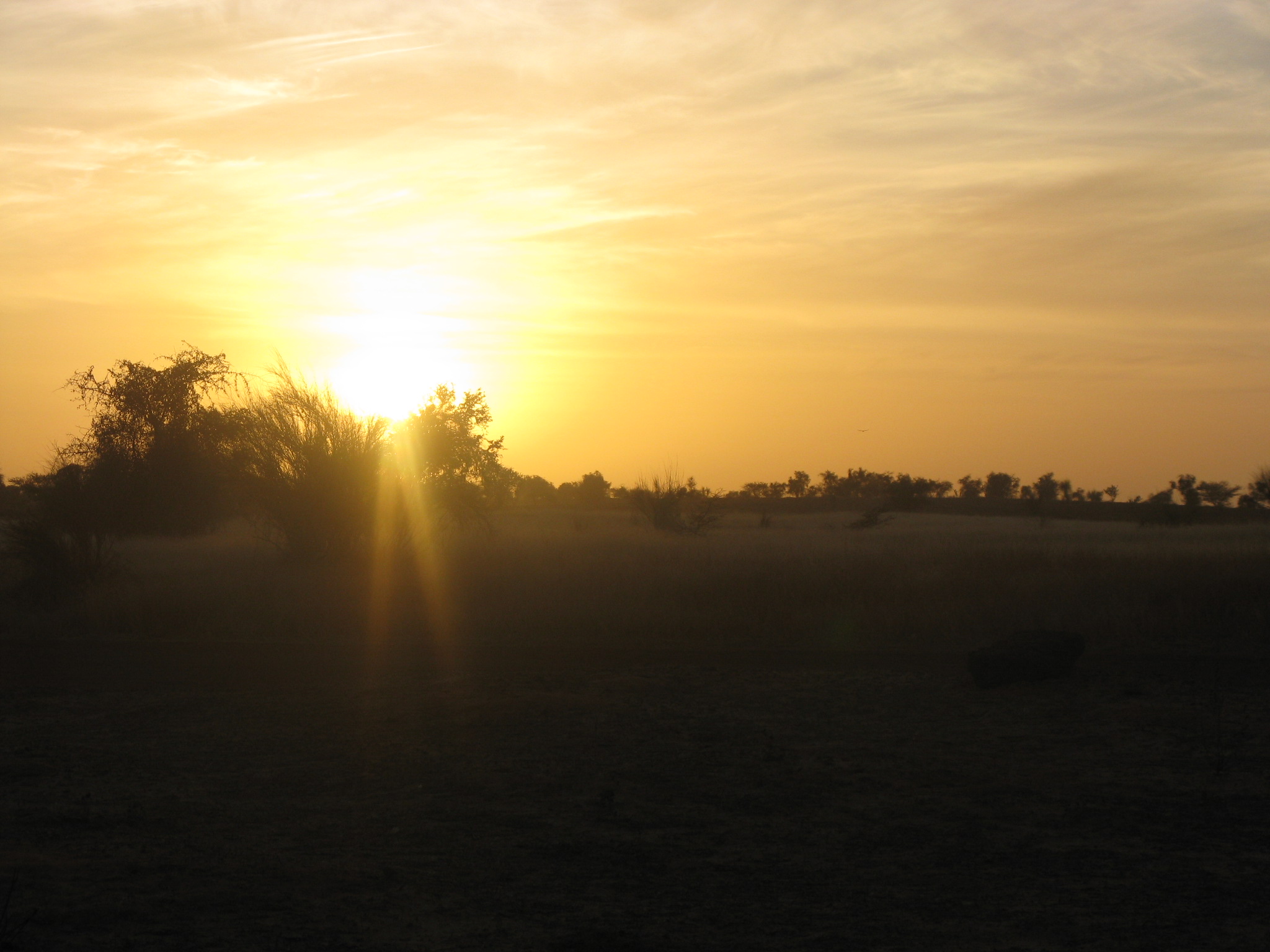 Sunset along the Route de l'Espoir.
The town of Douentza is fast approaching and I have not yet figured out what to do. If I am going to see the Reserve, or go to Pays Dogon, I will stop here, and say my good-byes to my friends who will continue on to Mopti. I won't say I'm not worried. But what is nice, is that I'm not letting the worry get to me. It's that doubling that makes life unnecessarily painful; the worrying about worry, the getting sad about how sad one is, the getting angry at anger. Maybe it is the slowed-down groove I am in as a result of being on 'Africa Time', but this worry isn't worrying me. Something would come along.
We make another pit stop. Flat tire #2. The other two 4x4s in our caravan pull up as well. A man comes up to me and says he saw Gilles and Davide back at the place where the bus had broken down. Their car had broken down, too, and they were actually behind us. He informed them that I had decided to go the Douentza Reserve with them, and Gilles told him to tell me to wait for them in Douentza. They would be staying at the Auberge Gouna. I would get down and kiss the dirt, but there is already so much on my lips I don't need to bother bending. It is 7:30 when we reach Douentza. We had made good time; only four hours. (Did I mention the bouncing?) The town is wild and crowded and cacophonous.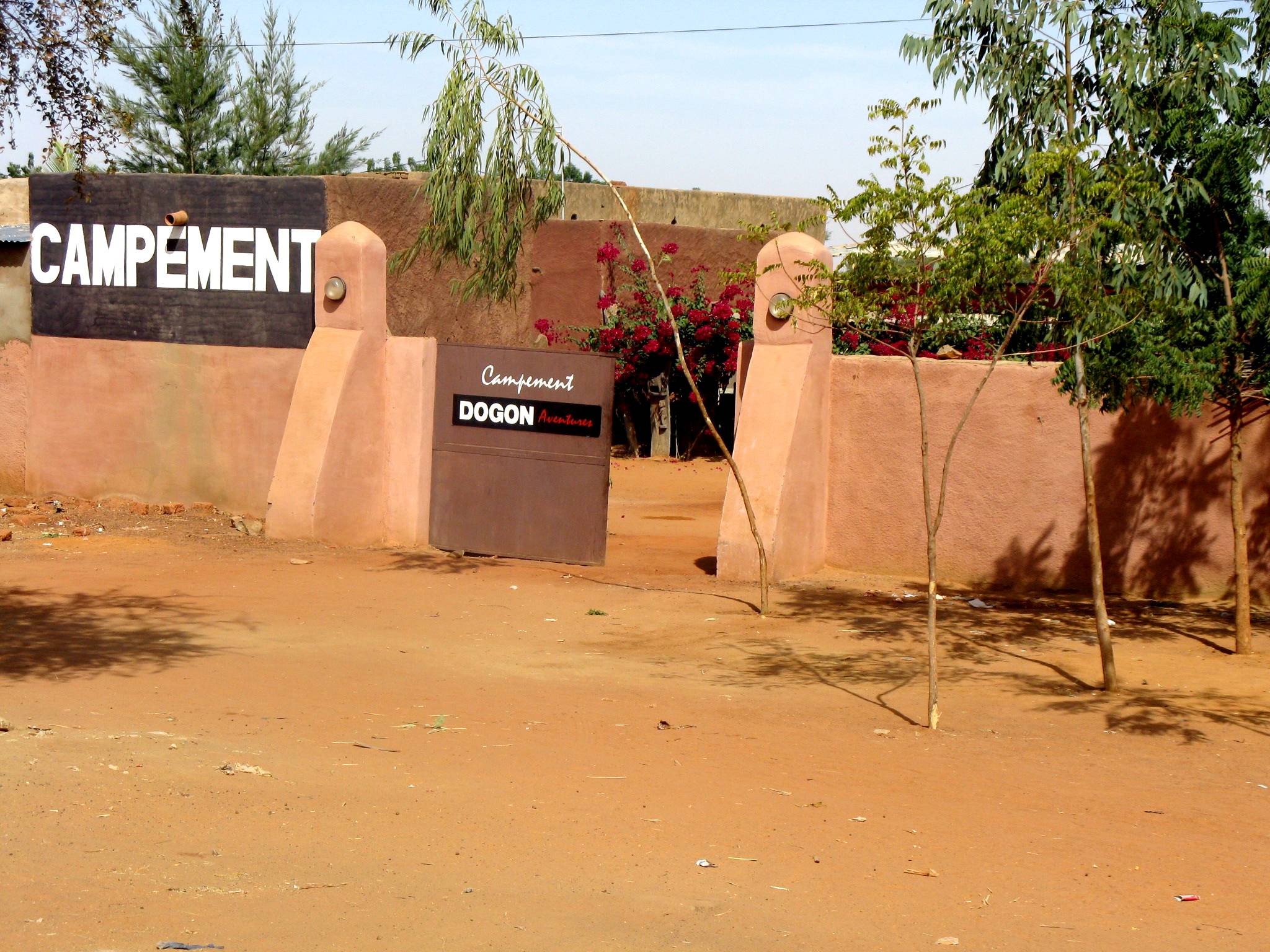 The Auberge Gouna is full. Next door, a place run by Hussein, a 'cousin' of our very own Douentza-born Issaka, is the Campement Dogon. There is running water and a cot and a room with a lock. 4,000 CFA ($8) for the night. It's the Ritz to me.
Part Two of my trip is upon me. All fourteen of us have a supper consisting of roast potato and chicken pieces in a spicy sauce, and then it's time for good-byes. Mike and Alison, the British couple who thumped along the Route de l'Espoir with us; Vincent and Julie who both work for the Public Waterworks in Cologne (Julie knew how to slow down her French just right so I could understand); Valerie the bat specialist, and finally my new good friend, Raissa, and my old and new good friend, Chris. It's a little sad, but not at all scary like I had imagined in the planning stages back in Toronto. I feel strong. I think I would like to thank the thief at the CDG airport in Paris.
I go to the Encampement Dogon and wash a few things out in the sink; hang them on the line. Davide comes over from the Auberge, just to make sure we're on for the morning. "Not too early," we both agree. I sit in the courtyard of the Encampement and journal for a bit, dabbing on Deet like cologne. I have seen hardly any mosquitoes yet, but I air on the side of caution. I consider going for a walk, but it is 10 P.M. and I am exhausted.
I can predict the next scene of my movie, but still do not know how it will end.
Next, the Douentza Reserve, a Tuareg village, and an elephant tracker.