Varanasi at First Sight
India 2013
Monday, 18 Feb. Varanasi.
The taxi van we hire at the train station can only get to within a kilometre of our B&B. Varanasi reminds me a little of Old Havana, with its streets too narrow for any vehicles except bikes and bicycle rickshaws. So now it's a winding walk through the crowded lanes, backpacks bouncing and suitcases in tow. The market is in full swing, temple bells are clanging, monkeys are perched on rooftops and awnings.
Varanasi is thought to be the oldest continuously inhabited city on our planet, and is also know as Benares or Kashi. It's where all the Hindus (which is a lot of folks) want to come to die. To be burned on the sacred Ganges River (the Ganga) is the ultimate, and does wonders for your afterlife. Or maybe eliminates it altogether and you get to experience Nirvana forever. Probably not the band, but I'm not a hundred percent sure.
By 10:30 we are on the rooftop patio of the Kedareswar B&B, eating omelets with tomato, mushroom and cheese (melted Kraft slices, I'm afraid) with Nescafé instant – which I must be getting to like, because I mistake it for perked until everybody laughs at me for saying so - and enjoying a mind boggling view of the Ganga. I wish I could be reincarnated as an invisible photographer, standing on this rooftop, capturing tourists' faces in closeup at the moment of their first glimpse of life along this river. It would be a study in expressions of shock, delight, wonder, disbelief and awe unlike any in the history of photography.
View from the Kedareswar B&B balcony
If the photos could record what's ticking inside the tourist brain, you'd see that the collage of colour and sound hits first, then the brain struggles to kick in and make sense of what the senses are sensing. It starts with very broad, primitive, preverbal observations… Look! At all the people! Look! at all the boats! Oooo! Ahhhh! Then, a tad more specific. Look! They're washing clothes. Look! That boat is practically taking on water it's so packed. Look! That sadu's next to naked; those people are standing in the water praying; that woman is carrying a bucket on her head and two babies on her back; that monkey is scaling the wall and jumping on the apartment balcony. All this observation is silent and slack-jawed. But soon, they start pointing things out to each other, asking a million questions, conjecturing a million answers (hardly an I-don't-know in sight), occasionally returning to their Nescafé, omelets and toast, and having a great time, feeling the yen and excitement to discover more about this place which at first sight seems to be the very essence of human life. Or at least one of the essences, and one I've never had a clue existed. Maybe in books and photos. But face to face is "a whole nother deal," as they say.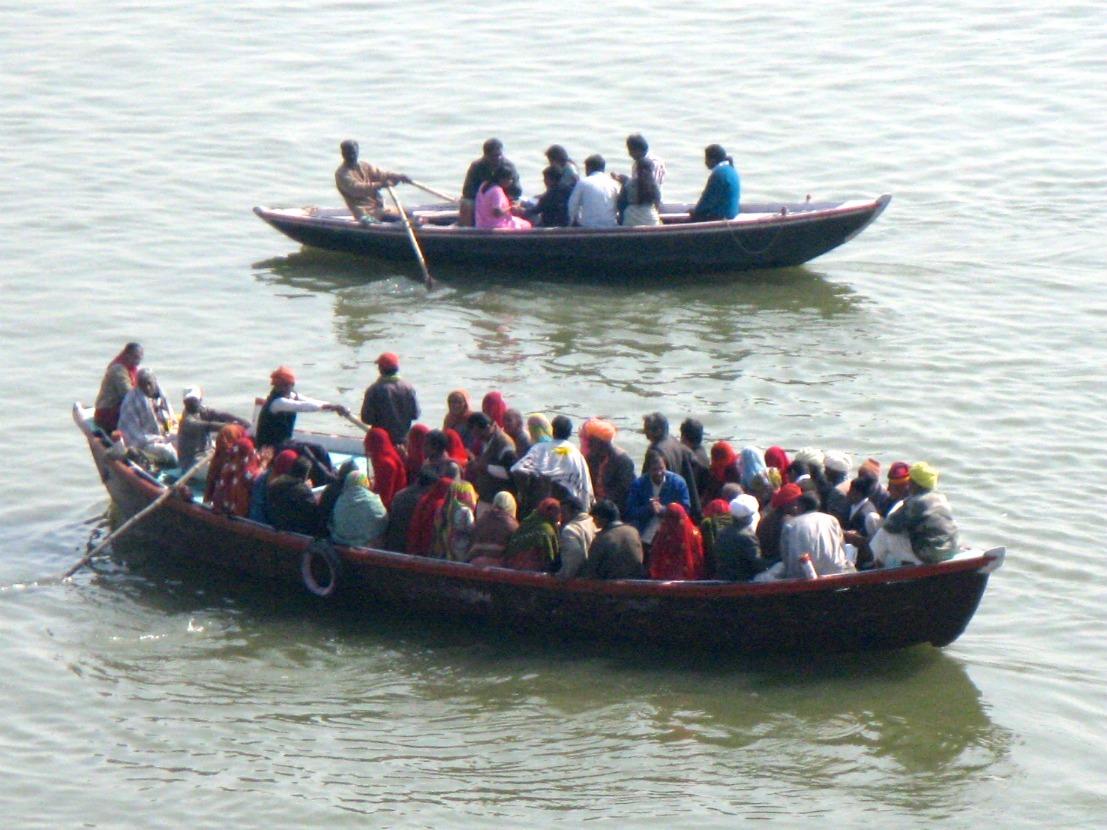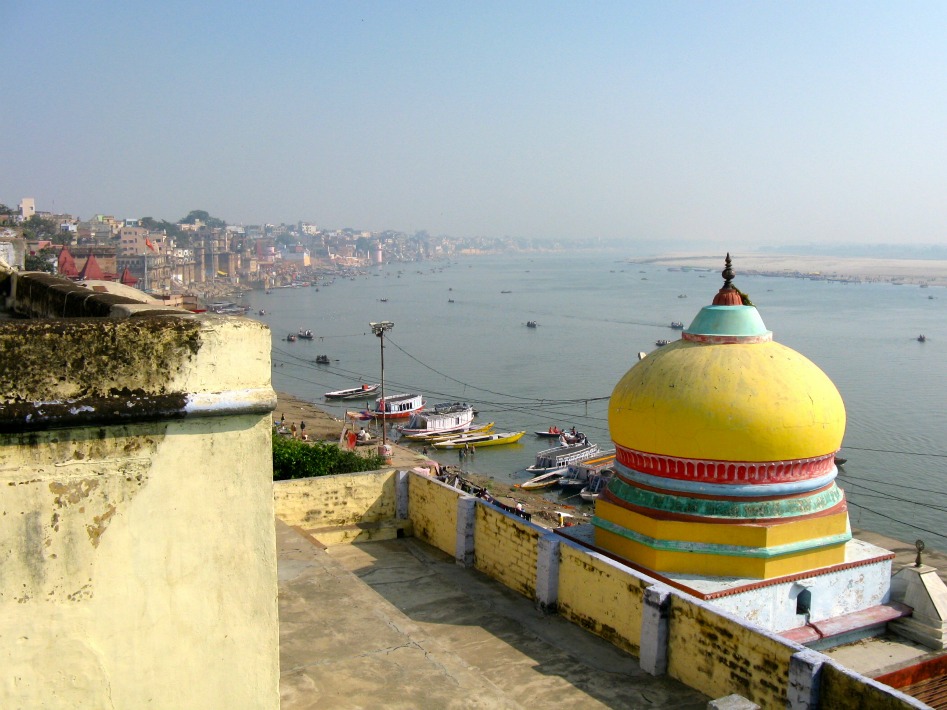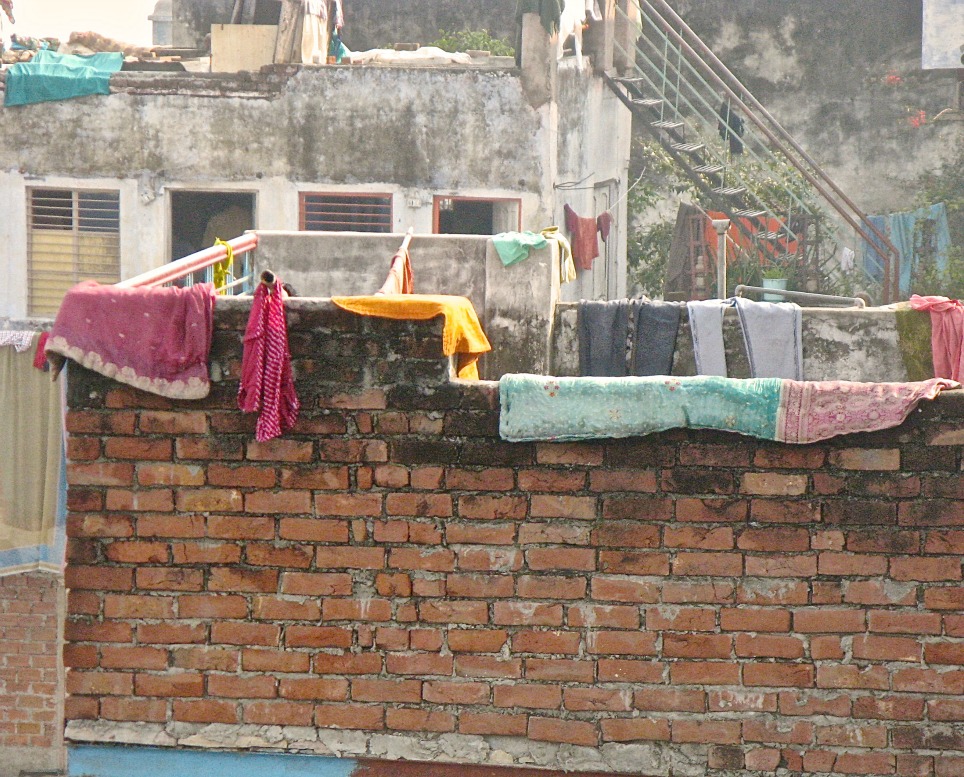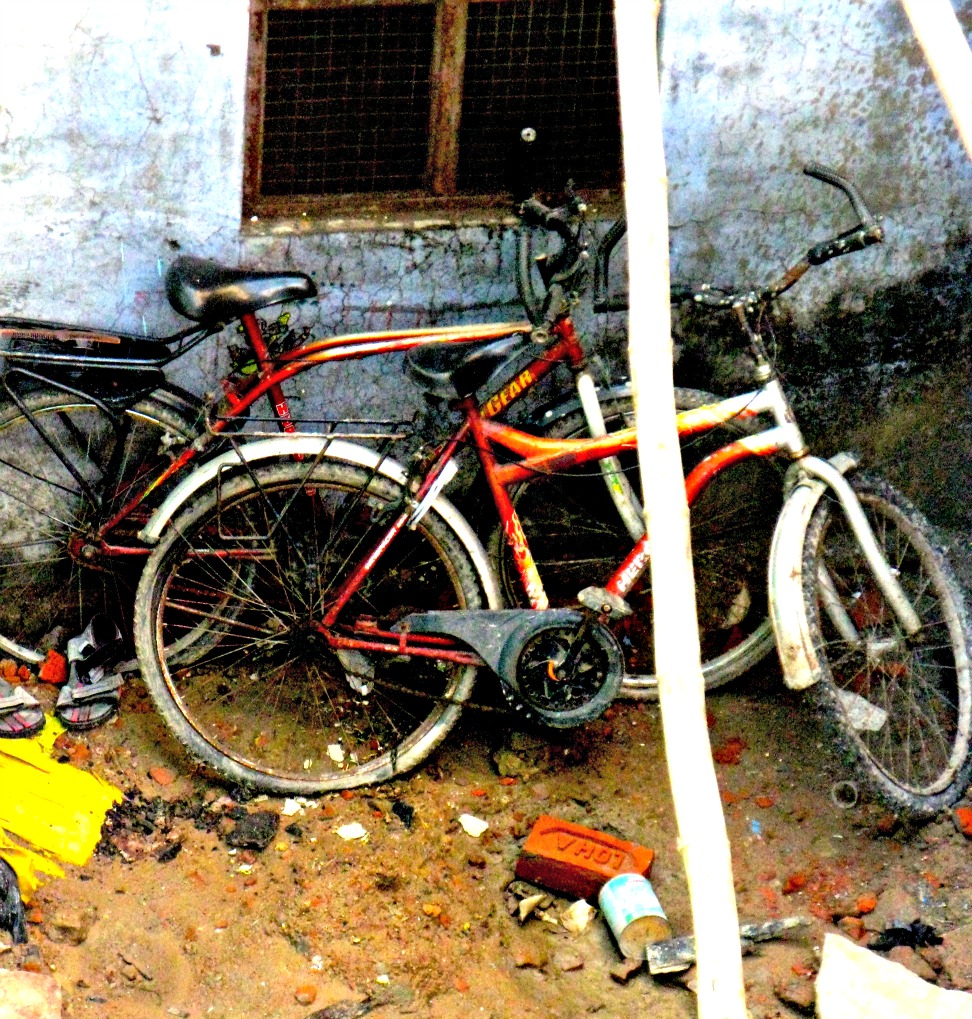 _______________________
After breakfast, we settle into the rooms and I go out on my own for a preliminary exploratory walk along the river.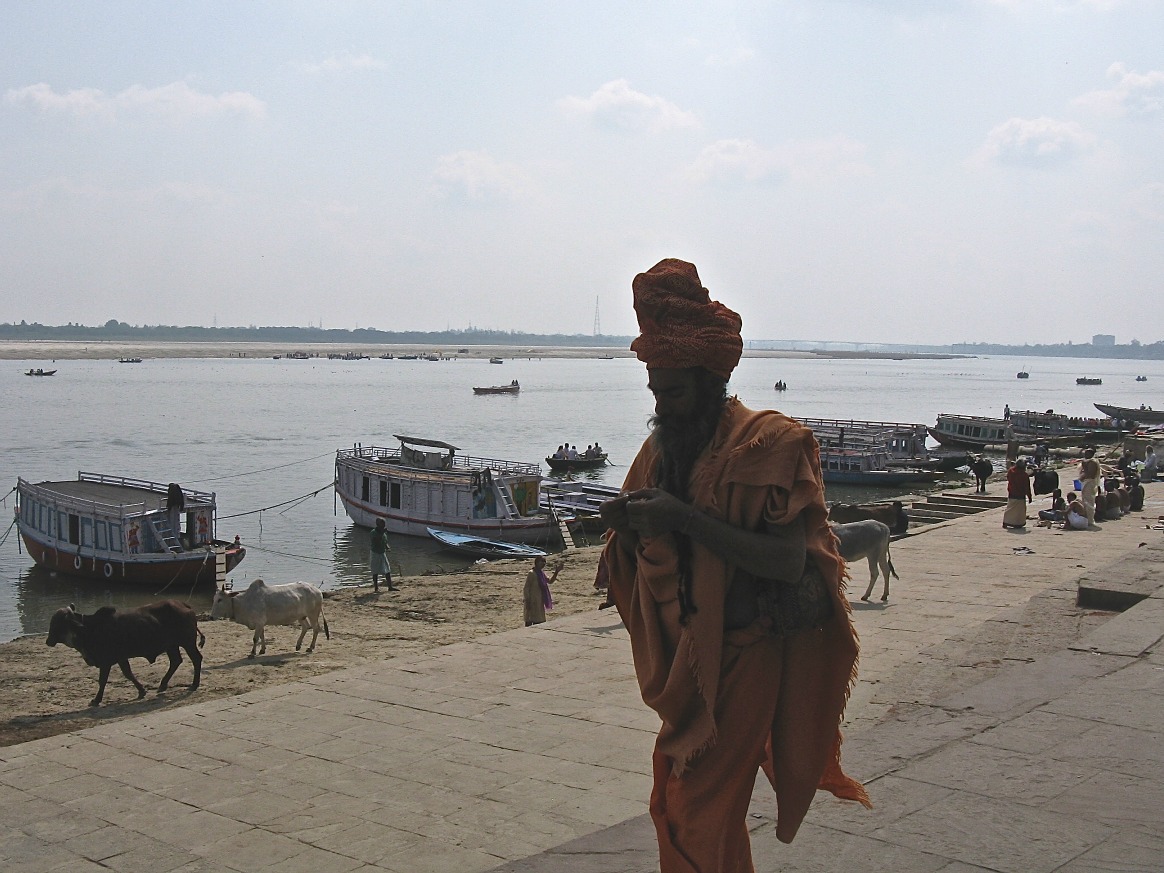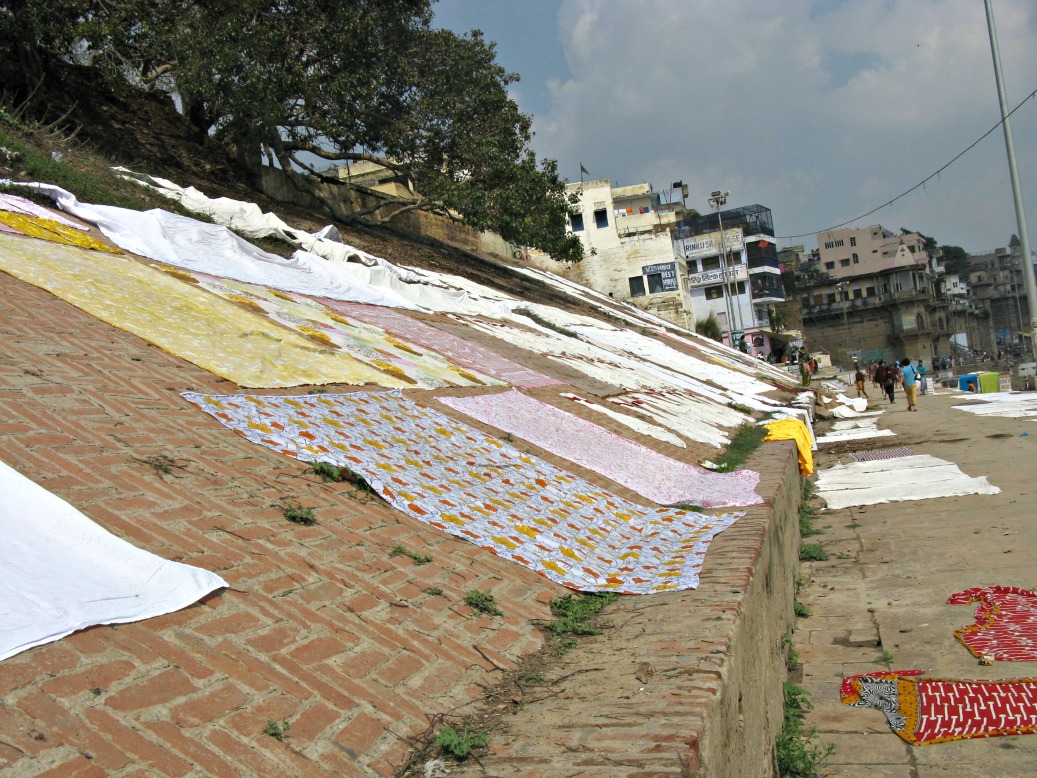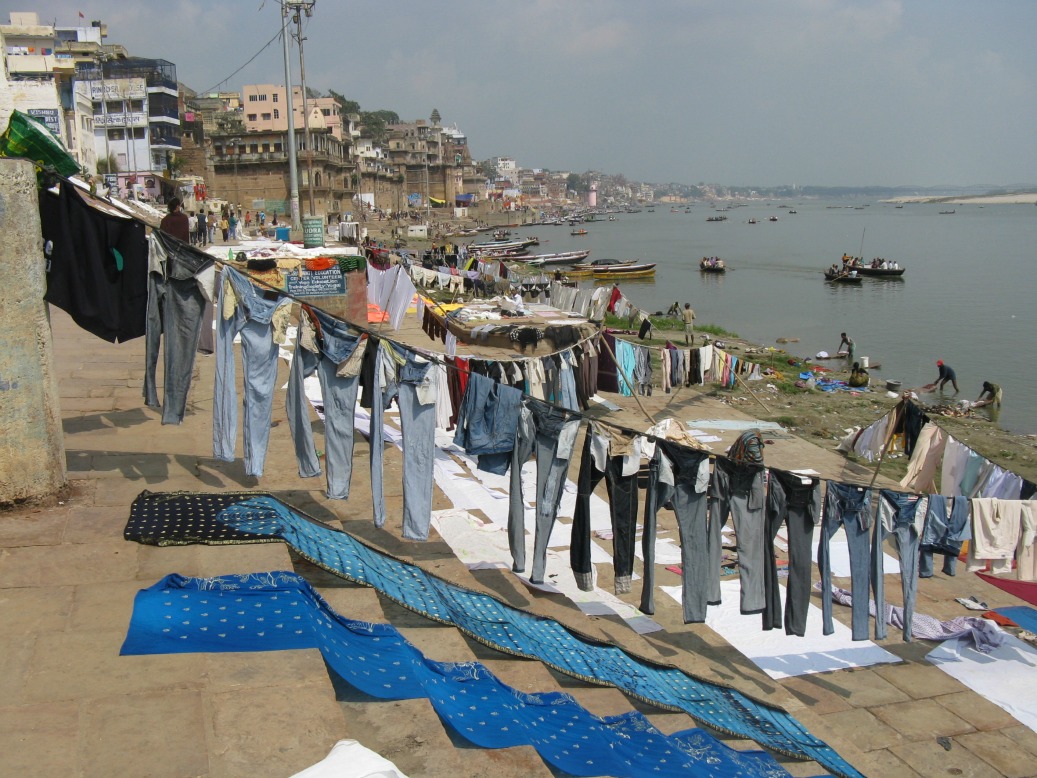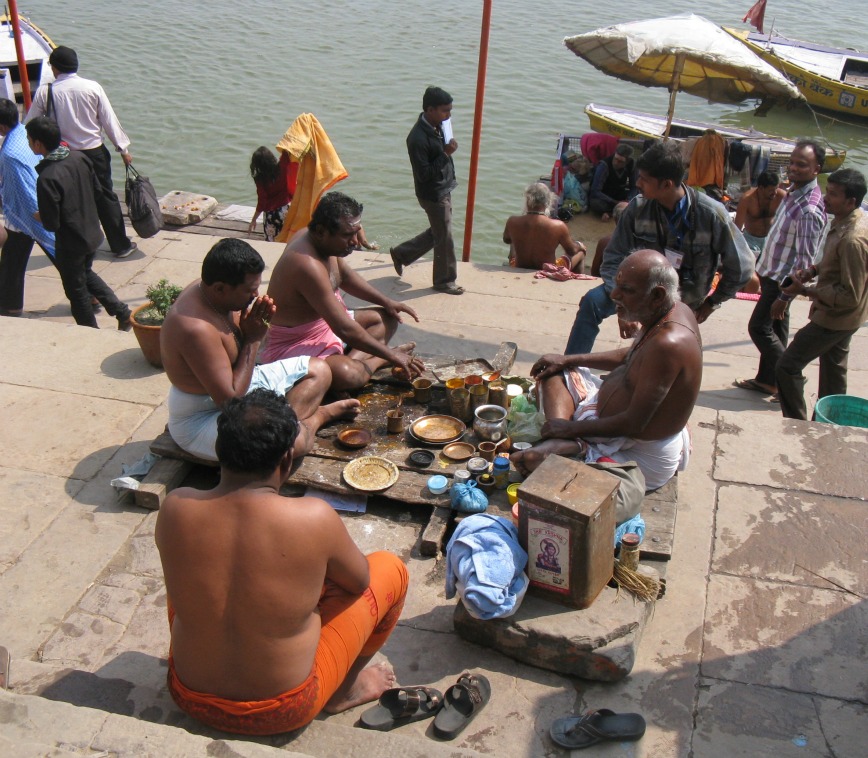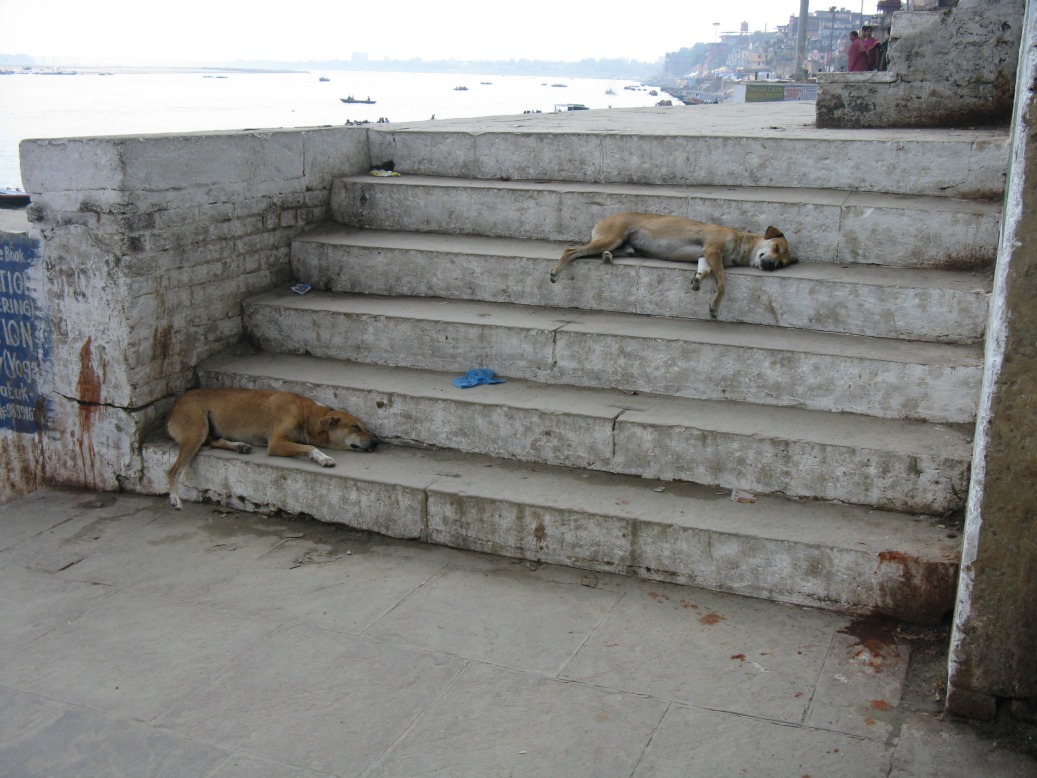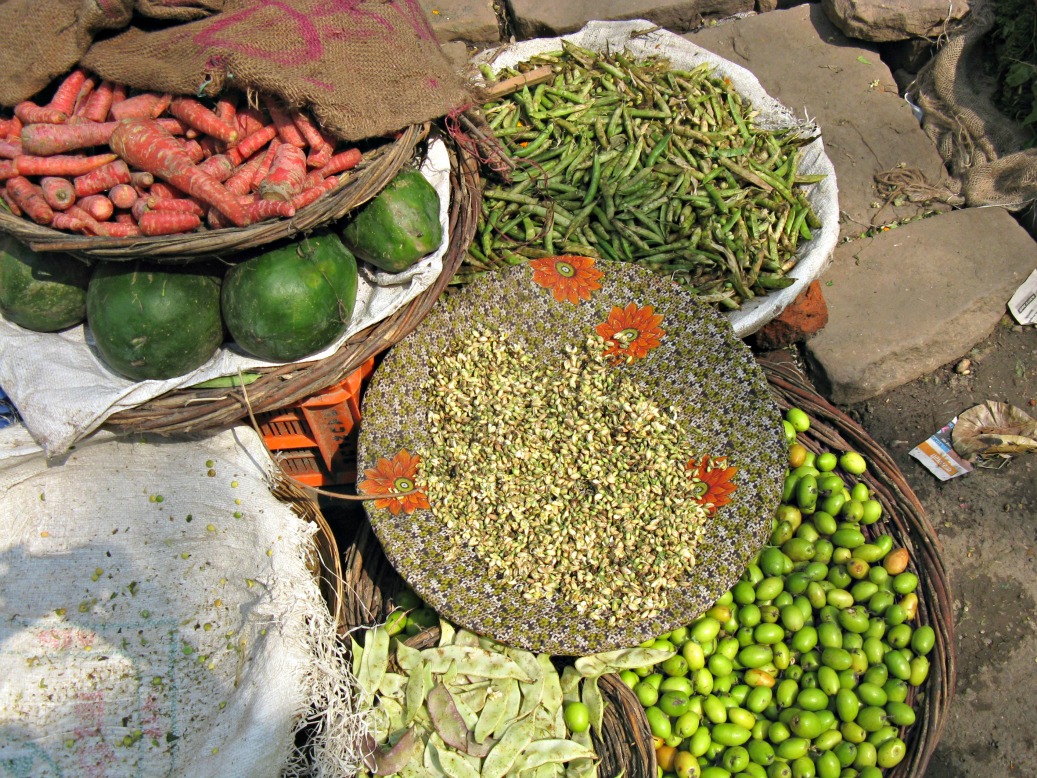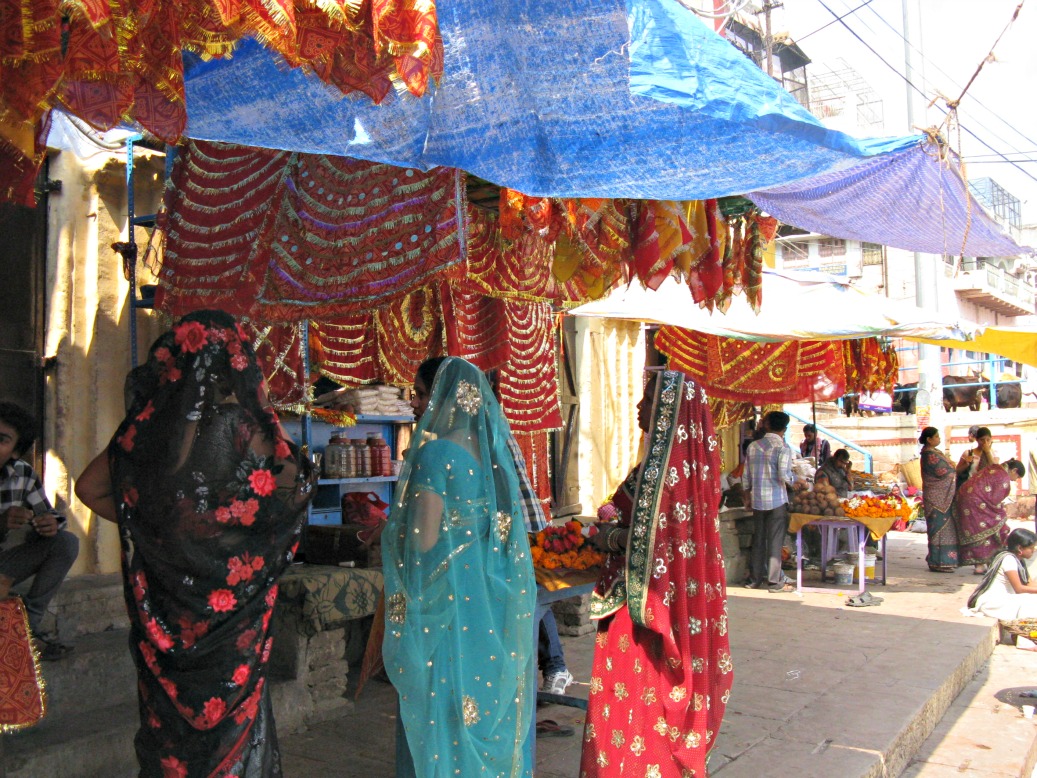 And back to the room. Here's a little tour of the Kedareswar:
<[]<>[]<>[]<>[]<>[]<>[]<>[]<>[]<>[]<>[]<>[]<>[]<>[]<>[]<>[]>
Around 4 in the afternoon, we head to one of the larger temples, the name of which I never get. Perhaps Vishwanath? We walk up out of the rabbit's warren of small lanes that line the river, to a larger street where we are hoping to hire enough bicycle rickshaws for all of us. But there's quite a wait.
In this clip you see Bill, Shea & Heather waiting on the street.
We are having a hard time and we're not sure why. The language barrier is pretty solid. Are we pronouncing the name of the temple wrong? It's supposed to be a huge and well known tourist site. Do we have the street name wrong? Anyway, none the drivers we talk want to take us and the hand gesturing is getting more and more exuberant, the more we try. We finally coax 4 drivers to take us.
This clip is taken from the rickshaw Pam & I are riding in. In front of us, you see Bill & Shea in their rickshaw, and Heather & Dennis in theirs behind us, plus a variety of stills along the route. Anshuman and Vibhash Maharaj accompany on sarod and tabla, respectively:
When we finally get there, it becomes clear why the rickshaw drivers were balking. There is some huge event going on at the temple that has the area completely blocked off from bikes. It's even pretty well impossible to walk through the throng. The cue is so long, we decide to skip the temple, and opt for a long exploratory walk back to the Kedareswar along the ghats. Ghats are more or less "entrances" to the river. A set of steps at least 20 feet across, that go right down to the Ganga. I count about 30 ghats on my Lonely Planet Varanasi map.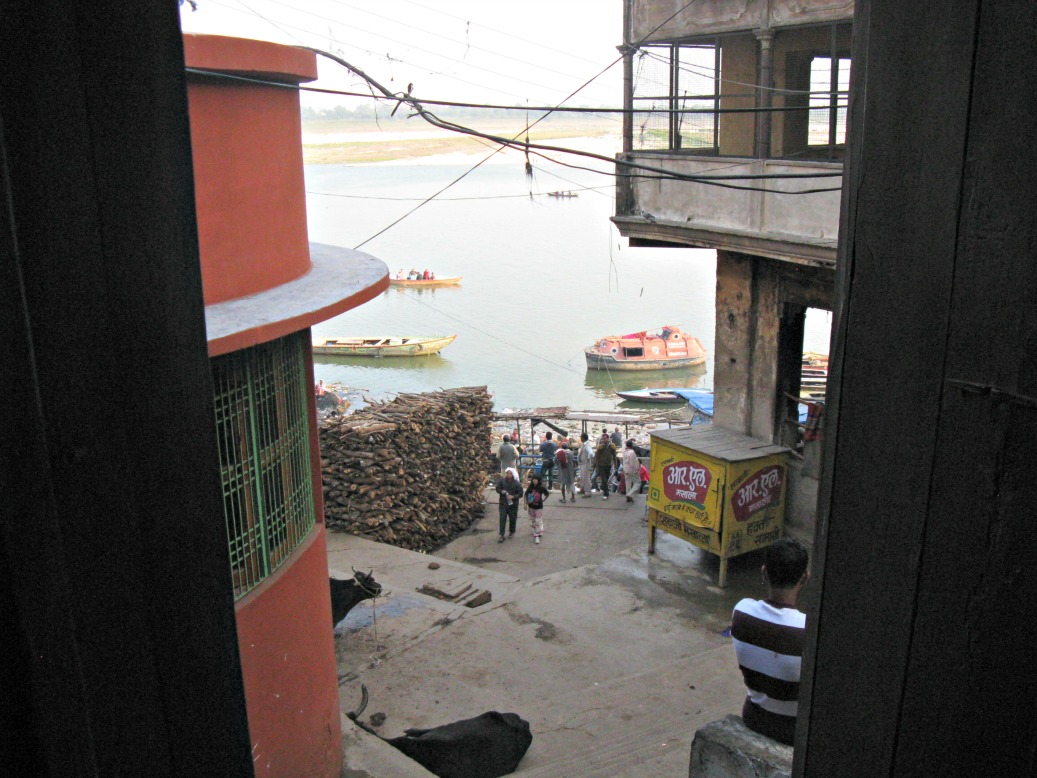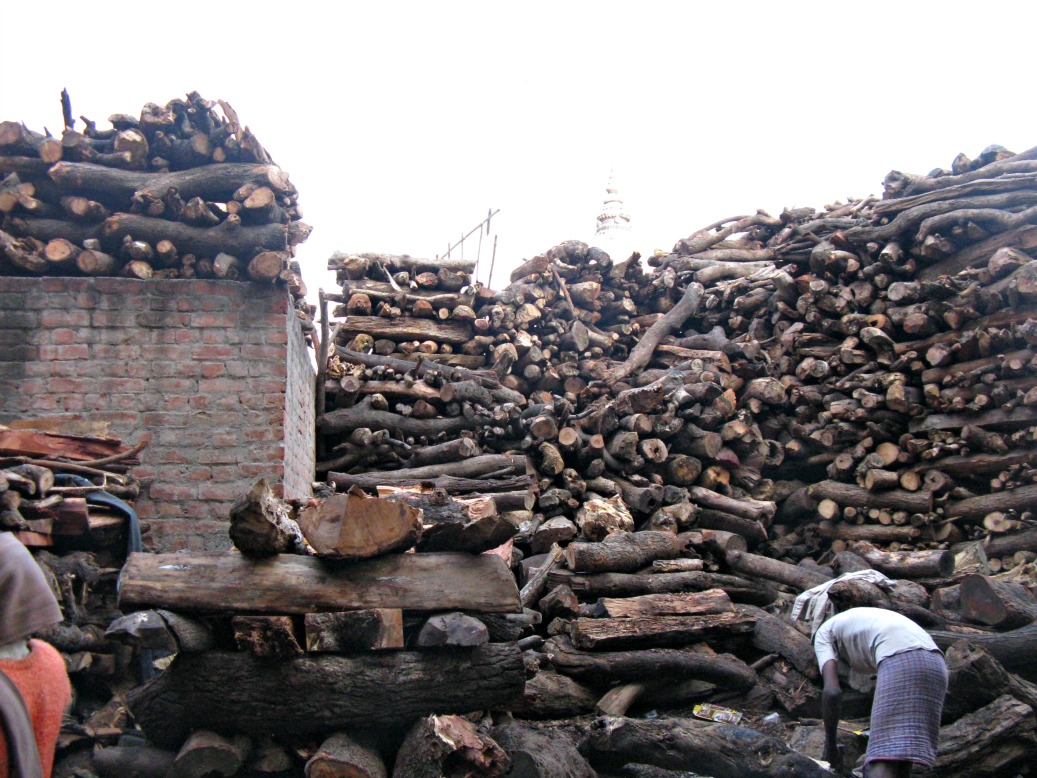 The following video is a string of very short clips.
Bamboo scaffolding

Beautiful little girl who wanted me to take her picture

Street parade. I'm guessing it has something to do with a funeral. Anyone?

Street parade #2. These guys eventually recruited Mat & me to dance with them!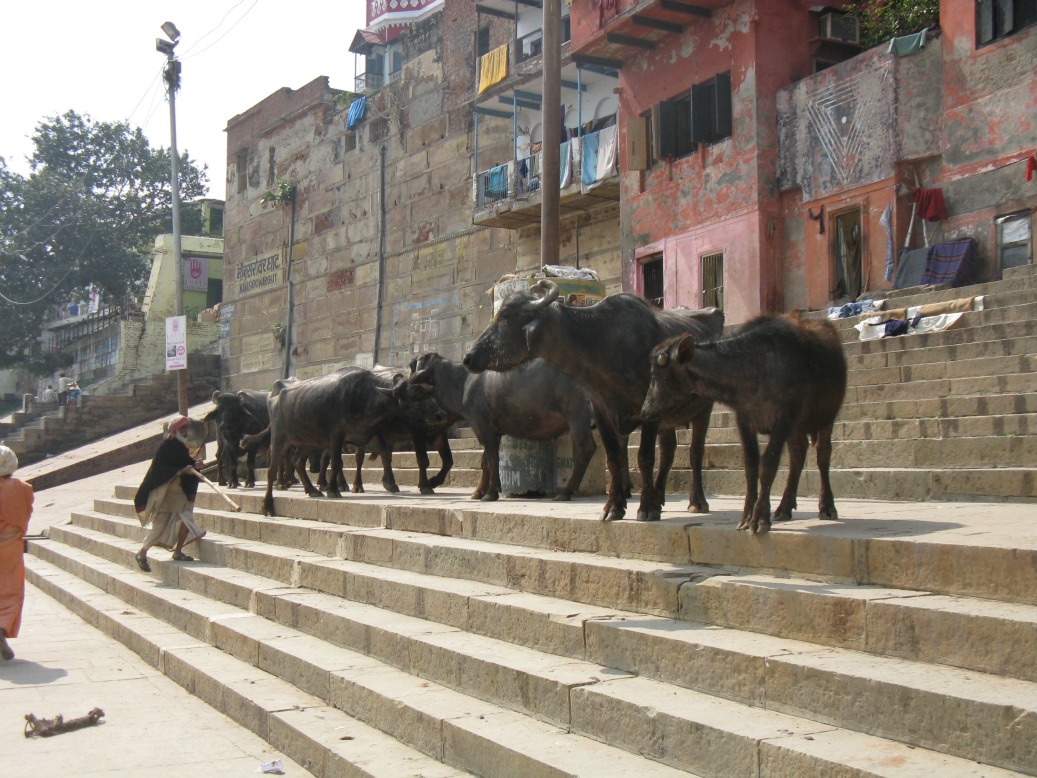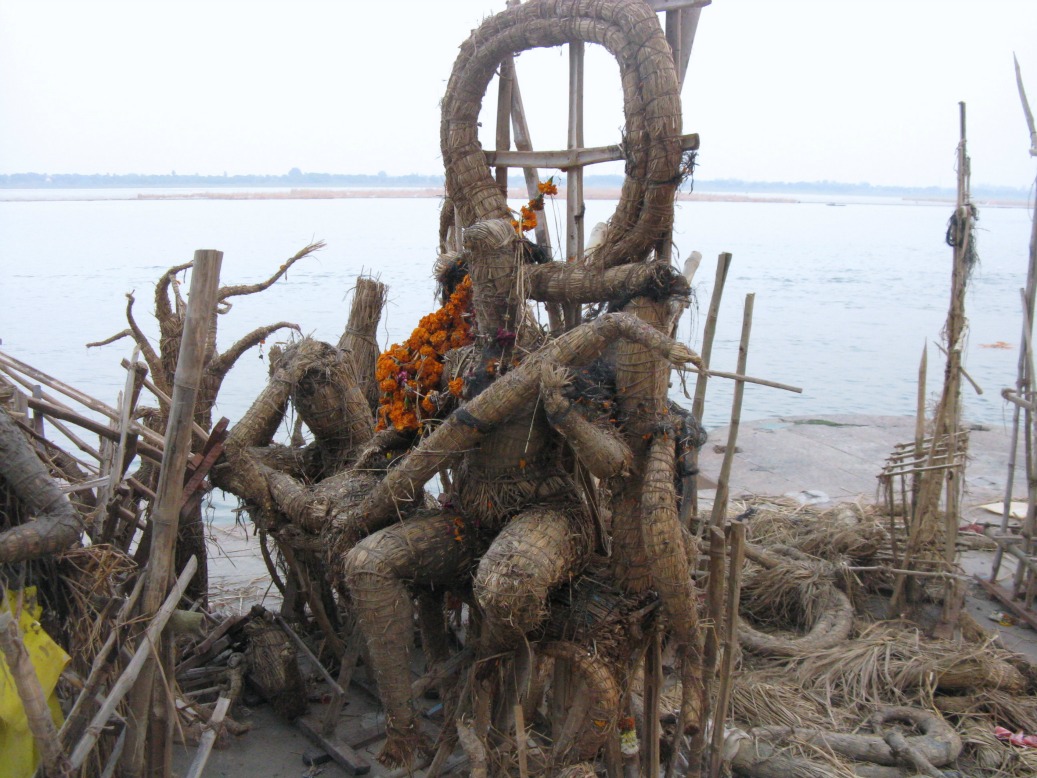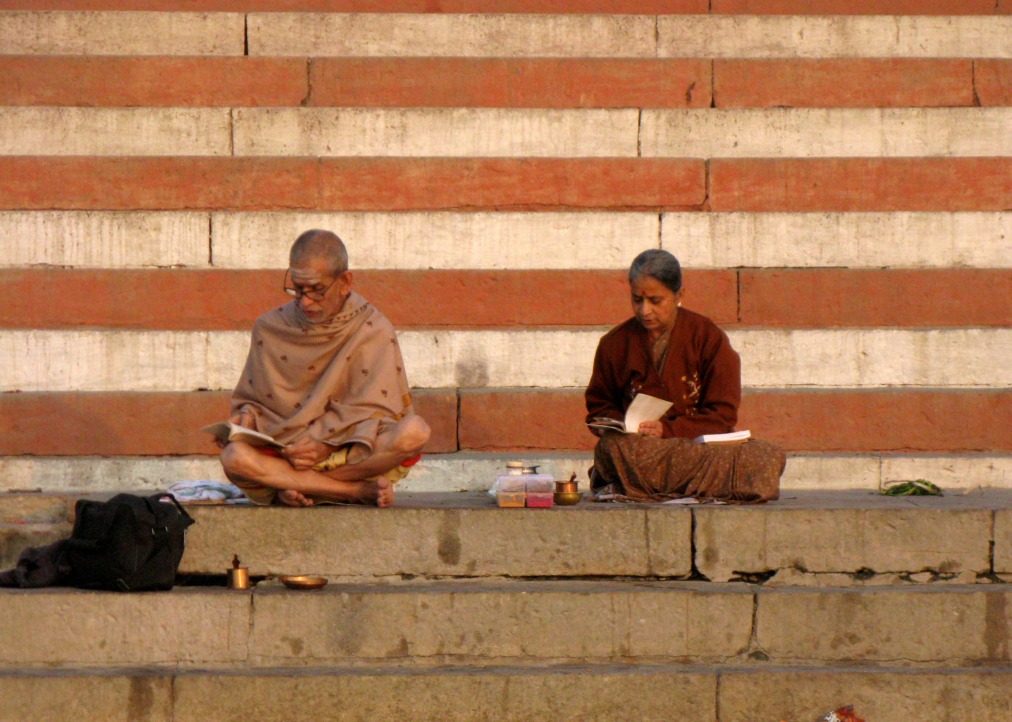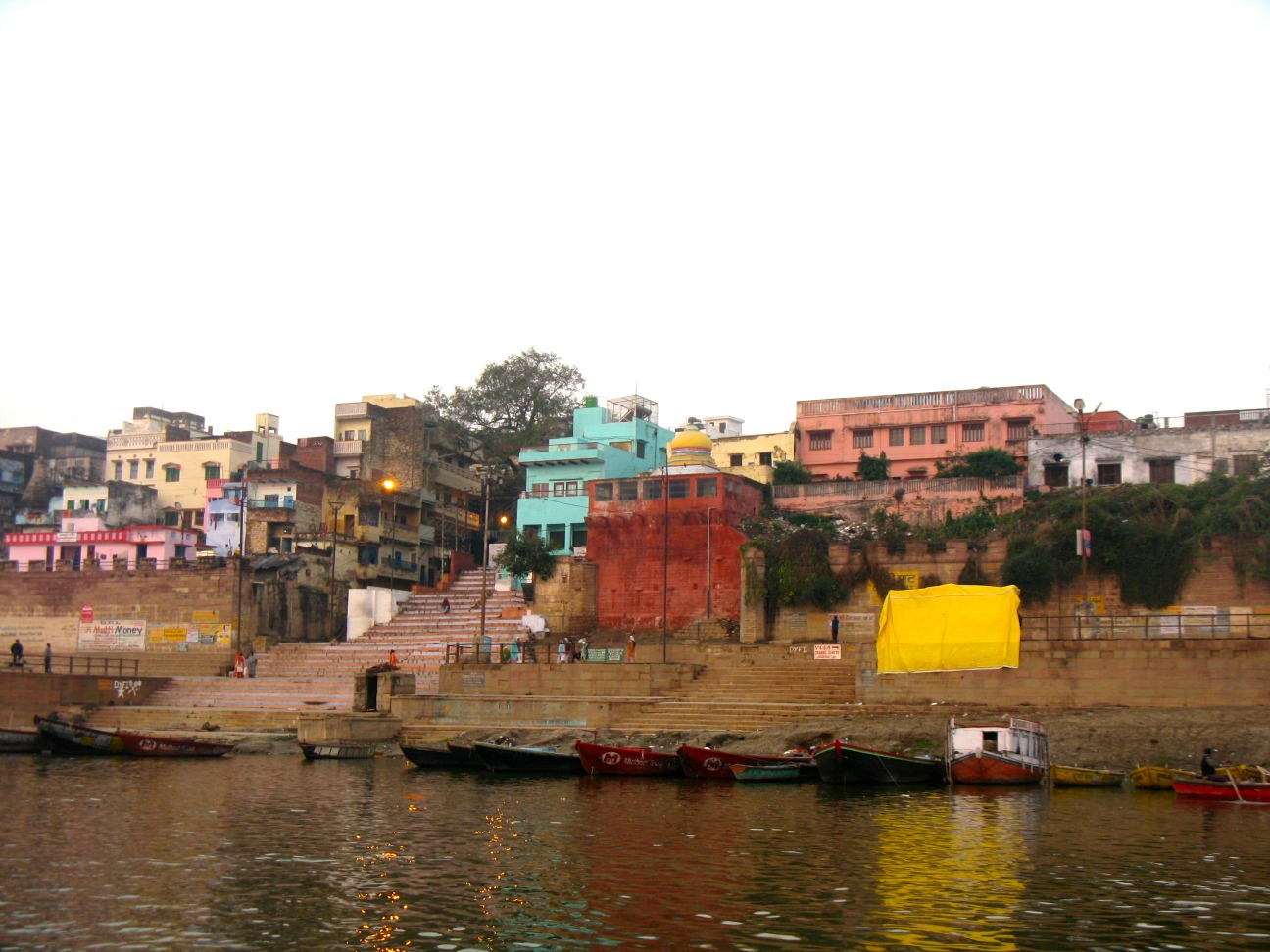 <[]<>[]<>[]<>[]<>[]<>[]<>[]<>[]<>[]<>[]<>[]<>[]

<>[]<>[]<>[]>
Mat is a pizza fanatic. He's been talking pizza for 2 days now. We've heard of a good place – Pizzeria Vaatika Café – down at Assi Ghat, so we break off from the group and head there. We're at Manikarnika Ghat at the north end, and Assi Ghat is on the south, so it's a good 45 minute stroll. More if you want to stop and check things out. Which we do.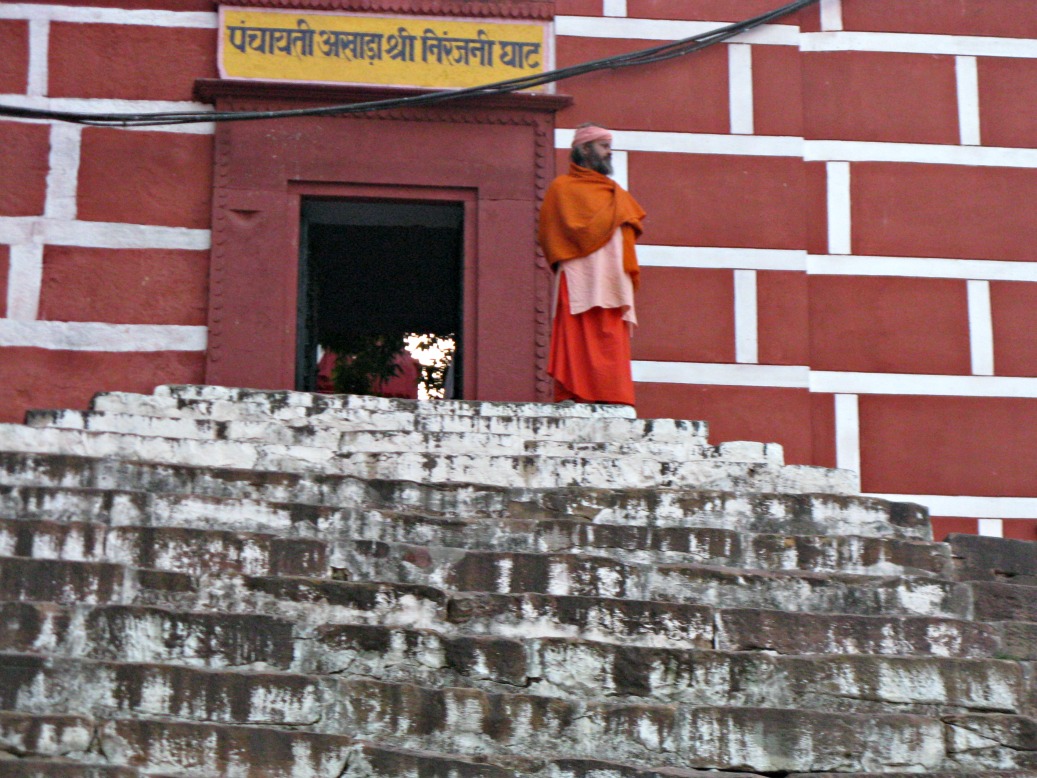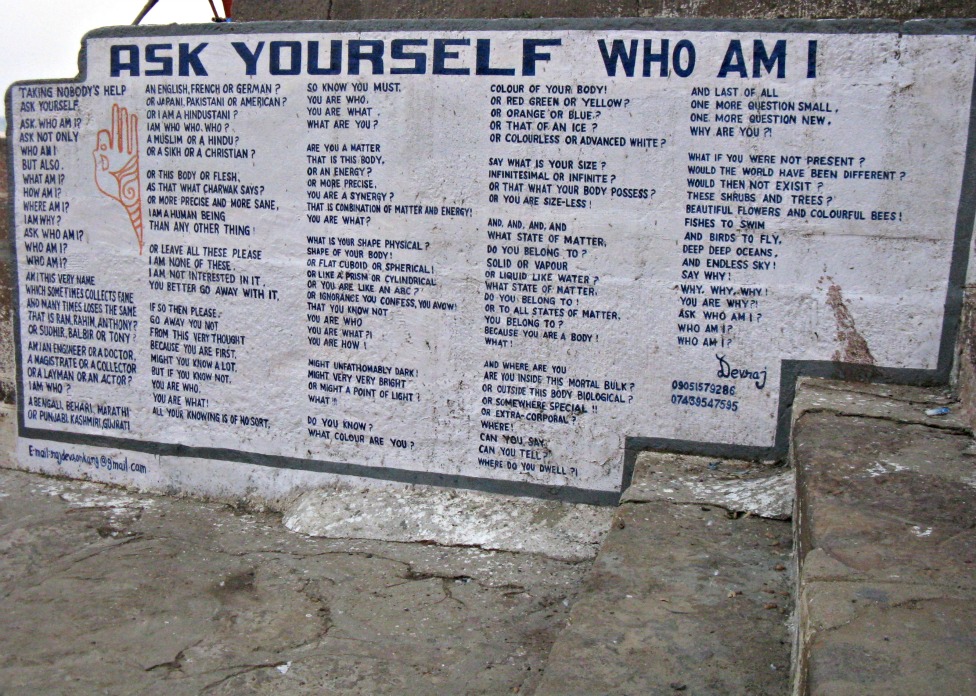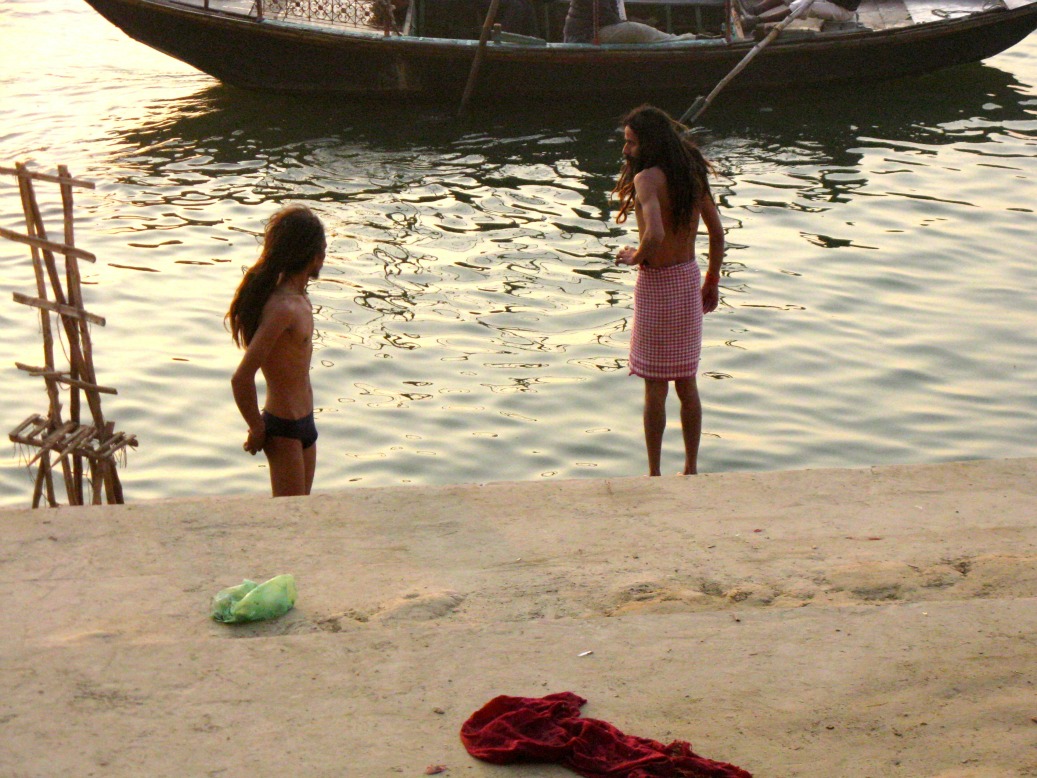 The pizza joint is a terraced sort of affair. Phrases like 'great view' and 'good for people watching' are such understatements, it's an understatement to say they're understatements. The pizza however, is a little bland, but it's a great crust and a nice change from our fare thus far on the trip. I'm so into eating, I don't get any photos. Besides, the electricity goes out as we are leaving so we walk back in the dark. But wait! I have my handy mini, wind-up, battery-less flashlight in my handy lightweight knapsack! So we can at least avoid stepping in the cow dung or twisting ankles on the broken concrete.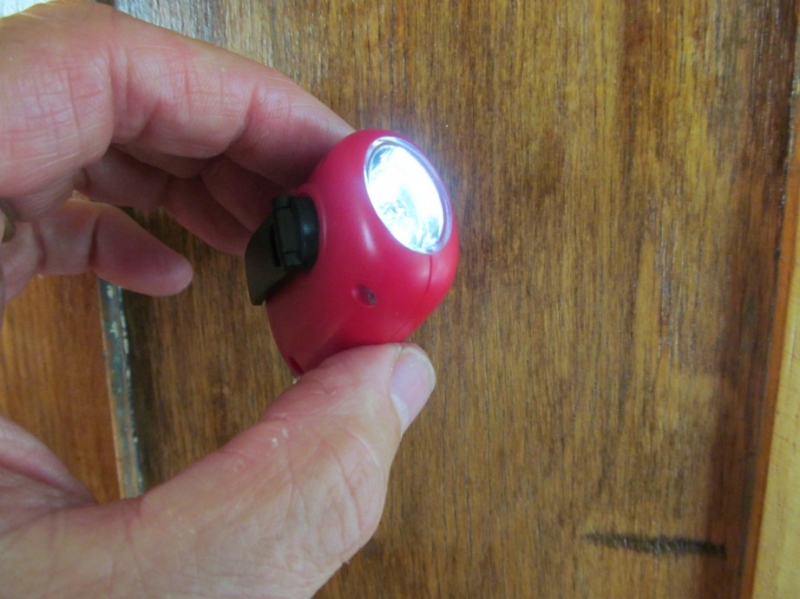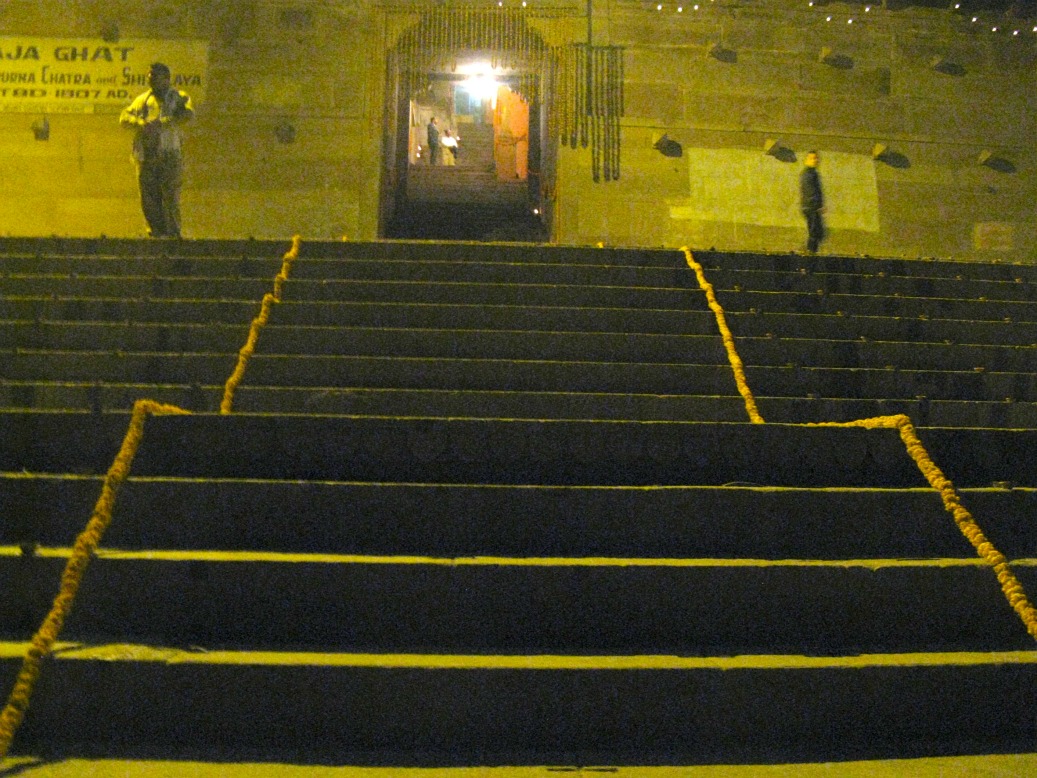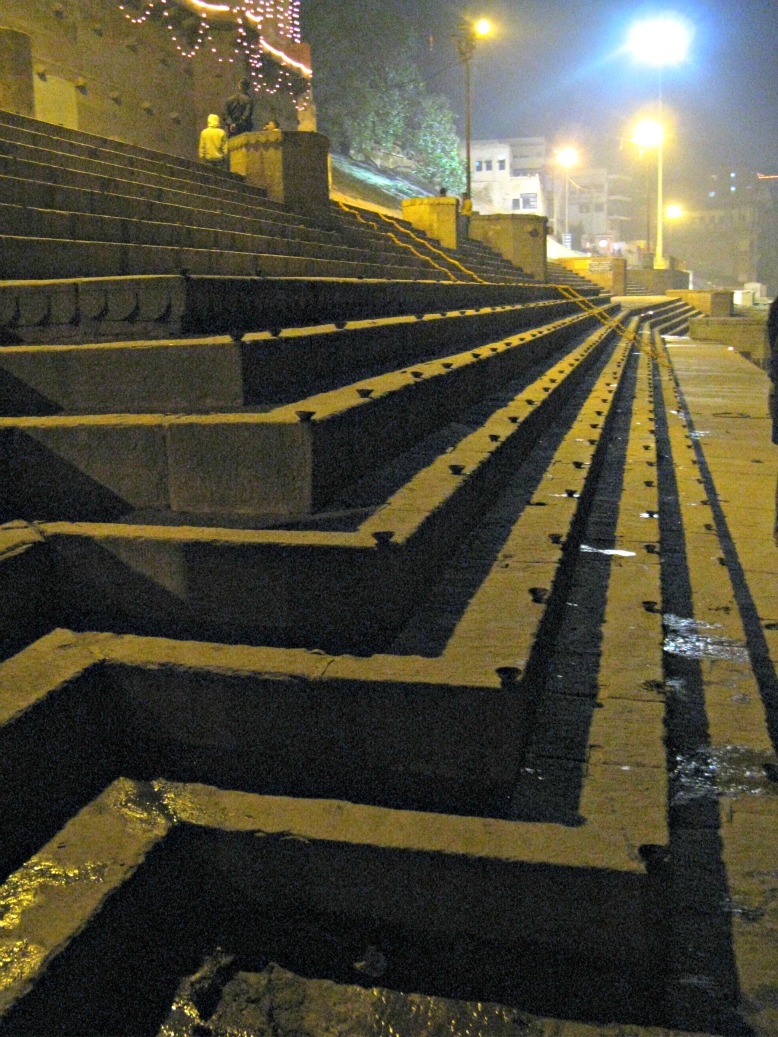 I tell Mat I'm going to head out to look for an internet café up in town that I had seen before. I find it, but, even though some lights have come back on, the power is still down here. So I head out into the maze and find a working one, and enjoy my first Skype contact home with Sharon. I get lost going home to the Kedareswar, but am in bed by 11.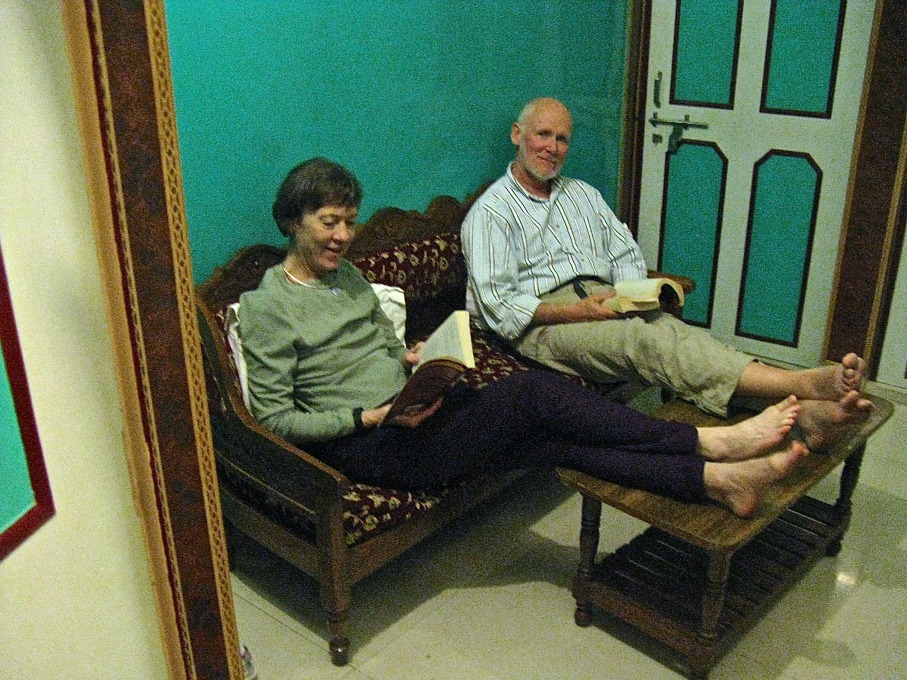 Tomorrow, it's up at the crack of dawn for a sunrise boat ride on the Ganga.
<[]<>[]<>[]<>[]<>[]<>[]<>[]<>[]<>[]<>[]<>[]<>[]

<>[]<>[]<>[]>