Kalimpong Part Two
India 2013
Sunday, March 3:
Kalimpong sits on a ridge between two hills, Durpin (1,372) and Deolo (1,704 m). This morning we're all going to the taller of the two in hopes of seeing the sun rise over the snow-capped Himalayan giant, Khangangdzonga. kang-chen-DZONG-ga. Sounds like a bad Japanese monster flick. Also spelled Kangchenjunga, it's the world's 3rd highest.
When I say "we're all going," I mean all minus 1. I'm afraid Mat's been sick and doesn't rise at 4:30 like the rest of us. Maybe not such a bad move, Mat. It's dark and looks pretty hazy, and we're all hoping it will burn off. After a 9-k/half-hour jeep trek, we arrive in the dark. As the sky turns pinker and pinker, it dawns on us... or rather, it becomes clear to us, that the sky will not. Become clear, that is. Through haze, haze and more haze we wait in vain, wrapped in shawls or blankets in the chilly air. Directly above is nothing but bright blue and a crisp half moon, but at the horizon there's is nothing but an indistinct outline of a not very far-off hill.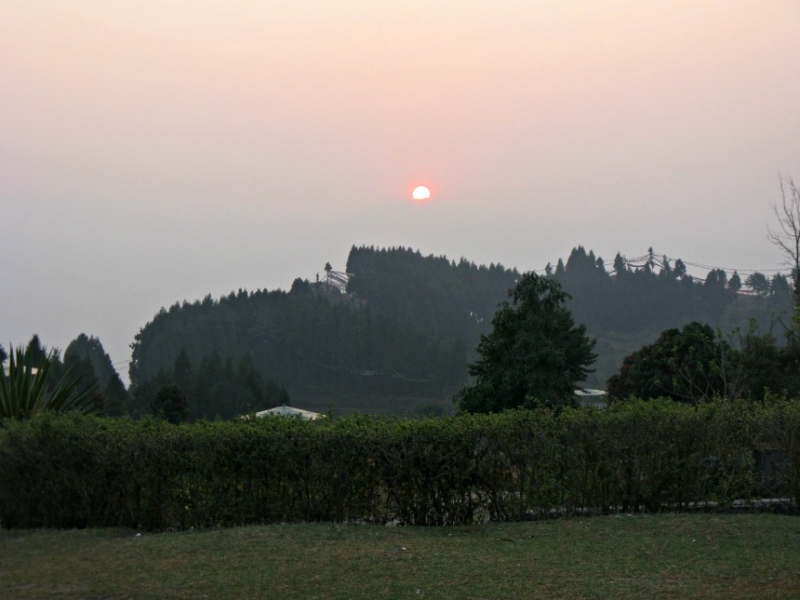 Fortunately the grounds are lush and exotic, as is the birdsong. Darrol's low om mani padmi om helps warm up the nip in the air. It is peacefully beautiful, but we leave soon after sunrise, knowing it will be hours before the haze burns off, if at all.
.
<[]<>[]<>[]<>[]<>[]<>[]<>[]<>[]<>[]<>[]<>[]<>[]<>[]<>[]<>[]>
Back in town, I go for a Sunday morning walk. It's a gorgeous day. Kalimpong is certainly cooler than Kolkata, but nonetheless, shorts and t-shirts are in order.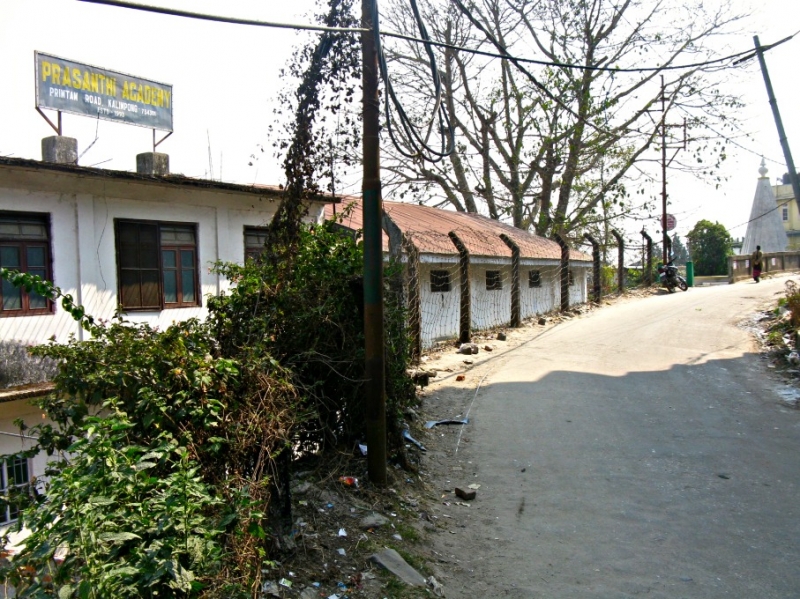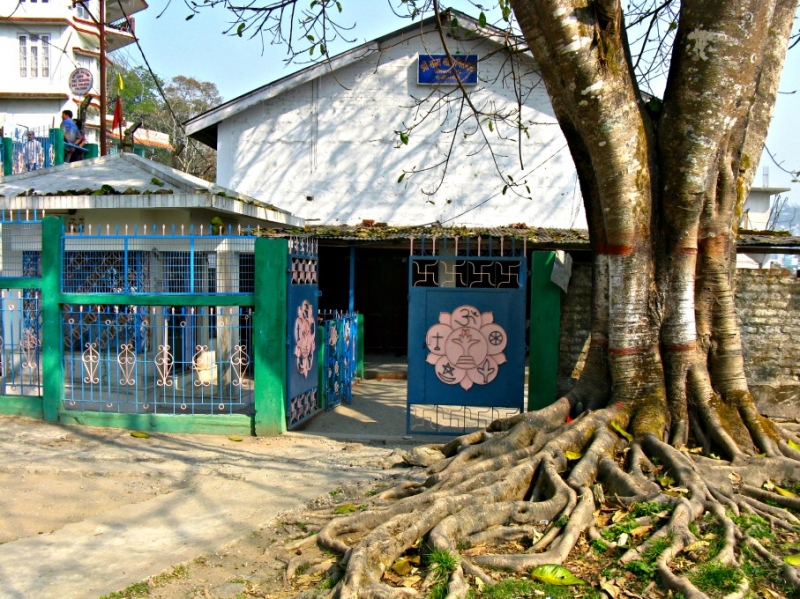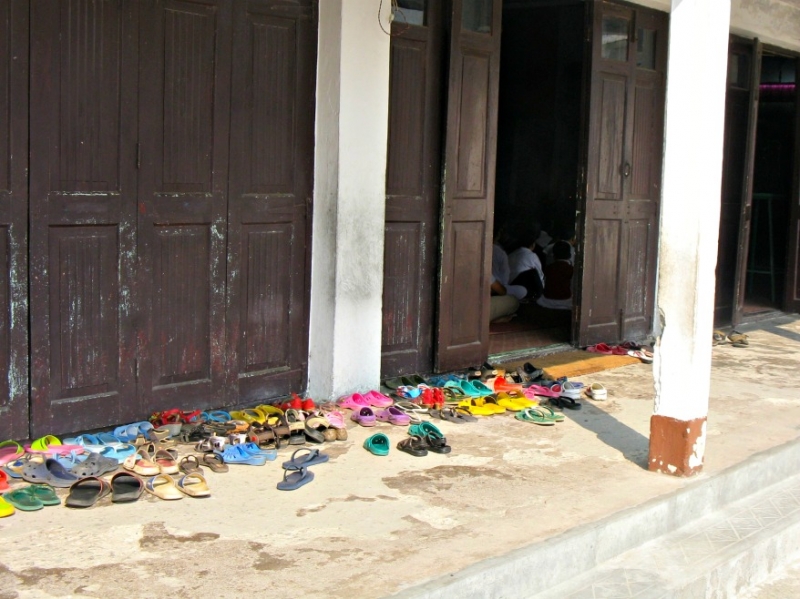 Still shy to intrude, I sit on the floor at the very back.
There are probably 75 kids, seven to eleven years old, all dressed in white and singing bhajans. Images of Sai Baba are on the walls.
.
<[]<>[]<>[]<>[]<>[]<>[]<>[]<>[]<>[]<>[]<>[]<>[]<>[]<>[]<>[]>
A little walking, a little internet cafe-ing, a little napping, and it's afternoon and time to go with the gang to Thongsa Gompa, a monastery established by the Bhutanese in 1692. That's 200 years after Columbus sailed the ocean blue. (And 321 years from today)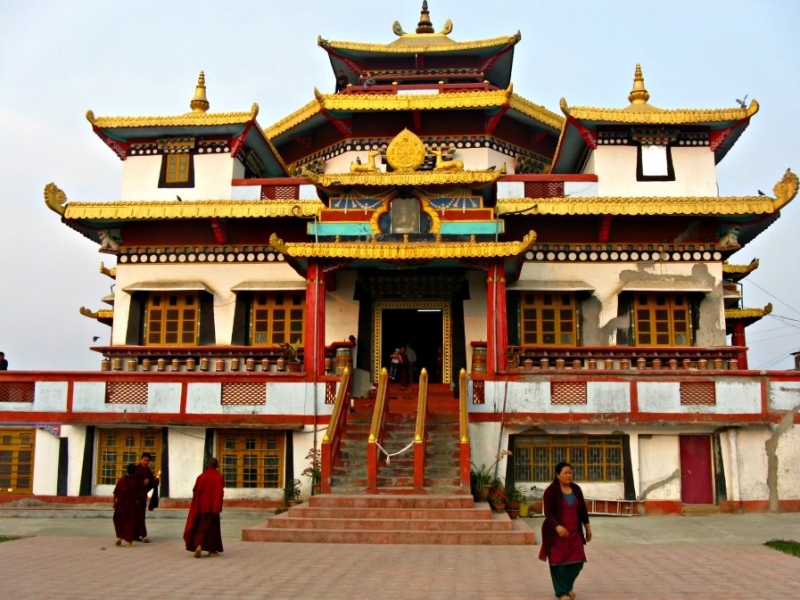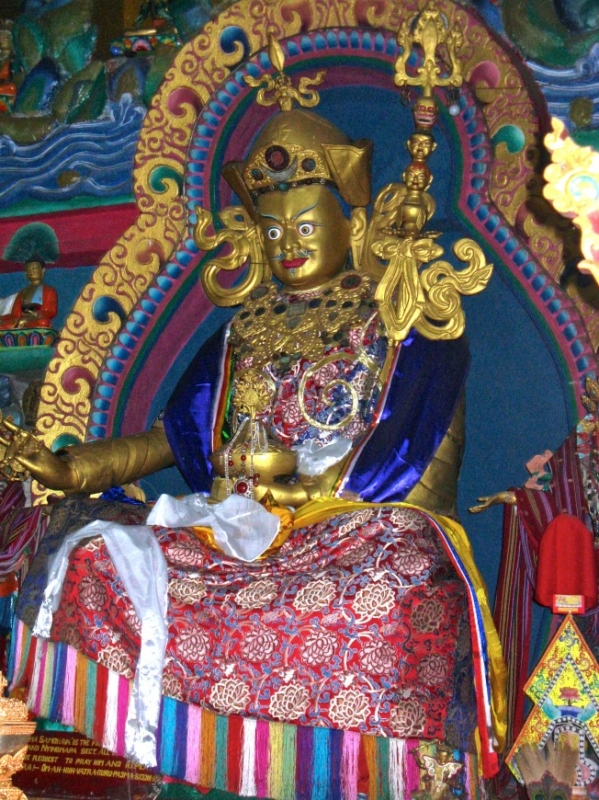 Question: Who was Padmasambhava, the "Lotus-Born"?
When I ask Samdup, he tells me the story of centuries ago, when the Tibetans were having a hard time building temples. (I hope I got this right, Samdup!) They kept getting destroyed somehow or other. So the King sent a message down to Padmasambhava in India to please come up and help. He agreed and, with his great wisdom, compassion and skill, he made a deal with the spirits: They wouldn't have to suffer any longer if they would stop their negative interference and help with the constructing of the temples. And voila! Tibetans now have Buddhism.
I ask Darrol, and his version has to do with Padmasambhava outsmarting the leaders of the Bön religion (an early shamanistic Tibetan belief system), and getting them onside with the upstart Buddhists.
Fact, fiction, myth, reality? Who knows? But, see how fun it is not knowing anything? You get to talk to interesting people, hear cool stories, imagine answers, try to make sense of things, but still not really know anything. Confusion can be fun, so long as you're not expecting something else.
The following video's a bit long at 3:20, but worth the watch. If the visual doesn't keep you interested, the soundtrack will. And if you absolutely MUST move on, at least check out the youngster monks in the last 30 seconds.
Even though this puja is a moving and mysterious ritual, I love that, wherever you go, kids are kids. I trust this video won't get anyone into trouble!!.
.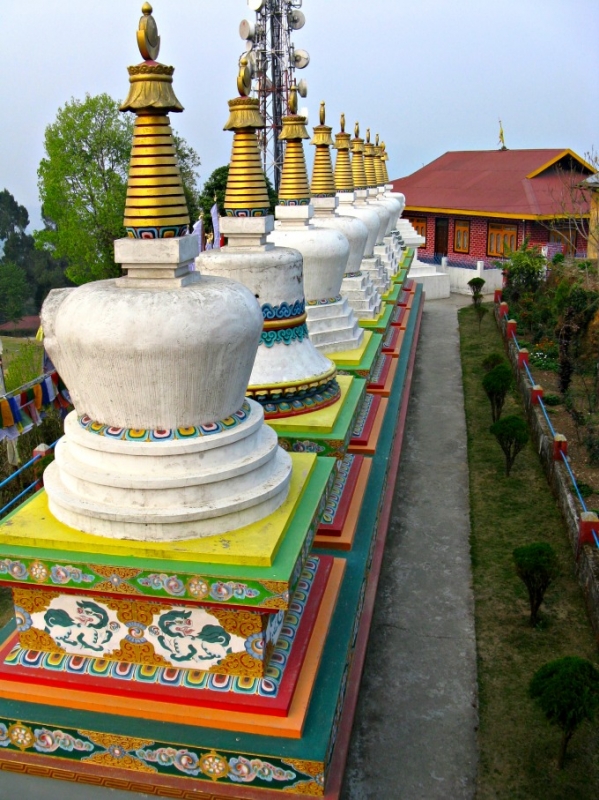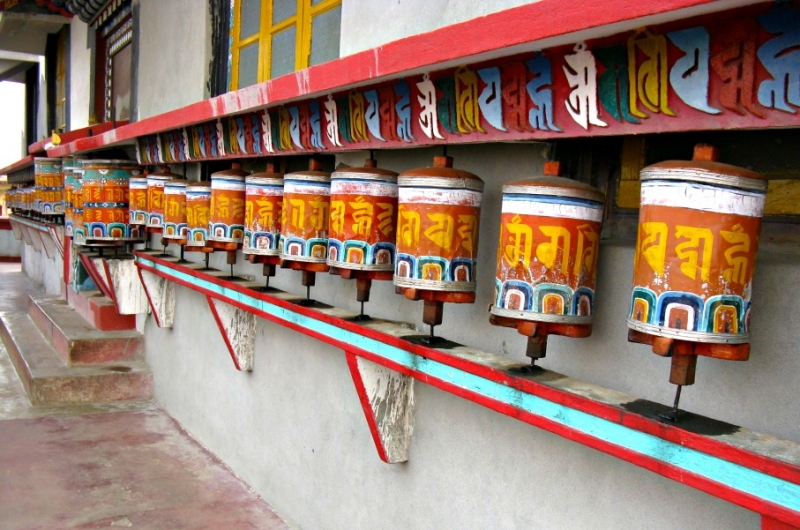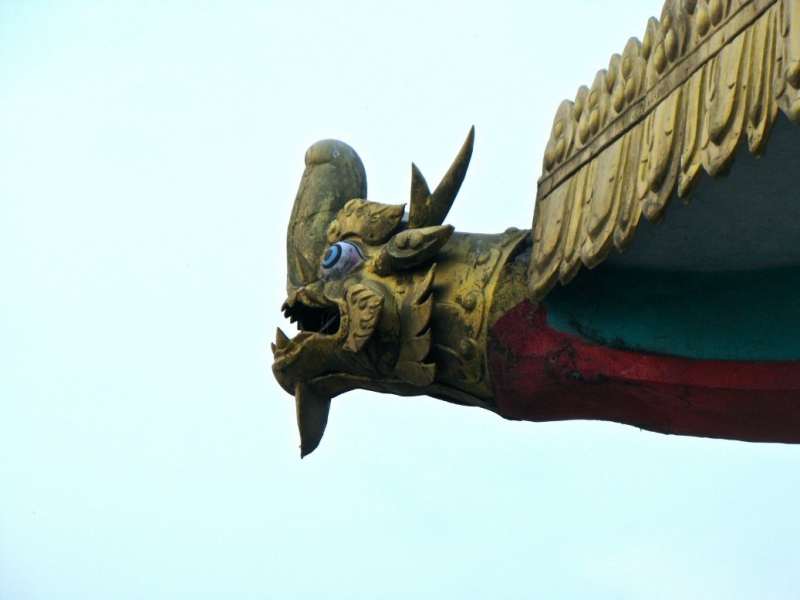 The Monastery has stairs outside that go up two storeys. The view of the valley below is inspiring. The soundtrack in the following collage of movie and stills combines chanting and bells from inside the monastery with some beautiful traditional singing from my friend and Tibetan music teacher, Dorjee.
Evening's upon us. Dennis has strep and Darrol's not feeling well. The good news is Mat's been improving. Me, I'm on the verge and it's been a very long day, so early to bed.
.
<[]<>[]<>[]<>[]<>[]<>[]<>[]<>[]<>[]<>[]<>[]<>[]<>[]<>[]<>[]>
Monday, March 4:
Worst night's sleep yet. 10:30 to 2 a.m. no problem. Then, poor Dennis snored unstoppably from 2 to 4:30. I think I got another hour or so's sleep, then wide awake at 6:00.
At 9-ish, we have a logistic's meeting about the big show being put on for us tonight by Samdup's troop, and about changing hotels later today. Darrol had not been able to reserve 4 nights at the Tress, so he took what he could get in order for us to be close to Dogah and family. We will be moving to Holumba Haven for the next two days.
The group time will be finished day after tomorrow. I have decided more or less what the rest of my trip will look like. After 5 days with the Kay brothers in Kolkata, I will head for Dharamsala, home of the Dalai Lama and thousands of other Tibetans in exile, for at least a week. So I will use today to book the complicated 2,000 kilometre journey and to explore the main streets of Kalimpong. That's about the same distance as Toronto to Winnipeg, only it will involve 2 hours in a jeep, than a plane, an all-night train, another 6-hour bus or train, depending on factors I won't go into right now, and another 2-hour bus. I think. More or less. Give or take. So daunting. So exciting!
I have been told that Mintri Transport is the best travel booking place in town, so I head there and am served by the lovely and knowledgeable Baynu, daughter in the family business.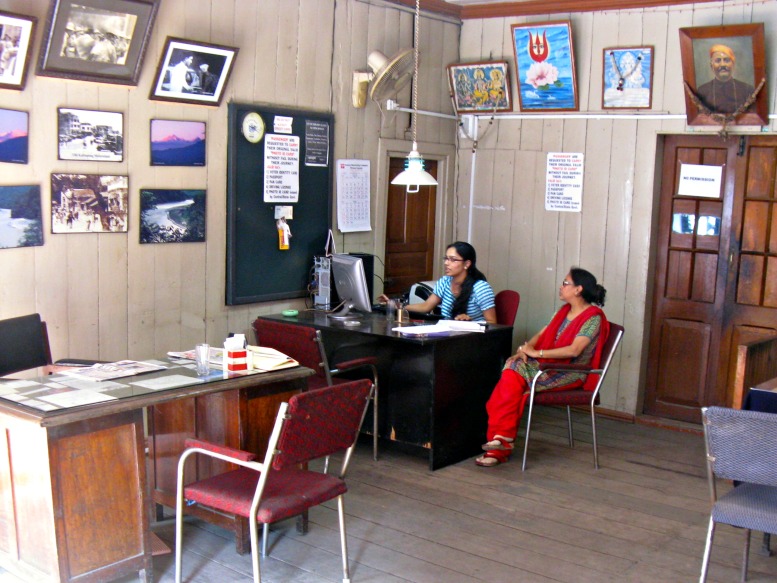 We book the plane and bus, but my train booking can't be completed today. The India Rail website is so busy it's glitching, and it closes for a few hours every afternoon(!) So she'll have to reserve it for me later and I'll come back tomorrow to pick up the tickets. However, we do manage to find out that - since I'm late booking this - there are no more 2AC Class seats left, so I'll have to travel in Sleeper Class. No AC, no bedding supplied. I'm sure I'll survive. Baynu asks me for a Rs 4,000 deposit on an 8,700 bill and I give it to her. No receipt necessary. It just feels that honest sometimes in India.
Here are a few shots from my walk around this beautiful little town: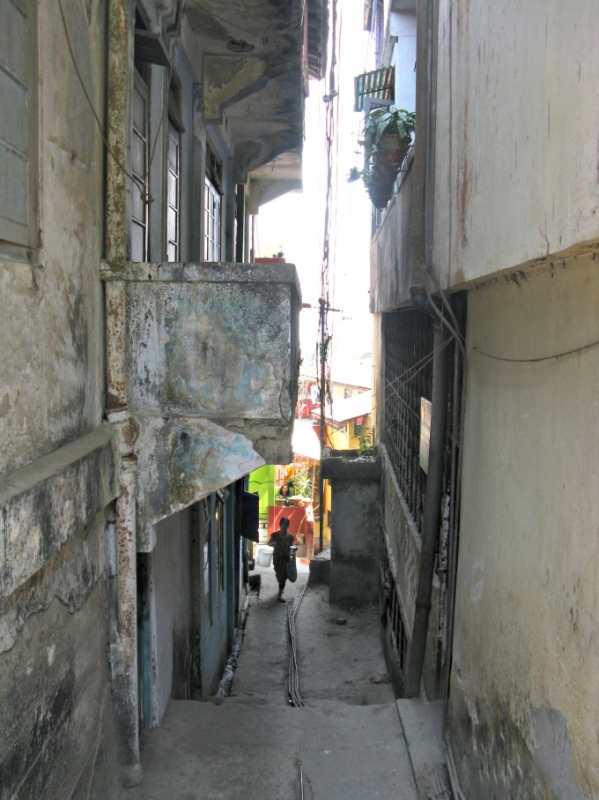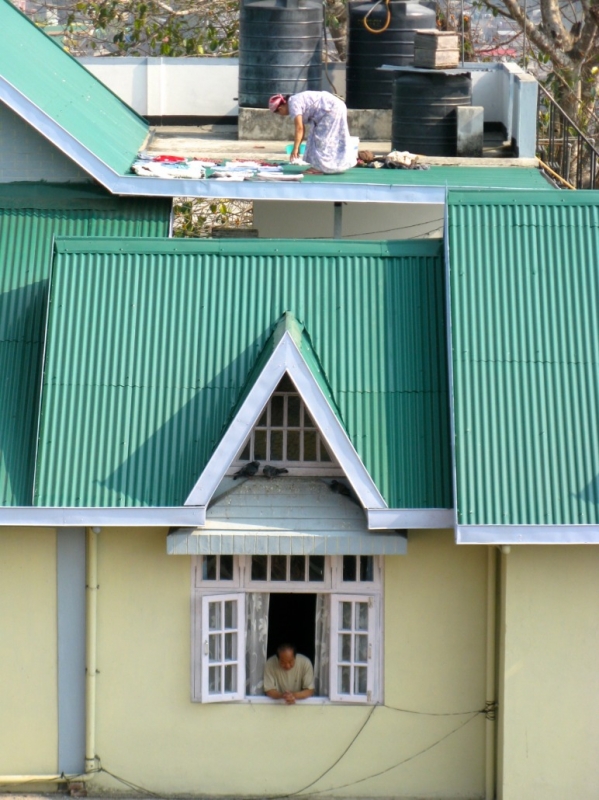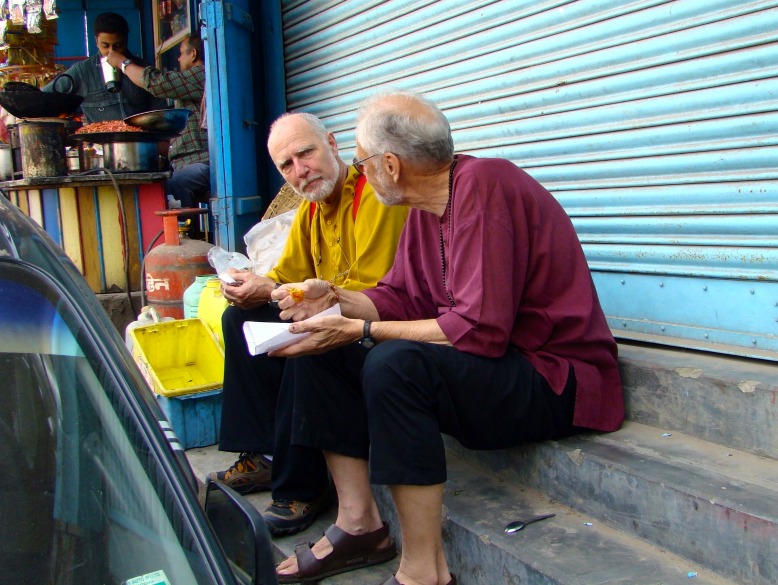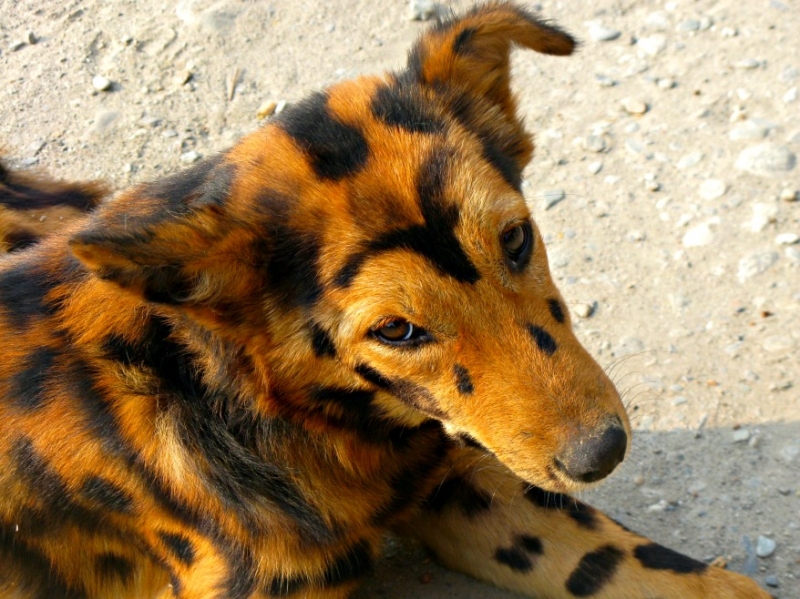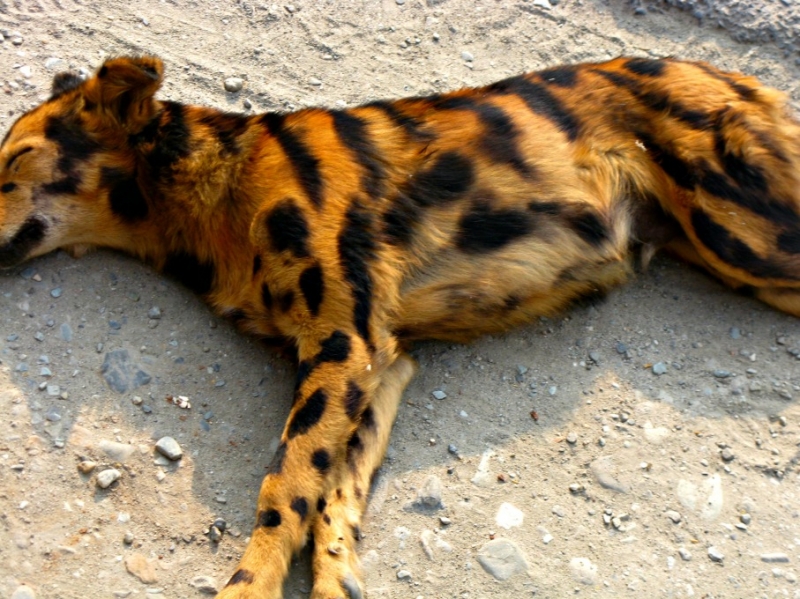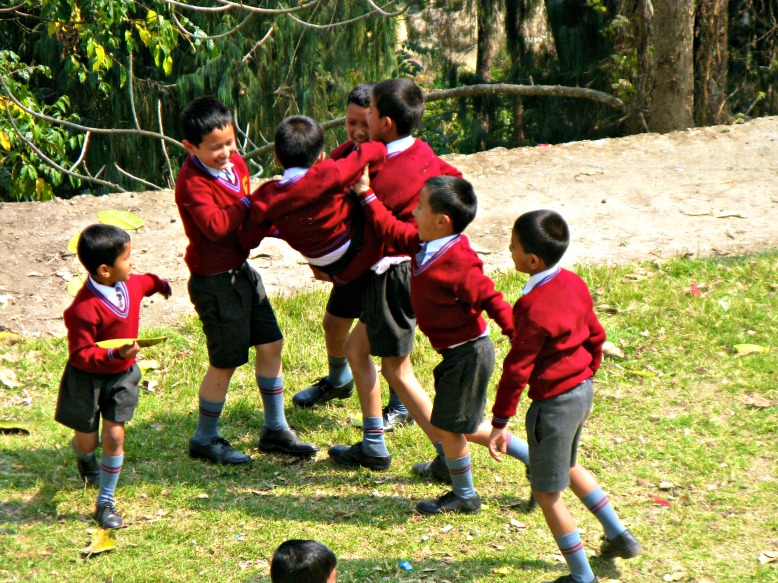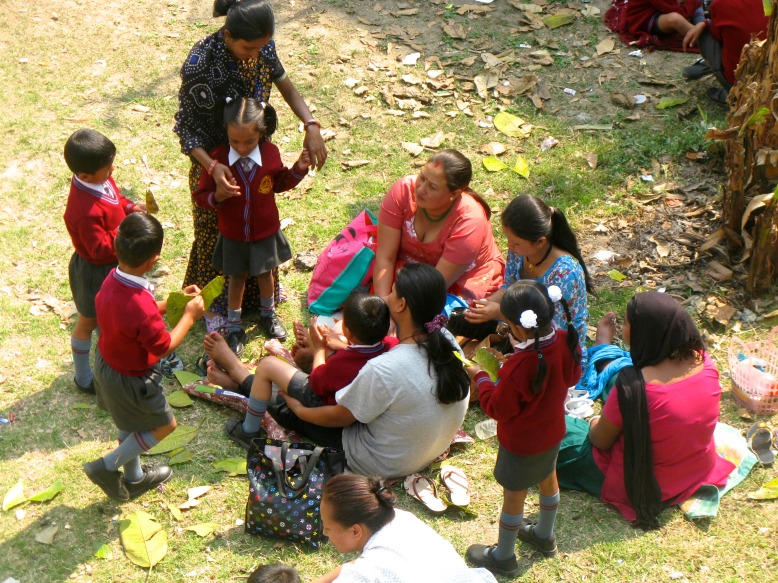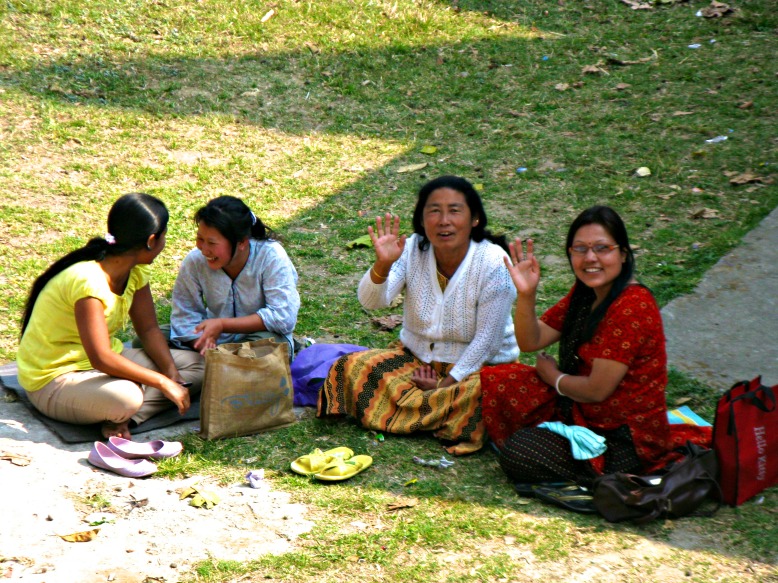 Around 2:00 we Jeep everything over to the Holumba Haven.
.
.
<[]<>[]<>[]<>[]<>[]<>[]<>[]<>[]<>[]<>[]<>[]<>[]<>[]<>[]<>[]>
.
The Show
Not every tour group gets an evening's entertainment put on specifically for them. And if they do, it's Vegas-style and about as unique as Wonder Bread. Tonight, Samdup has rounded up anyone in his troop that isn't out touring, plus some of the senior students, to give us their best.
The show will take place in the area between Dogah & Dechen's house and the Hotel Tress; the same place where the Nepalese wedding was held yesterday. Samdup has been working all day setting up the PA and his stunning backdrop of Potala Palace.
Tuning up. The lute-like instrument with the huge tuning pegs is the damien (a.k.a. dranyen) and the big box on the stand is hammered dulcimer. It somehow made it's way from Appalachia to China, then to Tibet. I think Christian missionaries were involved.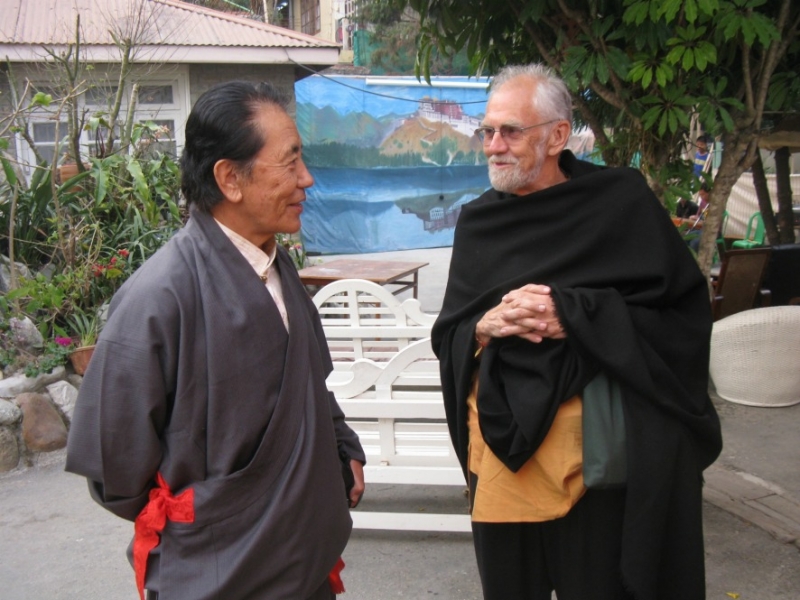 The white scarf, or khata, symbolizing purity of intention and aspiration, is a traditional offering in Tibetan Buddhism. Here it is being offered by 21 year old Tenzin Legshad Wangdi, a Tulku, the third reincarnation of Rinpoche Dhardo Tulku.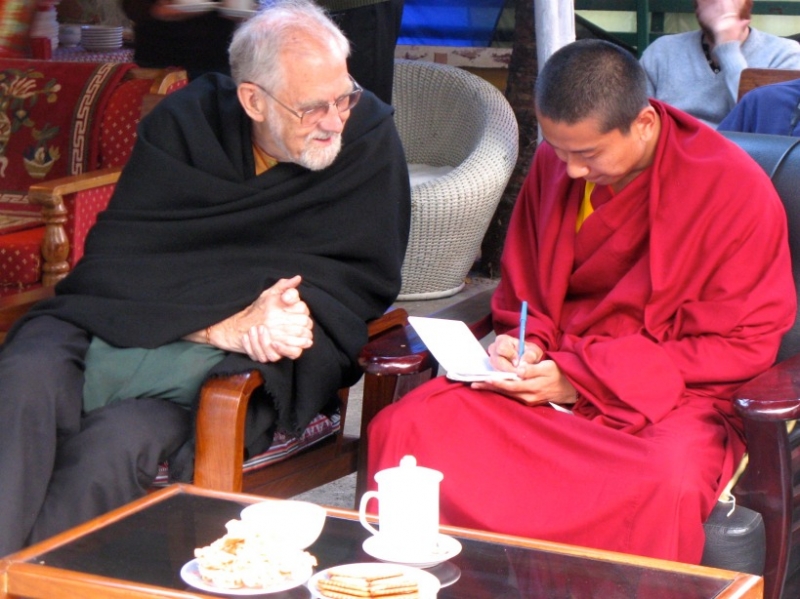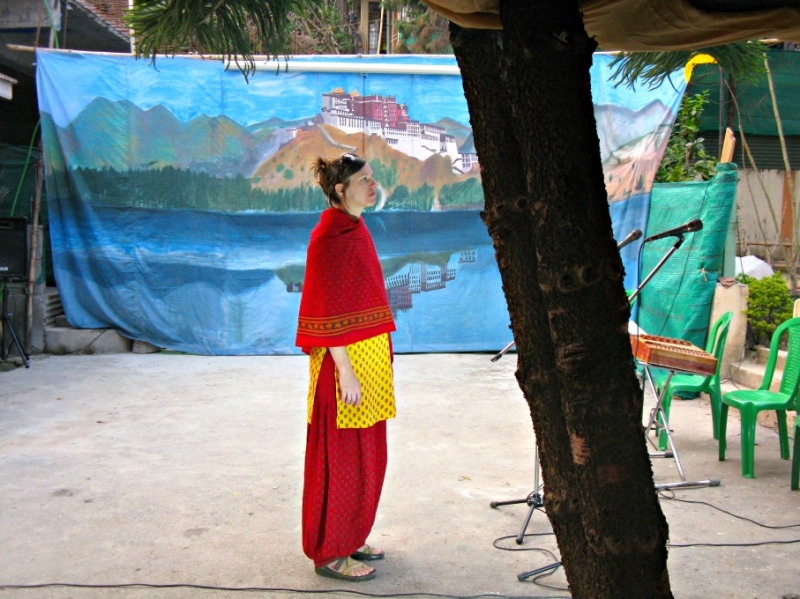 At one point, Samdup asks me if I would like to play. "Play with you?" I can't imagine it. "No. Maybe play us a song." The only pianos or guitars I've seen on my trip were in a music store window in Kolkata. "What would I play?" "We have a keyboard," he replies. Bouncing rapidly between panic and wanting to perform... what song would I play?... This is a great opportunity...Yeah, to make a fool of myself...go on, put yourself on the line - musical collaboration is one of the reasons you CAME on this trip!...I don't know any songs...Maybe it's an insult to decline...The keyboard is probably plastic... This inner conversation happens in an instant. And while those neurons are still firing I hear myself politely declining. Almost instantly, I regret it, of course. About 5 minutes later, I have figured out that I prefer the side of me that would really love to play, and I proceed to think of a couple of songs that would work, and tell Samdup I'd happily play if he would like, and if it works out time-wise. In the end, it doesn't work out, but hopefully I learned something and will know grab the opportunity next time.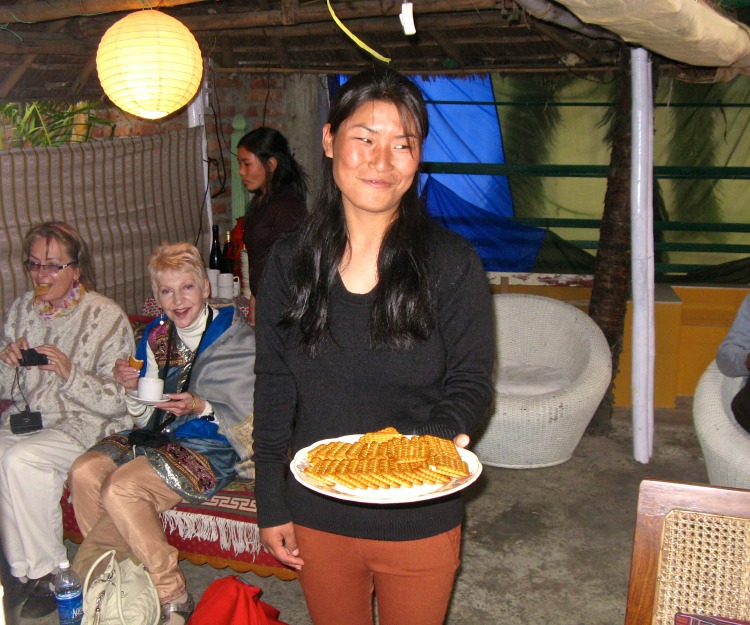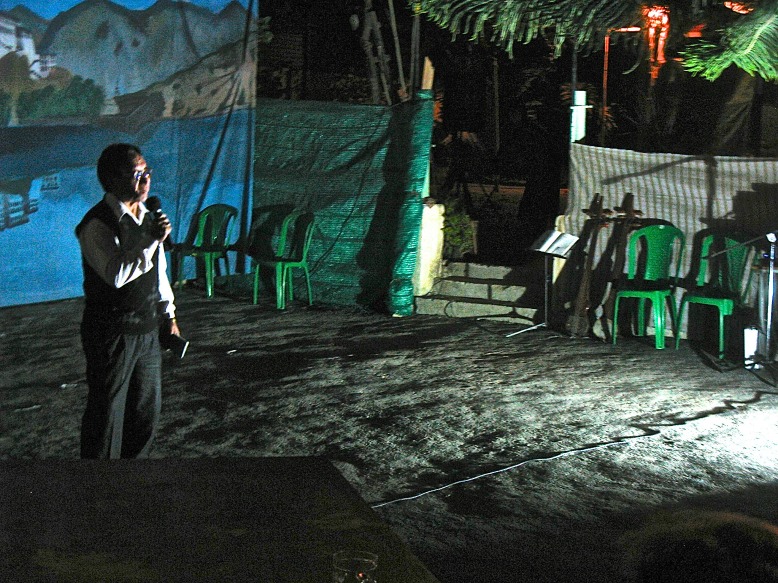 Tasho Shopa, The Opera of Good Luck.
________________________________
---
If I understand the Emcee correctly, the following dance is called "Choti Chusan." It is popular in Western and Central Tibet, around Lhasa. The lyrics associated with the music say that Tibet, the land of snow, is also the land of religion. It is that religion which binds people together in harmony and peace.
__________________________________
---
I don't quite catch the name of this next one, but it is beautifully danced by some of the younger students.
_______________________________________
I feel so moved by this woman's solo performance I forget to start my video cam. Doh! But my trusty Zoom audio recorder is on. I have included the entire 4-minute song here, in case you're as into it as I am. As a bonus (and since I have no footage) I am adding some photos of the beautiful plants around the Holumba Haven property. Think of is as a reward for listening to the music of a culture that is having a difficult time sustaining itself in these days of the Chinese takeover of Tibet. The world will be a poorer place if we should lose this soulful music from "The Roof of The World."
_______________________________________
The highly entertaining Snow Lion Dance closes off the Gangjong Doeghar portion of the show. I have included the full 5-minute performance. Don't miss the action around 1:25.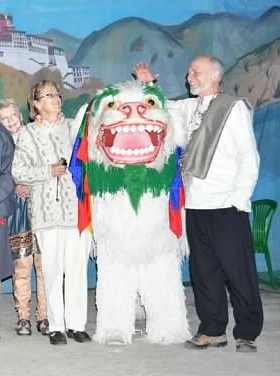 The evening ends with the premiere screening of Darrol's Traveling Guru movie. It's a doc by filmmaker Marjonneke Grech, who has accompanied Darrol on more than one of his trips. Having seen it before, I pay attention to the crowd reaction, and can see that it's well received by all, including our Australian dignitary and the Rinpoche. They're laughing in all the right places. Good sign. Speaking with the Rinpoche afterwards, he tells me he thinks Dr. Bryant's open minded dialogue-centred approach is unique and one much needed by the world. Amen, brother.
Tomorrow I will have my last day with Darrol's group, and the following morning, I'll be off on my own. What a trip.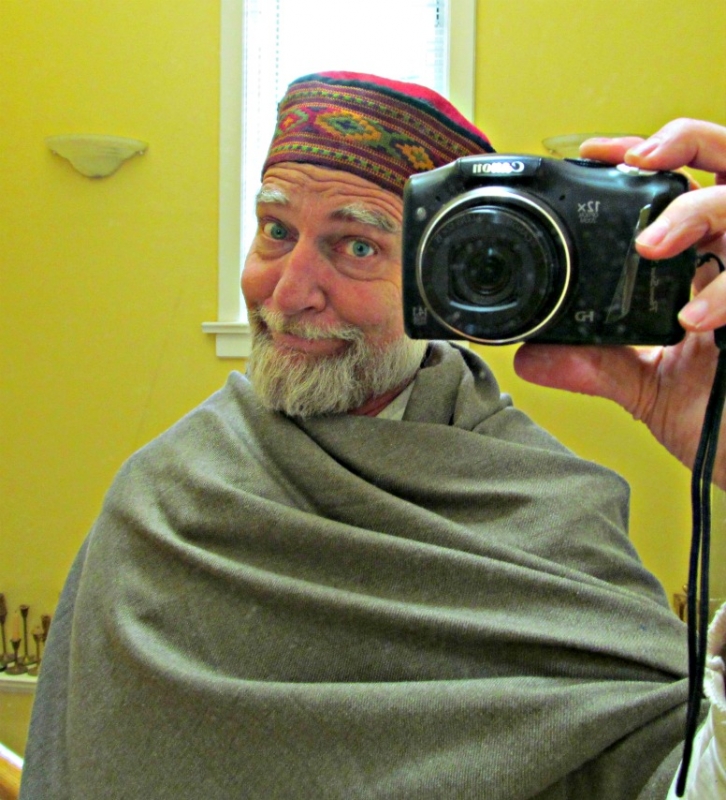 Happy reading!