Finally, the Finalé
India 2013
Before leaving Dharamsala, I had two important bits of business to deal with. The first was to find a place to stay in New Delhi that would let me check in at an indeterminate time in the ridiculously early a.m. and leave late that night, hopefully not charging me for 2 days. One is never sure how long the Dharamsala-Delhi bus will take. Estimates run from 10 to 16 hours, but probably around 12. That would put me at the Delhi bus terminal at 6 a.m. But which Delhi bus terminal? There are three. I couldn't get a positive reading on which one was located in which end of town, so how long would it take to get to the hotel...? Delhi is HUGE. Like, 1600 km2 and travelling across it through the constantly intense traffic can take hours. Furthermore, I wasn't sure which end of town I would be picking up my sitar. The only thing for certain was my departure time for Toronto: Wednesday, 3:05 a.m. I found success at the Choti Haveli B&B. At least it was near the airport, so I knew my final cab ride would be on the short side.
The second bit was to contact Anupriya Deotale, violinist, and person responsible for seeing that my sitar got made, and made on time. The story of this sitar is a long and winding road. It all started back in Toronto last November when I started began the whole journey.
Cue the flashback music
December, 2012, Toronto:
This was around the time I was just getting to know the Kay brothers, and their Monsoon Music counterparts. I knew I wanted music to be a part of my upcoming trip, and figured it would involve sitar or tabla. So, I called my percussionist buddy Penner MacKay, got a quick lesson and borrowed a set of tablas to bang around on, but I had no clue how to go about finding a sitar. When in doubt, Google... sitar lessons, Toronto. At the top of the 88,600 results was The Sitar School of Toronto. Not a particularly imaginative name, but apparently good for getting web hits. Anwar Kurshid is one of the best known sitar players in Canada. It was he whom Mychael Dana chose to play on his Oscar winning score for The Life of Pi. The SST is Anwar's school. So, I call him up for a - I don't know - lesson? consultation? chat? Maybe I could rent a sitar from him? "Just come over to my place," he says.
I guess it was a lesson because when I got there, the first thing he did was to show me how to sit and hold this huge exotic creature of an instrument. Legs tied in a knot, sitar bowl resting on left inner ankle, neck propped up on right knee. (The sitar's neck, not mine.) Next he gave me a mizrab, a kind of wire cage that goes over the right index finger for picking the strings. Close your fist and pluck the string on your way by: da (upstroke). Open it and pluck the string again: ra (downstroke). I sat and repeated da ra da ra da ra for about a half hour at 60 bpm while Anwar tidied up his living room, occasionally correcting my posture or hand position. And that was that. Feet tingling and knees cracking, I stumbled to an upright position. "Next time I'll show you what the left hand does." It was way more fun than it sounds, and I was hooked.
Over the next few weeks we got talking about me acquiring a sitar, and he offered to have one made for me through some connections in New Delhi. He said his friend Anupriya Deotale would be my contact person. Is she a sitar maker? No. He would set it all in motion and all I'd need to do would be to contact Anupriya once I was in India. A little secretive, I thought, but decided to go ahead with it anyway.
Two months later, 2013, Toronto:
Then there was the violin bow. About a week before my departure, Anwar asked me if I could please deliver a violin bow to Anupriya. Hmmm. Can anything be smuggled in a violin bow? I thought. Don't be silly, I answered. "How long is it?" I asked reluctantly. I didn't want to rock the boat when it came to getting that sitar, but I was trying to pack really light and use a small suitcase. Anwar didn't have a measuring tape, and assured me it would be okay if I didn't want to take it, but I agreed anyway, even if it might mean taking a larger suitcase. He was very appreciative.
Monday, February 11, 2013, Toronto departure day:
For a variety of reasons, the bow wasn't available to me until the day of my departure. I was all packed (no mean feat) and I sized up the bow compared to my suitcase. Too long. What now? Diagonally? Nope. Almost, though. I opened the case, took everything out and managed to just squeeze the bow in on the diagonal and going from the top to the bottom. Just. So I wrapped it up in some tee shirts, and re-packed everything around it nice and snug...
...then I got on the plane.
Tuesday, February 12, 2013, New Delhi:
The next day, settling into my room at Scholars House, New Delhi, I opened up my suitcase and there was the bow…in two pieces. It had snapped about 3 inches from the end. The wood had totally severed and there were small splinters among my clothes. I knew instantly that it was unrepairable. I felt like a total jerk. It took a few days for me to find the courage to call Anupriya and explain what had happened, fearing she'd be angry and say Forget about the sitar, pal. I used Darrol's cell to phone her. Amazingly, she wasn't upset at all. She said she'd send Jivesh, her nephew, over tomorrow to pick it up. I thought that a bit curious - since she was way on the other side of town and the bow was useless - and explained that I had to be at a lunch date with Dr. Ali (see chapter 4), but would leave it at the front desk of Scholar's House. Anupriya said that was no problem.
I was sitting around Dr. Ali's living room after lunch with Darrol and the group when Darrol's phone rang. "It's for you, Lou." Huh? Emergency back home? No. It was Jivesh. "The bow is broken!" he exclaimed. I explained to him that I had already spoken with Anupriya and assured him she knew all about it. He replied, "I called Anupriya just now and she is very upset! Almost crying." I flabbergastedly explained again. "You had better call her," he said. I hung up the cell and asked Dr. Ali if I could use his land line. He could see I was upset, and asked me to explain what was going on. So I told him the whole story. "Oh! Anwar. Anwar Kurshid? Yes. I believe I remember him. And Anupriya, too. She is a fine violinist. I know her well. You must let me call her for you." After I got over my world having shrunk to the size of a tennis ball, I realized I did not want to involve this kind gentleman in my foibles, so I insisted on calling her myself, and if anything needed explaining, I'd ask for his help.
Anupriya was upset. The upshot was that, because of a bad cell connection, she really hadn't understood what I was saying yesterday, so she was shocked when Jivesh phoned with his report of the broken bow. They suspected the hotel staff might be responsible. Jivesh even photographed the desk clerk and the broken bow with his iPhone! I offered to buy her a new bow, but she said that would not be necessary, and after a few minutes she was o.k. with the whole thing. She never once threatened to kibosh the making of my sitar.
Tuesday, March 26, 2013, New Delhi:
And that's who I'll be having dinner with later tonight - Anupriya, almost 6 weeks later. On the phone from Dharamsala, I had asked to take her out to dinner, as a thank you, but she insisted on cooking for me. End of flashback. Cue music.
Flash forward
<[]<>[]<>[]<>[]<>[]<>[]<>[]<>[]<>[]<>[]<>[]<>[]<>[]<>[]<>[]>
It's still pretty well dark when the bus spits us out at the Kashmiri Gate Bus Terminal. Maybe 5 a.m. I'm not altogether sure that this is the right place, but figure it's as good as any. Besides, even though I'm extremely thirsty I don't dare to drink because I have to pee like a racehorse, and am sick of dealing with this bathroomless bus. Also, I am lucky enough to have been sitting across the aisle from a young Indian woman from Toronto who had also been teaching at the Hope Centre, and she knows how to use the New Delhi Subway...once it opens, that is. The bus terminal is currently under construction, and therefore deserted. So we find a dusty pillar to sit and lean against for a while, luggage plunked on the unfinished cement floor. I could grab a cab, but the subway sounds like an adventure, which I'm up for, for some strange reason. Incredible, considering I haven't slept all night.
The subway proves easy to navigate. Its clean and modern. Very interesting to be amongst the commuters here. I'm the minority by 1,000 to 1, an object of curiosity. I get off at Chhatarpur (TWO h's? C'mon! How do you pronounce TWO h's?) Metro Station. Now my mission is to get a cab to Choti Haveli B&B, sleep until my dinner with Anupriya, get my sitar, go back to the room, repack my things - which are considerable - and get to the airport by midnight or so.
The nice folks at the Choti Haveli have very clear instructions on their website how to get there from the Chhatarpur Station. It says to go left toward Masoodpur for 2.5 km, then make a u-turn at the 2nd traffic light, then you're only about 150 yards away. Sounds easy. I tell the auto rickshaw driver the address and to go toward Masoodpur. He looks at me a bit questioningly and nods. In 2.5 km he drives straight through the light. I should know that look by now! The questioning nod. It spells trouble. "Masoodpur! Masoodpur!" I yell. "Turn. Turn!" He turns. A left, not a U. We drive and drive and drive. All I can do is repeat the address. All he can do is nod. And drive. And stop and talk to people, asking directions. I want to go back to the metro station and start over, but he's got his own trajectory, like some kind of boy scout leader who doesn't want to admit to his troops that he's gone up the wrong side of the mountain.
About an hour later - at my sleep-deprived wit's end - we come to a place that may or may not be my B&B. It looks like a small apartment building and there's no sign saying Choti Havelli. The man who approaches the rickshaw asking for my bags could be one of the driver's buddies for all I know. I remember the name of the person I spoke to when making the reservation, and I think I hear it in the Hindi conversation, so I decide it's o.k. I give him my big suitcase and follow him up the stairs.
How quickly things go from heaven to hell and back again in this country! As if a reward for having endured this rickshaw ride, actually tipping the driver, and then climbing three flights of stairs with no sleep, I am greeted with an absolutely sumptuous breakfast in a dining room full of antique furniture and lush foliage. I'm too exhausted to bother with pics, but you can click this link and take the photo tour yourself if you like. My room is gorgeous. Double bed, full bath, all the amenities, and after a much needed bite, I settle into the fresh sheets like a bear ready for hibernation.
<[]<>[]<>[]<>[]<>[]<>[]<>[]<>[]<>[]<>[]<>[]<>[]<>[]<>[]<>[]>
I remember Norman Vincent Peale's book "The Power of Positive Thinking" being very popular when I was a kid. Nowadays, what's it called? Visualization? Positive visualization? Is that the term? You imagine yourself to be in a happier place, and that somehow helps you get there. When I wake up, it's about 3 p.m. and I imagine myself on the airplane, twelve hours from now, having successfully gotten through all the airport hurdles like ticketing, baggage, customs and immigration, without a hitch. I want to carry on as many of my instruments as possible. The flute will fit easily into my knapsack, and the piwang - at 28" - will just stick out the top, so I'm not worried. But the dranyen - at 42" - is way over the carry-on limit of 21.5" and I absolutely do not want to check it through, down into dark underbelly of the plane's baggage hell, where there is weeping and gnashing of teeth (and luggage). After much deliberation (and positive visualization) I finally decide to strap the dranyen on the outside of my knapsack, with the extra 20-or-so inches hanging below, so when I'm standing at the check-in kiosk, or in any other face-to-face encounter, it won't be so obvious. But negative visualization has a way of sneaking in.
"What's that, sir?
"What's what?"
"On your back, sir?"
"Oh, this little thing? It's a..."
"I'm afraid you'll have to purchase an extra ticket for that, sir."
"It folds in half, actually. Becomes extremely tiny. And I'll do that before I board."
"Would you mind demonstrating, sir?"
Snap out of it, Lou-la! Positive visualization. Positive visualization...
<[]<>[]<>[]<>[]<>[]<>[]<>[]<>[]<>[]<>[]<>[]<>[]<>[]<>[]<>[]>
A young man answers Anupriya's door. He's dressed in a white polo shirt and western slacks. "I'm Jivesh. Anupriya's nephew." His smiling eyes, kind face and soft greeting put me right at ease, and I have a sense that this may be more interesting than just a quick dinner and grabbing my sitar and going. Anupriya is in her kitchen preparing the meal. She is a real beauty. Her soul shines right out at you from her dark eyes. I had heard some of her music on Youtube and was quite impressed, but the presence I am sensing now in person speaks of a deep-souled passionate and compassionate artist.
Jivesh needs to go out and get Anupriya a couple of things for the meal, and I decide to go with him. I'd like to get her some flowers. We walk in the warm air and he tells me about his non-profit organization, the Ameer Khurso Centre for Music which is dedicated to the promotion of Indian classical music. He also tells me how much he loves his aunt and wants to take care of her. When we return, Anupriya says the flowers are perfect, because it is the anniversary of her mother's death, and she puts them in a vase next to a picture of her mom. We sit near the picture and she tells me about her mother, and also about her father, who is a famous Indian poet and scholar, Chandrakant Devtale.
The conversation before, during and after a delicious vegetarian dinner is effortless. It doesn't take long for a profound connection to develop between us all. Jivesh is a musician, too, and acts as her sound engineer, producer, guitarist, and general techno whiz kid. He, Anupriya and a collection of other players make up a group they call Parinday. She also performs under the name Anupriya Ensemble, and just under her own name. Like any musician, she gets work and exposure however she can. Indian classical music is not a very female friendly environment, and violin is not as widely accepted by the Old Boys Raga Club as the sitar, esraj, flute or shanai.
In the living room, Jivesh calls up my website on the laptop and I play them a few of my film cues and other music there. I can feel that they are genuinely delighted and impressed. Then Jivesh wants to play me something of theirs. He looks to Anupriya and she gives him the o.k. It's something they've just recorded. "It's a first take," Jivesh tells me. As the music begins, something like silence enters the room and demands my full attention. A drone, a few droplets of piano, and then a sound that feels like a human voice, but in a minute I realize it is Anupriya's soul singing through her bow. By about the 2 minute mark, tears are streaming down my face. I can hardly believe I am sitting in this room with these special people and hearing what I'm hearing.
Here is Anupriya Deotale with Parinday. (headphones highly recommended)
Is it major. Is it minor? What it is is beyond description and absolutely dripping with human spirit. They've named the improvisation Beyond Sorrow. The glass breaking about a third of the way through is meant to represent a breakthrough wherein the sad soul breaks through its cocoon into a higher and happier place. "We wouldn't play this for just anybody. But we got the feeling that you would understand it," they tell me when the piece has finished. I get it. I do. And I am flattered, but moreover, I am unbelievably moved. How can such a depth of connection exist so undeniably with people I've only known for a couple of hours?
(Obviously, they got over their protectiveness of the piece, since you are now watching it on Youtube.) Stop reading and listen for a minute if you can.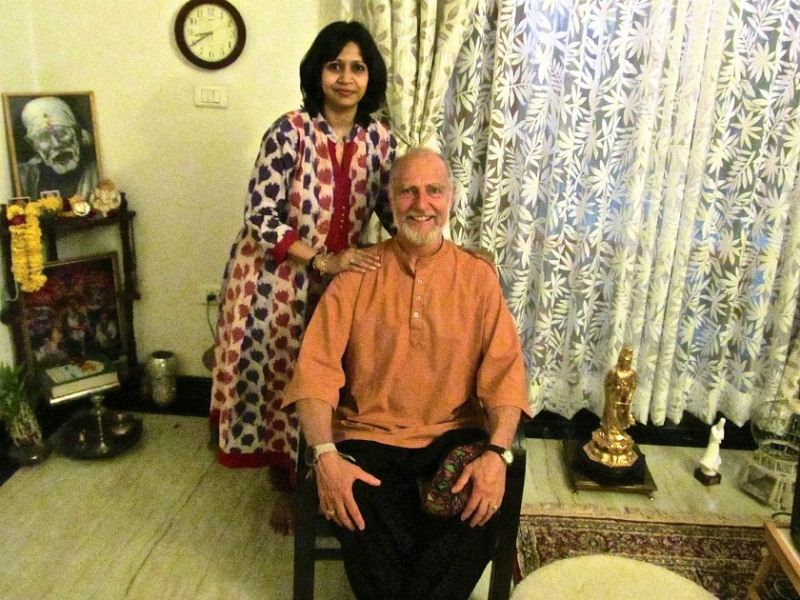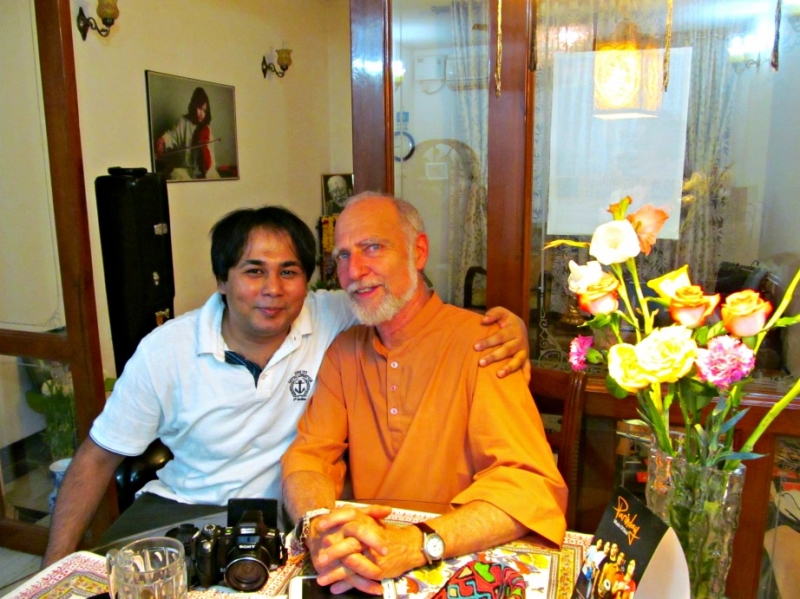 Here's another piece that I particularly like called "Serenity." Just Jivesh on guitar and the maestro on violin. She has many wonderful tunes. Please poke around youtube and listen. Or go to her website. And if there are any concert promoters out there, Anupriya assures me she would love to come to Canada to perform.
As I am getting ready to leave, Jivesh and I are talking about collaborating on a piece of music one day. There is nothing I wold like more. He says he wants to play me one more song before I go. We go into the music room and he sits down at the harmonium. The little accordion-like box is not my favourite Indian instrument! But then he starts to sing, and he has a very beautiful voice. When he has finished, I ask him if it's something he wrote. "Oh, no. This is a prayer. It says [I'm paraphrasing here] no matter how far you may travel, you will not be separated from God."
When Lord Almighty is with you then no one can harm you,
All the planets: Sun, Moon, Jupiter and Venus will be in your favour
And bless you because the Lord Almighty Shri Ram is with you
So there is no one there who can harm you.
They both walk out to the street with me to say goodbye as I am getting in my cab. It feels as though I am saying goodbye to family that I will not see for a very very long time. This is the culmination of my trip to India. The perfect send-off. I thought that had already happened in Dharamsala! I recall Andrew Kay's comment after the concert with Chung Den and Karma: "Lou. You came to India and you NAILED it." I now know it's the other way around. India has clearly NAILED me.
<[]<>[]<>[]<>[]<>[]<>[]<>[]<>[]<>[]<>[]<>[]<>[]<>[]<>[]<>[]>
Running the gauntlet at the airport proves unremarkable. Positive visualization has become positive reality. Thank you. Thank you. Thank you. Oh, wait. There is one surprise…
"What's that, sir?" says the woman at the ticketing kiosk.
A moment of dread before I look up and see she is pointing to my sitar. Whew.
"Oh, that's a sitar. I'd like to check it through."
"What is a sitar?"
"ARE YOU INDIAN?"
"Of course, sir." She bobs her head an smiles. Thankfully I haven't insulted her.
"It is a musical instrument. Kind of like a big guitar, only Indian." I can see why Jivesh started his Ameer Khurso Centre for the preservation and promotion of Indian classical music.
"Please wait over there."
Uh-oh.
They want to give my sitar special treatment. It's going to be spared the commoners luggage hell-hold and ride with the cats and dogs in their climate controlled cage room. Thank you, Jet Airways (and positive visualization, tho I never visualized this!)
<[]<>[]<>[]<>[]<>[]<>[]<>[]<>[]<>[]<>[]<>[]<>[]<>[]<>[]<>[]>
The trip home is as expected: tiring, boring, and frustratingly sleepless. Sharon has come to pick me up and has brought her camera to document that I arived in one piece.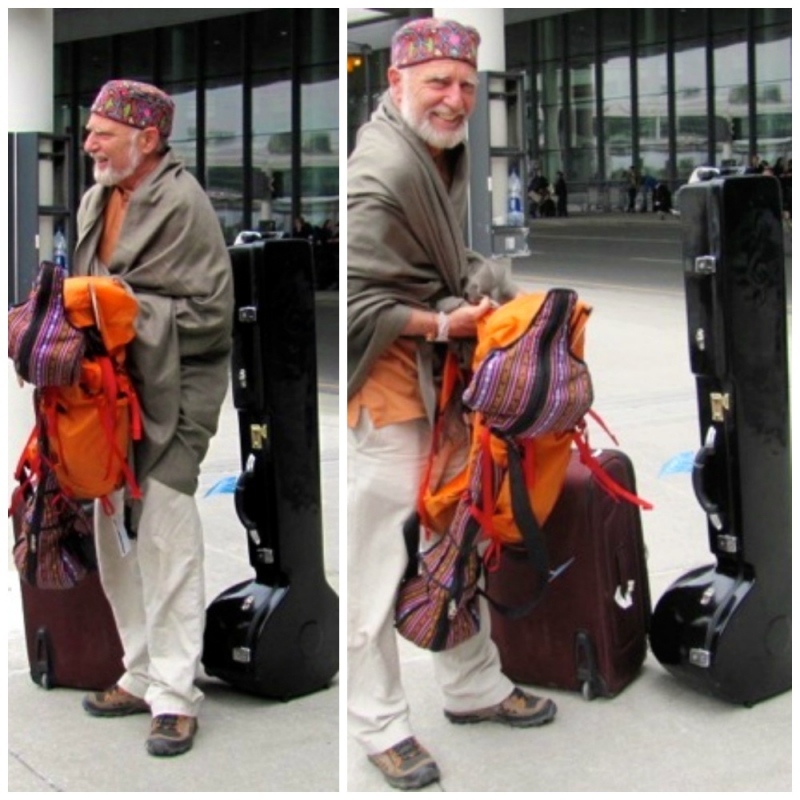 I'm ready to be Home; my little corner of the Earth, and all that goes with it. I'm grateful that my own passionate and compassionate artist, Sharon, has been here holding down the fort, and is at the airport to greet me with her soul shining out at me. Grateful to see my three beautiful healthy, happy children; to enter my own front door and feel the particular protection that this particular roof offers me from the elements.
I can't resist bookends, so going back to the question posed in the Intro - Why Travel? - I'd have to answer To Know Gratitude. Not just a simple thank you, or even a huge "I'm SOOO fortunate" - feeling it for a few days and then drifting back to my old ways - but to really get it through this thick skull so I can start to live it in my day to day, moment to moment, and in every breath.
Now that's a trip.
• • •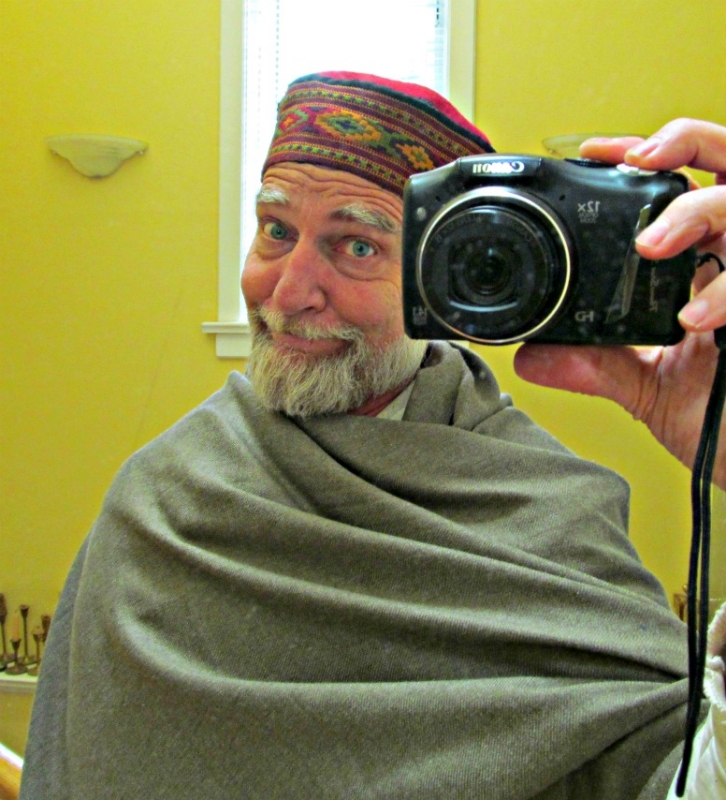 I'd like to thank:
Sharon Singer for 28 weeks of patient proofreading and suggestions;
Darrol Bryant, Heather MacPherson, Pam O'Rourke, Janathan, Shayna, Delia and Andrew for their contributions to the blog;
Writer Ann Tudor for the idea of publishing every Sunday morning;
Stephen and Zak at Aki Creative for providing a great website and framework for the blog;
All the faithful readers who sent me encouraging emails and comments;
The many wonderful people I met on the trip: fellow travellers, local residents, musicians and especially the Tibetan students.
• the water buffalo