Akshardam and Gobind Sadan
India 2013
Thu, 14 Feb.
A fine breakfast at Scholars House and a 1-hour trip in our 11-passenger van, hired by Darrol, and including our young host/guide, Rahoul – ready smile, amazing English and a wonderful attitude.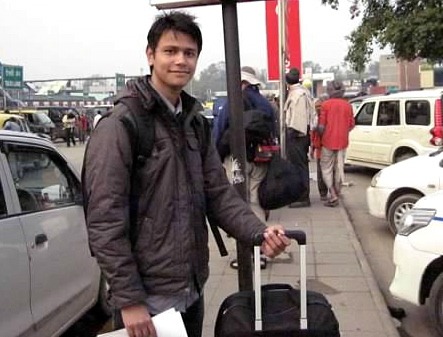 We are heading to Swami Narayan Akshardam Mandir (Temple), an astoundingly huge place with detailed architecture, statuary and art to make the Taj Mahal and St. Peter's Cathedral stand up and take notice. Only it wasn't crafted 2,000 years ago. Not even 1,000. Not even 100. Or 10. Akshardam took about 5 years to build and was completed in 2005. It was an intentional attempt to bring back the stonework artistry and craftsmanship that is normally only found in buildings centuries old. The original inspiration came from a request in 1968 by Brahmaswarup Yogiji Maharaj.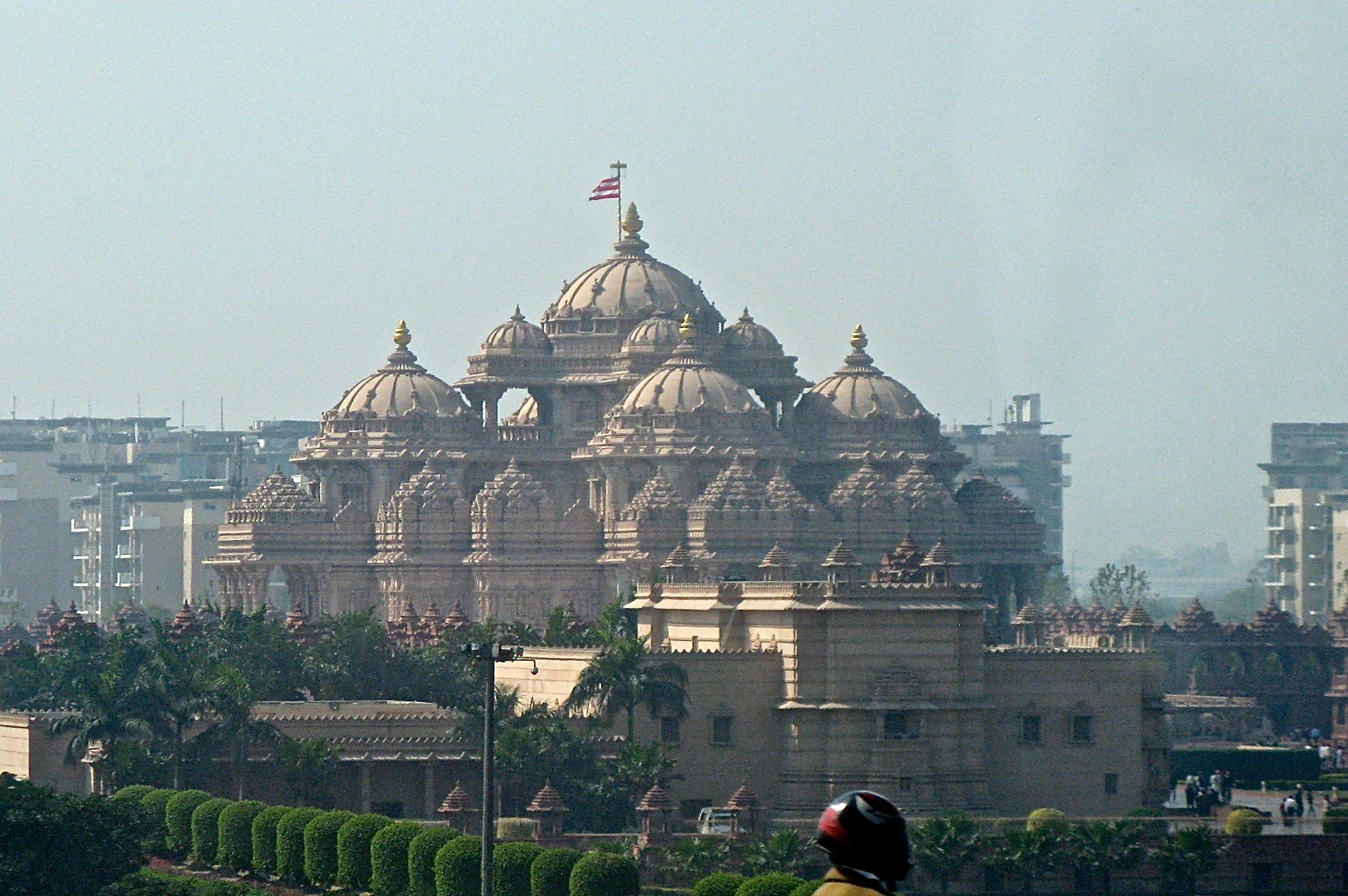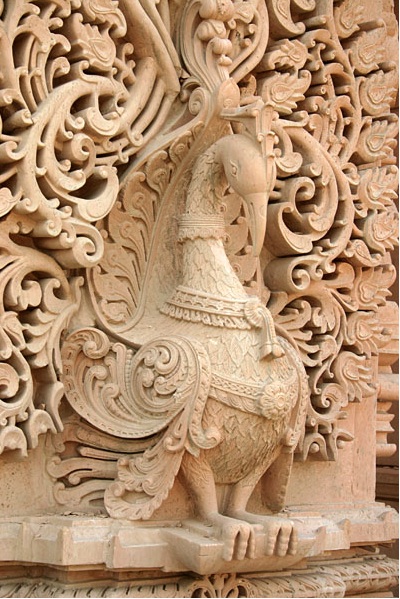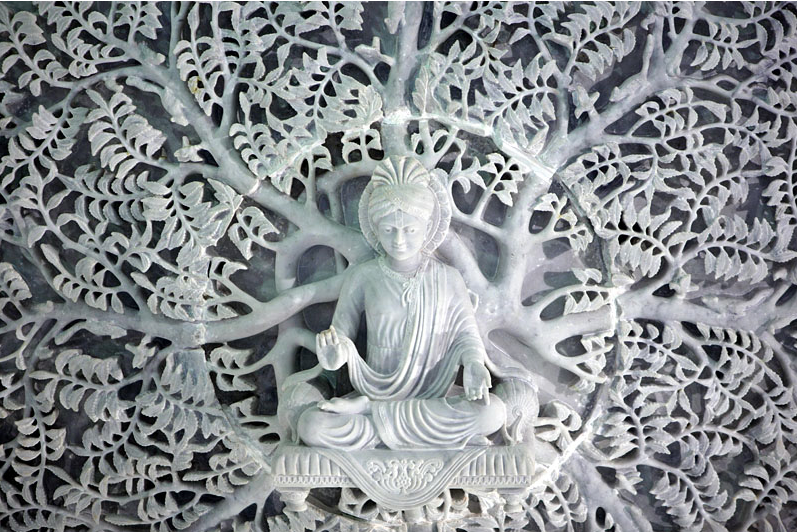 We are treated as an important group of visitors and set up with our own guide. The overall impression of all that hard work and craftsmanship is, unfortunately, a kind of Hindu Disney World. Giant, ornate, full of characters, but not much character. Kind of like a new suburb waiting for the trees to mature. We even go on an "It's a Small World" style indoor boat ride which explains 10,000 years of Indian history in 12 fun-filled minutes. "Don't blink," our guide jokes as we board the pilotless vessel. The funny thing is, the pre-recorded narrator box that is supposed to describe the various scenes as we drift past, is mute. Busted. Fried. A dead recorder, and EX-narrator, to put it in Monty Python's parrot skit terms. So ours is a silent glide, save the odd sarcastic chuckle from yours truly and his compatriots. Pretty sad. After all, the people in charge at Akshardam are very sweet, and trying really hard to give us the VIP treatment. Heads probably rolled.
On top of that, we are pressed for time because the traffic had been horrible (no surprise, really) and the security check at the entrance gates had been like trying to get into the White House the week following 9/11. After the tour, the men of the group are invited to a private room for a tête à tête with the head swami and two of his underlings. No women allowed. Ouch. The Swami is friendly and down-to-earth, but it is mostly a cordial exchange between he and Dr. Bryant with the four of us looking on.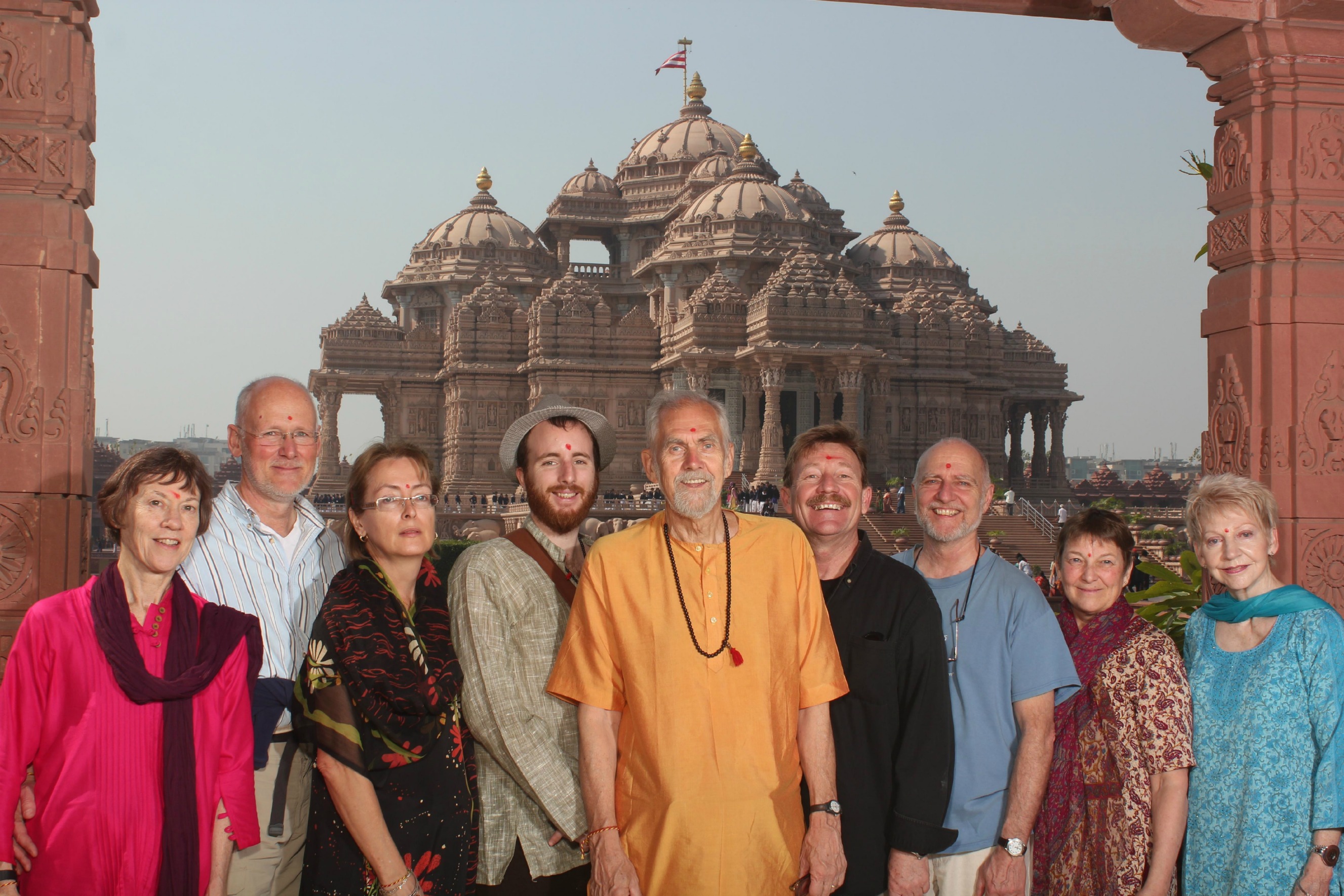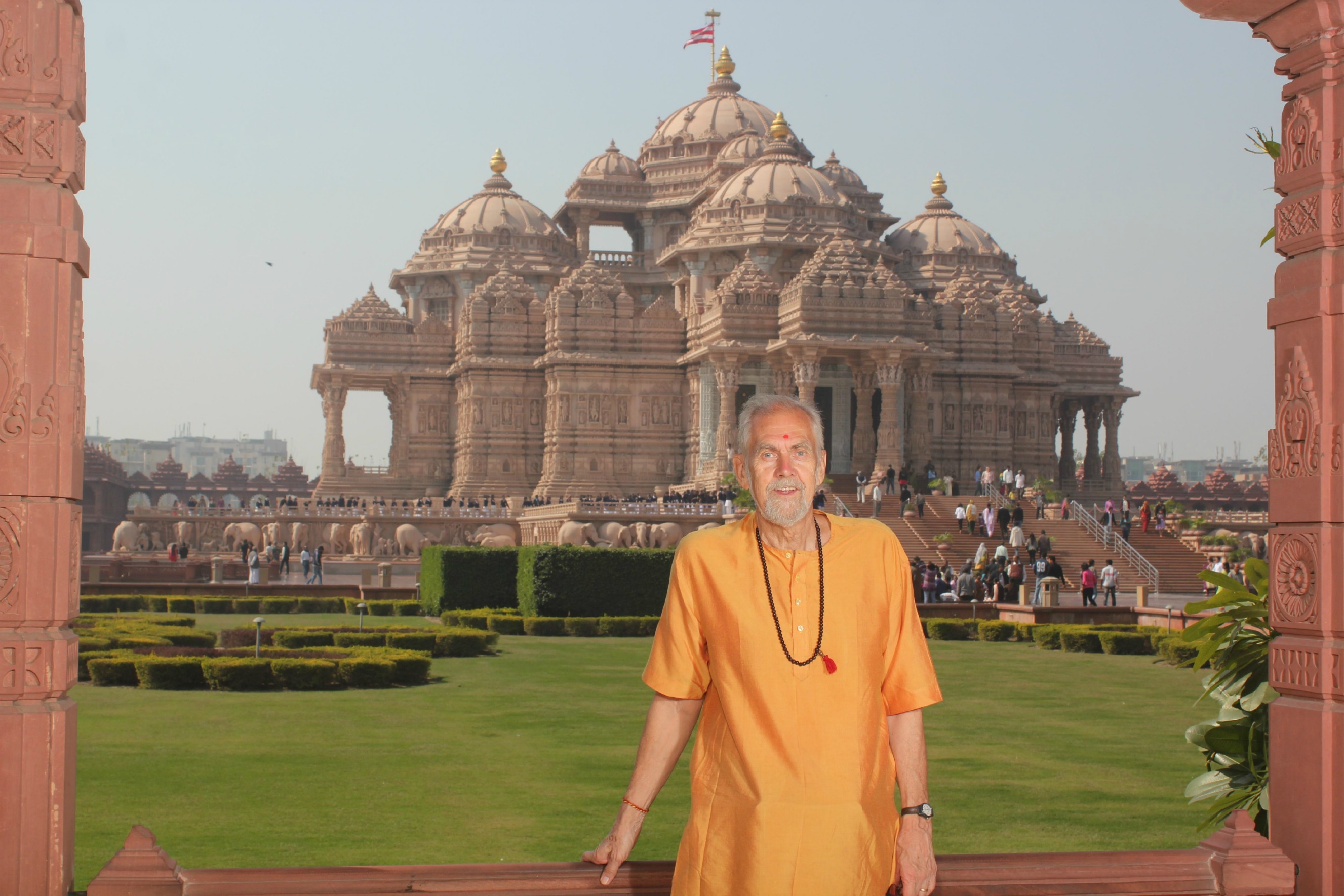 Another excruciatingly congested drive back home for a quick and delicious lunch and we are off again in the van with Rahoul. This video taken from the passenger seat doesn't do justice to the chaotic urgency conveyed by the hundreds of horns yelling "Me! Me! Meeeee! Me. m-m-m-MEEEEEE."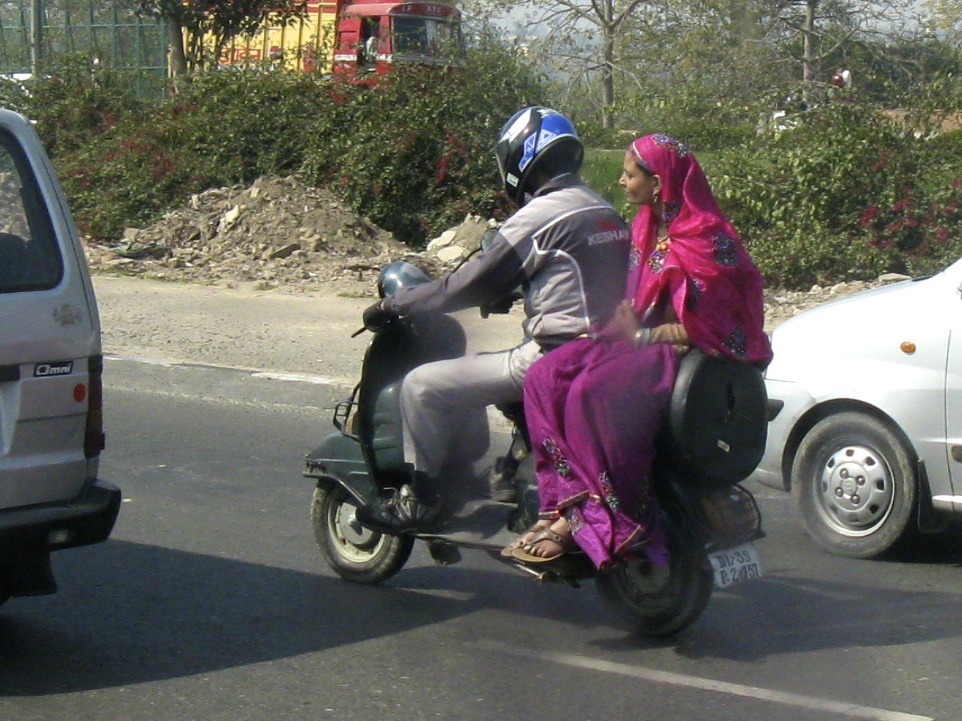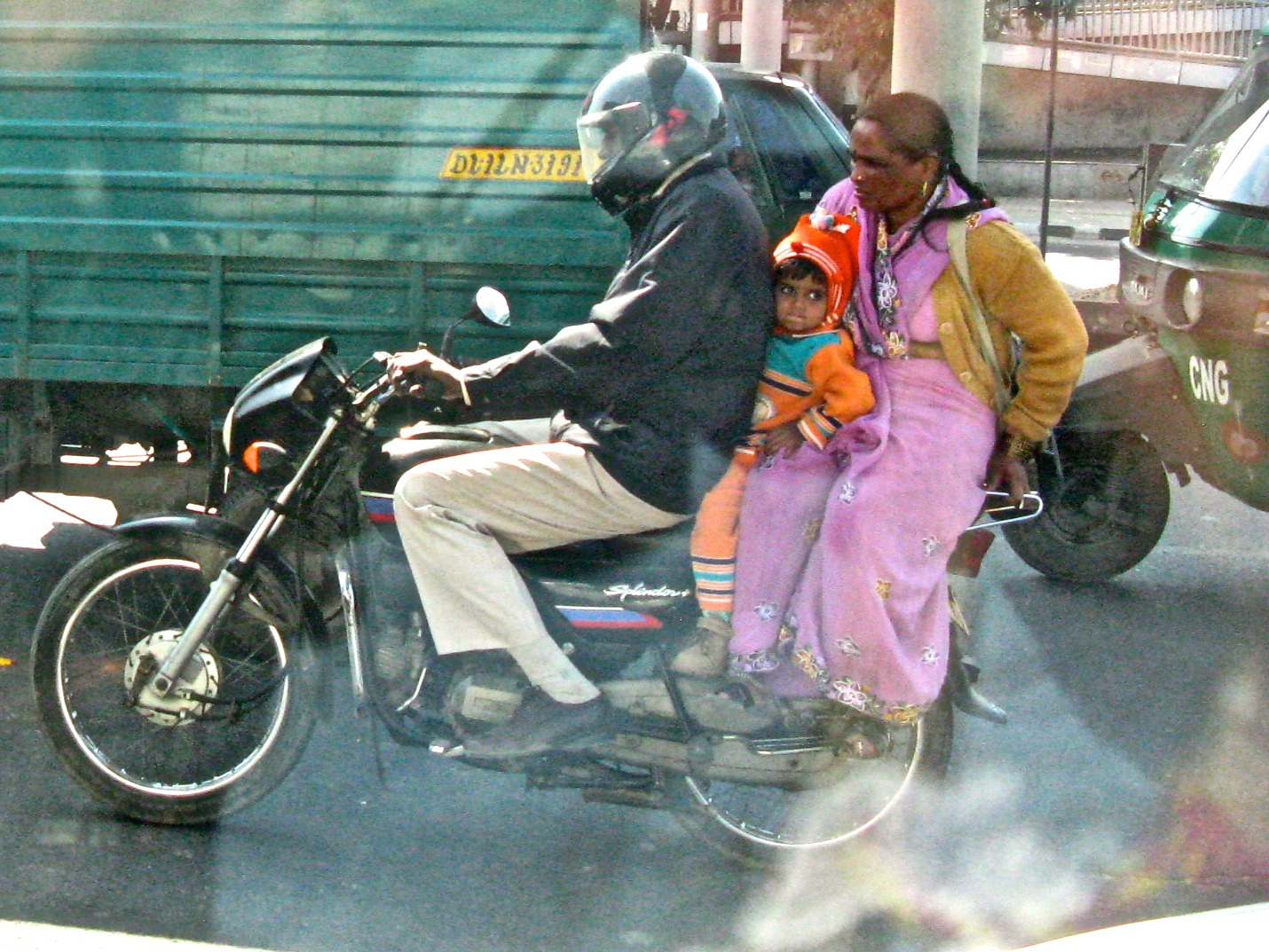 <[]<>[]<>[]<>[]<>[]<>[]<>[]<>[]<>[]<>[]<>[]<>[]<>[]<>[]<>[]>
Gobind Sadan
The afternoon at Gobind Sadan http://www.gobindsadan.org is about as much of a contrast to our morning as you could ever imagine. Gobind Sadan is a vibrant and deeply rooted spiritual community. Founded in 1968 by Baba Virsa Singh, who had been inspired to do so by a visitation from Guru Gobind Singh (1666 – 1708), there are people of many different faiths working and worshipping together. "God's House without walls" it is called. Likenesses of Shiva and Jesus, Durga Mata, Mother Mary, Kali, Buddha and others populate the walls. Traditions from Hindu, Sikh, Muslim, Sufi, Buddhist and Christian traditions all contribute to the communal worchip. Living the interfaith dream, not merely dreaming it. Each wholly respecting the other's deity and practices, allowing them to be distinct, yet mingling them together, like vinegar and oil dressing drawing out the flavours from the same glorious salad. Multiple paths leading to the same undefined, yet well known place.
Our host, Mary Fisher, is genuinely thrilled, honoured and excited by our visit – by our mere presence it seems. A native New Yorker, she is one of the main pillars of this community, and has been for 22 years. Now 70, she has had a successful career as an author (notably "Living Religions" and "Women in Religion"). She is volunteer manager of the day-to-day work of the large community, from running the farm and dairy to praying for people and acting as hostess for people from over 100 countries who come to experience the unique life of Gobind Sadan. Mary has know Darrol for years, as they have worked together on interfaith seminars and projects in the past.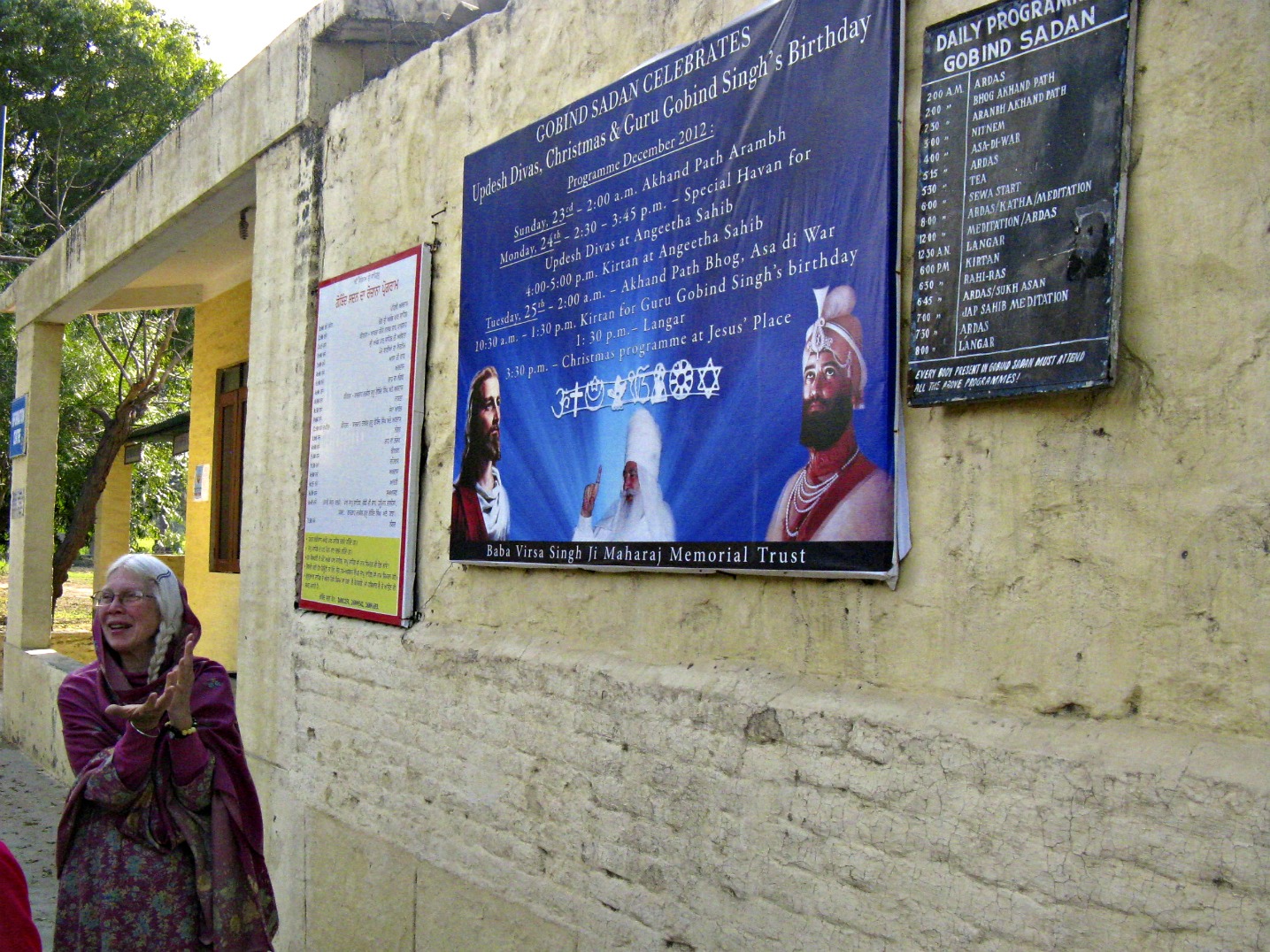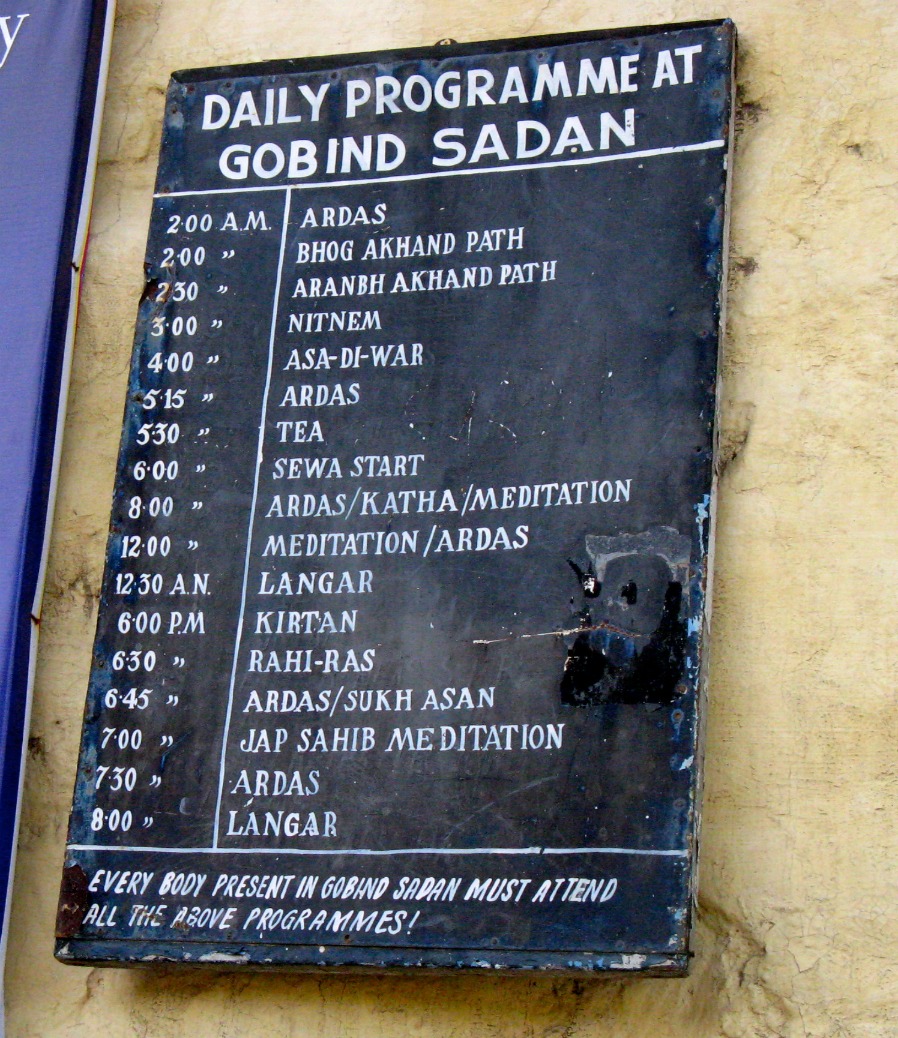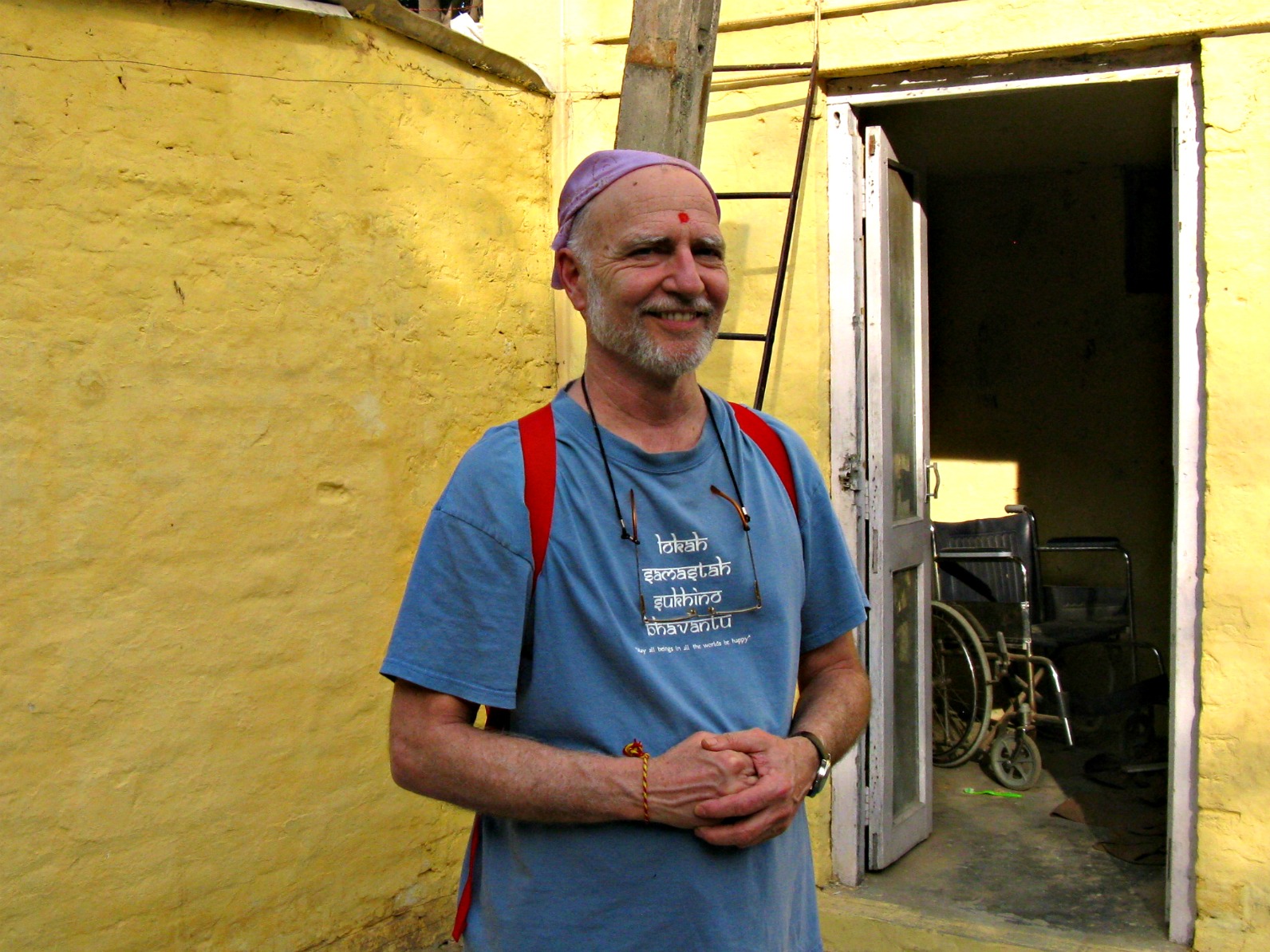 Mary guides us around the place for at least two hours, introducing us to everyone we run into – gardeners, maintenance people, cooks, and holy men. One such man has the job of making sure a fire is kept burning 24 hours a day, 7 days a week, and of sitting by it and saying prayers every two hours – catching sleep and meals in between. He has been doing this for 8 years. "It was a little difficult at first," he tells us through Mary, who seems to speak every language on the planet, "but now I am used to it."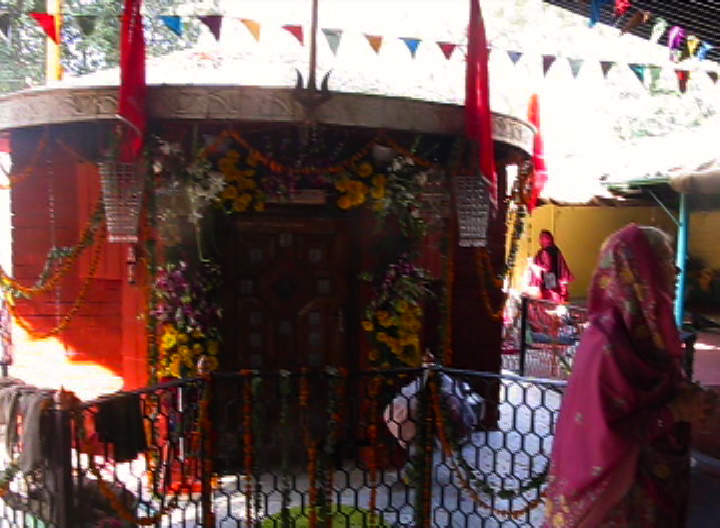 We meet two sisters whose job it is to tag-team reading aloud from a 1,430 page text, the Guru Granth Sahib. According to Sikh tradition, the entire text has to be spoken once every 48 hours. It is a collection of writings from various Sikh gurus, other important Sikh writers and even some non-Sikhs (Hindus and Muslims, for example). If I understand correctly, Gobind Singh was the 10th and last guru in the lineage of 15th Century Guru Nanek. He was the last one because he decided no man is worthy of being the highest leader, the head honcho, the grand frommage, so he declared that the text of collected works should take over the job of Guru. That's why the title of the book is Guru Granth Sahib and the book itself is considered the 11th guru. Now, that's a cool tradition. The Book is never allowed to touch the ground. They have a second copy which, when it is not being read, is actually placed on a bed for the night. Man, I just love sacred traditions. Anything to soften the heart and connect for a moment to the divine.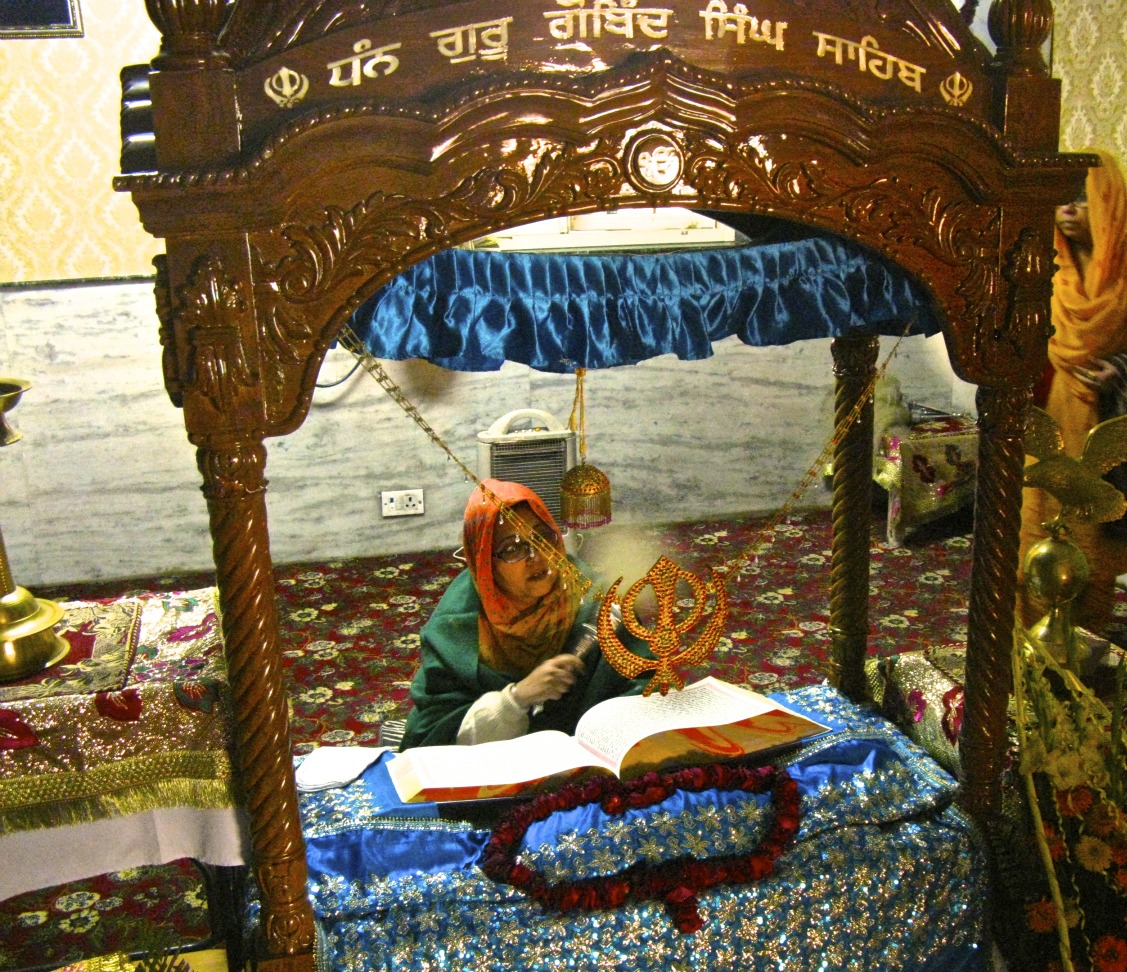 The large sort of feather duster seen in the following clip is a kind of meditative, purifying/blessing activity, from what I could glean.
Mary tells us that the sisters are very talented readers. "It's difficult to find someone who can focus for long periods of time, read with heart and conviction AND read quickly."
<[]<>[]<>[]<>[]<>[]<>[]<>[]<>[]<>[]<>[]<>[]<>[]<>[]<>[]<>[]>
There are too many interesting stories, anecdotes and events from today's trip to tell here, but the one I love is Mary Fisher's own story, which she excitedly tells us over an afternoon snack of chai, cookies, 2 flavours of Lay's potato chips and Fanta Orange pop. I hope I get it right:
As a young woman, Mary had a fatal (blood?) disease which the doctors couldn't figure out. So they basically gave up on her. She could recover or die; it was going to be up to fate, not modern medicine. Young Mary, other than giving lip service to her repertoire of standard memorized Christian prayers, was not much of a pray-er. In her hospital room one day, however, she was hit with a palpable sensation. On the left side of her bed, someone – invisible – was attending her. This, as you might imagine, was a tad surprising for young Mary and she didn't know quite what to make of it.
He wouldn't go away. So she did the only sensible thing. She began to talk to him. Just being in the company of this non-physical being simply felt so wonderful to her, she told him that she didn't really care what happened to her physical body – recover or die – she just wanted never to be apart from him. "But," she told him, "I have three little kids and I would like to be able to look after them until they're grown." And that is just what happened. Within a short time of her eldest leaving the nest, Mary was invited to a religious conference at which a certain guru was to speak. Upon attending, she recognized him pretty well instantly as The Presence beside her bed 17 years prior. She is now in India serving him: Baba Virsa Singh. I don't know about you, but I've got goose bumps right now. I just hope I got the story right. Anyone reading this who knows better, please leave a comment below. Babaji (pictured above) left this earth in December, 2007, but thank goodness Mary Fisher is still with us.
Here are some more photos from Gobind Sadan, starting with some amazing, ancient trees.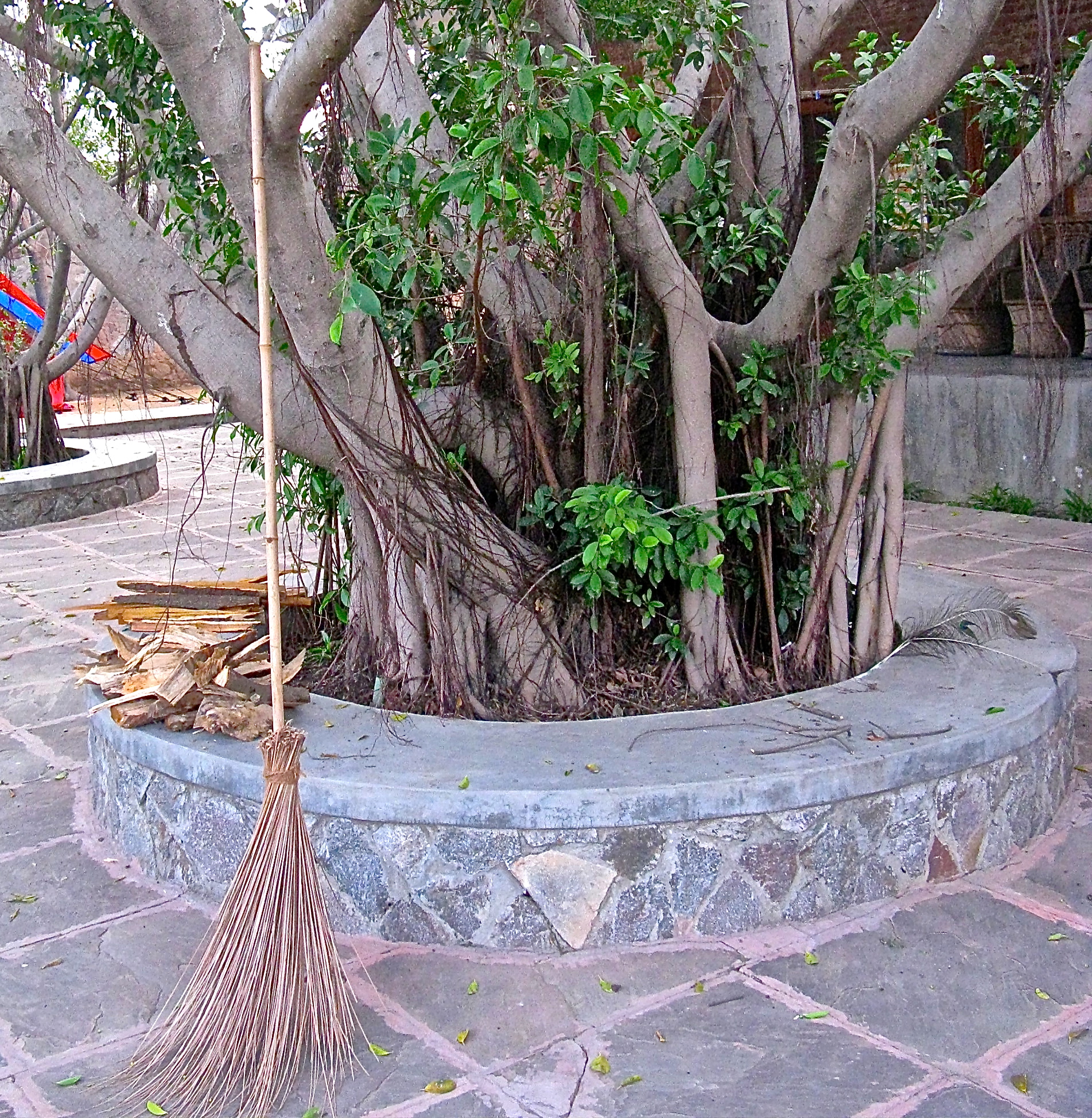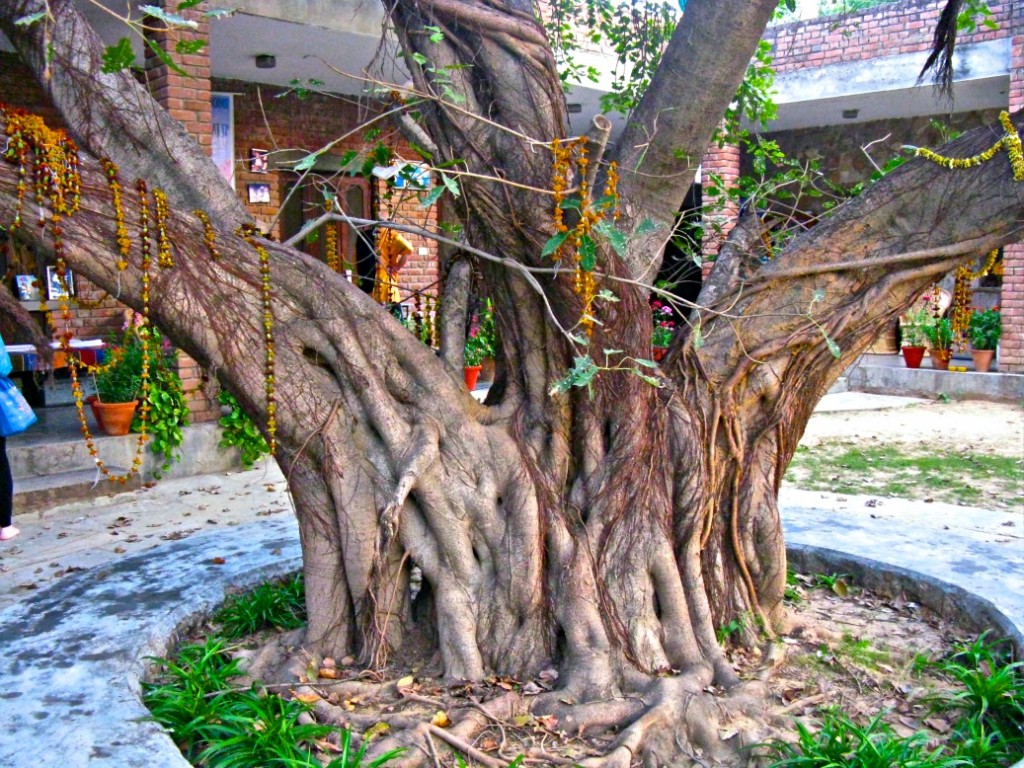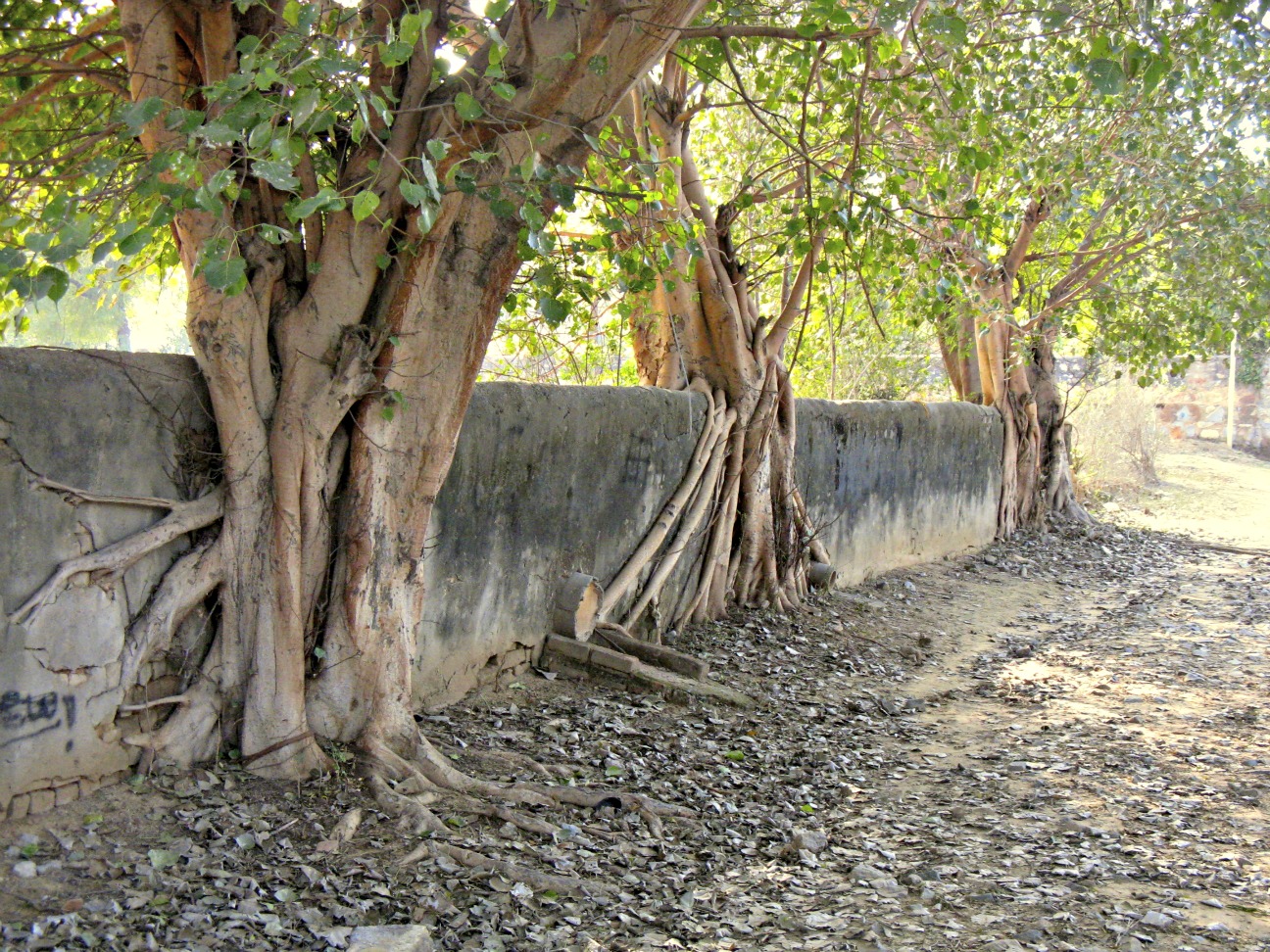 __________________________
The People: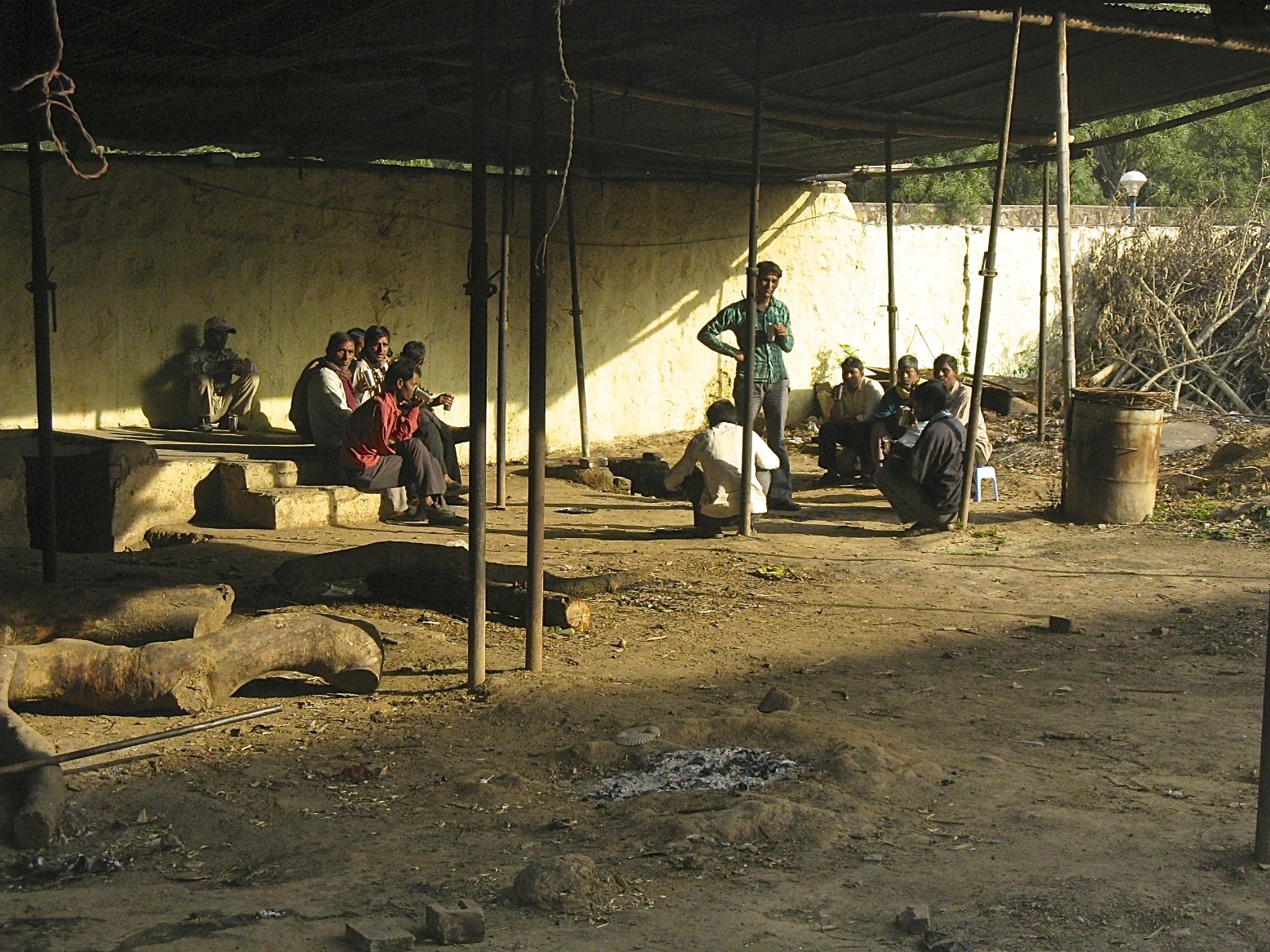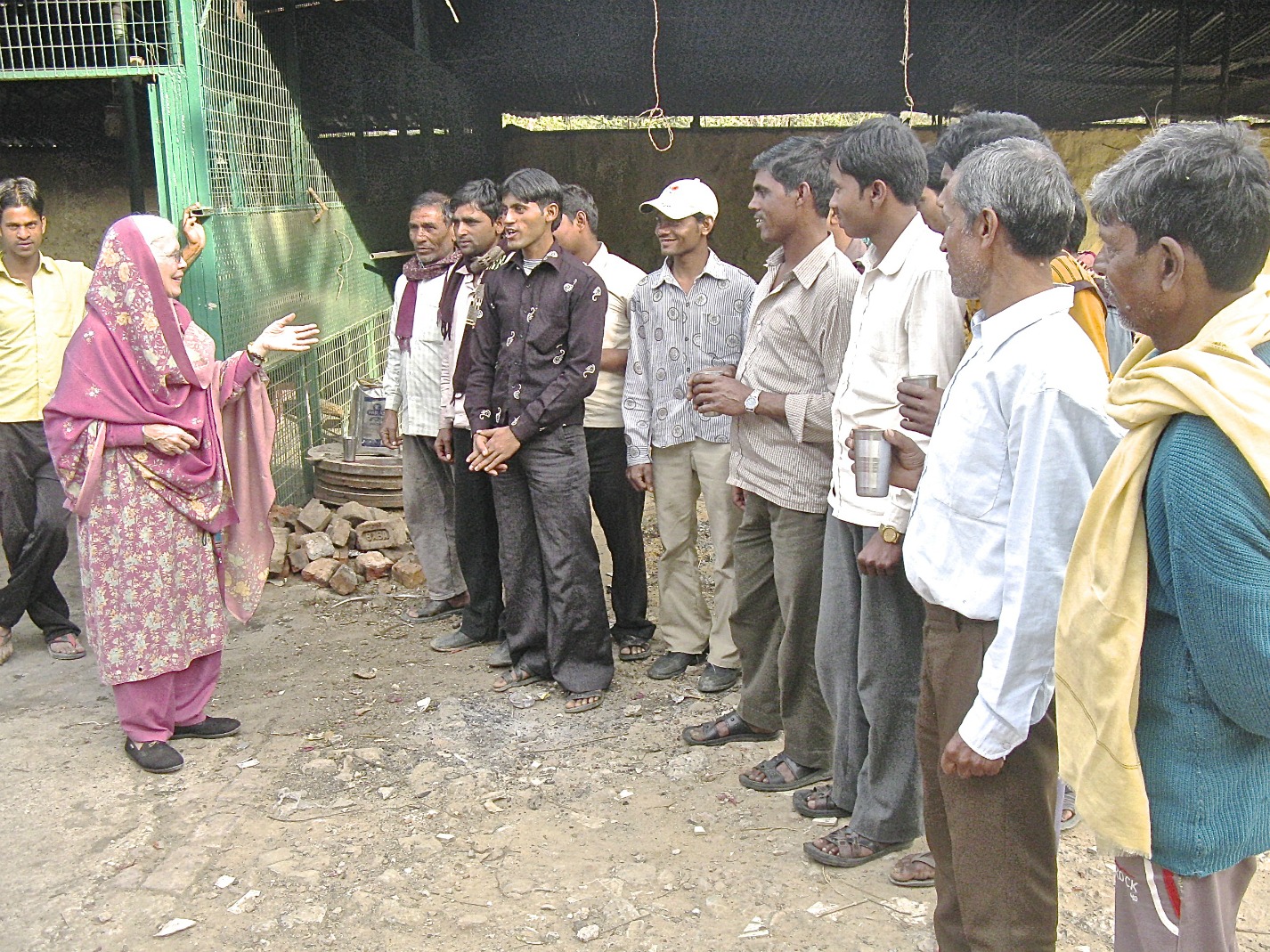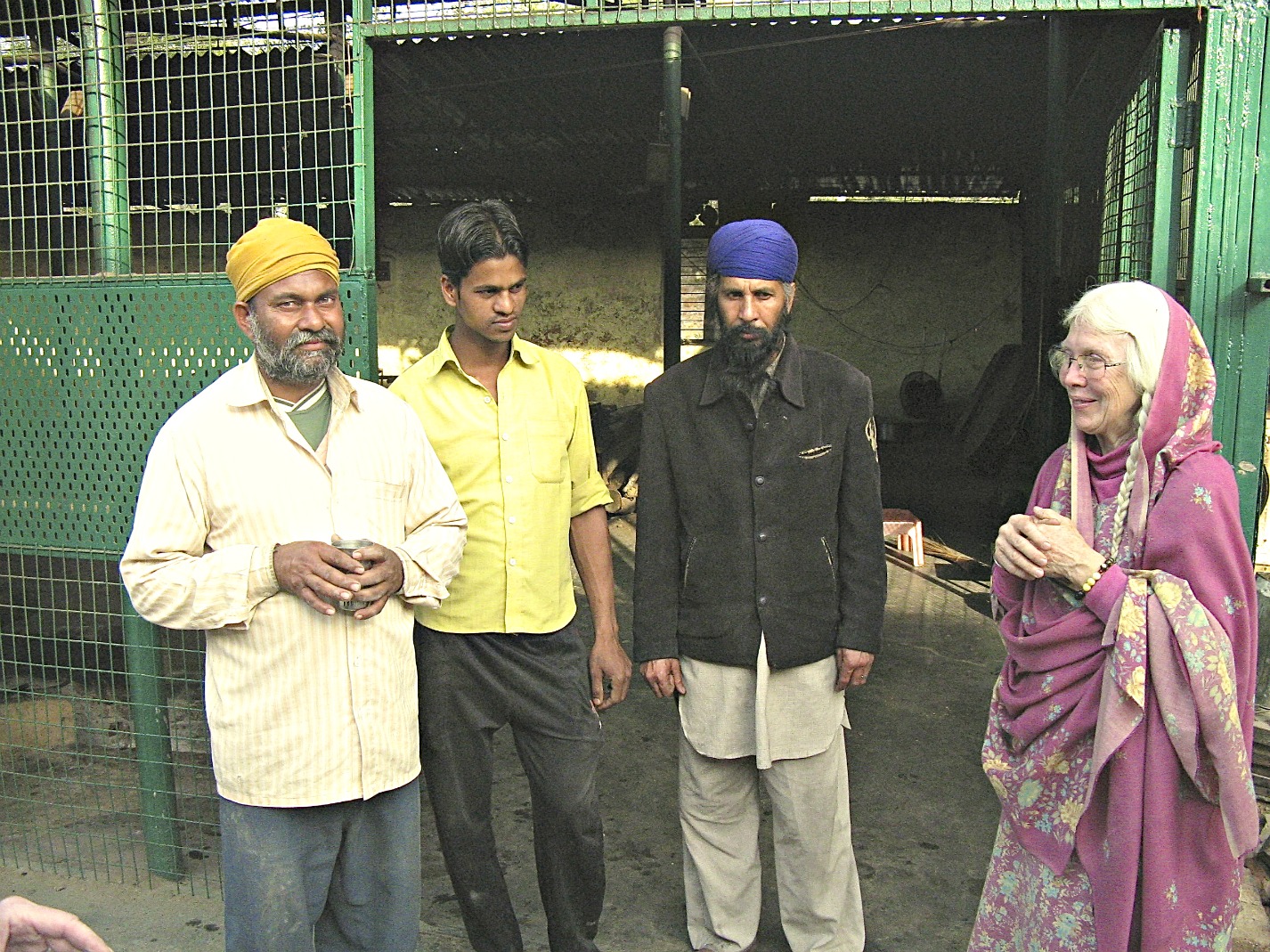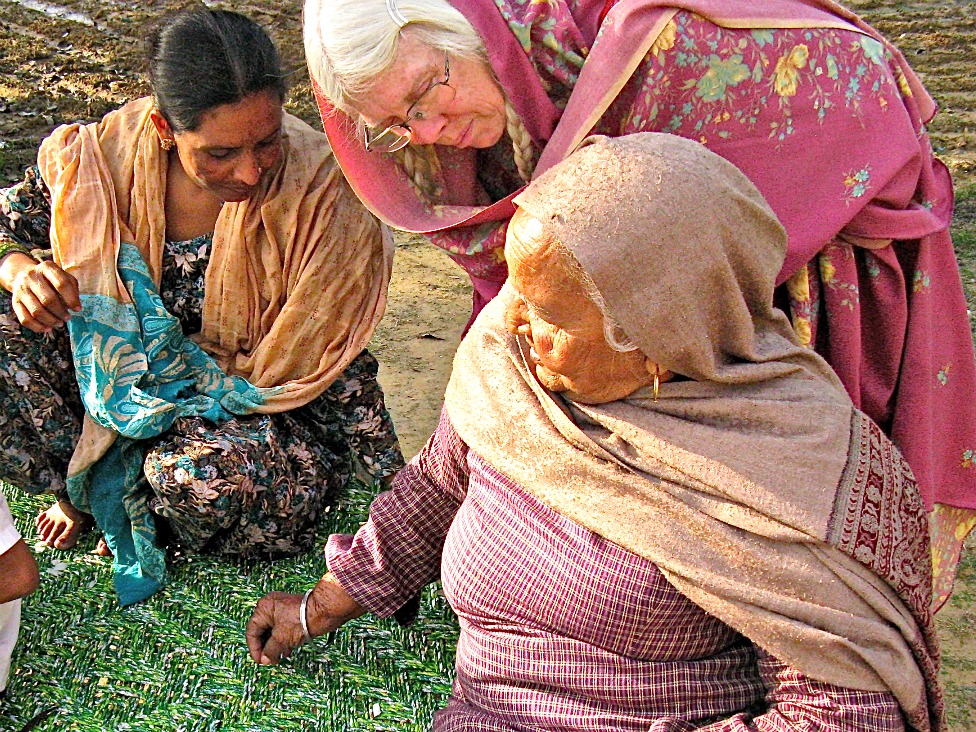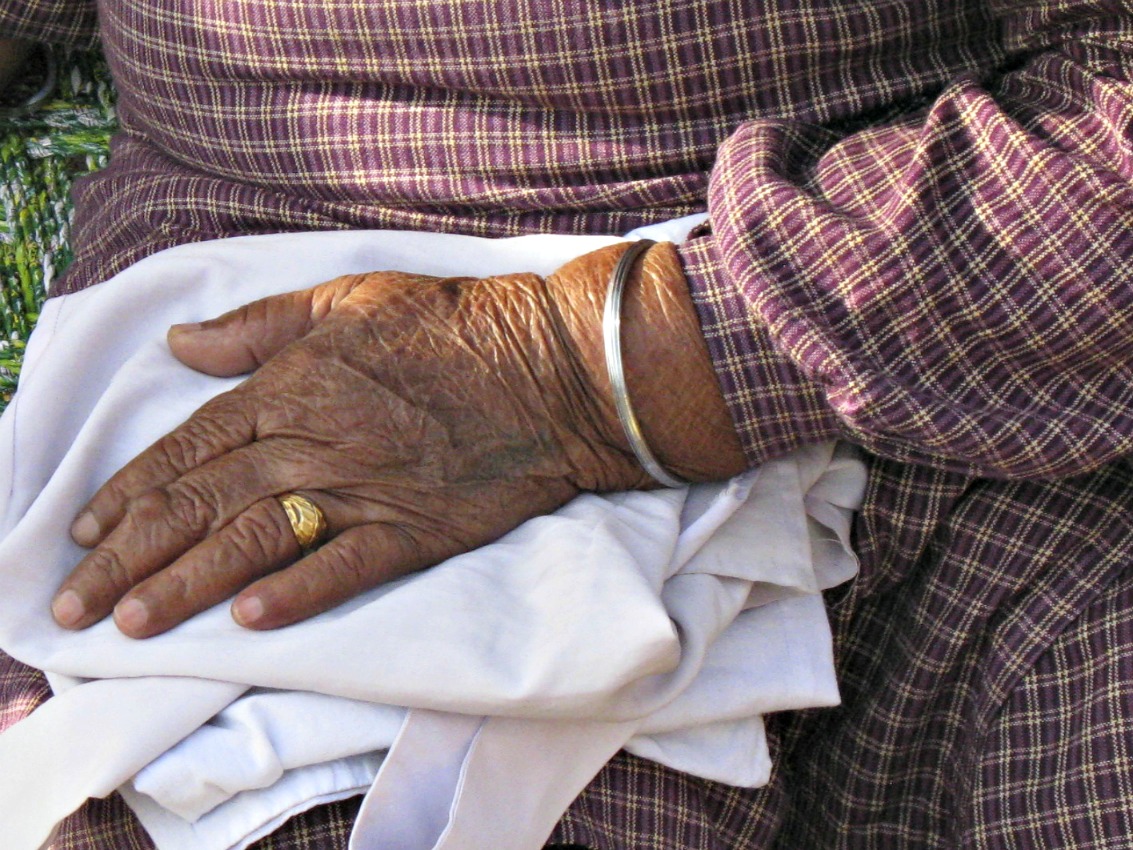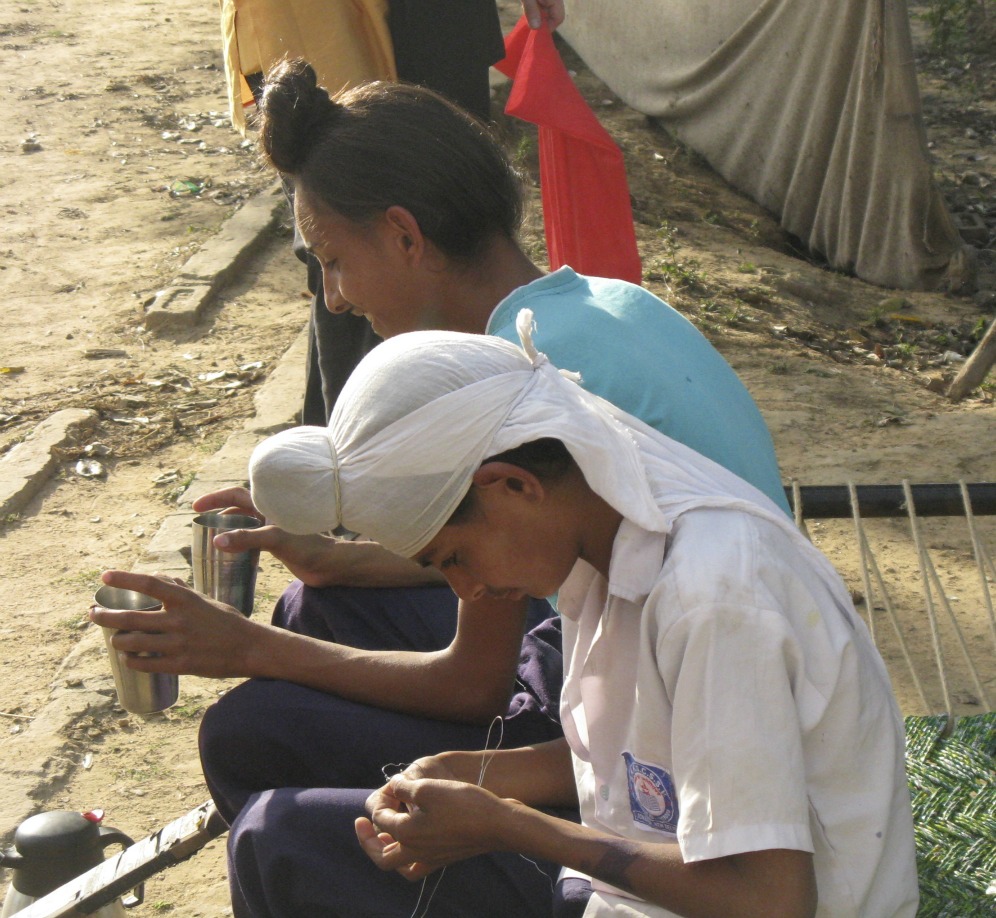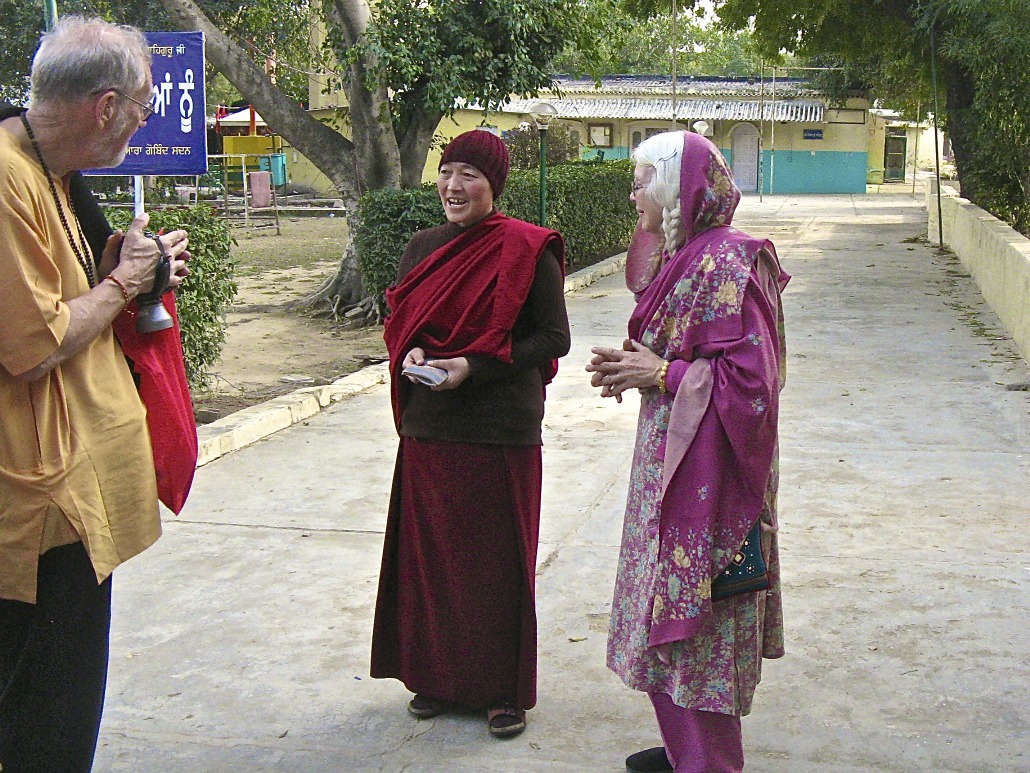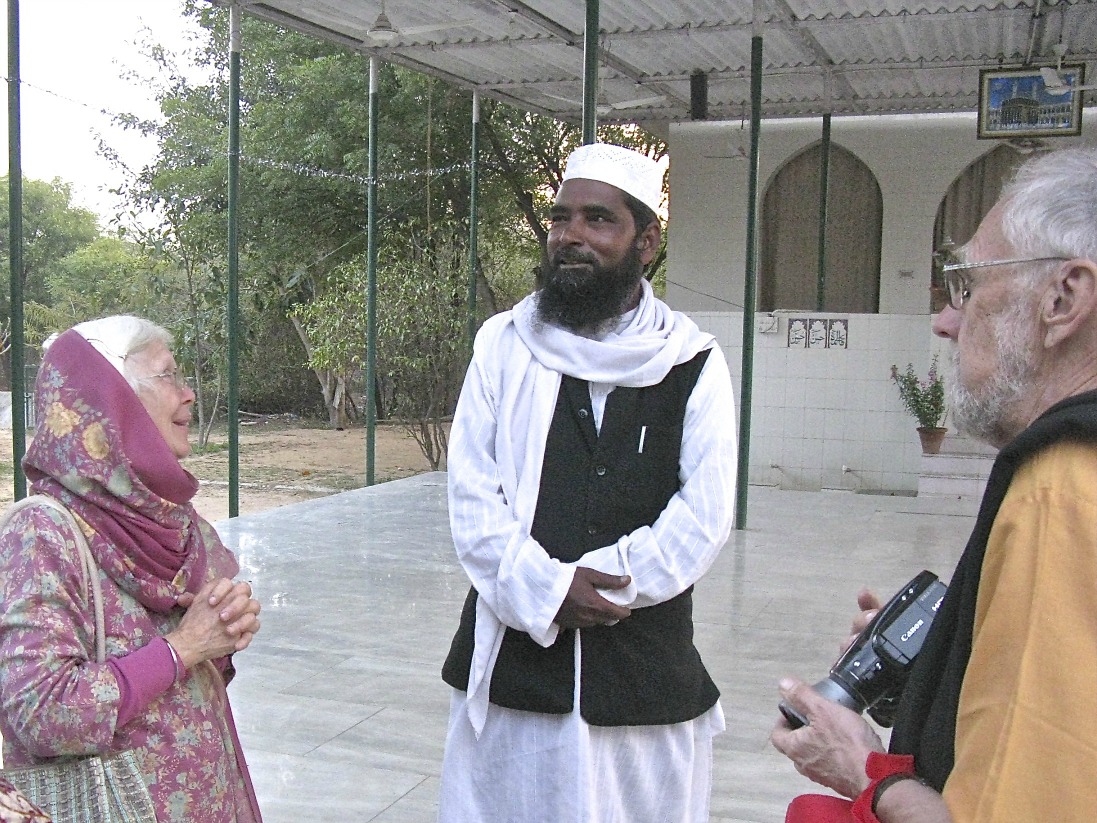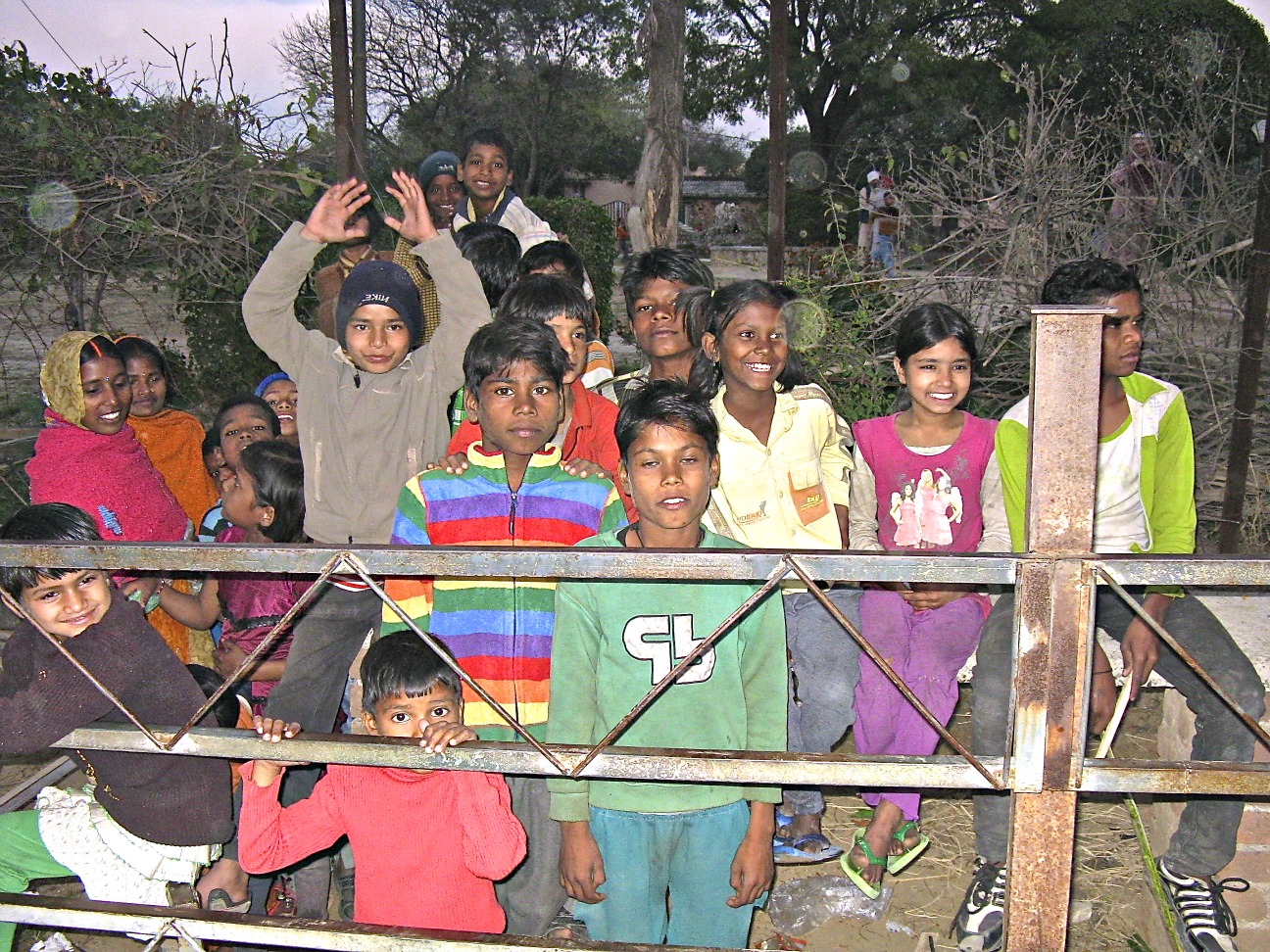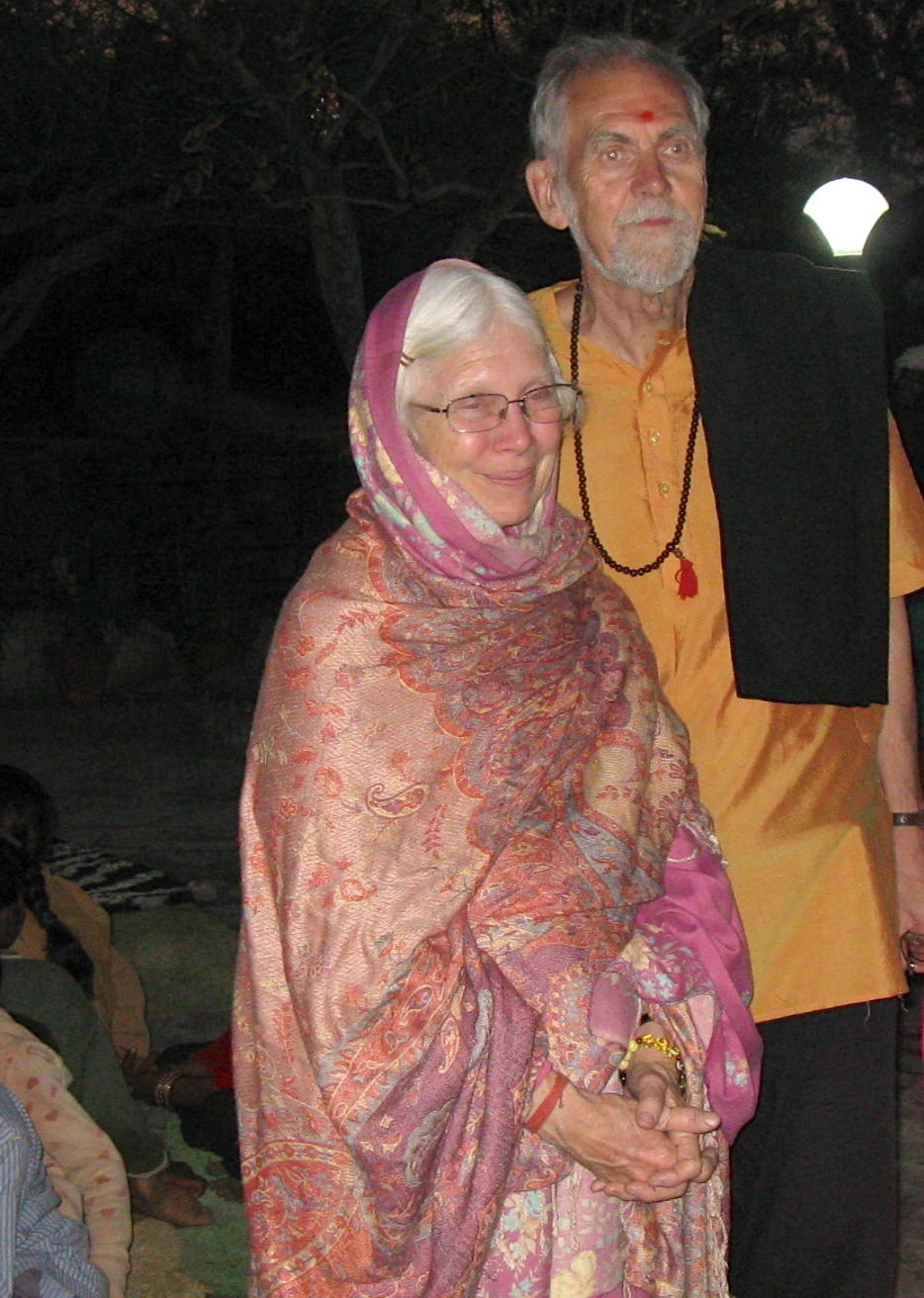 ________________________
The Kitchen:



The Worship:


I find the following video fascinating. I don't know who's being worshipped, what's being said/sung, don't even know what language, but I definitely hear the words Mother Mary and Gobind Sadan in there, and the "statue" at the front looks to me, in my ignorance, like an interfaith hybrid. Listen carefully to the words.
<[]<>[]<>[]<>[]<>[]<>[]<>[]<>[]<>[]<>[]<>[]<>[]

<>[]<>[]<>[]>
The drive home is at a snail's pace. An angry snail. It's so slow, pedestrians are part of the traffic. One guy even has a horn implanted in his forehead. (joking)
<[]<>[]<>[]<>[]<>[]<>[]<>[]<>[]<>[]<>[]<>[]<>[]

<>[]<>[]<>[]>
Many thanks to our guides and hosts: Rahoul, Mary Fisher, and the fine folks at Akshardam.
Next: The last New Delhi instalment. We surf for Sufis, bother Baha'is and seek Sikhs.
Happy reading!